James "Bubba" Stewart  wins Knucklehead of Week Award
UPDATE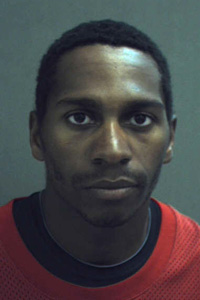 James "Just Call me Stupid" Bubba Stewart. Imagine Bubba's face when the off-duty officer pulled out his badge. Too funny....
Courtesy Orange County, Fla. Corrections Department

Motocross star James "Bubba" Stewart, accused in March of trying to use flea market-bought flashing lights to pull over a vehicle containing actual law officers, pleaded no contest this morning to a misdemeanor related to the case.

The plea agreement calls for Stewart to perform 75 hours of community service but adjudication of guilt was withheld because he is a first-time offender.

He will be fined $500 and will be on probation for a year.

Stewart, initially charged with impersonating a law enforcement officer — a felony —pleaded no contest to a first-degree misdemeanor charge of using flashing or rotating lights on a motor vehicle.

He declined comment after a brief hearing at the Osceola County Courthouse.

03/31/11 Two-time AMA Supercross champion James Stewart Jr. was arrested on charges of impersonating a police officer Monday near his home in central Florida.

On Wednesday, Stewart issued a public statement, addressing for the first time his Monday night arrest. "Thanks to all that are standing by me," Stewart said in the release. "I hope to resolve this incident quickly and show people that I am someone that upholds the law and someone they can respect as a competitor and as a person." According to the release, Stewart is planning to compete in this weekend's Supercross race in Arlington, Texas.

A spokesperson for the Florida Highway Patrol said Stewart, 25, who is known as "Bubba," was driving a black 2008 Toyota Tundra on State Road 417 in Osceola County when he approached a car containing two off-duty Florida state troopers and an off-duty Osceola County sheriff's deputy.

Police said Stewart turned on red-and-blue flashing lights on his dashboard and the off-duty officers pulled to the side of the road. When the truck pulled alongside their vehicle, one of the troopers in the car identified himself as law enforcement, and Stewart sped off, police said.
Bubba's accomplice in crime was Quinalt Thames Jehrrod

The off-duty trooper phoned 911, and a short time later an Orange County Sheriff's deputy and Orlando Police officer pulled over the truck driven by Stewart at Orlando International Airport. Stewart and his passenger, 44-year-old Quinalt Thames Jehrrod (What kind of name is that?) of Los Angeles, were arrested. Police said they found the lights in Jehrrod's luggage.

Sergeant Kim Montes of the Florida Highway Patrol said Stewart told officers he bought the lights at a flea market.

Stewart was charged with impersonating a police officer and Jehrrod was charged with tampering with evidence. Both charges are felonies.

Stewart's truck was seized.

Both Stewart and Jehrrod posted bond and were released from the Orange County Jail at approximately 2:45 a.m. Tuesday. Video from a Florida news station shows Stewart walking from the Orange County jail wearing a gray hoodie and a baseball cap pulled low over his face.

According to a report in the Orlando Sentinel several people were waiting for Stewart when he was released. He was whisked away by his parents in a white Range Rover.

A message left on Stewart's cell phone Tuesday afternoon was not immediately returned. ESPN.com