William Byron Scores Second-Career Truck Series Win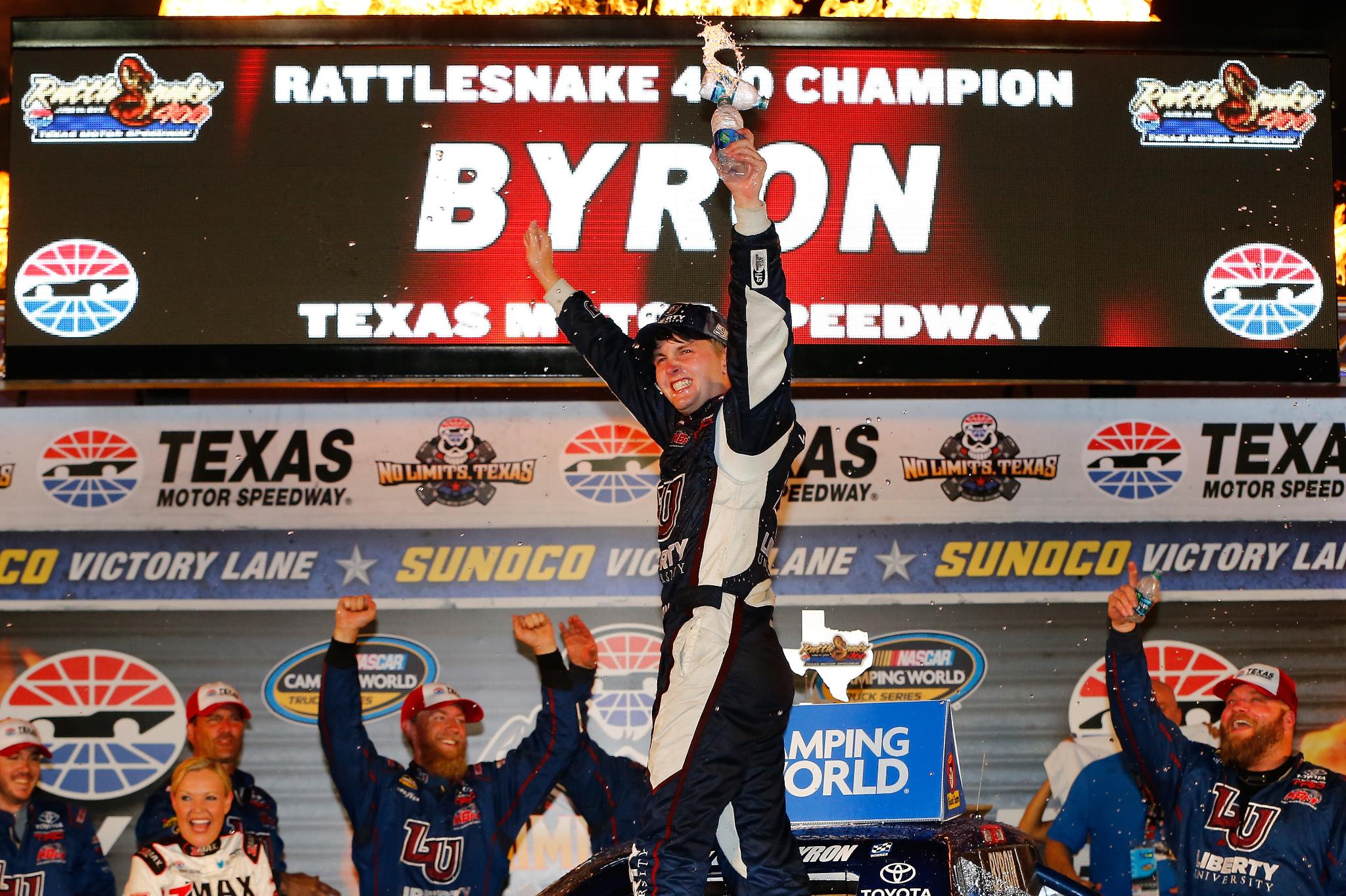 William Byron became the youngest Truck Series winner in the history of Texas Motor Speedway
Jonathan Ferrey/Getty Images for Texas Motor Speedway
18-year-old NASCAR Camping World Truck Series rookie William Byron collected his second-career win on Friday night after taking down a two-time champ and then holding off a fellow rookie to take the checkered flag in the Rattlesnake 400 at Texas Motor Speedway
Byron chased down points leader and defending champion Matt Crafton with five laps to go, then had to driver the wheels of his no. 9 Toyota Tundra to keep fellow rookie Rico Abreu at bay before Abreu scrubbed the wall with two laps to go, allowing Byron to cruise over the final two laps for the victory.
Crafton managed to re-gain second place in the closing laps, but fell half-a-straightaway short at the finish. Johnny Sauter was third, followed by Ben Kennedy and Tyler Reddick.
Bryon's victory was his second of the season after winning at Kansas Speedway back in early May, picking up his second win in just his seventh-career to become the youngest driver ever to win a Truck Series race at Texas Motor Speedway.
"It's huge for our race team to get another win this year," said Byron. We didn't leave any doubt out there that we deserved to win. It was cool to lead when it counted; to finally finish out there gives me a bit of confidence. I learned a lot about running the top.

"We didn't have it that good until the last run, but Rudy (Fugle, crew chief) fixed me up that last run. I found the top earlier in the race and it didn't work very well lap 15 to 20 in the run. Once I could get laps on the tires – it's all about heart and you have to want it and my team wants it and I see that every day."
[adinserter name="GOOGLE AD"] Crafton's runner-up finish spoiled what was shaping up to be a remarkable comeback after scraping the wall when he blew a tire on lap 11 while leading the race. The damage to Crafton's no. 88 Toyota turned out to be minimal, and by lap 35 was back out in front.
Byron began his charge to the front following the final restart with 44 laps to go. Lining up inside of Crafton on the front row, Bryon duked it out side by side with Crafton for eight laps before Crafton was able to pull ahead.
After falling to third behind Sauter, Byron rallied back to re-take the second spot from Sauter with ten laps to go to before setting his sights on Crafton.
With five to go, Byron had chased down Crafton and rocketed to around the two-time Texas winner on high side in turns one and two to take over the top spot.
Fellow rookie contender Rico Abreu found his way past Crafton to move into second and began closing in on Bryon, looking for his own first career truck series victory. Abreu managed to close to with a truck-length of Bryon with two laps to go before he drifted too high in turns one and two and slid up into the outside wall, killing his momentum.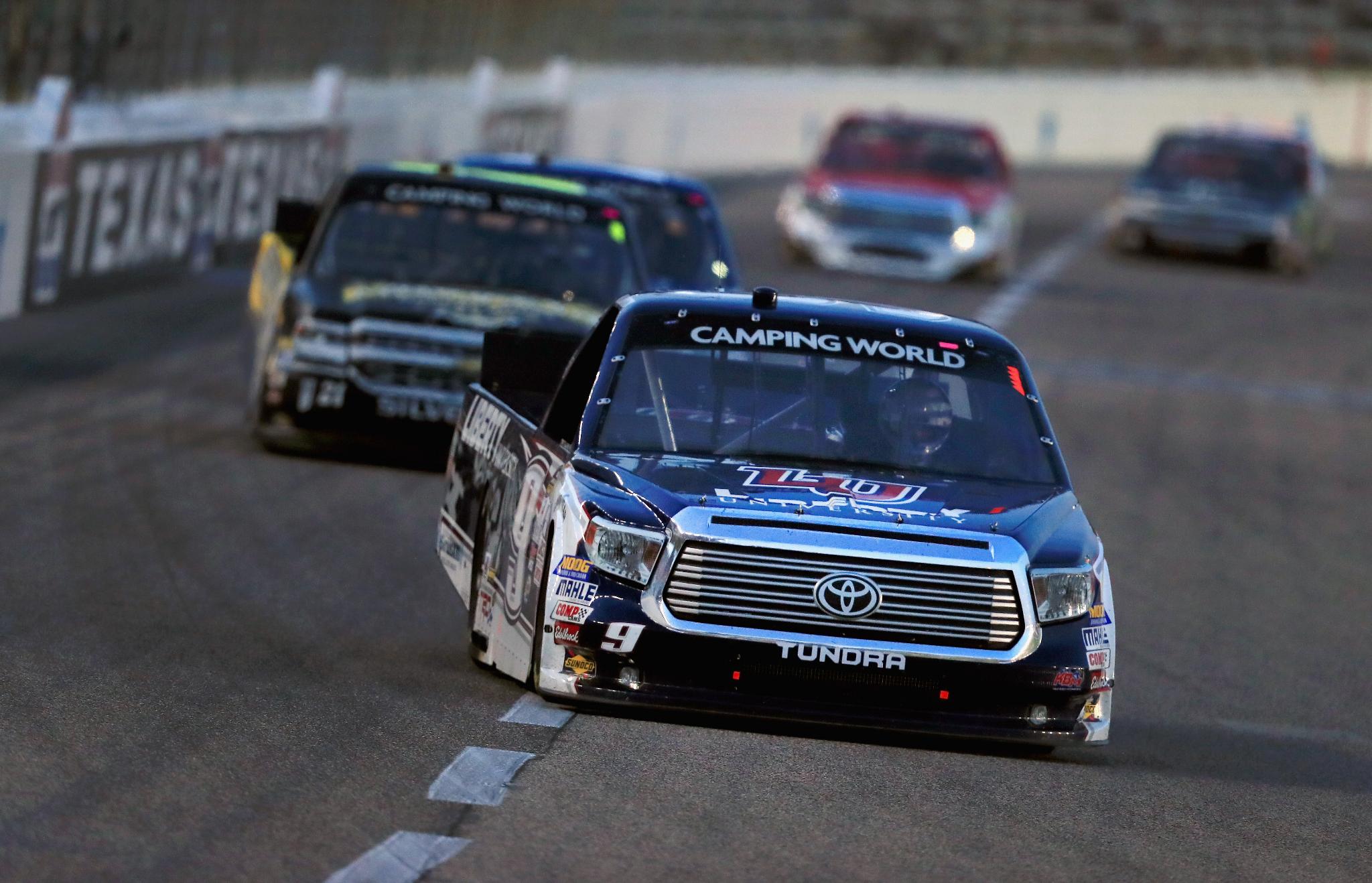 Tom Pennington/Getty Images for Texas Motor Speedway
Tom Pennington/Getty Images for Texas Motor Speedway
Crafton powered past Abreu on the final lap to move into second place, but was too far back to catch Byron. Abreu managed to hold his truck together long enough to make it to the finish, but fell all the way back to ninth place.
Although Crafton's comeback didn't end in a victory, he still managed to pad his lead in the point standings over Timothy Peters by six points
"If I could have done it any differently, I would have," said Crafton of the final laps. "We just lost all drive off the corner for whatever reason there. We ran so hard at the beginning of that run that it had zero drive off. It says a lot about this team. If you look at the right side of this Tundra and how beat up this thing is, we led the most laps and should of, could of won this race. It's all about these guys and never giving up."
Peters finished sixth in the race and now trails Crafton by 18 points in the standings. John Hunter Nemechek, German Quiroga, Jr., Abreu and Daniel Hemric completed the top ten finishers.
Race Results

| | | | | | | | | |
| --- | --- | --- | --- | --- | --- | --- | --- | --- |
| Pos. | # | Driver | Make | Start | Laps | Led | Status | Points |
| 1 | 9 | William Byron | Toyota | 6 | 167 | 6 | Running | 36 |
| 2 | 88 | Matt Crafton | Toyota | 4 | 167 | 133 | Running | 33 |
| 3 | 21 | Johnny Sauter | Chevy | 1 | 167 | 9 | Running | 31 |
| 4 | 33 | Ben Kennedy | Chevy | 15 | 167 | 0 | Running | 29 |
| 5 | 29 | Tyler Reddick | Ford | 5 | 167 | 0 | Running | 28 |
| 6 | 17 | Timothy Peters | Toyota | 8 | 167 | 0 | Running | 27 |
| 7 | 8 | John Hunter Nemechek | Chevy | 23 | 167 | 0 | Running | 26 |
| 8 | 11 | German Quiroga Jr | Toyota | 2 | 167 | 0 | Running | 25 |
| 9 | 98 | Rico Abreu | Toyota | 13 | 167 | 0 | Running | 24 |
| 10 | 19 | Daniel Hemric | Ford | 3 | 167 | 19 | Running | 24 |
| 11 | 41 | Ben Rhodes | Toyota | 12 | 167 | 0 | Running | 22 |
| 12 | 51 | Cody Coughlin | Toyota | 14 | 167 | 0 | Running | 21 |
| 13 | 22 | Austin Wayne Self | Toyota | 18 | 167 | 0 | Running | 20 |
| 14 | 00 | Cole Custer | Chevy | 16 | 167 | 0 | Running | 19 |
| 15 | 20 | Austin Hill | Ford | 27 | 167 | 0 | Running | 18 |
| 16 | 75 | Caleb Holman | Toyota | 20 | 166 | 0 | Running | 17 |
| 17 | 05 | John Wes Townley | Chevy | 7 | 166 | 0 | Running | 16 |
| 18 | 13 | Cameron Hayley | Toyota | 11 | 165 | 0 | Running | 15 |
| 19 | 81 | Jesse Little | Toyota | 21 | 165 | 0 | Running | 14 |
| 20 | 92 | Parker Kligerman | Ford | 22 | 164 | 0 | Running | 13 |
| 21 | 02 | Tyler Young | Chevy | 19 | 164 | 0 | Running | 12 |
| 22 | 66 | Jordan Anderson | Chevy | 17 | 164 | 0 | Running | 11 |
| 23 | 49 | Wayne Edwards | Chevy | 29 | 164 | 0 | Running | 10 |
| 24 | 50 | Travis Kvapil | Chevy | 25 | 163 | 0 | Running | 9 |
| 25 | 44 | Tommy Joe Martins | Chevy | 24 | 160 | 0 | Running | 8 |
| 26 | 07 | Ryan Lynch | Chevy | 28 | 158 | 0 | Running | 7 |
| 27 | 23 | Spencer Gallagher | Chevy | 10 | 153 | 0 | Running | 6 |
| 28 | 63 | Mike Bliss | Chevy | 26 | 92 | 0 | Accident | 5 |
| 29 | 86 | Timothy Viens | Chevy | 32 | 56 | 0 | Vibration | 4 |
| 30 | 1 | Ryan Ellis | Chevy | 31 | 30 | 0 | Suspension | 0 |
| 31 | 71 | Carlos Contreras | Chevy | 30 | 4 | 0 | Engine | 2 |
| 32 | 4 | Christopher Bell | Toyota | 9 | 0 | 0 | Engine | 1 |
[adinserter name="GOOGLE AD"]