Martin Truex, Jr. Looks To Make It Two In A Row at Pocono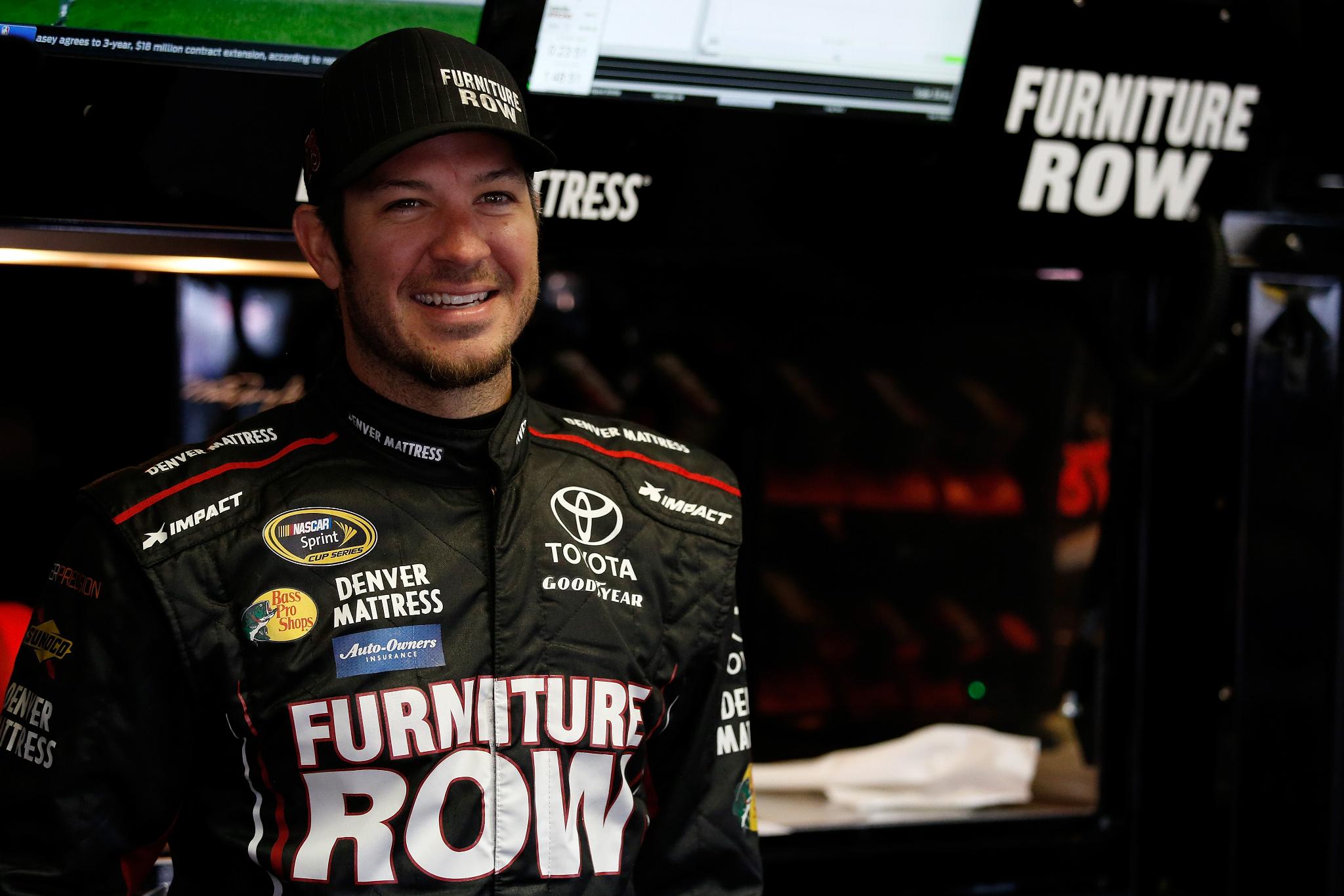 Martin Truex, Jr. is all smiles at Pocono
Todd Warshaw/Getty Images
Martin Truex Jr. did more than just win last Sunday's Coca-Cola 600 at Charlotte Motor Speedway.
He dominated it.
The No. 78 driver from single-car Furniture Row Racing led a track-record 392 laps and an all-time NASCAR-record 588 miles on his way to his first victory of the season in one of the sport's crown-jewel races.
Truex's triumph ended an early season of bad luck where he lost the Daytona 500 by a mere 0.010 seconds and failed to win two races in which he led the most laps – Texas and Kansas.
"To win a race, the Coke 600 is one of the races everybody wants to win, it's so huge," Truex said. "We came close to the Daytona 500, now to be sitting here, it's just unbelievable. These are the races that define drivers' careers, and it's really a neat opportunity for me."
Truex will try to visit Victory Lane for the second straight week in Sunday's Axalta 'We Paint Winners' 400 at Pocono Raceway – a contest he won last year to jumpstart his run to the Championship 4 Round of the Chase for the NASCAR Sprint Cup. In 20 career starts at the Tricky Triangle, he has one win, three top-five and seven top-10 finishes.
[adinserter name="GOOGLE AD"] "I love racing (at Pocono)," Truex said. "It's a really fun unique racetrack and we tested there a couple months ago and thought it went pretty good. The fall race or the second race there last year we had a pretty good run and felt like we had a shot at winning. Kind of got messed up on a fuel mileage deal. Hopefully we'll go back there and repeat."
The entire Furniture Row Racing team has expressed higher ambitions than winning a few more races. Now with a victory and a series-high 809 laps led, it believes a championship is within reach.
"This is definitely the best position I've ever been in in my Sprint Cup career by far, by a longshot," Truex said. "The laps we led last year, making the final four of the Chase and having a shot at going to Homestead to win a championship, that's almost as good as it gets, and now, here we are doing the same thing. I feel like we're better in every department this year than we were last year in every area.
"Our goal obviously was to get to victory lane. We did that. Now we can focus on hopefully getting a few more (wins), getting a good seed in the Chase, and ultimately going back to Homestead with a shot at a championship and doing a better job than we did last year, so that's our goal, that's our focus."
With a win in their back-pocket – and a guaranteed spot in the Chase for the Sprint Cup field – Truex's now has the luxury to gamble on some new race strategies – a nice position to be in at a track like Pocono, which has been known to create some interesting finishes.
"I'm sure there'll be opportunities for us to take a chance or two here or there," said Truex. "Obviously, you don't want to – you never want to just do something silly and throw away a chance at a good finish, but I think there'll be opportunities for us to gamble, to do things maybe we wouldn't do if we were worried about points.
"From here 'til the Chase starts it's really all about wins and it's not about points. If we can gamble and have a better opportunity to win, I'm sure we'll probably take it."
Truex was one of four drivers to take part in a Goodyear tire test at Pocono back in April – the first time the new 2016 aero package got a proper shakedown at Pocono. Truex believes the tire compound Goodyear is bringing this weekend – coupled with the new aerodynamics package – could lead to more passing opportunities as the races goes on.
"I think we got a lot of good information," said Truex of the testing session. "We ran through a lot of tires – felt like we found some that I think will race really well. I think the low downforce package, the new tires – they had quite a bit more fall off than what we've seen last year – hopefully that's going to make it to where we have to pit for tires when the caution comes out. Hopefully, the cars will slow down on longer runs, make passing opportunities better.
"That's kind of been our goal each and every week and I feel like the best races we've had this year have been the ones where the tires have fallen off the most. At certain tracks, it's hard to make that happen. It felt like we made good progress on that here at Pocono in the tire test, so we'll see if what they brought back does what we want it to do."
[adinserter name="GOOGLE AD"]