Coca-Cola 600 Post Race Press Conference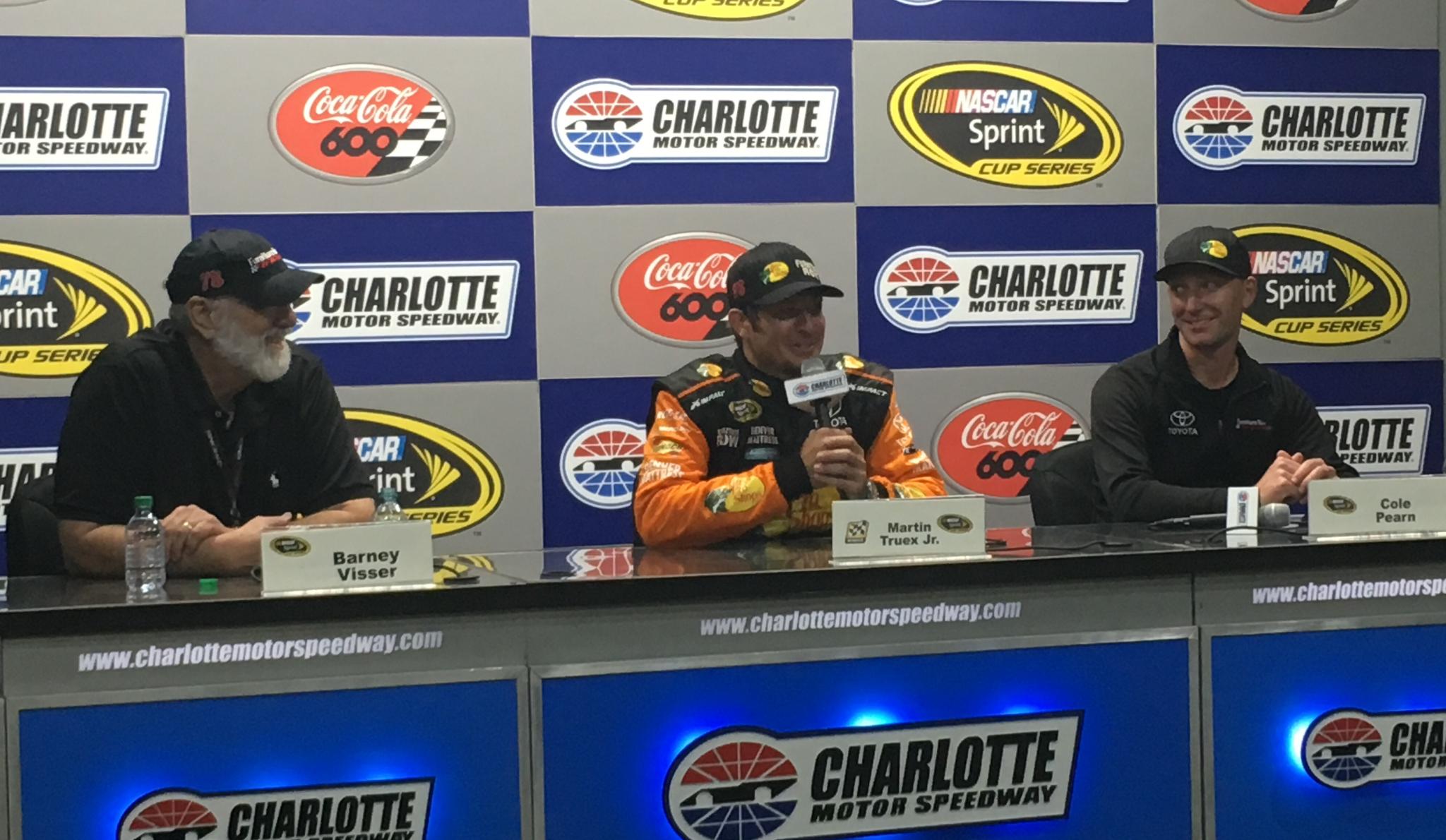 (L-R) Team owner Barney Visser, driver Martin Truex, Jr. and crew chief Cole Pearn
Pete McCole/AR1.com

THE MODERATOR: We are going to hear from our race winner of tonight's 57th-annual Coca-Cola 600, and that's Martin Truex Jr. He drives the No. 78 Bass Pro Shops Tracker Toyota for Furniture Row Racing. He's joined by team owner Barney Visser, crew chief Cole Pearn, and I know I've mentioned this already before they got in here, but just a couple of reminders, his 392 laps led here tonight is a Charlotte Motor Speedway record. His 588 miles led were the most in any NASCAR race in history.
Congratulations, Martin Truex Jr. You just won the Coca-Cola 600. How does it feel?
MARTIN TRUEX JR.: It feels good. It's hard to put it into words, obviously. Just really excited for my team. Really excited that Barney was here tonight. It's the first time he's been to — been at the racetrack when one of his cars has won, so that's a big deal for all of us. Johnny Morris from Bass Pro was here tonight. We've been so close to winning for him this year, and for him to be here tonight, to get to victory lane in the 600 was amazing. Just all in all, the whole weekend was really one of them fairy-tale weekends where it seemed like we couldn't do anything wrong, and Cole and the guys did a great job with the car obviously all weekend, and it just seemed like everything was going the way we needed it to do, and then we come down to the end of the race and we're out there leading, and I'm like, all right, when is the caution going to come out, and it didn't. So things went the way we needed them to. We had obviously a fast hot rod and just thankful for that, and thanks for all my guys for working so hard and bringing fast cars. It's fun to drive them.
THE MODERATOR: Barney, congratulations. Glad you were here tonight to enjoy this victory. This has got to be a benchmark moment for your race team.
BARNEY VISSER: Yeah, it's good to have a driver that can get this kind of stuff done. I think Martin is as good as anybody out there right now, and that's really fun to watch.
THE MODERATOR: Cole Pearn, that Toyota was fast by the time you got pulled in here Thursday. You know, just talk about the preparation that went into getting this race car in a position to where the driver, the car, the team, everything combined to click here this weekend, and just talk about that.
[adinserter name="GOOGLE AD"] COLE PEARN: Yeah, I mean, it went good once the weekend kind of got rolling, but honestly, we struggled a bit off the truck and had a little bit of a rough night in the All-Star Race. But it was good. We were able to work on it on Thursday and made really good gains the whole time through. I think we were only like 13th in the first round and got a little better. I think we were fifth in the second round and then got the pole, which was kind of a surprise actually for how the day had gone. I felt like we had a really good plan on the race trim setup based on what we experienced in the All-Star Race, and just had a really good plan to be good in all stages of the race, and that's really what we worked hard on. It was nice to see it come together. There were some times where some other guys were obviously really strong and we were able to hold them off when they presented a challenge. Just really happy to get it done. We've led a lot of laps this year, especially on mile-and-a-halfs, and to get it done in the Coke 600 is really cool.
THE MODERATOR: One additional note: I'm updating my stat that I recited here yesterday. This is the eighth consecutive national series points win for Toyota, so congratulations to the folks with Toyota. They certainly are on a roll right now.
Q. Barney, you were a Vietnam veteran. What does it mean to win the race on Memorial Day Weekend for you?
BARNEY VISSER: Well, you know, the longer I live and the more things I experience, the more I realize how much these guys gave up. Just the older I get, the more I appreciate what they did.
Barney, your operation, obviously you guys have gotten better in recent years, and right now you're running better than you ever have, but were there times earlier when you thought you guys were never going to get to this point and enjoy this kind of success?
BARNEY VISSER: You know, really after Toyota stepped up for us, I really felt like we were on the roll we needed to be. We would not be where we are at all right now without Toyota and Joe Gibbs Racing. That's huge for us. We think we add something to all of that, and we obviously share all of our information with them. But no, I thought we'd get there. It's just been kind of a steady progress. But Toyota is huge for us.
Q. Martin, you kind of mentioned this because you said you were driving around wondering when the caution was going to come out. Beyond that, are you thinking of like, gosh, what can go wrong this time, what crazy thing is going to happen to me? Do those thoughts sort of go through your head as the laps are going on and on and you're still leading?
MARTIN TRUEX JR.: Not really, no. Honestly, you don't really think about those things. You think about — unless you get in situations like we caught a couple guys on the lead lap that were still pretty fast. I think it was the 31 and the 16, and they were trying to hold us off. It was pretty hard to pass here tonight. They were both running on the bottom, which I had run the bottom all night, and the closer I get, the tighter I'd get, and my front tires — it was pretty late in the run and my front tires were giving up already, and them I'm getting behind them, getting tight, and then the 48 is coming and then the 4 is coming and they're catching us and I can't do anything about it. I'm like ah, come on, here we go again. At the same time really in those moments all you can do is focus on what you're doing, focus on how to get through the moments, and ultimately figure out what it's going to take to win the race. For us, we got a caution, we were able to get some tires and go on and do our thing.
You don't really think about what's going to happen I don't think until it happens. There was a few moments towards the end of the race where I was just thinking, please, I don't want a caution, but you're not really saying what the hell is going to happen this time. You're trying to stay positive and stay focused and do the things you need to do, but the last couple laps is a little bit more difficult when you're getting close and you just want to see that white flag, and you kind of have a finger or two crossed on the steering wheel there trying to get to the end.
Q. Another big win for your team last year at Pocono. How does this one stack up against that one, and do the recent tough losses this year, does that make this one even more special?
MARTIN TRUEX JR.: Yeah, I think it does. To win a race, the Coke 600 is one of the races everybody wants to win. It's so huge. We came close to the Daytona 500, now to be sitting here, it's just unbelievable. These are the races that define drivers' careers, and it's really a neat opportunity for me. I felt like we had this thing won last year and got beat on fuel mileage, and we talked about it a lot since then. We really thought about that a lot coming back here. We were looking for a little redemption. I'm sure Cole will agree with me on that one, and all the team guys. They really wanted this one. They know how big it is. This is a home game for most everybody, and for all our guys to come from Denver and take that trophy out of here is pretty special to them, and I'm sure it's special for all the guys back in the shop that work so hard for us and build such great cars. My hats off to them. I appreciate their hard work, and for all those reasons this is a really big deal. But above all, for a guy like me to win a race like this is a big deal.
Q. Martin, you led for 588 of the 600 miles tonight, but just once were you passed under green-flag conditions on the racetrack by Jimmie Johnson, so what the hell happened there?
MARTIN TRUEX JR.: Well, he passed me for about 100 feet.
Q. Do you wish you had that mile-and-a-half back?
[adinserter name="GOOGLE AD"] MARTIN TRUEX JR.: No. I had to give him something for being a good sport. (Laughter.) I just wanted to give him a taste of what it might feel like to lead this thing. No, I'm just kidding.
He got a good restart, and he kind of side drafted me around 1 and 2 and was able to kind of pull out on us there for a second, and then I was able to get the side draft back off his quarterpanel and pass him going into 3. Just one of them deals where he ran real tight on my door through 1 and 2 and generally that changes the momentum from one car to the other. I was a little worried at that point because a lot of times in that position you get loose, the guy on the bottom will get loose, and I was hoping he didn't run me super tight and try to get my sideways, and he gave me enough room to hang on to it, and I was able to make the pass.
I can't believe we led that much. I was just out there running and the laps were clicking off, and it's like, dang, halfway already. Usually in this race you get halfway, and they're like, it's halfway, and you're like, oh, my goodness, like seriously, that's it? We've been in here forever. The race just — I guess because we were leading and there wasn't a lot of caution laps, and we green for so long, it went by quicker than normal, and the next thing I know there was 100 laps to go, and I was like, holy crap, there's only 100 laps to go. The next thing I knew there was only 50. The race went by really quick, and I guess that's because we were leading and things were going well.
Q. Could you tell that Barney was excited at all for it being his first —
MARTIN TRUEX JR.: It was pretty tough to see it, but it did come out for a few minutes.
Q. How so?
MARTIN TRUEX JR.: It was the most excited I've ever seen him. I'm pretty sure he even hugged me. (Laughter.)
No, honestly, it was great to see that. We're so happy to have him here. He does so much for this team, for Cole and all the guys. He really and truly treats them like family. I know it's really a big deal for all those guys to get to share this with him tonight. We appreciate it.
Q. Cole, did the team go back and forth between the All-Star Race or did they stay out here?
COLE PEARN: Yeah, we went back and forth. I think we got home maybe 5:30 a.m. Sunday morning, but we were right back. We pretty much had one day to go over — one day and a morning I guess to work on the 600 car before it had to come out. Now we actually came here and worked on it until about 9:00 Wednesday night at Gibbs, just trying to get the last little details and upgrades on it before we got here Thursday morning. They're busy weeks, but it was definitely a short turnaround with having to qualify on Thursday.
Q. Barney, talk about the success of this team. You've had Regan Smith at Darlington, you were so close to success last year with Kurt Busch, and now Martin, and you're running so good right now. Just talk about being a single team so far away bucking the trend and not being here in Charlotte in this area.
BARNEY VISSER: You know, it's been kind of a steady progress. We started pretty much with nothing, and now we're able to gradually attract drivers that could get up front and win. Kurt was big for us. He showed that our equipment was pretty good. And Martin obviously stepped in, and I think he's proven to the whole world now who he is. He's led a lot of laps this year.
It's just been a steady progress for us.
Q. Martin, is this the closest you've felt like you had a dominant kind of car comparable to the way you just ripped the XFINITY Series up in '04 and '05?
[adinserter name="GOOGLE AD"] MARTIN TRUEX JR.: Yeah, I'd say this is definitely the best position I've ever been in in my Sprint Cup career by far, by a longshot. The laps we led last year, making the final four of the Chase and having a shot at going home and say we win a championship, that's almost as good as it gets, and now here we are doing the same thing and feel like we're better in every department this year than we were last year in every area. I feel like our goal obviously was to get to victory lane. We did that. Now we can focus on hopefully getting a few more, getting a good seed in the Chase, and ultimately go back to Homestead with a shot at a championship and do a better job than we did last year, so that's our goals, that's our focus. But yeah, to answer your question, by far. This group is incredible. The stuff they've taught me, the stuff that I've been able to learn, I just feel like this is one of those dream teams that if you could stay together for five or six or seven years you could start doing stuff like Jimmie Johnson and Chad Knaus did. That's the kind of — those are our goals. We want to win championships. We want to win races. We want to win every single week. I feel like Cole and our guys are the best there is, and if we can keep this thing going, we can do some special things, so hopefully we'll make it happen.
Q. With everything that you've gone through with Sherry, what have you learned about fighting and determination?
MARTIN TRUEX JR.: Well, it's real easy to — I kind of look at things a lot different than I used to. I used to get mad when I didn't win, and things didn't go your way you'd say why me, and why does this keep happening? But after you go through something like that or you meet some of them kids that we have at Catwalk, it changes your outlook. You don't say why me, and you realize that a good day at the racetrack or any day at the racetrack is a good day, and the bad days really aren't so bad. I've learned a lot from Sherry, a lot from the kids we deal with, and just having a good time right now, enjoying what we're doing, honestly. Whether we win, lose or draw, we put our best effort out there and we're proud of what we've done, and I feel like we've got a lot to be proud of. We'll just keep doing our thing and trying to win some more races.
Q. With a spot likely clinched in the Chase for the Sprint Cup, you guys' mile-and-a-half program is incredibly stout. Do you think you guys have given a glimpse on what they can expect in the Chase on the intermediate tracks?
MARTIN TRUEX JR.: I think we can. It's still early in the year. There's a long way to go and everybody is going to be working hard trying to catch up, so we need to keep working hard to try to find a little bit more. Dover is a mile track. I thought we were pretty good there, too, so we've got to work on our short track stuff a little bit. I think that's really the only place we've been off so far this year. Restrictor plate stuff has been pretty good. Downforce stuff has been excellent, and we've been off a tick on the short tracks so we'll see what we can do.
Q. Martin, you repeatedly said over the last several weeks that one of the comforting things that no matter what the outcome was you knew you had a fast car and a team capable of winning the next time you came to the track. Since the season started has it been more comforting knowing that or more frustrating having gone through the issues that you've gone through?
MARTIN TRUEX JR.: It's definitely been a positive for us. I mean, no different than last year. I think that for us leading laps and doing what we were doing and honestly feeling like we were even a few steps ahead of where we were last year, I think was a positive thing for us, and we never looked at it like negatively and said, you know, man, we've got to win or we're never going to get a chance. I think it was a positive thing. I think we took it in stride and continued to work hard and just looked at each week as a new opportunity. And certainly we did that here tonight.
I think it shows a lot of the character of the team. We've got a really tight group of guys that work really well together and have a lot of confidence in each other, and it's good to see that they never give up and they just keep fighting and they work hard, so they deserve winning.
COLE PEARN: This sport you just really don't have a lot of time week to week to wonder the what ifs, and we should have done that and we could have done that. Time is of the essence, and we have a tight turnaround every week being in Denver, so just really staying focused on the task at hand and then trying to get better every week.
I think that's what's got us to this point, so I think we're really fortunate, as Martin said, how good a group we have. I don't know, it's fun to be a part of really good teams, and it's really just that way. Everybody top to bottom in our team is just as solid as I've ever hoped for. I think just that commitment and everybody — I think I can't remember where it was, one of the races we led a lot of laps and we came in the next morning, and I've never seen such drive in our guys in our shop. If anything it drove you to work harder. Just really proud of everybody to get the satisfaction of getting this win.
Q. Cole, after Kyle Busch's win at Martinsville, they asked crew chief Adam Stevens if a victory now that you have pretty much a spot in the Chase secure, if it allows you to open up the playbook more, and he responded, it's going to open up the playbook, it won't be every weekend, but there will be situations in which we can do some pretty drastic stuff to get to victory lane. Do you share that same sentiment?
COLE PEARN: Yeah, I'd like to think so. I'd like to somehow screw somebody else out of some wins here before the year is up. Adam is pretty good at that. He's a really great guy, honestly. I've learned a ton from him and handed him a couple races this year, so hopefully we can flip the switch and do it the other way.
Q. Martin, you've led now 809 laps through the first third of the season. Can you talk about what that means to you this early in the season and to lead that many laps, the most of any Sprint Cup season at this point?
MARTIN TRUEX JR.: Yeah, it's just awesome. I mean, it's incredible to think — to see what we've done. That's what every driver wants. We all want to be in that position. We all want to go to the track each and every weekend and know we have a chance of winning, run up front, lead laps. I can't tell you how much more fun it is, obviously. Hopefully we can keep it up. It's early in the season like you said. There's a long way to go. We're going to keep pushing hard and keep trying to work, like I said, towards that championship goal.
Fourth last year, we want to do better this year, and leading laps is great but we need to keep winning some more, and hopefully put ourselves in position to go for a title.
Q. Martin, Sherry mentioned in the post-race interview that she gave on FOX that she kept pushing you, kept telling you through races like Daytona, Texas, Kansas, just kept pushing you to get through these because the better times were coming. Between all the races that you've been so close in this year and everything that she's kept pushing you with, what has that built in your character over the course of this first third of the season?
MARTIN TRUEX JR.: Well, I think with her, it's just always nice to have somebody there that tells you it's going to be — you're going to be okay. Everything is fine. It's just — I would say it was more so a few years ago where she probably was more of an influence than she is now. Now I think that — again, because of what we've been through and all the stuff that we've been through, the outlook has kind of changed, and even last year I really — all the stuff we'd been through on the racetrack didn't really bother me much. It was like, well, that happens. We'll come back next week and try again. This year has been constant little reminders of you guys are awesome and you're going to win a bunch of races. So it's always nice to have somebody with that confidence on your side, and obviously it means a lot to me.
Q. As far as next week, we know what you did at Pocono last year. Going there with this win in the back pocket, how much does that bolster you in seeking a second one?
MARTIN TRUEX JR.: Yeah, I look forward to it. I love racing there. It's a really fun unique racetrack and we tested there a couple months ago and thought it went pretty good. The fall race or the second race there last year we had a pretty good run and felt like we had a shot at winning. Kind of got messed up on a fuel mileage deal. Hopefully we'll go back there and repeat. It would be a great place to win again. I love the folks up there, got a lot of fans up there, enjoy the area, and looking forward to going to Pocono.
Q. Barney, the switch this season was the one everybody was talking about, you guys going to Toyota, teaming up the technical alliance with JGR. The performance that you guys put on tonight, as unbelievable as it was, is this the kind of performance that validates that manufacturer switch, and if so, in what way for you?
BARNEY VISSER: Well, you know, I know a lot of people were critical of the change, but it was just something we had to do. Yeah, I think this does validate it.
I think we were validated as soon as we started leading laps this year, and Martin is very familiar with Toyota, and Gibbs, those guys have just been a dream for our guys to work with. Like I said before, none of this happens without Toyota's support and Joe Gibbs' support. We're thrilled to be working with them.
Q. Martin and Barney, you heard Kerry talk about the numbers and the stats. You guys just etched your name in the history books. It probably won't be ever get beaten again.
[adinserter name="GOOGLE AD"] MARTIN TRUEX JR.: I don't even know what to say. It's insane to think about. Nobody else has ever done that. There's so many greats in this sport, so many huge accomplishments that are in the record books. You know, just for me to be on one of them is just incredible. I'm really proud. I'm really proud for our team. I told Marcus in victory lane, I'm really sorry I stunk up the show, but I was not about to let off, and I really wanted to get this win.
I don't know, man. It's just really cool. It's a neat thing. It's a neat thing to be able to do that, and I think without green-flag pit stops we would have led even more than that, so it's kind of crazy to think about. But like I said, the time went by fastly. The laps clicked off quickly and it was definitely one of the shortest-feeling 600-mile races I've ever been a part of.
Q. Did you feel like on the final caution and restart that if you could get a clean start that maybe you could drive off and leave him after that?
MARTIN TRUEX JR.: Well, that was my plan. I'm glad it worked out because here we are. I mean, any time you're up front that's what you want to do. You want to figure it out. But it was close. Like I said, the 48 got a good run around the outside, and just about had me cleared off of 2 and was able to get back by him luckily. I don't know, just — it all worked out for us tonight. You try to put yourself in those positions each and every weekend and try to do that on every single restart, and it just doesn't always work out. Sometimes you don't have the car. Sometimes somebody else's car is just that much better, so I just put it all together tonight, and it feels damned good.
Q. Martin, there was talk on TV earlier in the race where they thought you maybe had a tire going down or —
MARTIN TRUEX JR.: Were they trying to jinx me?
Q. I don't know what was going on, but was there anything happening out there?
MARTIN TRUEX JR.: No. I mean, there was one time I think where we had a tire that had a little bit of cord showing or something, and I got tight, but it wasn't like anything crazy. We were getting ready to pit, and we pitted a lap or two early.
COLE PEARN: He was probably a lap away from blowing a right front.
MARTIN TRUEX JR.: Yeah, we were a lap away from blowing a right front. (Laughter.)
Doesn't matter, right?
COLE PEARN: I wasn't going to tell them that, but it was close.
MARTIN TRUEX JR.: I was like, I didn't know what happened, I just got real tight. He's like, pit. OK, so I pitted and he said, that tire wasn't looking too good. All right, that's cool.
THE MODERATOR: Congratulations to Martin Truex Jr., to Barney Visser, Cole Pearn, and the No. 78 Bass Pro Shops Tracker Toyota of Furniture Row Racing. Enjoy this win, and we will see you at Pocono.