Denny Hamlin Rallies To Score Charlotte Xfinity Victory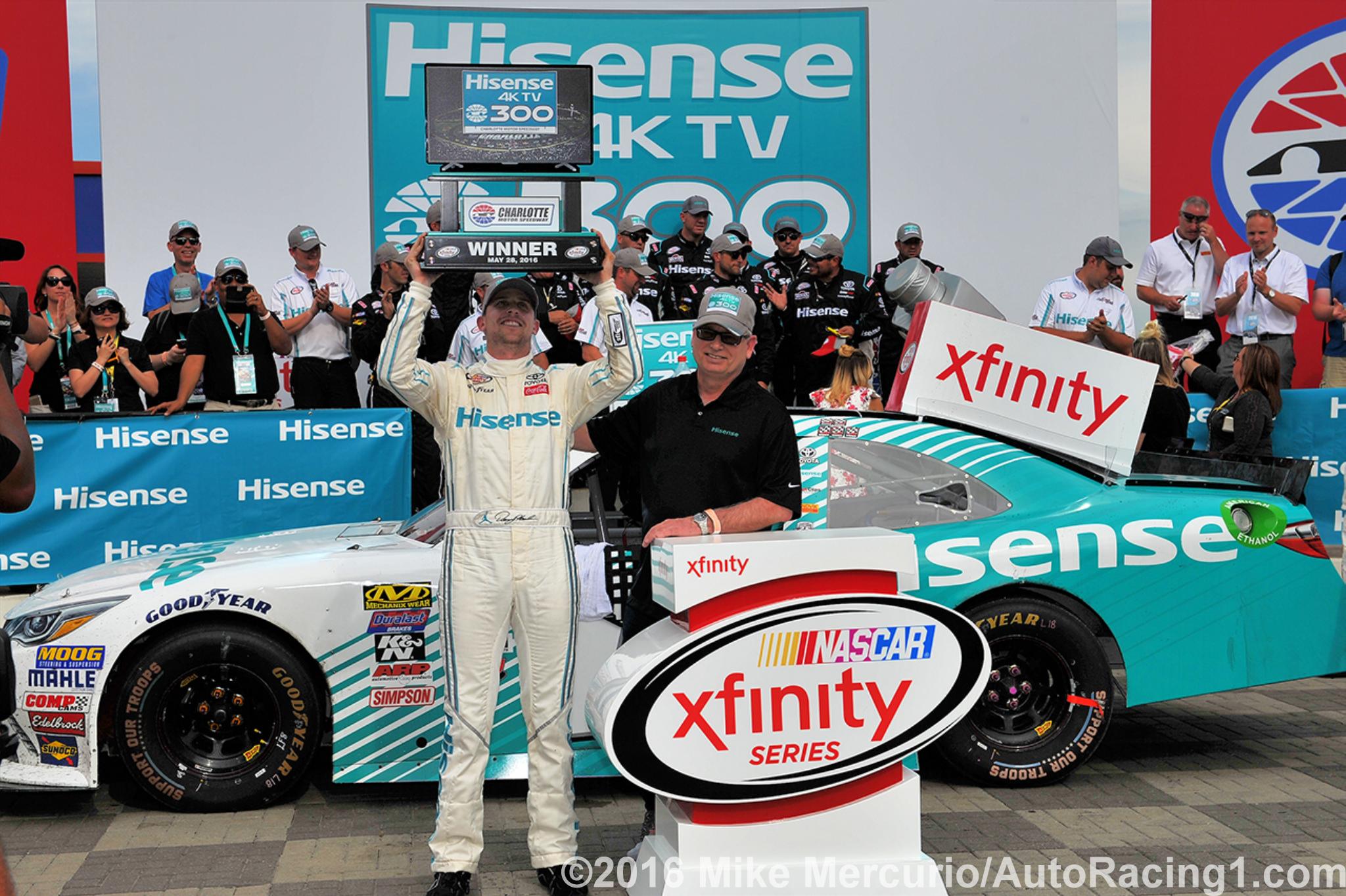 Denny Hamlin celebrates his first Xfinity victory of the season
Mike Mercurio/AR1
Denny Hamlin proved that new tires will always trump old tires at Charlotte Motor Speedway.
Hamlin rallied from a pit road penalty and took advantage of a late caution flag to come back and pass Joey Logano and Kyle Larson on the second-to-last lap in a three-lap overtime finish for the victory in Saturday's Hisense 300 NASCAR Xfinity Series race.
Austin Dillon finished second, followed by Logano, Cole Custer and Justin Allgaier
Hamlin's victory was his 15th-career Xfinity Series victory and came in his first start of the season in the no. 18 Toyota previously campaigned this year by Kyle Busch.
"It was a second opportunity obviously," said Hamlin. "I was hoping for that caution there at the end and we got it and we were able to get four tires on this Hisense Camry and took off.
"I knew we had a fast car, I was just disappointed that I lost some track position on some restarts throughout the day. Have to get a little bit better at those, but overall, the car drove like I expected it and like it did in practice and we gave ourselves a shot to win."
The victory helped save face for the Joe Gibbs Racing team, who swept the first three positions in qualifying with rookie Erik Jones taking the pole followed by teammates Daniel Suarez and Hamlin, but within the span of just 26 laps, went from having three cars in contention to having only Hamlin left in the running.
[adinserter name="GOOGLE AD"]Jones, Hamlin, and Suarez had combined to lead 25 of the opening 26 laps, but on lap 26 both Jones and Suarez got into fluid dropped on the racetrack from the car of Ray Black, Jr. and both were in the wall.
Now JGR's only shot at a victory, Hamlin raced his way back to the front of the field – lead a race-high 76 laps – but looked to be out of the running himself after being penalized for an uncontrolled tire following his stop with 39 laps to go, falling out of the top 10.
For much of the second half of the race, the battle for the lead was focused on Logano and Larson, who started right where they left off in Saturday night's NASCAR Sprint All Star Race, trading the lead six times over the final 80 laps before Larson finally pulled ahead with five laps to go.
Once out in front, Larson checked out on Logano and looked to be on his way to his first win of the season when the yellow flag came out after Jones with the wall with two laps to go.
During the ensuing caution flag, Larson and Logano elected to stay out, while nearly all the rest of the top 10 came to pit road. Dillon, Allgaier and Custer took just right side tires, while Hamlin was the first car off pit road with four fresh tires, restarting sixth.
On the restart, Larson tried to hold off Logano but got loose going into turn one and two, allowing Logano to pull ahead on the side high while Hamlin quickly moved up to third on the outside before pulling low inside of Larson in turn four to take the second spot.
Coming to the white flag, Hamlin pulled up to the high side around Logano while Larson rallied and pulled in behind Hamlin coming through the backstretch.
Coming through turn four, Larson was right on Hamlin's bumped but drove it too hard into the corner and shot up the banking, pancaking the outside wall as Dillon swept by on the inside. Hamlin easily cruised the finish by three car-lengths over Dillon.
Saturday's finish was a role reversal for both Logano and Larson from last Saturday nights NASCAR Sprint All Star Race, after they blasted to the front of the field on fresh tires while Jimmie Johnson and Kyle Busch desperately tried to hold them off. This time, Logano and Larson were dead ducks on old tires as Hamlin smoked them both with four new Goodyears.

"I thought it was kind of supposed to be like what the All-Star Race was with old tires and new tires, but the (my car) was the fastest it's been all year," Logano said. "We can't hold our heads down about it. We had a car that was capable of winning if circumstances went right. I felt like I was going have a good restart next to Kyle (Larson).
"I felt my restarts were a little better than his all day, and I thought, 'OK, if I can clear him,' which we did I was like, 'Alright, we've got a shot,' but it was really hard to hold off those four tires. What a fun race. It got really exciting there at the end. I got passed on the top by Denny and then Kyle just kept ripping up top and had a big run into the corner, so it was fun to watch that. I was hoping they would get into each other, and I would sneak one out."
Larson managed to bring his car home in sixth place – another disappointing finish for a driver still looking for his first Xfinity victory of the season.
"It's pretty hard to beat four tires when you run almost 40 laps on your tires," said Larson. "Hated that we didn't win, but I'm kind of used to it by now."
Brandon Jones, Ty Dillon, Brennan Poole and Branden Gaughan rounded out the top ten.
Race Results
| | | | | | | | | |
| --- | --- | --- | --- | --- | --- | --- | --- | --- |
| Pos. | # | Driver | Make | Start | Laps | Led | Status | Points |
| 1 | 18 | Denny Hamlin | Toyota | 3 | 206 | 76 | Running | 0 |
| 2 | 2 | Austin Dillon | Chevy | 4 | 206 | 0 | Running | 0 |
| 3 | 22 | Joey Logano | Ford | 7 | 206 | 58 | Running | 0 |
| 4 | 88 | Cole Custer | Chevy | 11 | 206 | 1 | Running | 0 |
| 5 | 7 | Justin Allgaier | Chevy | 8 | 206 | 0 | Running | 36 |
| 6 | 42 | Kyle Larson | Chevy | 5 | 206 | 46 | Running | 0 |
| 7 | 33 | Brandon Jones | Chevy | 12 | 206 | 0 | Running | 34 |
| 8 | 3 | Ty Dillon | Chevy | 10 | 206 | 0 | Running | 33 |
| 9 | 48 | Brennan Poole | Chevy | 14 | 206 | 0 | Running | 32 |
| 10 | 62 | Brendan Gaughan | Chevy | 17 | 206 | 0 | Running | 31 |
| 11 | 43 | Jeb Burton | Ford | 27 | 206 | 0 | Running | 30 |
| 12 | 19 | Daniel Suarez | Toyota | 2 | 206 | 2 | Running | 30 |
| 13 | 39 | Ryan Sieg | Chevy | 19 | 206 | 0 | Running | 28 |
| 14 | 11 | Blake Koch | Chevy | 18 | 206 | 0 | Running | 27 |
| 15 | 0 | Garrett Smithley | Chevy | 31 | 206 | 0 | Running | 26 |
| 16 | 12 | Ryan Blaney | Ford | 13 | 205 | 2 | Running | 0 |
| 17 | 4 | Ross Chastain | Chevy | 16 | 205 | 1 | Running | 25 |
| 18 | 24 | Drew Herring | Toyota | 20 | 205 | 0 | Running | 23 |
| 19 | 16 | Ryan Reed | Ford | 15 | 204 | 0 | Running | 22 |
| 20 | 51 | Jeremy Clements | Chevy | 21 | 204 | 0 | Running | 21 |
| 21 | 28 | Dakoda Armstrong | Toyota | 23 | 204 | 0 | Running | 20 |
| 22 | 01 | Ryan Preece | Chevy | 26 | 203 | 0 | Running | 19 |
| 23 | 44 | J.J. Yeley | Toyota | 25 | 203 | 0 | Running | 18 |
| 24 | 97 | Harrison Rhodes | Chevy | 40 | 203 | 0 | Running | 17 |
| 25 | 78 | B J McLeod | Ford | 30 | 202 | 0 | Running | 16 |
| 26 | 90 | Martin Roy | Chevy | 35 | 202 | 0 | Running | 15 |
| 27 | 6 | Darrell Wallace Jr | Ford | 9 | 201 | 5 | Running | 15 |
| 28 | 1 | Elliott Sadler | Chevy | 6 | 200 | 0 | Running | 13 |
| 29 | 21 | Spencer Gallagher | Chevy | 22 | 200 | 0 | Running | 0 |
| 30 | 13 | Carl Long | Toyota | 34 | 200 | 0 | Running | 11 |
| 31 | 20 | Erik Jones | Toyota | 1 | 197 | 14 | Accident | 11 |
| 32 | 70 | Derrike Cope | Chevy | 37 | 183 | 0 | Running | 9 |
| 33 | 25 | Timmy Hill | Chevy | 36 | 130 | 0 | Suspension | 0 |
| 34 | 14 | Jeff Green | Toyota | 29 | 127 | 1 | Fuel Pump | 8 |
| 35 | 74 | Mike Harmon | Dodge | 38 | 91 | 0 | Accident | 6 |
| 36 | 52 | Joey Gase | Chevy | 33 | 84 | 0 | Transmission | 5 |
| 37 | 07 | Ray Black Jr | Chevy | 32 | 27 | 0 | Oil Line | 4 |
| 38 | 15 | Cody Ware | Ford | 39 | 12 | 0 | Accident | 3 |
| 39 | 93 | Josh Wise | Chevy | 28 | 5 | 0 | Rear Gear | 0 |
| 40 | 10 | Matt DiBenedetto | Toyota | 24 | 3 | 0 | Vibration | 0 |
[adinserter name="GOOGLE AD"]