New All Star Race Format Leads To Confusion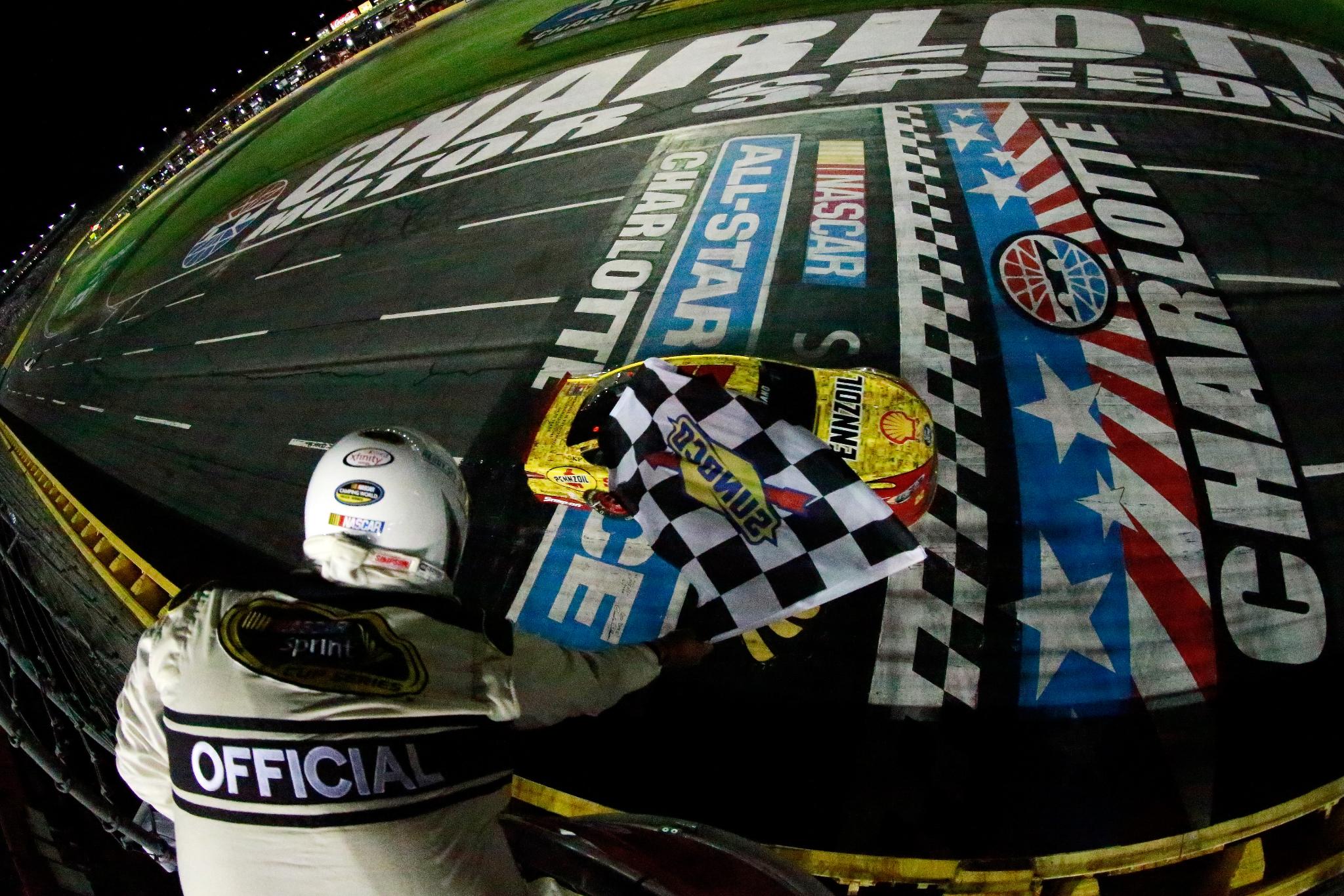 Joey Logano takes the checkered flag in Saturday night's All Star Race
Matt Sullivan/NASCAR via Getty Images
If there was a theme to Saturday night's All Star Race, it was "I don't know what's going on", as confusion and questions regarding the new format left drivers and fans alike wondering exactly what happened to turn the race from what was a simple three-segment race into a bona fide mess.
The post-race debate over what exactly went wrong reached a point where NASCAR eventually had to send one of their own competition directors to address the media so NASCAR could fall on their sword.
Granted, NASCAR had good intentions when they came up with the new format, seeking input from the newly established "Drivers Council" – a cabal of nine-drivers that regularly meet with NASCAR to discuss new rules and other issues surrounding the sport.
The idea seemed pretty straightforward – three segments of 50, 50, and 13 laps. Mandatory pit stops during, and between each segment.
It sounded good in theory. What they actually got was chaos.
The rules stated that drivers had to make a mandatory two-tire green flag stop in the opening segment before lap 48, but as the laps wound down several drivers still hadn't pitted – obviously waiting until the last possible moment to pit.
The strategy was take two tires under green, then take two between segments, so you'd have four fresh tires to start the second segment.
Again, good in theory, but that's not what happened.
Matt Kenseth had his crew played out the strategy and it backfired, big time. For everyone.
Just one lap before the lap 48 cutoff to make the mandatory green flag pit stop, Jamie McMurray blew a tire, bringing out the caution flag. However, Kenseth had yet to pit, and as the segment was now going to end under caution, he wasn't able to do so under green.
Because Kenseth didn't pit, the cars that pitted a lap earlier all went a lap down, and Kenseth never gave up to the lead to come to pit road, they could come around to get their lap back. As a result, nearly half the field – including Tony Stewart, Greg Biffle and Martin Truex, Jr. – were now a lap down, and Kenseth was penalized a lap and had to start in the rear for the second segment.
Kenseth and his team gambled and lost. Big time.
Even NASCAR had to admit, Kenseth's move was one they didn't see coming.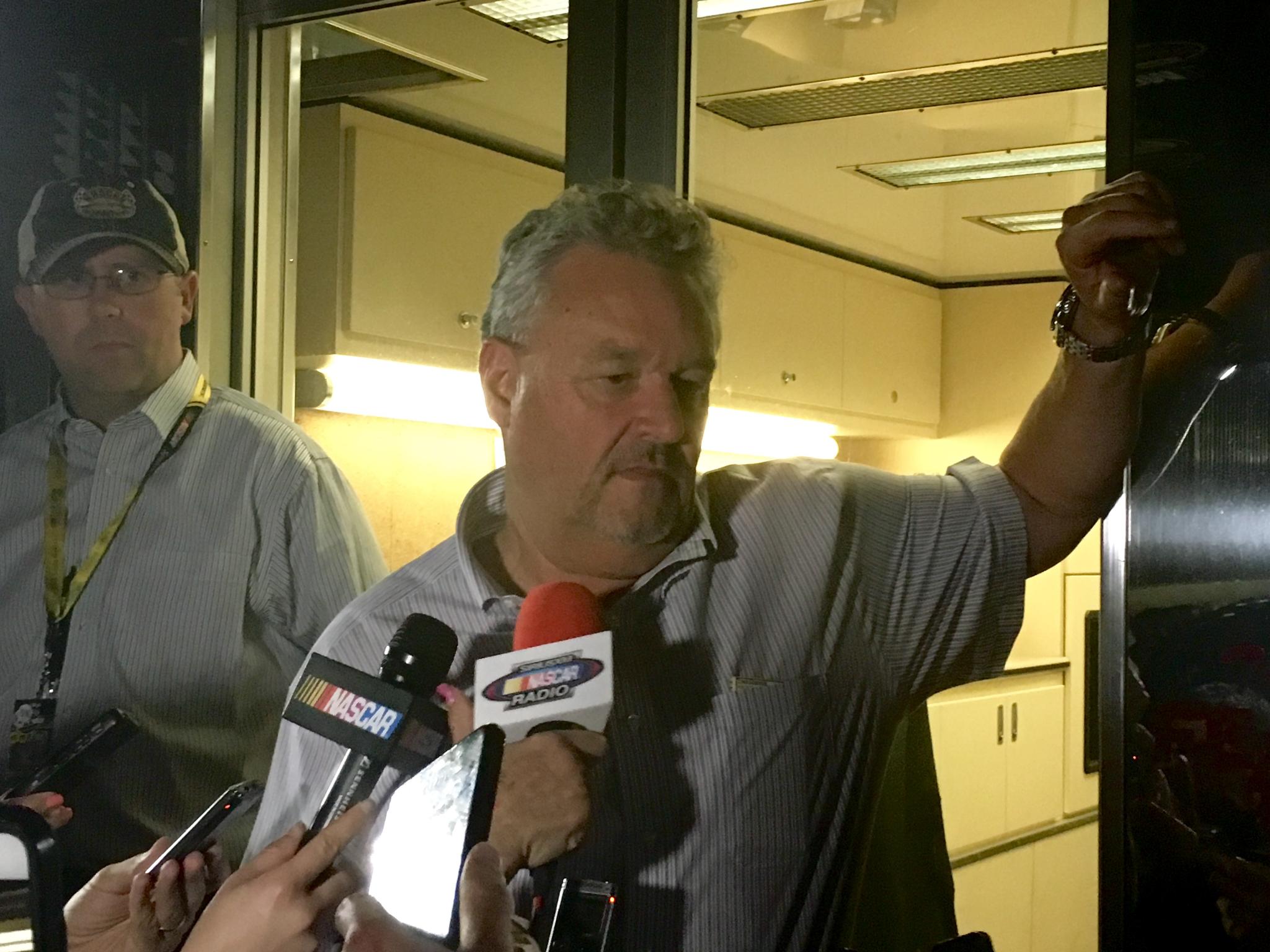 Scott Miller, NASCAR VP of Competition, addresses the media after Saturday night's race
Pete McCole/AR1
"We've had a format that we've never done before, and we worked diligently trying to come up with every scenario and an answer for anything that might crop up," said Scott Miller, NASCAR's Senior VP of Competition. "But, you have to expect that certain circumstances are going to happen in this type of race, and we had one crop up tonight that maybe we could have been a little bit more ready for – and we weren't. It was a very unique situation, and we did not in our race procedures have a mechanism to correct that."
To make matters worse, several of the cars who got caught a lap down got tangled up in a crash in the second segment, including Stewart – making his last All Star race start – who was understandably frustrated with what was going on.
"I'm as baffled as everybody," said Stewart. "It's the most screwed up All-Star race I've ever been a part of. I'm glad it's my last one. I'm all right. I'm just madder than hell because I don't understand how the hell they've officiated this from start to finish."
"I shouldn't have been back there in the first place. We couldn't even get clarification after the pit stop as to where we were even supposed to be, and then we restarted and find out we're a lap down, and it's like, how did that happen? How did that happen?"
The confusion only got worse.
The night's final segment included a random draw to determine how many cars would have to pit prior to the final 13-lap shootout. Those cars would then line up for the restart behind the cars that didn't pit.
The idea was that the cars with fresher tires would have their fight their way to the front in the final laps, but NASCAR had figured on having at least nine cars out in front for them to contend with.
Again, it sounded good in theory.
Instead, since half nearly half the field was still a lap down, only Jimmie Johnson and Kyle Busch moved to the head of the field.
Johnson had finished 12th at the end of the second segment, while Busch had been nailed with a speeding penalty during his pit stop on lap 80 and was sent to the rear of the field.
With at least 32 laps on their tires, Johnson and Busch were dead meat, and were barely able to hold on for a single lap before they began free-falling through the field.
Still, some believed that Johnson's team knew the random draw would be 11 cars, and sandbagged in the final lap of the second segment, while some raised the possibility that Busch's speeding penalty was actually a deliberate strategic move.
Either way, Busch wasn't happy.
"Didn't work, did it?" Busch said of the format "I have no idea what the race looked like on TV so I can't really comment on what it was"
At least two drivers actually enjoyed the new format, but they happened to be the one who won the guy who finished second.
And even race winner Joey Logano admitted, he was a bit confused
"There was a point I came over the radio and said, 'I don't know what's going on. I don't really want to know what's going on. Let me drive the car and you call the race' because I was confused," said Logano. "All I know is if there's a car in front of me, we should pass them. That's kind of where my head was. Sometimes the simple life is a little easier inside your race car."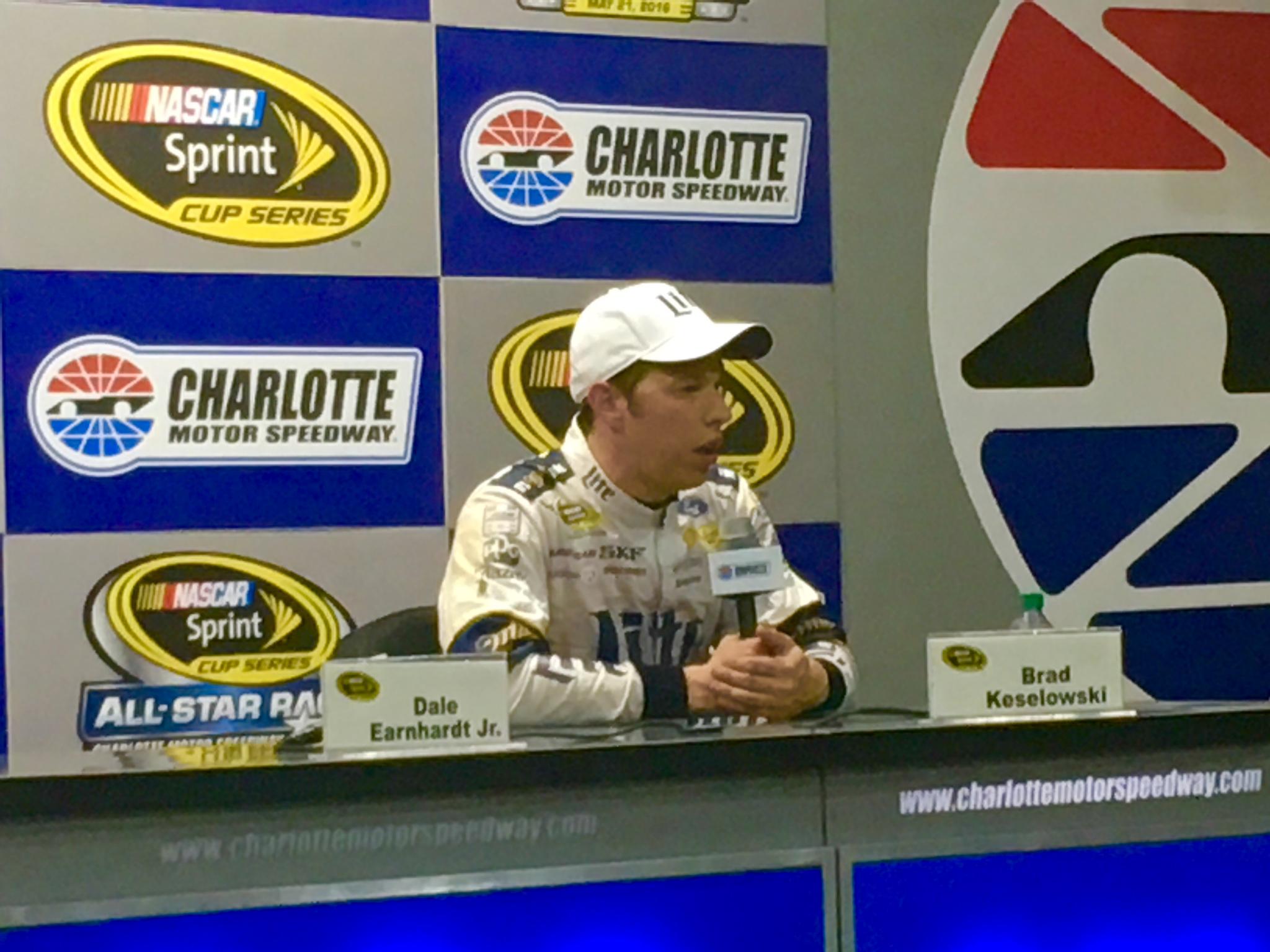 Second-place driver Brad Keselowski helped devise the new All Star format
Pete McCole/AR1
The primary architect of the new format was driver Brad Keselowski, who finished second behind Logano. Keselowski believed the format achieved its primary goal – lots of action on the race track.
"I mean, there was a last — or next to last lap pass for the lead. There were several passes for the lead. The last four races, there hasn't been a pass for the lead in the last 20 or 30 laps. I think our fans deserve a better format than that, and they got that today," said Keselowski. "I don't know how you can get much more compelling racing than what we saw today, so they need to get unconfused and enjoy the racing."
Dale Earnhardt, Jr, who finished third in the event, summed it up best – NASCAR should quit playing with the format and just let the drivers race.
"I was out of my element," said Earnhardt, Jr., "I think (NASCAR) ran into some scenarios tonight that they didn't really anticipate and got caught off guard.
"I just think they ought to go back to the original formats that they started with that are simple and make the cars race better, you know? Gimmicks and all that stuff, trying to trick up the race is going down the wrong path. The way to make the racing exciting is to make the cars exciting."
Miller agreed that the sanctioning body would have to thoroughly review all the scenarios that could play out if they were to use this format again in the future.
"It's something that we certainly, of we continue with this format, we have to look at," said Miller. "It's just very unfortunate that this situation cropped up and a lot of people walked away from here disappointed. We're disappointed as well."