Bayne, Biffle, Larson Win To Advance To All Star Race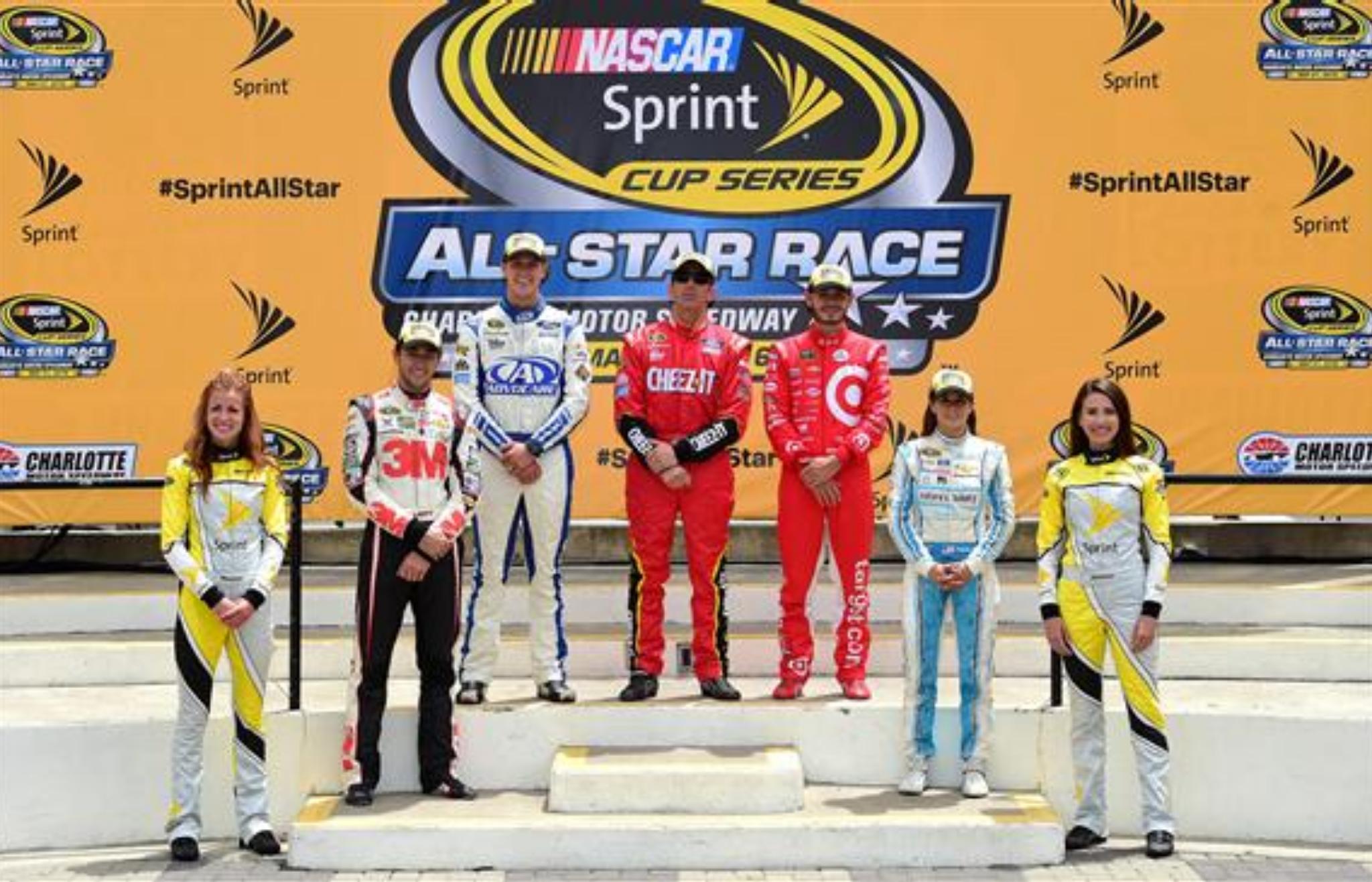 (L-R) Chase Elliott, Trevor Bayne, Greg Biffle, Kyle Larson & Danica Patrick all advance to the Sprint All Star Race
Jared C. Tilton/Getty Images
Trevor Bayne, Greg Biffle and Kyle Larson advanced to the 32nd running of the NASCAR Sprint All Star race after winning segments in the Sprint Showdown at Charlotte Motor Speedway on Saturday.
Bayne won the opening 30-lap segment to advance to his second-career all-star race, while Biffle took the checkered flag in the second 30-lap segment. Larson won the final 10-lap dash in a thrilling finish over Chase Elliott to move onto his first Sprint All Star Race.
Elliott later won the Sprint Fan Vote to transfer to the all-star field along with Danica Patrick.
Bayne took the first segment after shooting through the middle on a three-wide pass on the final lap and then holding off Elliott by five one-thousandths of a second to earn a spot in the All Star Race.
Elliott had started on the front row with Austin Dillon after rain washed out qualifying and checked out on the field, leading Ryan Blaney by half a second just five laps in.
With five laps to go, Michael McDowell spun to bring out the only caution flag of the day, setting up a two-lap shootout to end the opening segment.
Several drivers hit pit road to change tires, including Biffle, Allmendinger and Menard. Most took only two left side tires, saving the right sides for the mandatory pit stop following the first segment.
[adinserter name="GOOGLE AD"] The first segment restarted with Elliott on the inside of Ryan Blaney with Dillon and Bayne in the second row. Blaney went high in in turns one and two looking to get around Elliott, but left just enough room for Bayne to stick the nose of his Ford Fusion in between the two leaders in a three-wide bid for the lead and with a push from teammate Ricky Stenhouse, Jr. he managed to pull ahead.
As the three came through turns three and four, Bayne cleared Blaney on the outside but still had to contend with Elliott on the inside, looking to pick up a side-draft to catapault him back to the front, but Bayne held on to secure the first transfer spot and his second all-star race start.
"I don't think I was sweating until lap 19," said Bayne. "Ricky (Stenhouse Jr.) gave me a huge push. If it wasn't for him we wouldn't win the race. It's good to have a teammate to do that even if it wasn't helping him. We raced those 20 laps like it was for $1 million."
Blaney finished third ahead of Dillon and Stenhouse, Jr., but was black-lagged for jumping the restart and was force to start the second segment from the rear of the field.
Between segments, teams made a mandatory pit stop, with Biffle among those taking right side tires, giving him four fresh tires to restart segment two.
Elliott led the field to the green flag in the second 30-lap segment ahead of Dillon, Biffle and Larson but was quickly outdueled by Dillon who went three wide with Larson for the lead. Biffle followed to take second ahead of Larson while Elliott fell all the way back to fifth.
Biffle kept up the chase on Dillon and with fresher tires he quickly reeled him in, moving to the inside on the backstretch to take the lead on lap six. Biffle then started to pull away, opening a 1.5 second lead as Dillon lost ground, dropping all the way to sixth.
Larson took over the second spot but had no chance on Biffle, finishing the second segment in the runner-up spot ahead of A.J. Allmendinger, Elliott and Aric Almirola. Blaney rallied from dead last to finish sixth.
Biffle, who will make his 13th start in the All Star Race, credited the pit strategy for helping him get out front.
"Brian Pattie (crew chief) is a very, very smart veteran crew chief in this sport and it was his call," Biffle said of the two-tire stop late in the opening segment. "I was skeptical of it, trust me, but I tell you what, what really made the difference was we made a chassis adjustment, two left side tires, the car was really fast the last single lap that we made under green and I was able to pass four cars in one lap.
"I was being as aggressive as I could be, and I knew it was 20 laps and I knew that was my chance."
In the final segment, Larson got a good head of steam over Allmendinger as Elliott pulled up to the high side and shot through the field to go from ninth to third in just one lap, ducking down just in front of Cassill.
With two laps to go, Elliott ducked low around Larson coming through turns one and two but Larson fought back on the outside and pulled back ahead as Elliott got loose and fell back in line behind Larson.
Elliott rallied as he and Larson took the white flag and quickly reeled Larson back in, looking to the high side as they came through the final turn.
Coming out of the turn, Elliott pulled even with Larson on the outside but brushed the wall slightly in the dogleg, slowing his momentum just enough to allow Larson to inch ahead.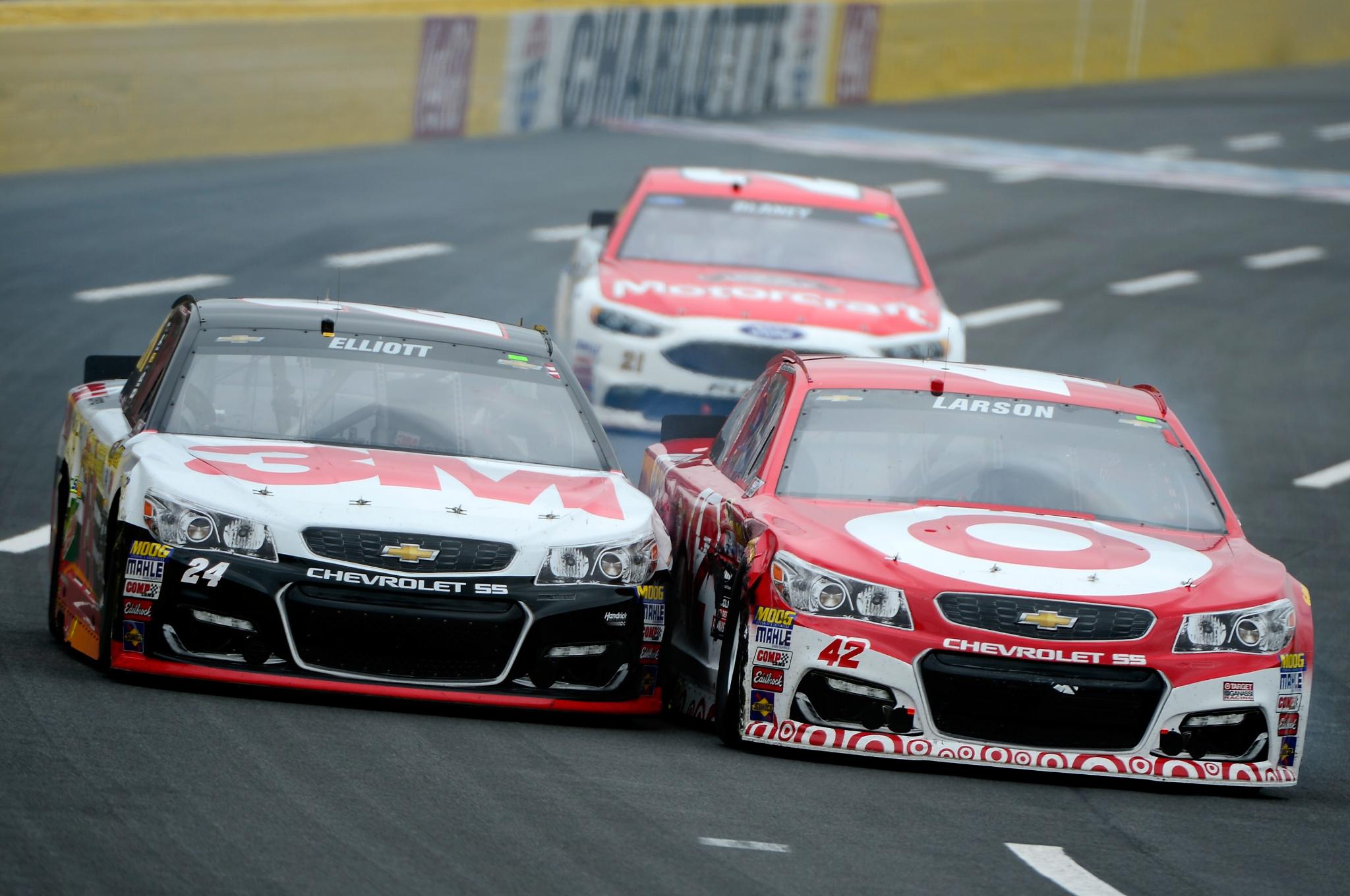 Elliott (left) and Larson make contact coming to the checkered flag in the final segment
Robert Laberge/Getty Images
In a finish reminiscent of Ricky Craven and Kurt Busch's classic last-lap duel at Darlington in 2003, Elliott's and Larson's cars bounced off each other in a cloud of smoke as they came to the finish line with Larson barely edging Elliott by two feet to win the final segment.
The last-segment win was Larson's first checkered flag in Sprint Cup, and advanced him to his first-career NASCAR Sprint All Star Race.
"I knew Chase (Elliott) was going to be good on four tires and he was going to win the fan vote and I probably wasn't going to win the fan vote. So, I did what I could do," said Larson. "I was hoping I could hold him off to the checkered. I knew he'd get close. I had to squeeze him because I knew he was going to get the fan vote, and if Chase was to win, I wouldn't be in. So, I had to do everything I could do to get to the start/finish line in first and luckily it paid off."
Sprint Showdown – Final Segment Results
| | | | | | | |
| --- | --- | --- | --- | --- | --- | --- |
| Pos | # | Driver | Start | Laps | Led | Status |
| 1 | 42 | Kyle Larson | 7 | 10 | 10 | Running |
| 2 | 24 | Chase Elliott | 1 | 10 | 0 | Running |
| 3 | 21 | Ryan Blaney | 3 | 10 | 0 | Running |
| 4 | 43 | Aric Almirola | 11 | 10 | 0 | Running |
| 5 | 47 | AJ Allmendinger | 4 | 10 | 0 | Running |
| 6 | 38 | Landon Cassill | 13 | 10 | 0 | Running |
| 7 | 15 | Clint Bowyer | 12 | 10 | 0 | Running |
| 8 | 13 | Casey Mears | 14 | 10 | 0 | Running |
| 9 | 10 | Danica Patrick | 9 | 10 | 0 | Running |
| 10 | 17 | Ricky Stenhouse Jr | 6 | 10 | 0 | Running |
| 11 | 44 | Brian Scott | 15 | 10 | 0 | Running |
| 12 | 3 | Austin Dillon | 2 | 10 | 5 | Running |
| 13 | 27 | Paul Menard | 8 | 10 | 0 | Running |
| 14 | 23 | David Ragan | 17 | 10 | 0 | Running |
| 15 | 83 | Matt DiBenedetto | 18 | 10 | 0 | Running |
| 16 | 95 | Michael McDowell | 16 | 10 | 0 | Running |
| 17 | 34 | Chris Buescher | 20 | 10 | 0 | Running |
| 18 | 46 | Michael Annett | 21 | 10 | 0 | Running |
| 19 | 7 | Regan Smith | 19 | 10 | 0 | Running |
| 20 | 30 | Josh Wise | 25 | 10 | 0 | Running |
| 21 | 98 | Cole Whitt | 22 | 10 | 0 | Running |
| 22 | 32 | Jeffrey Earnhardt | 23 | 10 | 0 | Running |
| 23 | 55 | Reed Sorenson | 24 | 10 | 0 | Running |
Sprint Showdown – Second Segment Results
| | | | | | | |
| --- | --- | --- | --- | --- | --- | --- |
| Pos | # | Driver | Start | Laps | Led | Status |
| 1 | 16 | Greg Biffle | 10 | 20 | 16 | Running |
| 2 | 42 | Kyle Larson | 7 | 20 | 0 | Running |
| 3 | 47 | AJ Allmendinger | 4 | 20 | 0 | Running |
| 4 | 24 | Chase Elliott | 1 | 20 | 0 | Running |
| 5 | 43 | Aric Almirola | 11 | 20 | 0 | Running |
| 6 | 21 | Ryan Blaney | 3 | 20 | 0 | Running |
| 7 | 38 | Landon Cassill | 13 | 20 | 0 | Running |
| 8 | 3 | Austin Dillon | 2 | 20 | 5 | Running |
| 9 | 17 | Ricky Stenhouse Jr. | 6 | 20 | 0 | Running |
| 10 | 10 | Danica Patrick | 9 | 20 | 0 | Running |
| 11 | 27 | Paul Menard | 8 | 20 | 0 | Running |
| 12 | 13 | Casey Mears | 14 | 20 | 0 | Running |
| 13 | 15 | Clint Bowyer | 12 | 20 | 0 | Running |
| 14 | 44 | Brian Scott | 15 | 20 | 0 | Running |
| 15 | 95 | Michael McDowell | 16 | 20 | 0 | Running |
| 16 | 83 | Matt DiBenedetto | 18 | 20 | 0 | Running |
| 17 | 34 | Chris Buescher | 20 | 20 | 0 | Running |
| 18 | 7 | Regan Smith | 19 | 20 | 0 | Running |
| 19 | 46 | Michael Annett | 21 | 20 | 0 | Running |
| 20 | 23 | David Ragan | 17 | 20 | 0 | Running |
| 21 | 98 | Cole Whitt | 22 | 20 | 0 | Running |
| 22 | 30 | Josh Wise | 25 | 20 | 0 | Running |
| 23 | 32 | Jeffrey Earnhardt | 23 | 20 | 0 | Running |
| 24 | 55 | Reed Sorenson | 24 | 19 | 0 | Running |
Sprint Showdown – First Segment Results
| | | | | | | |
| --- | --- | --- | --- | --- | --- | --- |
| Pos | # | Driver | Start | Laps | Led | Status |
| 1 | 6 | Trevor Bayne | 5 | 20 | 1 | Running |
| 2 | 24 | Chase Elliott | 1 | 20 | 19 | Running |
| 3 | 21 | Ryan Blaney | 3 | 20 | 0 | Running |
| 4 | 3 | Austin Dillon | 2 | 20 | 0 | Running |
| 5 | 17 | Ricky Stenhouse Jr. | 6 | 20 | 0 | Running |
| 6 | 42 | Kyle Larson | 7 | 20 | 0 | Running |
| 7 | 38 | Landon Cassill | 13 | 20 | 0 | Running |
| 8 | 6 | Greg Biffle | 10 | 20 | 0 | Running |
| 9 | 10 | Danica Patrick | 9 | 20 | 0 | Running |
| 10 | 47 | AJ Allmendinger | 4 | 0 | 0 | Running |
| 11 | 44 | Brian Scott | 15 | 20 | 0 | Running |
| 12 | 43 | Aric Almirola | 11 | 20 | 0 | Running |
| 13 | 15 | Clint Bowyer | 12 | 20 | 0 | Running |
| 14 | 83 | Matt DiBenedetto | 18 | 20 | 0 | Running |
| 15 | 13 | Casey Mears | 14 | 20 | 0 | Running |
| 16 | 23 | David Ragan | 17 | 20 | 0 | Running |
| 17 | 34 | Chris Buescher | 20 | 20 | 0 | Running |
| 18 | 95 | Michael McDowell | 16 | 20 | 0 | Running |
| 19 | 27 | Paul Menard | 8 | 20 | 0 | Running |
| 20 | 46 | Michael Annett | 21 | 20 | 0 | Running |
| 21 | 7 | Regan Smith | 19 | 20 | 0 | Running |
| 22 | 32 | Jeffrey Earnhardt | 23 | 20 | 0 | Running |
| 23 | 98 | Cole Whitt | 22 | 20 | 0 | Running |
| 24 | 30 | Josh Wise | 25 | 20 | 0 | Running |
| 25 | 55 | Reed Sorenson | 4 | 20 | 0 | Running |