NASCAR Post-Race Press Conference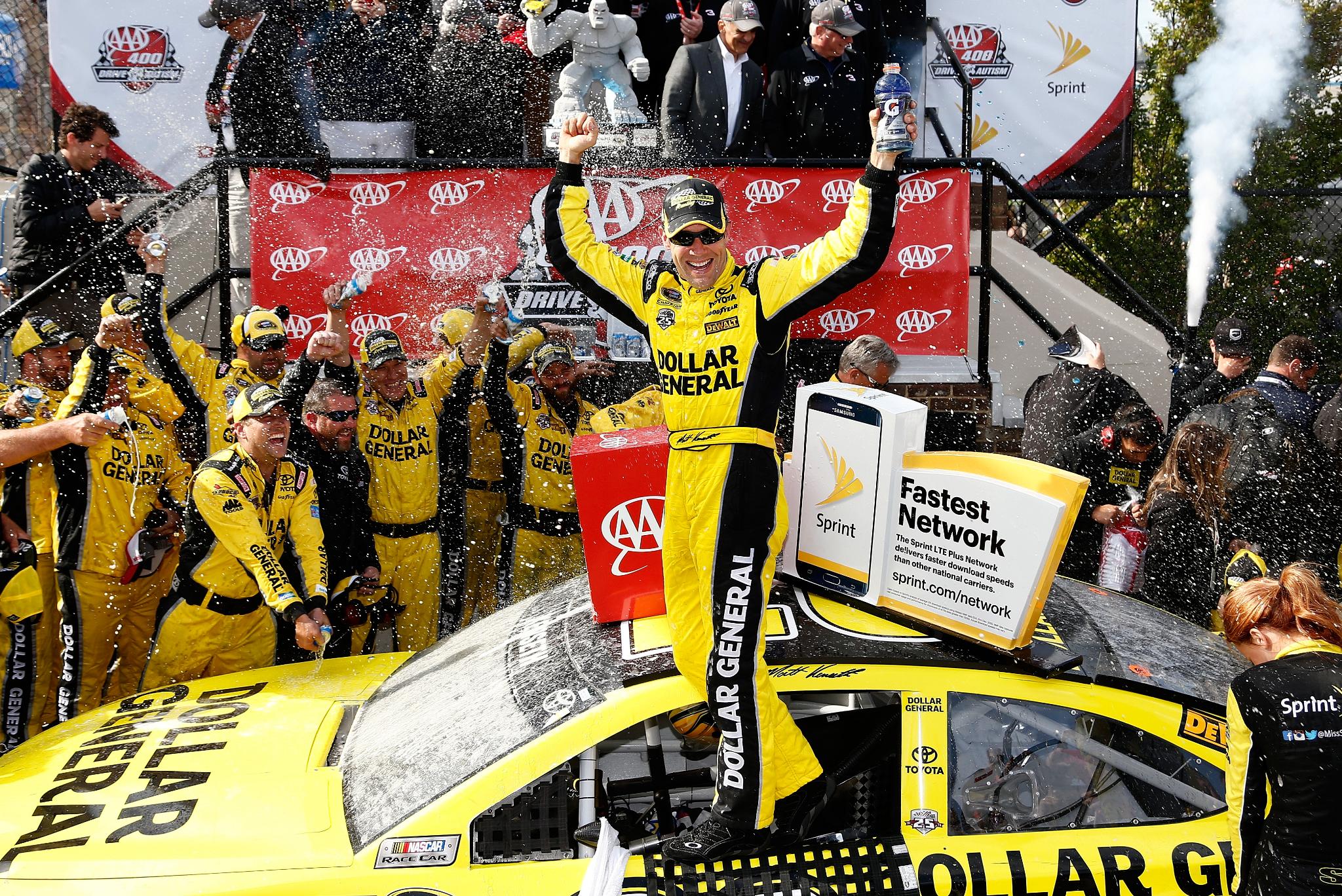 Matt Kenseth
Jeff Zelevansky/NASCAR via Getty Images
THE MODERATOR
: We'll roll right into hearing from today's race winner and his crew chief. That's Matt Kenseth. He's joined by his crew chief, Jason Ratcliff.
This is Matt's 37th career NASCAR Sprint Cup Series victory. This is the third time he's won here at Dover. His first win in 2016, which secures him a berth in the Chase for the NASCAR Sprint Cup.
Congratulations, Matt.
The win today is the 135th NASCAR Sprint Cup Series victory for Joe Gibbs Racing, which ties the organization with Roush Fenway for the third-most wins in NASCAR Sprint Cup Series history.
Congratulations to the No. 20 team, to Joe Gibbs Racing. Coach, come on up and join us.
What a race out there today, Matt.
MATT KENSETH: I thought you guys were going to applaud for coach or something. Third most of all time. It was just silent.
JOE GIBBS: They don't care (laughter).
THE MODERATOR: Matt, talk about this race today. I think the fans certainly saw quite a show today.
MATT KENSETH: I think all year they've seen some good finishes, that's for sure. We had kind of an up-and-down day. A lot of it depended on track position for us. I felt like we were at times pretty good, other times we were kind of off. Like I a said, lot of it depended on track position. We had one run that was really good. Never quite got it there again.
It was one of those days where everything lined up for us at the end of the race. We were the only one left out there with two, we got those couple short runs to kind of cycle everybody else's tires, give us a lot of caution laps to get our tires cooled down.
It all worked out for us, kind of the opposite as I feel like it's been going the last couple months. We've had really fast racecars. We've been in position to win a lot. This wasn't our fastest car by any means. But we were able to be there at the end of the race and pull it off.
THE MODERATOR: Jason, talk about this weekend, some of the things you had to do from Friday to today, then just how the racetrack must have changed with sun in, sun out. So many things going on during the second half of this race, it was pretty incredible to keep up with it all.
JASON RATCLIFF: It was. Throughout the weekend, not only about a 20-degree swing in temperature from practice yesterday to today, which I'm sure made a difference. Probably would have made a bigger difference had this not been a concrete racetrack.
[adinserter name="GOOGLE AD"] Most of the day it seemed like the track was fairly consistent. We changed a lot of stuff yesterday in practice. I mean, we were in qualifying trim on Friday. We didn't really know what we had until Saturday. Completely changed the setup in the second practice.
We felt like we had a good car all day. As Matt mentioned, we'd kind of come and go at times. We were a top two, top three car, in contention, then when we would lose track position, not so much.
We saw that for a lot of teams. At the end, I'm surprised more guys didn't do two tires at the end. But it worked out for us. Earlier we had done four and lost our track position. It was a good opportunity for us to get that back. We felt like with clean air, the car had good speed. But it wouldn't have worked out, I mean, but that Matt drove the wheels off of it at the end. Did a good job. Good show for the fans.
Kyle ran a nice clean race. Him and Chase. A good race to watch and obviously a good race to win.
THE MODERATOR: Coach Gibbs, certainly your organization has been on top of their game this year. 135 Sprint Cup Series victories for your organization, that's incredible. I know how hard y'all work, yet I know how hard it is to win in this sport. Talk about Matt winning today, and maybe reflect back on the success that your organization is having right now.
JOE GIBBS: Certainly that's true. I got to tell you, I couldn't be prouder of Matt. I think the last 20 laps is about as good as anybody could drive a racecar. Kyle and Chase also did a great job I think battling. All three cars were up there really going after it. I think they probably touched a few times. I think the fans probably really appreciated that, too.
Jason, these guys are a great team. You got to have that great chemistry. I think they have it.
For our overall, I always think about everybody back home, J.D. and Coy here with me today. Family-wise, it's a thrill to be part of a big family at our race team. It's everybody back there that does so much hard work, they're slaving at night trying to put stuff together, working so hard at this.
In this sport, you're up against so many great race teams and competitors. So it's a thrill to win these. We really don't take any of these ever for granted because they're so hard to get.
I just want to thank everybody back there, particularly Dollar General, then DeWalt, Stanley, Black & Decker are a big part of this team. I appreciate them. Of course, I always say you can't be in this sport or be at the top of this sport unless you got great partners and great sponsors.
THE MODERATOR: We'll take questions for the winning team.
Q. Matt, maybe just talk about those final laps. Kyle Larson mentioned what a clean racer you were, he was very determined he was going to race you with respect. When you have those two young guys behind you that haven't won a race before, are you thinking it could be crazy, or does it make you feel more confident because you have won races and a championship before?
MATT KENSETH: I wasn't very confident that I was going to be able to hold them off, to be honest with you. I felt pretty good about it. The first restart with Jimmie, I got through the gears real good. The second one, I got down through one and two. I was pretty tight off turn two. I was like, we're still going to be tight for a short run. Then the tire cycled again. Took off again that last restart, I actually spun the tires off of turn two the first lap, spun them off four the second lap. It progressively kept getting loser. He was all over me.
I could never really make the middle and top work today. Luckily Chase caught him and drug him and that gave me a couple minutes of breathing room. Really watching Carl earlier in the race, I saw some things he was doing to find some grip. He was freer than me and turning better. I started trying to find the grip in the middle of the track. Held him off.
I think if he would have snuck inside, it would have been over. He raced me really, really hard, but clean at the same time. He's a great racecar driver. To me it doesn't even seem right that he hasn't won yet. He's got a bunch of victories in front of him for sure. He's a really, really clean, hard racer, and a fast learner.
Q. Matt, where were you when the big wreck happened? Were you involved in that at all?
MATT KENSETH: Jimmie was leading and I was alongside of him when that one happened, if that's the one you're talking about. We were going through the gears. I saw in the corner of my eye Jimmie's car get out of shape. Something happened to it. I didn't see any more than that.
I got to turn one, they said the caution was out. I looked in my mirror, I was in the middle of one and two, didn't see anybody behind me, so I knew it must have been a big one.
Q. Does this relieve the sting of some of the other races this year, especially the Daytona 500?
MATT KENSETH: Thanks for bringing up the Daytona 500, Bob, I appreciate that (laughter). Nothing like that.
Anyway, yes and no. I mean, I feel like the way we've been running, eventually law of averages are going to work out, you're going to get your wins, your finishes. It's going to happen sooner or later.
[adinserter name="GOOGLE AD"] I would say as good as we have ran, that is probably the longest streak I can remember being on without having any real good finishes. We finished fourth last week, that was the first top five of the season. As good as we've ran all year, like I said, with having cars that fast, not being able to get better finishes or maybe a win or two.
I have all the confidence in the world in these guys. Obviously the organization is strong. Everybody else has won races. I don't think there's a better crew chief in the garage than the one sitting next to me. I felt like it was a matter of time. But you can never take it for granted. I still got to go out and do the work every week and make it happen.
Q. It appeared that you wanted to do your burnout in front of your pit stall. Was that on purpose?
MATT KENSETH: Yeah, I just saw two of them jump up on the fence. The wind was going the wrong way. I was kind of hoping we could get the wind. I saw coach, everybody huddled up. They were all right there. I figured I'd nose it in so I could stare at them. I was hoping I would make more smoke their direction. Wind was blowing the wrong way. Yeah, just wanted to get close to those guys, but not too close.
Q. Talk about what this win means for you going for the rest of the year now that you have that one win and guaranteed spot in the Chase.
MATT KENSETH: I think a lot of people, it maybe changes a little bit. For me, I really don't feel like it does, or it should. I feel like we prepare the same way. I always feel like these are huge races. It's quite an honor to be able to race against these guys every weekend in the Sprint Cup race. Biggest stockcar races in the world, every week we get to race in them.
You want to be your best every single race. You want to go out and try to race for wins whenever you can. When you can't get a win, you want to finish as high as you can. For me, my approach and strategy doesn't change. For me, you want to be as strong as you can be all year, hopefully climb up the points a ways. We want to be a contender every week.
Q. Matt, you made your first career Cup start here. You've seen a lot of races. There's been a lot of talk after this race that it may have been one of the best ever at Dover. There were a lot of strange circumstances. What do you think contributed particularly with the hard racing at the end where you had three guys basically in contention for the win?
MATT KENSETH: Yeah, I mean, I thought it was one of the greatest ever because I won (laughter). If we would have lost, I would have said I thought the race stunk.
Seriously, yeah, it was a close race. I've been involved in a couple close ones here. Unfortunately the two other close ones — I was able to win one of them and beat Jamie right toward the end, who was my teammate at the time, with just a few laps to go. The other one, Jeff Burton caught me. We ran side-by-side I think for 15 laps. We ran out of gas with like two laps to go, which wasn't good. There's been some good racing here and some close finishes.
But, yeah, I mean, typically I know what you're saying. Typically when you get a short run here, the leader is able to get away. I thought at the time those guys had a little better tires than us, were a little bit faster. Whenever you put the faster cars behind the one who is not quite as fast, you're always going to have a good race.
Q. Jason and Joe, talk about what it's been like for this team this year to be so close and not have really even had a good finish except for the one last week.
JASON RATCLIFF: It's a character builder, that's for sure. It will test your patience. But at the same time each week, you know what's good, I've said this a lot of times, the core group that's on the 20 team, most of them if not all of them have been in this sport for a long time. They understand. They thrive on how well we perform each week, not necessarily where we finish.
But eventually, you know, that wears on you. So last week to get a top five and then to come in this week and get a victory, it's definitely what we've been waiting for. I couldn't ask for a better group of guys. Most of the time, I think it's my responsibility to keep them motivated, but more times than not they keep me motivated. Great group, hard workers, they'll take this one and be chomping at the bit to get another one next week.
JOE GIBBS: The only thing I would add is this sport is so hard. You got four teams out there. You walk out to the racetrack, to have what happened to Matt at Daytona, to see the way he handled that, he and Jason, I think that says a lot about him because you could easily be upset about that.
But Matt's had a great attitude through everything. I think he does appreciate good cars, having a great crew chief. So I think that's what we're trying to do. The hardest thing in pro sports is to stay up because you know it's so easy to slide back down. That certainly has happened to us. You go against such good people each week, it's very hard to do.
For Matt to hang in there, he and Jason, the whole team, the 20 team, finally get a win, is just a huge deal for us. I was really happy for him.
THE MODERATOR: Matt, Jason, Coach Gibbs, Joe Gibbs Racing, congratulations on this big win here today at Dover. Continued best of luck the rest of the season.
[adinserter name="GOOGLE AD"]