Matt Crafton Earns First Dover Victory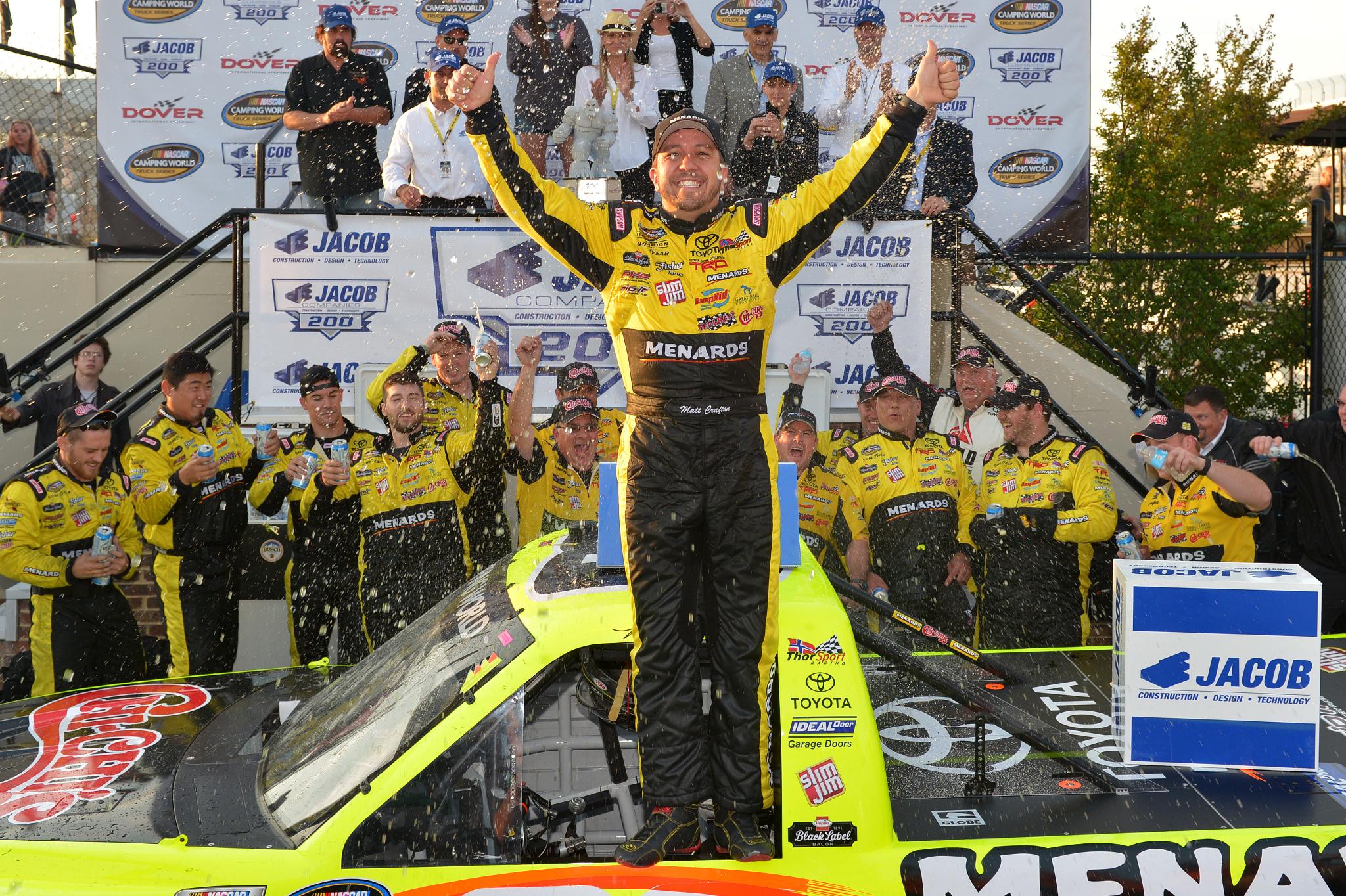 Matt Crafton
Drew Hallowell/NASCAR via Getty Images
Matt Crafton crossed another milestone off of his "to do" list on Friday, scoring his first Dover victory as well as his first win of the season in a command performance in the NASCAR Camping World Truck Series Dover 200 at Dover International Raceway.
Crafton got out in front on lap 123 and never looked back, leading the final 78 laps including a final 27-lap green flag run to hold off Daniel Suarez for his 12th-career truck Series victory.
Rookie Christopher Bell was third, followed by Johnny Sauter and fellow rookie Cole Custer.
Crafton's win allows him to add his name to the list of drivers locked into the truck series Chase for the championship, joining fellow truck series winners Johnny Sauter, John Hunter Nemechek and William Byron,
[adinserter name="GOOGLE AD"] Friday's victory was Crafton's first Dover victory in 16 starts at the "Monster Mile", topping his best prior finish of second at this same event back in 2013. Now, Crafton can finally hoist the Miles the Monster trophy.
"It's awesome. I always wanted Miles (trophy)," said Crafton. "We've came close and ran second. I can't say enough about (my team) – they never give up because we were not very good in the last practice. Last night Junior (Joiner, crew chief) sat down and they worked on it all day and made a little headway and finally made progress."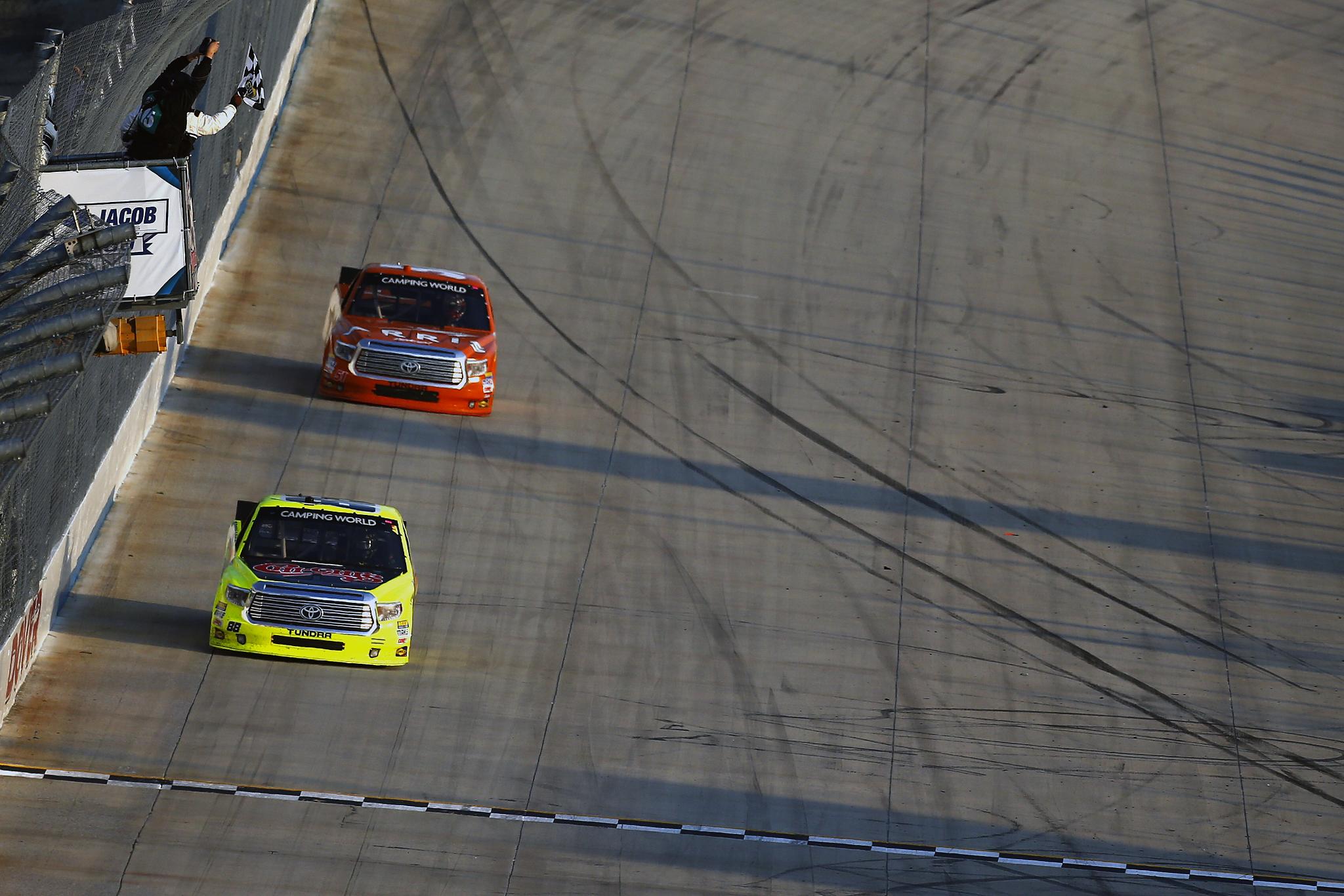 Crafton (front) finishes just ahead of Suarez running in 2nd
Drew Hallowell/NASCAR via Getty Images
Suarez put up a valiant fight in the closing laps trying to chase down Crafton, but ended up about a half-second short of securing his first truck series victory.
The runner-up showing was his second-straight at Dover, matching his career-best truck series finish and his first top-10 truck series finish of the season.
"Honestly on the last run, I feel like we were the fastest truck out there, but clean air is super important here. I just feel like as soon as I was getting some clean air, I was making some ground, but wasn't quite there," said Suarez. "The bottom was the place to be and the 88 (Matt Crafton) was there the whole time. Seven or eight laps to go I started to run the top in (turns) one and two and I made a little gain, but it wasn't quite as good enough."
Suarez's teammate Christopher Bell finished third for his best finish of the season, climbing five spots to ninth in the points standings, keeping him in the hunt to make the Chase on points of he doesn't pick up a victory.
"Today was a really good day for us," said Bell. "We started off not so great, but my crew chief did a heck of a job today, he was able to get us dialed in and we were able to salvage a third-place finish out of where we were running 12th to 15th at the beginning."
Spencer Gallagher finished sixth, followed by Tyler Reddick, Ryan Truex and Daniel Hemric. 17-year-old Kaz Grala, competing in just his second-career truck series race, finished tenth.
Race Results
| | | | | | | | | |
| --- | --- | --- | --- | --- | --- | --- | --- | --- |
| Pos. | # | Driver | Make | Start | Laps | Led | Status | Points |
| 1 | 88 | Matt Crafton | Toyota | 5 | 200 | 78 | Running | 36 |
| 2 | 51 | Daniel Suarez | Toyota | 6 | 200 | 0 | Running | 0 |
| 3 | 4 | Christopher Bell | Toyota | 9 | 200 | 0 | Running | 30 |
| 4 | 21 | Johnny Sauter | Chevy | 15 | 200 | 0 | Running | 29 |
| 5 | 00 | Cole Custer | Chevy | 7 | 200 | 0 | Running | 28 |
| 6 | 23 | Spencer Gallagher | Chevy | 21 | 200 | 0 | Running | 27 |
| 7 | 29 | Tyler Reddick | Ford | 16 | 200 | 39 | Running | 27 |
| 8 | 81 | Ryan Truex | Toyota | 18 | 200 | 0 | Running | 25 |
| 9 | 19 | Daniel Hemric | Ford | 8 | 200 | 0 | Running | 24 |
| 10 | 33 | Kaz Grala | Chevy | 22 | 200 | 0 | Running | 23 |
| 11 | 9 | William Byron | Toyota | 1 | 200 | 80 | Running | 24 |
| 12 | 11 | Matt Tifft | Toyota | 3 | 200 | 0 | Running | 21 |
| 13 | 24 | Ben Kennedy | Chevy | 11 | 200 | 0 | Running | 20 |
| 14 | 17 | Timothy Peters | Toyota | 17 | 200 | 0 | Running | 19 |
| 15 | 8 | John Hunter Nemechek | Chevy | 19 | 200 | 0 | Running | 18 |
| 16 | 49 | Nick Drake | Chevy | 14 | 200 | 0 | Running | 17 |
| 17 | 1 | Austin Hill | Ford | 26 | 198 | 0 | Running | 16 |
| 18 | 66 | Jordan Anderson | Chevy | 24 | 198 | 0 | Running | 15 |
| 19 | 13 | Cameron Hayley | Toyota | 4 | 197 | 0 | Running | 14 |
| 20 | 71 | Brandon Jones | Chevy | 2 | 196 | 0 | Running | 0 |
| 21 | 02 | Tyler Young | Chevy | 27 | 196 | 0 | Running | 12 |
| 22 | 98 | Rico Abreu | Toyota | 13 | 196 | 0 | Running | 11 |
| 23 | 50 | Travis Kvapil | Chevy | 30 | 195 | 0 | Running | 10 |
| 24 | 44 | Tommy Joe Martins | Chevy | 29 | 194 | 0 | Running | 9 |
| 25 | 07 | Cj Faison | Chevy | 31 | 190 | 0 | Running | 8 |
| 26 | 63 | Bobby Pierce | Chevy | 28 | 176 | 0 | Accident | 7 |
| 27 | 92 | Parker Kligerman | Ford | 12 | 136 | 0 | Rear Gear | 6 |
| 28 | 41 | Ben Rhodes | Toyota | 10 | 131 | 0 | Running | 5 |
| 29 | 05 | John Wes Townley | Chevy | 20 | 128 | 3 | Accident | 5 |
| 30 | 10 | Jennifer Jo Cobb | Chevy | 32 | 65 | 0 | Brakes | 3 |
| 31 | 86 | Brandon Brown | Chevy | 23 | 56 | 0 | Suspension | 2 |
| 32 | 22 | Austin Wayne Self | Toyota | 25 | 41 | 0 | Engine | 1 |
[adinserter name="GOOGLE AD"]