NASCAR Unveils 2017 Season Schedules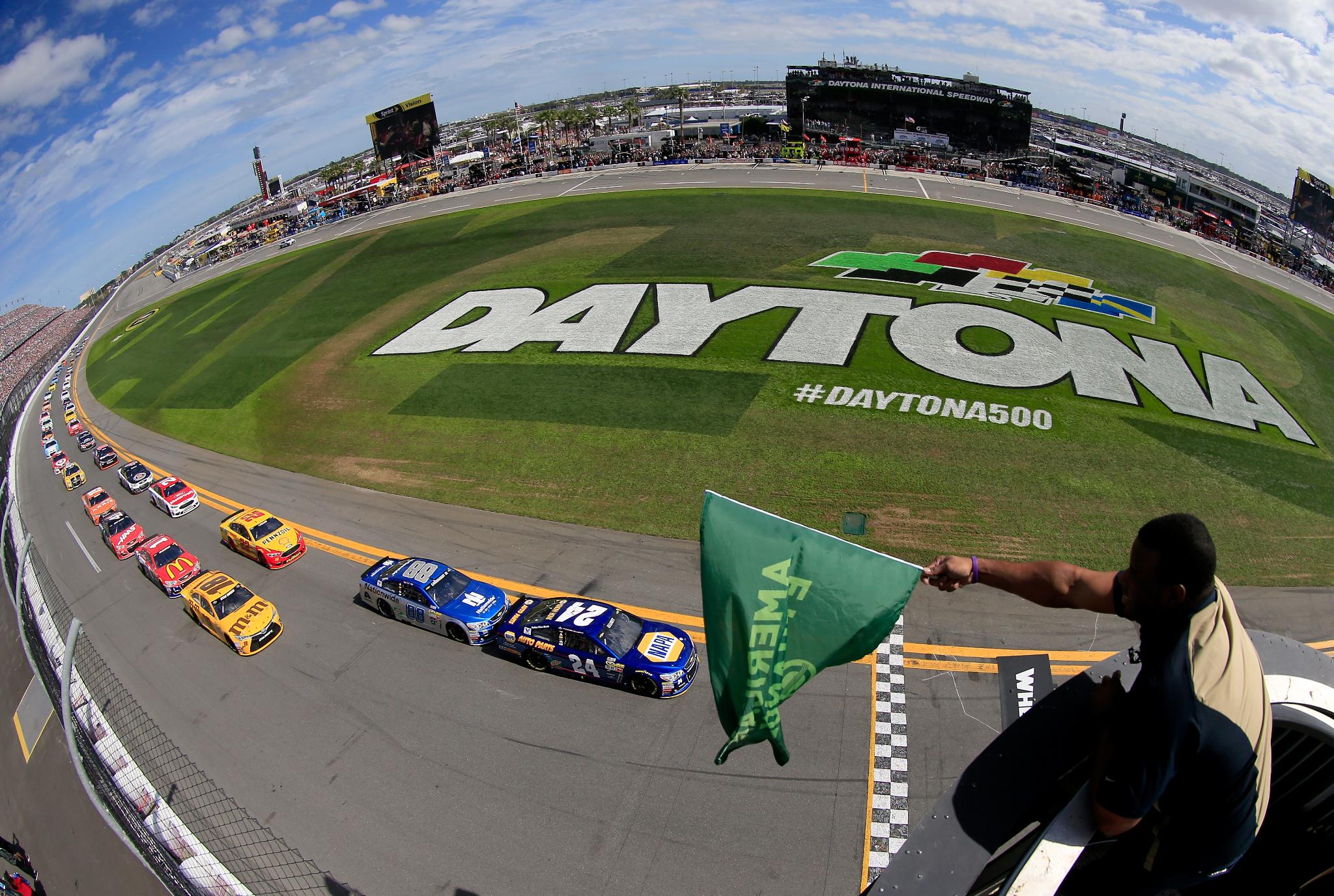 The 2017 NASCAR Sprint Cup season will kick off with the Daytona 500 on Feb. 26th
Chris Trotman/NASCAR via Getty Images
NASCAR has released the 2017 season scheduled for all three of its major touring series today, highlighting some changes to the lineup of dates for the championship chase in the Cup Series.
In an unprecedented move, NASCAR unveiled the schedule far earlier than it has in previous years – a result of the five-year sanctioning agreement NASCAR signed with track owners last year.
No new tracks were added to any of the three schedules, and no tracks were removed either, with only a handful of dates swapped around.
"Announcing the 2017 national series schedules this early in the season is another example of the collaborative spirit across the NASCAR industry," said Steve O'Donnell, NASCAR executive vice president and chief racing development officer. "It is an exciting time in NASCAR, with some of the most intriguing racing we've seen in years. With the 2017 schedule solidified, the industry can now concentrate on the remainder of this season, while planning for the future much earlier than in previous years."
The most notable change will be the shift of the fall Talladega race to Oct. 15, making it the second race of the second round of the Chase, known as the "Contender Round". Kansas Speedway, which was hosted the second race of that round for the last two seasons, will move to the following week, Oct. 22, which will be the final race of the second round.
[adinserter name="GOOGLE AD"] Among the other changes to the Sprint Cup schedule, Texas Motor Speedway's spring race will shift from Saturday night to Sunday afternoon on April 9 and Dover's spring race will return to its traditional post-Memorial Day slot on the schedule on June 4. Michigan Speedway's second race will also move back to early August, slated for Aug. 13.
Two down sides to the new schedule? Instead of three off-weekends during the course of the 36-race season, Cup Series teams will now get just two – one in mid-April and the other in late August. Also, shifting the Texas spring date from Saturday to Sunday puts it in the same timeslot as the final round of The Masters golf tournament.
The 2017 Sprint Cup season will kick off with the Daytona 500 on Feb. 26, while the NASCAR Xfinity Series season begins Feb. 25. The NASCAR Camping World Truck Series begins its season with its traditional season-opening night race on Feb. 24.
2017 NASCAR CUP SERIES SCHEDULE
| | | |
| --- | --- | --- |
| Date | Site | |
| | | |
| 2/18 | Daytona International Speedway (Unlimited) | |
| 2/19 | Daytona International Speedway (Daytona 500 Qualifying) | |
| 2/23 | Daytona International Speedway (Duel) | |
| 2/26 | Daytona 500 | |
| 3/5 | Atlanta Motor Speedway | |
| 3/12 | Las Vegas Motor Speedway | |
| 3/19 | Phoenix International Raceway | |
| 3/26 | Auto Club Speedway | |
| 4/2 | Martinsville Speedway | |
| 4/9 | Texas Motor Speedway | |
| 4/23 | Bristol Motor Speedway | |
| 4/30 | Richmond International Raceway | |
| 5/7 | Talladega Superspeedway | |
| 5/13 | Kansas Speedway | |
| 5/20 | Charlotte Motor Speedway (NASCAR All-Star Race) | |
| 5/28 | Charlotte Motor Speedway | |
| 6/4 | Dover International Speedway | |
| 6/11 | Pocono Raceway | |
| 6/18 | Michigan International Speedway | |
| 6/25 | Sonoma Raceway | |
| 7/1 | Daytona International Speedway | |
| 7/8 | Kentucky Speedway | |
| 7/16 | New Hampshire Motor Speedway | |
| 7/23 | Indianapolis Motor Speedway | |
| 7/30 | Pocono Raceway | |
| 8/6 | Watkins Glen International | |
| 8/13 | Michigan International Speedway | |
| 8/19 | Bristol Motor Speedway | |
| 9/3 | Darlington Raceway | |
| 9/9 | Richmond International Raceway | |
| 9/17 | Chicagoland Speedway | |
| 9/24 | New Hampshire Motor Speedway | |
| 10/1 | Dover International Speedway | |
| 10/7 | Charlotte Motor Speedway | |
| 10/15 | Talladega Superspeedway | |
| 10/22 | Kansas Speedway | |
| 10/29 | Martinsville Speedway | |
| 11/5 | Texas Motor Speedway | |
| 11/12 | Phoenix International Raceway | |
| 11/19 | Homestead-Miami Speedway | |
2017 NASCAR XFINITY SERIES SCHEDULE
| | | |
| --- | --- | --- |
| Date | Site | |
| 2/25 | Daytona International Speedway | |
| 3/4 | Atlanta Motor Speedway | |
| 3/11 | Las Vegas Motor Speedway | |
| 3/18 | Phoenix International Raceway | |
| 3/25 | Auto Club Speedway | |
| 4/8 | Texas Motor Speedway | |
| 4/22 | Bristol Motor Speedway | |
| 4/29 | Richmond International Raceway | |
| 5/6 | Talladega Superspeedway | |
| 5/27 | Charlotte Motor Speedway | |
| 6/3 | Dover International Speedway | |
| 6/10 | Pocono Raceway | |
| 6/17 | Michigan International Speedway | |
| 6/24 | Iowa Speedway | |
| 6/30 | Daytona International Speedway | |
| 7/7 | Kentucky Speedway | |
| 7/15 | New Hampshire Motor Speedway | |
| 7/22 | Indianapolis Motor Speedway | |
| 7/29 | Iowa Speedway | |
| 8/5 | Watkins Glen International | |
| 8/12 | Mid-Ohio Sports Car Course | |
| 8/18 | Bristol Motor Speedway | |
| 8/26 | Road America | |
| 9/2 | Darlington Raceway | |
| 9/8 | Richmond International Raceway | |
| 9/16 | Chicagoland Speedway | |
| 9/23 | Kentucky Speedway | |
| 9/30 | Dover International Speedway | |
| 10/6 | Charlotte Motor Speedway | |
| 10/21 | Kansas Speedway | |
| 11/4 | Texas Motor Speedway | |
| 11/11 | Phoenix International Raceway | |
| 11/18 | Homestead-Miami Speedway | |
2017 NASCAR CAMPING WORLD TRUCK SERIES SCHEDULE
| | | |
| --- | --- | --- |
| Date | Site | |
| | | |
| 2/24 | Daytona International Speedway | |
| 3/4 | Atlanta Motor Speedway | |
| 4/1 | Martinsville Speedway | |
| 5/12 | Kansas Speedway | |
| 5/19 | Charlotte Motor Speedway | |
| 6/2 | Dover International Speedway | |
| 6/9 | Texas Motor Speedway | |
| 6/17 | Gateway Motorsports Park | |
| 6/23 | Iowa Speedway | |
| 7/6 | Kentucky Speedway | |
| 7/19 | Eldora Speedway | |
| 7/29 | Pocono Raceway | |
| 8/12 | Michigan International Speedway | |
| 8/16 | Bristol Motor Speedway | |
| 8/27 | Canadian Tire Motorsport Park | |
| 9/15 | Chicagoland Speedway | |
| 9/23 | New Hampshire Motor Speedway | |
| 9/30 | Las Vegas Motor Speedway | |
| 10/14 | Talladega Superspeedway | |
| 10/28 | Martinsville Speedway | |
| 11/3 | Texas Motor Speedway | |
| 11/10 | Phoenix International Raceway | |
| 11/17 | Homestead-Miami Speedway | |
| | | |
[adinserter name="GOOGLE AD"]