Historic Formula One Cars Reunite In Monterey
F1 Returns to Monterey
Nostalgia is a marvelous thing. In an era when one manufacturer dominates Formula One, let's look back at a time when the category was far more open, such as the more free-wheeling pre-turbo times from 1967 to 1984. The Masters USA international Formula One field's highly-anticipated return to the Rolex Monterey Motorsports Reunion comes Aug. 18-21 as part of the renowned Monterey Classic Car Week celebration.
Each of the 550 cars accepted into the Rolex Monterey Motorsports Reunion's 15 race groups run in period color schemes and are authentically-prepared to original mechanical specifications. Yet, don't think of this as a parade for museum pieces. Instead, the racing is very competitive.
The Formula One group is full of marques from a golden age: Lotus, March, Tyrrell, Hill, Williams, Penske, Ferrari, Shadow and Brabham all line up with enthusiastic owners of history behind the wheel.
Australian Chris Farrell will roll up in his Rothmans-liveried March from 1982 against the earlier ex-Arturo Merzario March 761 of Scotland-based Irishman Tommy Dreelan and the even earlier ex-Jackie Stewart March 701 of Brit Richard Dean.
Sponsorship guru Zak Brown will line up in his 1980 Williams FW07, the car from Alan Jones' championship-winning season. This is the chassis in which the Aussie won in France and Britain, plus the non-championship race in Spain. More Williams history comes from the 1980 FW07B, of last year's winner Charles Nearburg, and the 1983 FW08C of runner-up Erich Joiner, the type of car Keke Rosberg won that year's Monaco GP.
Lotus 79s have a special place in the hearts of American fans, as the 79 is the car that Mario Andretti won the 1978 World Championship. Duncan Dayton's example will square up against Brit Greg Thornton in his Lotus 77 and Chris Locke's similar car.
Add in the Shadow, created by Monterey County resident Don Nichols, plus the ex-John Watson Penske PC4 and the 1975 Hill GH1 (that had a variety of drivers including Graham Hill himself) and the scene is set for a superb spectacle.
BMW is celebrating its 100th anniversary and is this year's featured marque. BMW of North America's historical display is expected to feature a wide range of race cars and street models that catapulted the German company into one of the most highly regarded automakers, and brands, worldwide.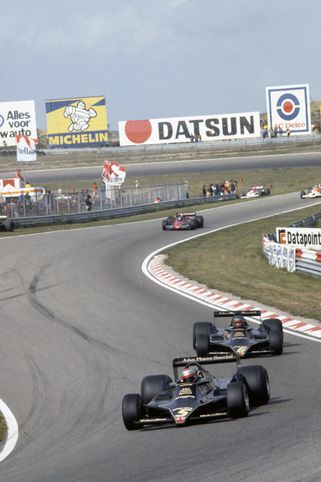 The Lotus 79 will be featured
Rolex is an avid supporter of the internationally acclaimed Monterey Classic Car Week and has been title sponsor of the Rolex Monterey Motorsports Reunion since it was renamed in 2010. Every year a driver from each group is selected for their overall excellence in the race and receive a Rolex Award of Excellence. The event's top honor of a specially engraved 18-karat yellow gold and stainless steel Oyster Perpetual Cosmograph Daytona is awarded to the driver who excels in the Spirit of the Weekend. Rolex's involvement with motorsports runs deep, having been associated with the famed Goodwood Revival since 2004 and, most recently, as a Global Partner and Official Timepiece of Formula 1.
A maximum of 550 historic race cars will be accepted for entry in the 15 race groups that will swell the paddock with rolling automotive history. Each car will be evaluated for its authenticity, race provenance, and documentation that it is period and mechanically correct from when it originally ran. From early pre-war cars like a 1916 National AC and 1927 Bugatti T37A Grand Prix, to the ground-pounding Can-Am and historic Trans-Am cars, the senses will be fully rewarded.