Johnson outduels Harvick at Fontana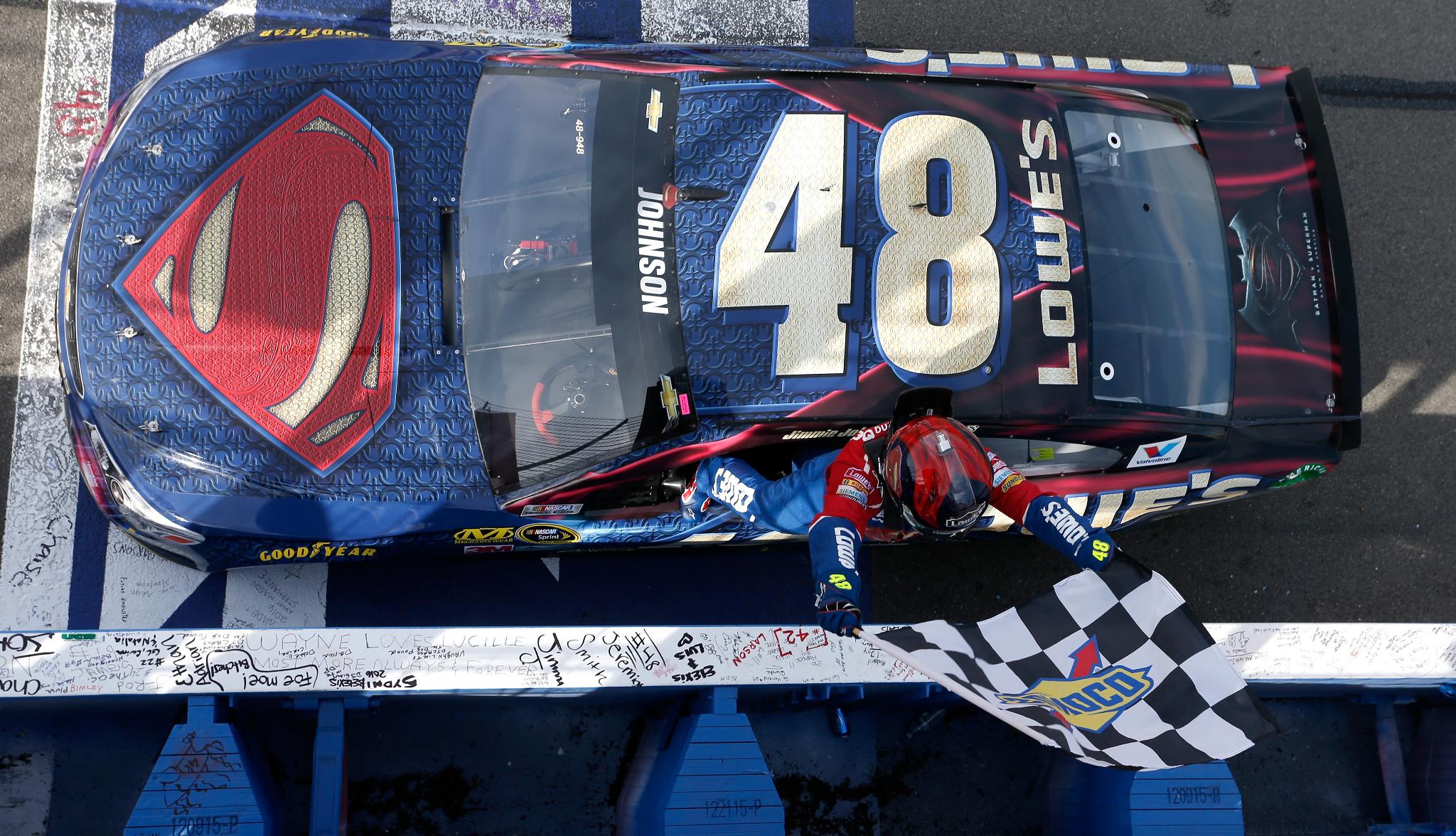 Jimmie Johnson takes the checkered flag at Auto Club Speedway
Brian Lawdermilk/NASCAR via Getty Images
Jimmie Johnson won the battle between hometown heroes on Sunday, outdueling Kevin Harvick in overtime at Auto Club Speedway.
"Awesome teamwork, boys!" Johnson shouted on his radio after taking the 77th checkered flag of his NASCAR Sprint Cup Series career, breaking a tie with the late Dale Earnhardt for seventh on the all-time victory list. "There's nothing like winning at home."
The six-time series champion from El Cajon got the chance he needed when Kyle Busch blew a tire and hit the Turn 3 wall on Lap 198 of a scheduled 200 to cause the sixth and final caution of the afternoon. With the race destined for overtime, the lead-lap cars came to pit road for new tires, with Denny Hamlin leading Harvick and Johnson back onto the track.
Hamlin chose the outside lane for a restart on Lap 204, leaving Johnson behind Harvick in the inside lane. Johnson pushed Harvick clear of Hamlin into Turn 1 and dived to the inside of the race's dominant driver, who had led 142 laps to that point.
[adinserter name="GOOGLE AD"] Johnson stayed in the gas off Turn 2, ultimately clearing Harvick and pulling away to win by .772 seconds. The victory was Johnson's second of the 2016 season and his sixth in 22 starts at the two-mile track.
"I got a great run off of Turn 2, and I thought 'Man I've got a shot at this thing,'" Johnson said of the opening lap of the final restart. "Which I didn't expect to have. Harvick has been so fast. I cleared him and kind of got away.
"We saved our best for last, for sure. I told everybody Superman kicked Batman's butt and it happened (teammate Dale Earnhardt Jr. was driving the Batman car and finished 11th)."
Driving a No. 48 Hendrick Motorsports Chevrolet adorned with a "Superman" logo to plug the movie "Batman v. Superman: Dawn of Justice," Johnson led 25 laps, but his rival from Bakersfield had dominated the event until the final restart.
"That sucks," said Harvick, who has finished second 20 times in 77 events since joining Stewart-Haas Racing in 2014, his championship season. "Just way too tight right there. Couldn't put the throttle down. Wouldn't turn."
Harvick described the late-race caution as a "worst-case scenario."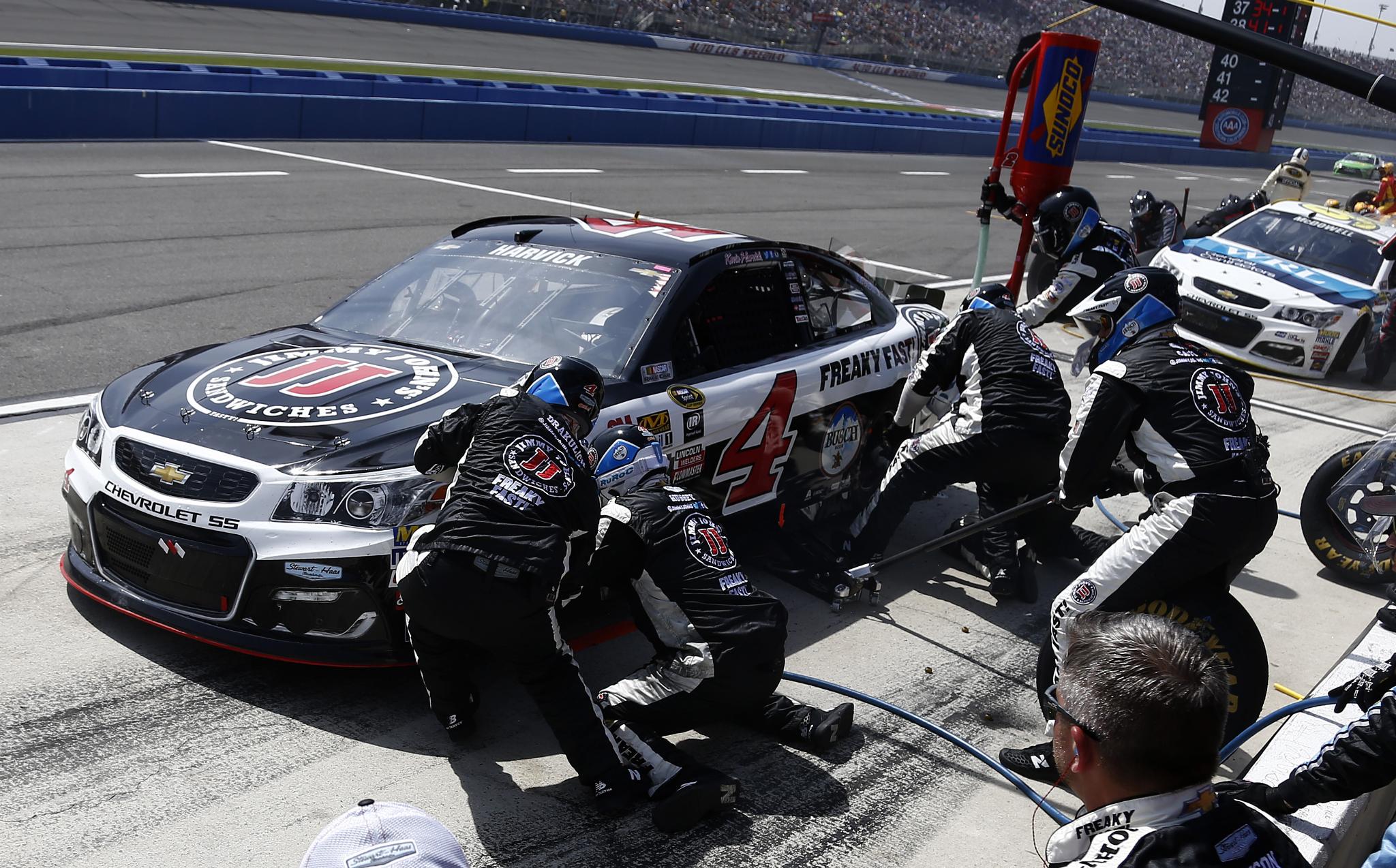 Kevin Harvick finished second for his fifth-straight top-10 finish
Jeff Zelevansky/NASCAR via Getty Images
"We weren't very good on restarts for four or five laps, unless we were all by ourselves," said Harvick, who nevertheless retained the series lead by 11 points over Johnson. "The No. 48 was able to hang with us, and we just weren't able to drive it in like I needed to, just didn't have the front tires turning and the back wouldn't grip.
"Still, a good day for us. … We'll keep at it."
Hamlin ran third, overcoming radio problems that left him mired in traffic early in the race. Joey Logano ran fourth, followed by Ricky Stenhouse Jr., who notched his first top five since last year's spring race at Bristol.
Rookie Chase Elliott, Carl Edwards, AJ Allmendinger, Brad Keselowski and Jamie McMurray completed the top 10. Polesitter Austin Dillon finished 24th, after a loose wheel forced him to return to pit road after stops under caution on Lap 110.
JIMMIE JOHNSON, NO. 48 LOWE'S/SUPERMAN CHEVROLET SS – RACE WINNER
WALK US THROUGH THAT INCREDIBLE RESTART AND HOW YOU SET-UP KEVIN HARVICK:
"Man, this is cool. First off all I 'hi' to my family at home, I can't wait to see you guys. I knew we had great car and that caution fell at a bad time the run before. I just didn't have the tires on the car to race with those guys. To go there at the end and have good tires on the car, Harvick and I got by I guess Joey there at the start. I got a great run off of Turn 2 and I thought 'man I've got a shot at this thing'. Which I didn't expect to have, Harvick has been so fast. I cleared him and kind of got away. We saved our best for last for sure. I told everybody Superman kicked Batman's butt and it happened. I'm very thankful for Lowe's and the amazing relationship we have had over the years, Chevrolet, everybody at Hendrick Motorsports, this is going to be a good time."
WHAT KIND OF STATEMENT DOES THIS SEND TO THE OTHER COMPETITORS KNOW THE PACKAGE WE ARE COMPETING WITH NOW AND HOW WELL YOU HAVE STARTED THE YEAR?
"I mean it might send a statement. It's a long year. We need to keep doing this all year long, especially late in the season. Right now this Lowe's Chevrolet is awfully fast and a lot of fun to drive."
ON THE LAST RESTART:
"The caution kind of fell at a bad time when we hit pit road two stops from the end. I just didn't have anything for those guys on a lap or two fresher tires. We got a little disappointed in that, but still worked our way towards the top five. An amazing pit stop on pit road got me right there in contention. An awesome start with the No. 4 and myself getting going. I got a great run off of Turn 2 down the back and at that point I thought I had a good shot at it. I cleared him in (Turns) 3 and 4 and just had to bring it back at that point. We had our best at the last there and really strong on the short run which wasn't necessarily our strong suit earlier in the day. Chad (Knaus, crew chief) made some great adjustments there to get me tuned up for that dash at the end."
YOU ARE NOW SEVENTH ON THE ALL-TIME NASCAR SPRINT CUP SERIES WIN LIST PASSING DALE EARNHARDT WHAT ALL DOES THAT MEAN TO YOU?
"Man, it's hard to believe. I grew up out in the desert as a desert rat having fun and going to the river a little bit and having some fun over there too. To have those early childhood memories kind of shape me into the racer I am today and to be here in Victory Lane is pretty awesome."
KYLE LARSON, NO. 42 TARGET CHEVROLET SS – Involved in a single car accident on lap 48
WHAT HAPPENED?
"I was going down the back stretch and I think it was my left-rear tire got cut. It must have ripped the brake line because I went to push the pedal and it went straight to the floor board. I couldn't slow down. It was definitely a hard hit there, probably one of the harder ones of my career. Even before that we were pretty sub-average there, we were pretty bad. Disappointed in our run today, but glad I'm alright."
ON THE INCIDENT:
"We were struggling all day. We were really bad. And just on that backstretch, my left rear tire got cut and spun me to the outside wall and then spun me back into the inside wall. By the time I could hit the brakes it must have ripped the brake line and I had no brakes. They just went to the floorboard. I couldn't slow down and had a hard hit there; head-on. I'm okay. I'm thankful for Safer barriers and thankful that I'm all right. That was definitely probably the hardest hit I've ever had in my career. I'm glad to be on my feet right here."
DANICA PATRICK, NO. 10 TAXACT CHEVROLET SS – Involved in an on-track incident on lap 120
WHAT HAPPENED FROM YOUR PERSPECTIVE?
"We were on a restart and I had a run on him so I went down low. If you get too close to them then it will drag you both back. I was going low. I saw him chase me down the track and then the next thing I know I was getting spun up the track. I am I was passing him. He was behind me in the right rear. I don't know what kind of day he was having. I just heard he was a lap down actually. I feel bad if he felt like he was put in a position to have to be that desperate a lap down. It's just unfortunate; he must be having a very tough time. I was having a pretty good recovery day, kind of like last weekend. I was just running good race laps and on the lead lap at the end of the race back up into the top 20 from a bad starting position. And I was looking forward to a good finish and a good off week. Unfortunately now there is more work to be done at the shop, which is not I'm sure what they want, but we had a good TaxAct car and Billy (Scott, crew chief) did a good job to set-up for today and we were moving forward."
Results
| | | | | | | | |
| --- | --- | --- | --- | --- | --- | --- | --- |
| Pos | Driver | Make | Behind | Gap | Laps | Led | points |
| 1 | Jimmie Johnson | Chevy | Leader | Leader | 205 | 25 | 184 |
| 2 | Kevin Harvick | Chevy | 0.772 | 0.772 | 205 | 142 | 195 |
| 3 | Denny Hamlin | Toyota | 1.030 | 0.258 | 205 | 2 | 170 |
| 4 | Joey Logano | Ford | 1.292 | 0.262 | 205 | 3 | 165 |
| 5 | Ricky Stenhouse Jr. | Ford | 2.509 | 1.217 | 205 | 0 | 119 |
| 6 | Chase Elliott # | Chevy | 2.512 | 0.003 | 205 | 1 | 110 |
| 7 | Carl Edwards | Toyota | 2.607 | 0.095 | 205 | 9 | 171 |
| 8 | AJ Allmendinger | Chevy | 2.650 | 0.043 | 205 | 0 | 108 |
| 9 | Brad Keselowski | Ford | 2.769 | 0.119 | 205 | 0 | 142 |
| 10 | Jamie McMurray | Chevy | 3.159 | 0.390 | 205 | 0 | 125 |
| 11 | Dale Earnhardt Jr. | Chevy | 3.356 | 0.197 | 205 | 0 | 145 |
| 12 | Brian Scott # | Ford | 3.366 | 0.010 | 205 | 0 | 85 |
| 13 | Brian Vickers | Chevy | 3.503 | 0.137 | 205 | 0 | 48 |
| 14 | Ryan Newman | Chevy | 3.881 | 0.378 | 205 | 0 | 95 |
| 15 | Paul Menard | Chevy | 4.165 | 0.284 | 205 | 0 | 91 |
| 16 | Landon Cassill | Ford | 4.526 | 0.361 | 205 | 0 | 77 |
| 17 | Casey Mears | Chevy | 4.619 | 0.093 | 205 | 0 | 84 |
| 18 | Clint Bowyer | Chevy | 4.827 | 0.208 | 205 | 0 | 66 |
| 19 | Matt Kenseth | Toyota | 4.968 | 0.141 | 205 | 2 | 113 |
| 20 | Trevor Bayne | Ford | 4.991 | 0.023 | 205 | 0 | 95 |
| 21 | Aric Almirola | Ford | 5.191 | 0.200 | 205 | 0 | 120 |
| 22 | David Ragan | Toyota | 5.297 | 0.106 | 205 | 0 | 67 |
| 23 | Regan Smith | Chevy | 5.374 | 0.077 | 205 | 0 | 88 |
| 24 | Austin Dillon | Chevy | 5.451 | 0.077 | 205 | 1 | 139 |
| 25 | Kyle Busch | Toyota | 5.652 | 0.201 | 205 | 0 | 170 |
| 26 | * Cole Whitt | Chevy | 5.934 | 0.282 | 205 | 0 | 27 |
| 27 | Matt DiBenedetto | Toyota | 7.999 | 2.065 | 205 | 0 | 58 |
| 28 | Kasey Kahne | Chevy | 10.011 | 2.012 | 205 | 0 | 109 |
| 29 | Michael Annett | Chevy | 13.012 | 3.001 | 205 | 0 | 57 |
| 30 | Kurt Busch | Chevy | 13.282 | 0.270 | 205 | 0 | 148 |
| 31 | Michael McDowell | Chevy | 13.666 | 0.384 | 205 | 0 | 61 |
| 32 | Martin Truex Jr. | Toyota | 1 Lap | – | 204 | 21 | 127 |
| 33 | Chris Buescher # | Ford | 1 Lap | – | 204 | 0 | 49 |
| 34 | Jeffrey Earnhardt # | Ford | 5 Laps | – | 200 | 0 | 18 |
| 35 | * Ryan Blaney # | Ford | 10 Laps | – | 195 | 0 | 110 |
| 36 | * Josh Wise | Chevy | 10 Laps | – | 195 | 0 | 20 |
| 37 | Greg Biffle | Ford | 59 Laps | – | 146 | 0 | 80 |
| 38 | Danica Patrick | Chevy | 85 Laps | – | 120 | 0 | 72 |
| 39 | Kyle Larson | Chevy | 159 Laps | – | 46 | 0 | 87 |
[adinserter name="GOOGLE AD"]