Dillon Saves Fuel, Wins XFINITY Thriller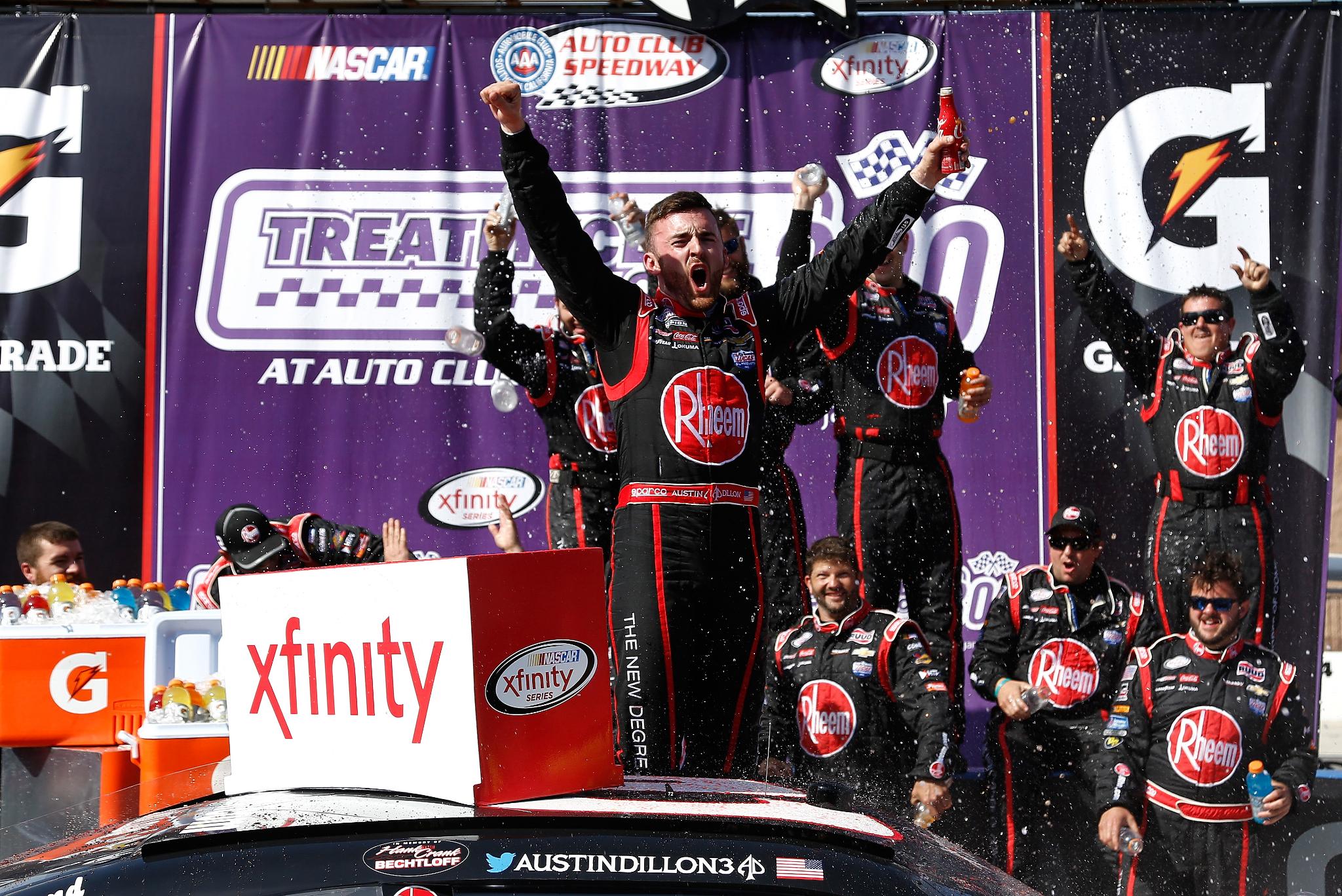 Austin Dillon
Jeff Zelevansky/NASCAR via Getty Images
Seconds after crossing the finish line .715 seconds ahead of runner-up Kyle Busch, Austin Dillon summed up Saturday's TreatMyClot.com 300 by Janssen in one short sentence.
"I'd rather be lucky than good," Dillon chortled on his team radio after ending evading Busch's last-ditch attempt to pinch the winning No. 2 Chevrolet into the outside wall at Auto Club Speedway.
And that was just the final stanza of a crazy final lap that saw: 1) Busch slow to a crawl, short on fuel; 2) Daniel Suárez take the lead from his Joe Gibbs racing teammate on the backstretch, only to run out of fuel; 3) Busch regain the lead despite cutting a left front tire on his final lap; and 4) Dillon come from a half-lap down to pass Busch as the drivers approached the finish line.
Dillon led only one lap, but it was the lap that counted.
"Well, I just had to stay focused," said Dillon, who did a masterful job of saving fuel in snapping Busch's three-race winning streak. "(My team) said (Busch) had a flat. I was worried about our fuel and stayed focused on that the whole time.
"He tried to screw me right there at the end, but it didn't work out for him, did it? I'm proud of these guys. Man, that was fun. I didn't think we had a car to do that, and we didn't, but we did what we had to do to win the race…
"Sometimes things just go your way, and today they definitely did."
[adinserter name="GOOGLE AD"] Busch, on the other hand, led 133 of the 150 laps and appeared destined to tie Sam Ard's record of four victories in as many consecutive races. In fact, Joe Gibbs Racing seemed headed for its third straight 1-2-3 finish before Erik Jones ran out of fuel on the next-to-last lap, Daniel Suárez emptied his tank a lap later, and Busch cut his tire after taking the white flag.
The victory was Dillon's first of the season, first at the two-mile track and seventh of his career.
Darrell Wallace Jr. finished third, and Suárez limped across the finish line in fourth place, maintaining a 10-point lead over fifth-place finisher Elliott Sadler in the series standings. Kevin Harvick, Brendan Gaughan, Kyle Larson, Brandon Jones and Justin Allgaier completed the top 10.
Second with two laps left, Jones came home 15th, one lap down.
After pit stops under caution on Lap 101, Suárez came up a half-lap short of his elusive first victory.
"In the whole run we were saving fuel," Suárez said. "I knew that we were one to one-and-a-half laps short. I was saving fuel. I wasn't worrying about the 20 (Jones) or 18 (Busch). I was just trying to finish the race, because I knew that we were short. I knew that the 20 was a little bit shorter than us and eventually he ran out. When he ran out I started saving more because I knew that I had more fuel than him, but not a lot.
"I was just trying to save as much as I can. I passed the 18 when he blew the left front tire in (Turns) 1 and 2, and on the exit of 2 I ran out of fuel, and on the exit of four the 2 (Dillon) and the 18 passed me back. Very unfortunate, but it's part of racing. I really think that our first victory is coming and hopefully we can get it very soon."
The pole winner for Sunday's NASCAR Sprint Cup Series race (3:30 p.m. ET on FOX), Dillon will try to complete a career-first weekend sweep in the Auto Club 400.
RACE RESULTS
| | | | | | | | | |
| --- | --- | --- | --- | --- | --- | --- | --- | --- |
| Pos. | # | Driver | Make | Start | Laps | Led | Staus | Points |
| 1 | 2 | Austin Dillon | Chevy | 6 | 150 | 1 | Running | 0 |
| 2 | 18 | Kyle Busch | Toyota | 3 | 150 | 133 | Running | 0 |
| 3 | 6 | Darrell Wallace Jr | Ford | 13 | 150 | 0 | Running | 38 |
| 4 | 19 | Daniel Suarez | Toyota | 1 | 150 | 4 | Running | 38 |
| 5 | 1 | Elliott Sadler | Chevy | 5 | 150 | 0 | Running | 36 |
| 6 | 88 | Kevin Harvick | Chevy | 17 | 150 | 0 | Running | 0 |
| 7 | 62 | Brendan Gaughan | Chevy | 15 | 150 | 2 | Running | 35 |
| 8 | 42 | Kyle Larson | Chevy | 4 | 150 | 5 | Running | 0 |
| 9 | 33 | Brandon Jones | Chevy | 14 | 150 | 0 | Running | 32 |
| 10 | 7 | Justin Allgaier | Chevy | 20 | 150 | 0 | Running | 31 |
| 11 | 98 | Aric Almirola | Ford | 16 | 150 | 3 | Running | 0 |
| 12 | 11 | Blake Koch | Chevy | 8 | 150 | 0 | Running | 29 |
| 13 | 48 | Brennan Poole | Chevy | 9 | 149 | 0 | Running | 28 |
| 14 | 16 | Ryan Reed | Ford | 10 | 149 | 0 | Running | 27 |
| 15 | 20 | Erik Jones | Toyota | 2 | 149 | 0 | Running | 26 |
| 16 | 43 | Jeb Burton | Ford | 7 | 149 | 0 | Running | 25 |
| 17 | 3 | Ty Dillon | Chevy | 12 | 149 | 0 | Running | 24 |
| 18 | 24 | Corey Lajoie | Toyota | 32 | 149 | 0 | Running | 23 |
| 19 | 4 | Ross Chastain | Chevy | 19 | 149 | 0 | Running | 22 |
| 20 | 22 | Ryan Blaney | Ford | 11 | 148 | 0 | Running | 0 |
| 21 | 51 | Jeremy Clements | Chevy | 18 | 148 | 0 | Running | 20 |
| 22 | 28 | Dakoda Armstrong | Toyota | 21 | 148 | 0 | Running | 19 |
| 23 | 0 | Garrett Smithley | Chevy | 27 | 148 | 0 | Running | 18 |
| 24 | 21 | Spencer Gallagher | Chevy | 26 | 148 | 0 | Running | 0 |
| 25 | 01 | Ryan Preece | Chevy | 24 | 148 | 1 | Running | 17 |
| 26 | 90 | Mario Gosselin | Chevy | 35 | 147 | 0 | Running | 15 |
| 27 | 14 | J.J. Yeley | Toyota | 25 | 147 | 0 | Running | 14 |
| 28 | 52 | Joey Gase | Chevy | 31 | 145 | 0 | Running | 13 |
| 29 | 39 | Ryan Sieg | Chevy | 23 | 145 | 0 | Running | 12 |
| 30 | 15 | Todd Peck | Ford | 39 | 141 | 0 | Running | 11 |
| 31 | 25 | Cody Ware | Chevy | 40 | 140 | 0 | Running | 10 |
| 32 | 74 | Mike Harmon | Dodge | 38 | 139 | 0 | Running | 9 |
| 33 | 78 | B J McLeod | Ford | 37 | 95 | 0 | Engine | 8 |
| 34 | 70 | Derrike Cope | Chevy | 34 | 89 | 0 | Engine | 7 |
| 35 | 97 | Harrison Rhodes | Chevy | 36 | 84 | 0 | Engine | 6 |
| 36 | 93 | Dylan Lupton | Chevy | 22 | 56 | 0 | Accident | 5 |
| 37 | 07 | Ray Black Jr | Chevy | 33 | 44 | 0 | Accident | 4 |
| 38 | 44 | David Starr | Toyota | 29 | 30 | 0 | Engine | 3 |
| 39 | 40 | Josh Wise | Toyota | 28 | 18 | 1 | Vibration | 0 |
| 40 | 10 | Matt DiBenedetto | Toyota | 30 | 2 | 0 | Brakes | 0 |
[adinserter name="GOOGLE AD"]