Jimmie Johnson Earns 76th Win With Atlanta Victory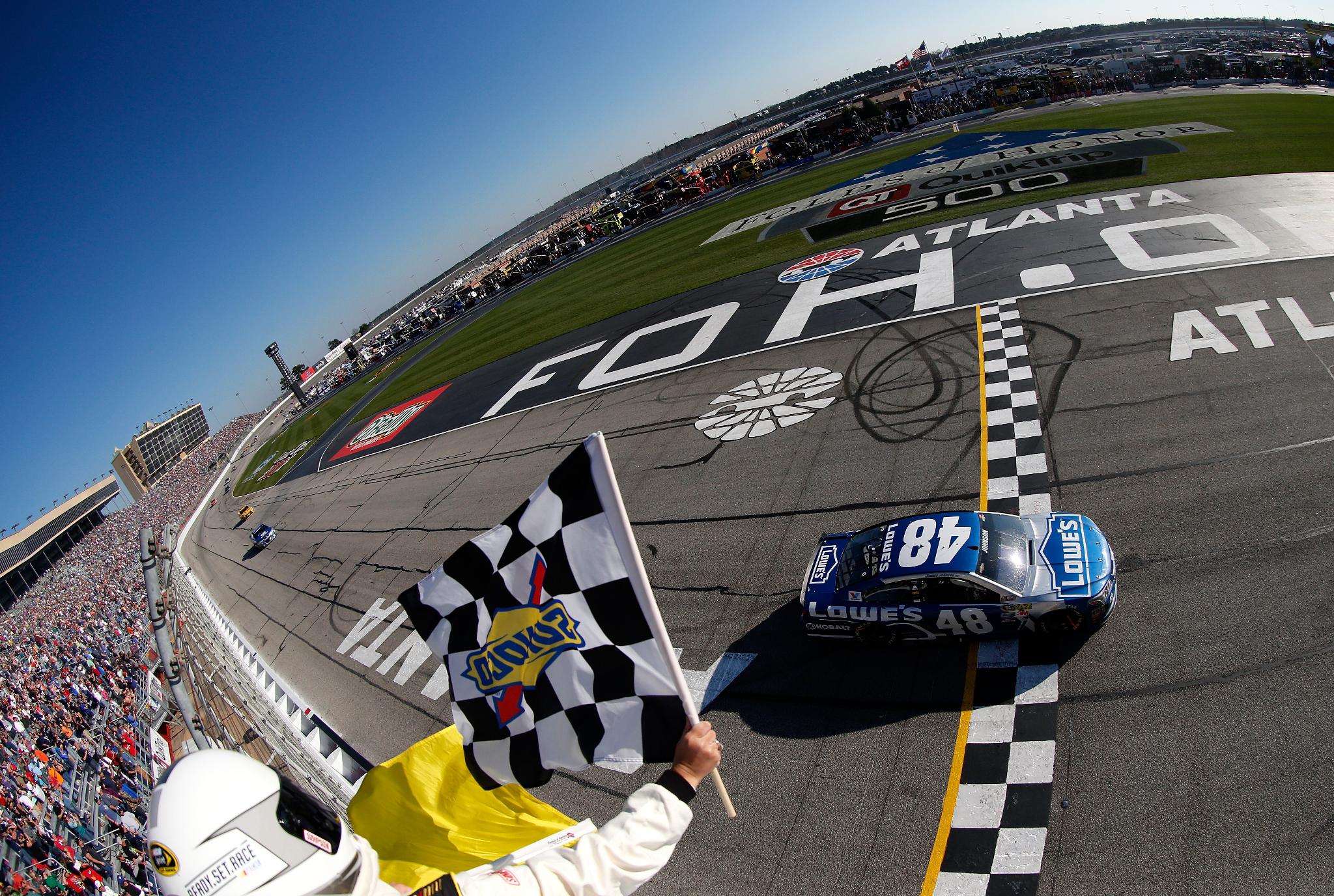 Johnson takes the yellow and checkered flag at Atlanta
Matt Sullivan/NASCAR via Getty Images
Jimmie Johnson and his team gambled on pit strategy and won, taking the checkered flag in Sunday's Folds Of Honor QuikTrip 500 at Atlanta Motor Speedway to earn his 76th-career victory – tying him with the late Dale Earnhardt – and secure a spot in the Chase for the Sprint Cup
Johnson and his crew chief Chad Knaus gambled with a short-pit strategy with 49 laps to go to get the lead and held on through a final green-white-checkered shootout for his second consecutive Atlanta victory and his fifth overall at the 1.5-mile track.
Dale Earnhardt, Jr., nipped Kyle Busch at the finish for second. Kurt Busch and Carl Edwards finished out the top five.
Johnson's victory was his first of the season and ties him with the late Dale Earnhardt, Jr. for seventh on the all-time Sprint Cup win list.
"It's such an honor," said Johnson of tying the record. "With the chaos at the end and wondering about overtime and how it worked these days, I kind of lost sight of that. I remembered it on my victory lap coming down, and I had to come by and throw a 'three' out the window to pay my respects to the man. There's a huge void in my career that I never had a chance to race with him, but at least I was able to tie his record."
[adinserter name="GOOGLE AD"] Johnson seemed to excel in the first race under NASCAR's new low-downforce aerodynamic rules package – a package that seems to fit his driving style perfectly – and managed to pull away on older tires while others struggled to keep up.
"My background in racing on the dirt, I think really lends to this package, and certainly at a track like Atlanta today and how much tire wear we have lends to my background," said Johnson. "I knew when (Chas Knaus) pulled me to pit lane that we were going to be on the early side, and then I made lap after lap after lap and no one else was on pit road, and I was like, are we going to two-stop it from here? What's going on? I didn't realize how aggressive he was willing to be.
"It definitely a gutsy call. It was just a great team effort. The No. 4 (Kevin Harvick) car was awfully tough and it was going to take some strategy to get by him. When he told me to whip it as hard as I could there, I just felt like I was going to take too much life out of the tires. But, it worked."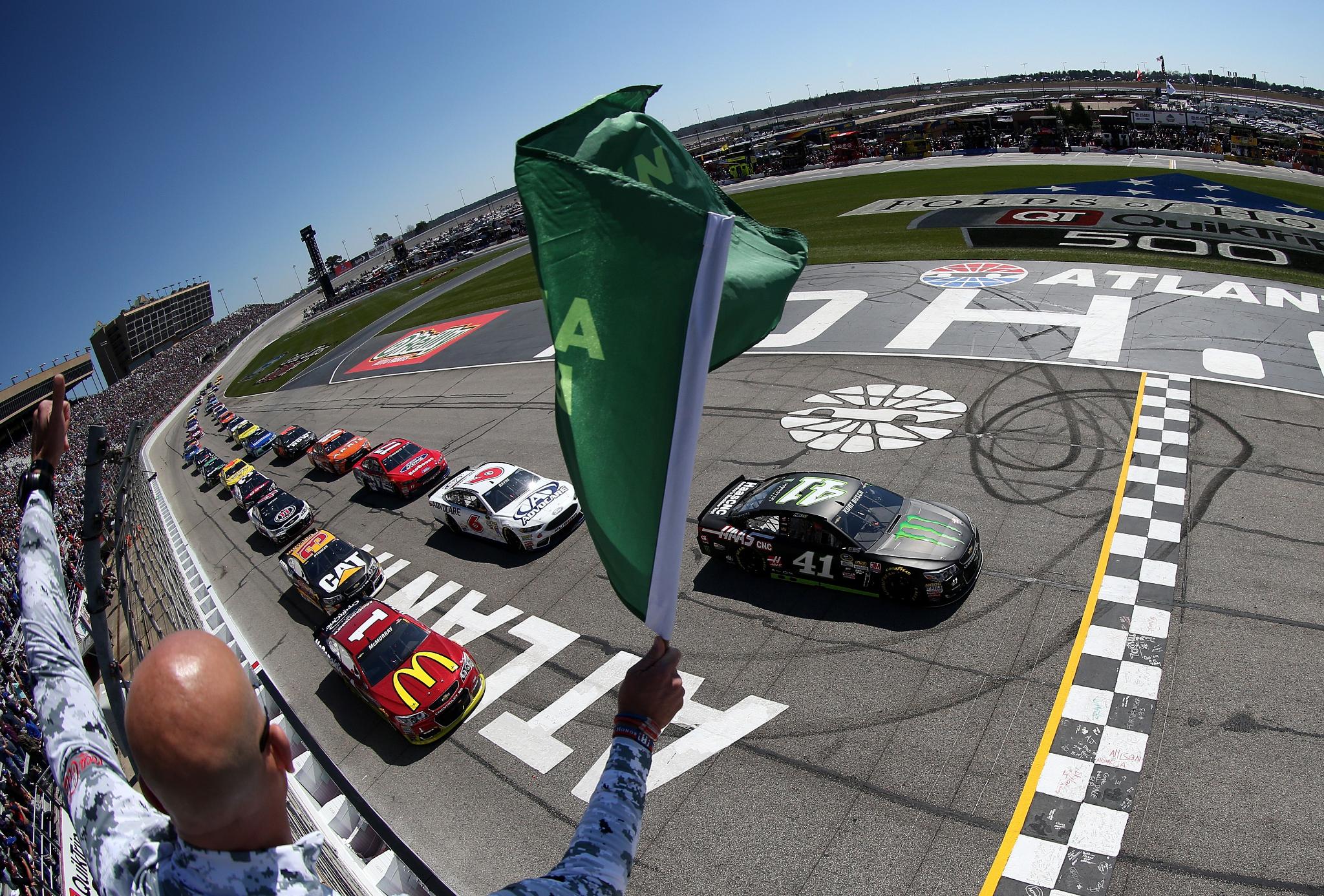 Kurt Busch leads the field to the green flag in the Folds of Honor QuikTrip 500
Matt Sullivan/NASCAR via Getty Images
Sunday's race opened with a track-record 211 green-flag laps, but nearly every team opted to pit within the first 40 laps to change tires.
Up front, Harvick and Martin Truex, Jr. took command of the race, leading a combined 165 laps while trading the lead 14 times between them.
Johnson was forced to short pit before the second round of stops, pitting on lap 71 after reporting a vibration. The stop put him a lap down in 27th.
Johnson got back on the lead lap when the field cycled around for pit stops and was back in the top three by lap 95.
Although tire wear was an issue, Johnson and his team including his wily veteran crew chief Chad Knaus decided to try a Hail Mary shot and short pit right at the edge of their fuel window on lap 281, hoping Johnson could manage his tire wear to the end of the race.
The move gave them the lead by over 15 seconds over Harvick with 49 laps to go.
Over the remaining laps, Harvick slowly ate into Johnson's lead, closing to within five seconds of the leader before Harvick started to fade.
[adinserter name="GOOGLE AD"] Johnson and Knaus' gamble nearly backfired when Ryan Newman brought out the caution flag with three laps left in the race, erasing Johnson's unsurmountable lead.
The caution brought the field to pit road and set up and three-lap dash to the finish, with Johnsen restarting inside of Harvick for the first overtime attempt.
But on the restart, Harvick spun the tires and plummeted through the field as Kyle Busch tried to power past Johnson on the outside going into turn one.
Johnson managed to pull out in front of Busch and had a three-car length lead going down the backstretch when the caution came out for a four-car pileup, effectively ending the race.
Earnhardt, Jr, nipped Kyle Busch by just over a foot at the line to take second, giving Hendrick Motorsports a 1-2 finish.
Kyle Busch's third-place finish marked a tremendous comeback after he was forced to start in the back of the field when his qualifying time was disallowed on Friday.
"Once I cleared the 4 (Kevin Harvick) getting into turn one I thought I had a really good shot at being able to overtake the 48 (Jimmie Johnson)," said Busch. "I tried running a little bit higher than him to see if I could get some momentum off two and I never really got any
"Adam Stevens (crew chief) and the guys did a great job. What else could I say? They fought hard to battle back from being at the tail end and got a good points day out of it, so we'll go on next week and go to Vegas and see if we can't score a win in the hometown."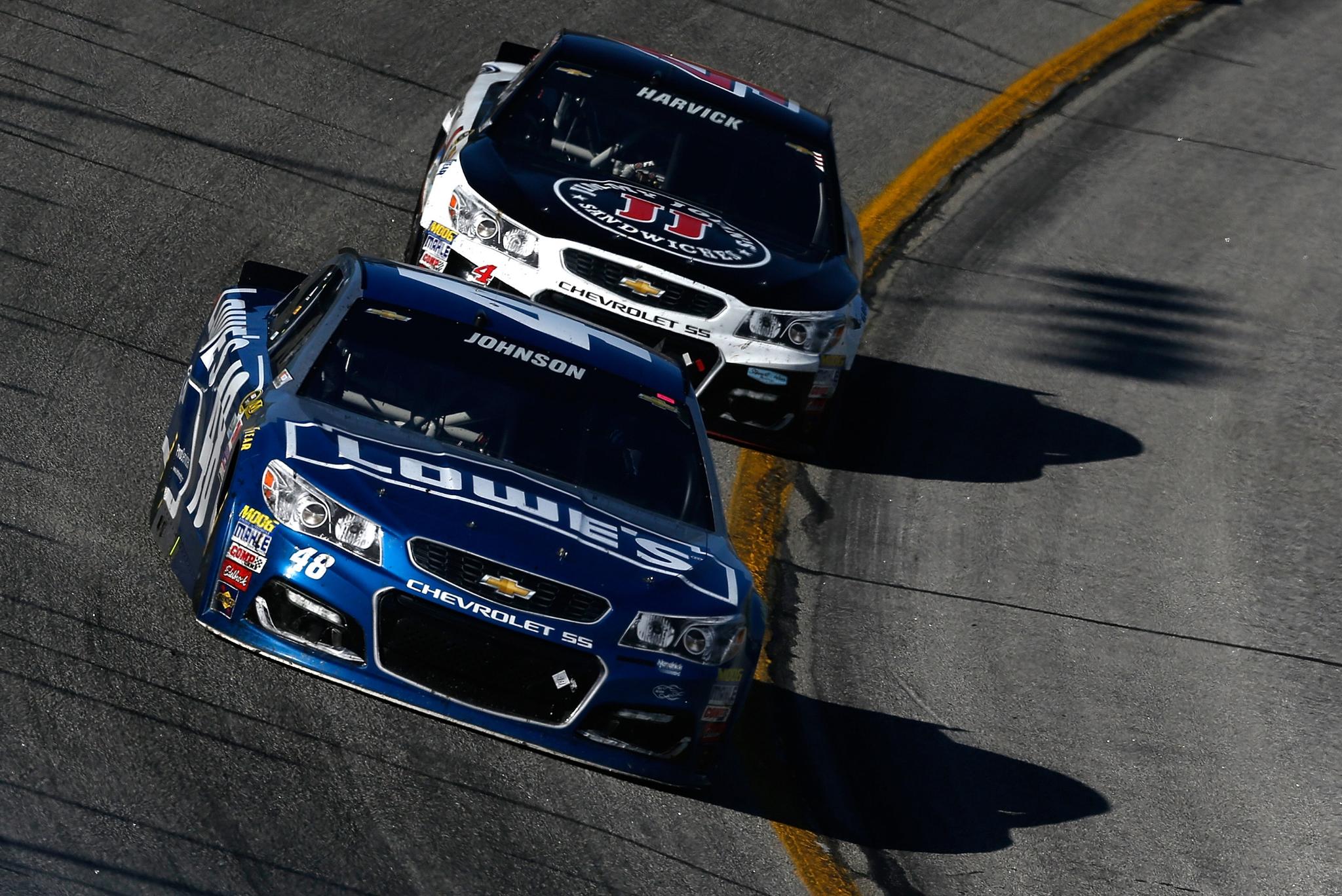 Johnson led Harvick over the final 49 laps
Jeff Zelevansky/Getty Images
Harvick, who had led a race-high 131 laps, came up short on the final restart and ended up with a sixth-place finish, followed by Truex, Jr., and hometown favorite Chase Elliott, who scored his first-career top-10 finish. Brad Keselowski and Ricky Stenhouse, Jr. completed the top 10.
The low-downforce package received generally high-praise from drivers, including Earnhardt, Jr., who compared it to the way racing was in the 1980's and '90's
"I loved it," Earnhardt said of the rules package. "We were sliding around and driving the hell out of the car. I had a blast. I had some good races there on the track with the No. 2 (Brad Keselowski) and the No. 18 (Kyle Busch) and a bunch of guys.
"Man, it was so much fun. And I post old pictures online all the time of the '80's and '90's and that's when racing was racing. That's when it was good. That's what they saw today."
Race Results
| | | | | | | | | |
| --- | --- | --- | --- | --- | --- | --- | --- | --- |
| Pos. | # | Driver | Make | Start | Laps | Led | Status | Points |
| 1 | 48 | Jimmie Johnson | Chevy | 19 | 330 | 52 | Running | 44 |
| 2 | 88 | Dale Earnhardt Jr | Chevy | 16 | 330 | 0 | Running | 39 |
| 3 | 18 | Kyle Busch | Toyota | 39 | 330 | 2 | Running | 39 |
| 4 | 41 | Kurt Busch | Chevy | 1 | 330 | 62 | Running | 38 |
| 5 | 19 | Carl Edwards | Toyota | 7 | 330 | 1 | Running | 37 |
| 6 | 4 | Kevin Harvick | Chevy | 6 | 330 | 131 | Running | 37 |
| 7 | 78 | Martin Truex Jr | Toyota | 9 | 330 | 34 | Running | 35 |
| 8 | 24 | Chase Elliott | Chevy | 24 | 330 | 0 | Running | 33 |
| 9 | 2 | Brad Keselowski | Ford | 17 | 330 | 0 | Running | 32 |
| 10 | 17 | Ricky Stenhouse Jr | Ford | 5 | 330 | 0 | Running | 31 |
| 11 | 3 | Austin Dillon | Chevy | 8 | 330 | 0 | Running | 30 |
| 12 | 22 | Joey Logano | Ford | 26 | 330 | 0 | Running | 29 |
| 13 | 16 | Greg Biffle | Ford | 14 | 329 | 0 | Running | 28 |
| 14 | 13 | Casey Mears | Chevy | 15 | 329 | 0 | Running | 27 |
| 15 | 43 | Aric Almirola | Ford | 27 | 328 | 0 | Running | 26 |
| 16 | 11 | Denny Hamlin | Toyota | 12 | 328 | 0 | Running | 25 |
| 17 | 14 | Ty Dillon | Chevy | 18 | 328 | 0 | Running | 0 |
| 18 | 27 | Paul Menard | Chevy | 21 | 328 | 0 | Running | 23 |
| 19 | 20 | Matt Kenseth | Toyota | 13 | 328 | 47 | Running | 23 |
| 20 | 10 | Danica Patrick | Chevy | 25 | 328 | 0 | Running | 21 |
| 21 | 1 | Jamie McMurray | Chevy | 2 | 328 | 0 | Running | 20 |
| 22 | 6 | Trevor Bayne | Ford | 3 | 328 | 0 | Running | 19 |
| 23 | 5 | Kasey Kahne | Chevy | 11 | 328 | 0 | Running | 18 |
| 24 | 31 | Ryan Newman | Chevy | 4 | 328 | 0 | Running | 17 |
| 25 | 21 | Ryan Blaney | Ford | 23 | 328 | 0 | Running | 16 |
| 26 | 42 | Kyle Larson | Chevy | 20 | 327 | 0 | Running | 15 |
| 27 | 47 | AJ Allmendinger | Chevy | 22 | 326 | 0 | Running | 14 |
| 28 | 34 | Chris Buescher | Ford | 31 | 326 | 0 | Running | 13 |
| 29 | 83 | Matt DiBenedetto | Toyota | 35 | 326 | 0 | Running | 12 |
| 30 | 46 | Michael Annett | Chevy | 34 | 325 | 0 | Running | 11 |
| 31 | 44 | Brian Scott | Ford | 10 | 324 | 0 | Running | 10 |
| 32 | 23 | David Ragan | Toyota | 33 | 323 | 0 | Running | 9 |
| 33 | 95 | Michael McDowell | Chevy | 32 | 323 | 0 | Running | 8 |
| 34 | 7 | Regan Smith | Chevy | 30 | 323 | 0 | Running | 7 |
| 35 | 15 | Clint Bowyer | Chevy | 28 | 322 | 0 | Running | 6 |
| 36 | 38 | Landon Cassill | Ford | 29 | 321 | 0 | Running | 5 |
| 37 | 98 | Cole Whitt | Chevy | 36 | 318 | 1 | Running | 5 |
| 38 | 32 | Jeffrey Earnhardt | Ford | 38 | 313 | 0 | Running | 3 |
| 39 | 30 | Josh Wise | Chevy | 37 | 312 | 0 | Running | 2 |
[adinserter name="GOOGLE AD"]