Kyle Busch Takes Xfinity Series Win at Atlanta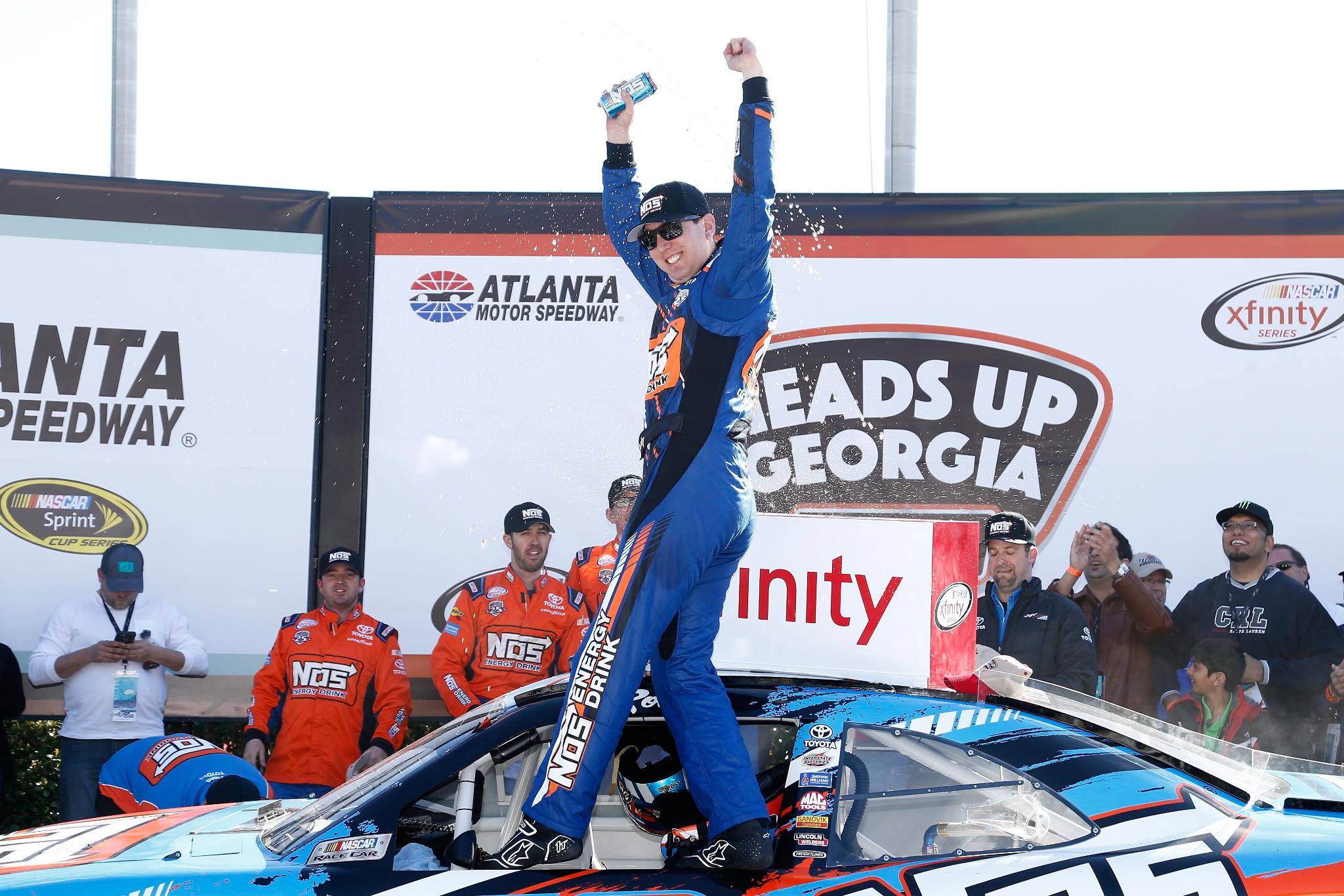 Kyle Busch celebrates in the winners circle
Jeff Zelevansky/Getty Images
There are not a lot of tracks on the NASCAR Xfinity Series that Kyle Busch has not won at. Going into Saturday, Atlanta Motor Speedway was one of them.
But not anymore.
After starting from the pole, Busch held off a hard charge over the closing laps from Kyle Larson to score the win in the Heads Up Georgia 250, nabbing Busch his 77th career Xfinity Series win, and his first at the Hampton, Georgia raceway.
Busch said it meant a lot to score the Atlanta victory.
"It's been a while, but certainly means a lot just to accomplish some of my goals that I have in racing. To come out here and to do this today and to beat Kyle Larson – this must be his favorite tracks or one of the just being able to move all over this race track and he's really good here too. Real proud of our team."
Over the final 12 laps, Larson found a groove that saw him run high in turns one and two and low in turns three and four. He would go from a second and a half deficit to just over half a second. The distance would fluctuate over the final ten laps as the two leaders worked lap traffic. In the end, Larson came up .466 of a second short.
Busch said he was concerned about Larson over the closing laps.
"I actually thought that last run was going to be too long for our car, which was better for (Kyle) Larson's car. We made some adjustments. (Chris) Gayle (crew chief) did a good job making some adjustments to our car and it helped me. It helped me definitely on the front side of the run for about the first 20 and I don't think it hurt me from there on to the end of the race, but Larson was just better than us. He kind of closed and closed and closed and lap traffic – you know you're trying to figure it out – they were really nice to me."
[adinserter name="GOOGLE AD"]Eric Jones had to battle back from an early race penalty to finish third. The Joe Gibbs Racing driver started alongside Busch on the front row, but jumped the start, drawing a drive through penalty from NASCAR. After working his way back through the field, the choice to take on tires on the final caution with 35 laps gave Jones the opportunity to power his way into the top three.
Jones said the penalty just made his day longer.
"I knew we had the car to do it, but it was just a matter of not burning the tires off while we were doing it and trying to get back up there," Jones said. "Just made it a long day for the Hisence Camry, but overall a good day, a nice rebound from Daytona and a good way to get the season on track and get headed in the right direction."
While the day belonged to Busch, as he led 119 of the 163 laps, other pre-race favorites suffered setbacks that hindered their ability to contend for the win. Brad Keselowski started sixth and led 28 laps. But his day took a bad turn when an air hose stuck during a green flag pit stop on lap 100, Keselowski dropped him back in the running order. He would finish sixth.
"We just weren't as strong as we wanted to be and needed to be," Keselowski said afterwards. "We'll work on it from there and try to find a little bit more speed."
The day was even worse for defending race winner Kevin Harvick. After starting ninth, he quickly moved to second by lap eight, and looked to be a threat for the victory.
Harvick was running in sixth position when he hit pit road for an overheating issue on lap 73. He would return to the pits seven laps later, still overheating. His crew removed all the tape from the grill, and he returned to the track several laps down. In the end, he would finish 12th, one lap down.
While the race was fairly clean on track, with five cautions slowing the action for 21 laps, the scariest moment came on pit road, when Darrell Wallace, Jr. was sent spinning after contact from Josh Reaume. Reaume was turning to go the garage area, not realizing Wallace, Jr. was passing him on the inside. The contact sent Wallace, Jr. sliding sideway through several pit stalls before coming to rest in the grass. Fortunately, no crew members were hurt, and Wallace, Jr. was able to drive away.
Paul Menard finished in fourth, with Ty Dillon in fifth.
Keselowski, Daniel Suarez, Justin Allgaier, Elliott Sadler and Jeb Burton rounded out the top ten.
Sadler leads Suarez in by three points in the championship standings as the Xfinity Series heads for Las Vegas Motor Speedway next weekend.
More to follow
Race Results
| | | | | | | | | |
| --- | --- | --- | --- | --- | --- | --- | --- | --- |
| Pos. | # | Driver | Make | Start | Laps | Led | Status | Points |
| 1 | 18 | Kyle Busch | Toyota | 1 | 163 | 119 | Running | 0 |
| 2 | 42 | Kyle Larson | Chevy | 4 | 163 | 0 | Running | 0 |
| 3 | 20 | Erik Jones | Toyota | 2 | 163 | 0 | Running | 38 |
| 4 | 2 | Paul Menard | Chevy | 11 | 163 | 0 | Running | 0 |
| 5 | 3 | Ty Dillon | Chevy | 6 | 163 | 0 | Running | 36 |
| 6 | 22 | Brad Keselowski | Ford | 7 | 163 | 28 | Running | 0 |
| 7 | 19 | Daniel Suarez | Toyota | 3 | 163 | 0 | Running | 34 |
| 8 | 7 | Justin Allgaier | Chevy | 12 | 163 | 15 | Running | 34 |
| 9 | 1 | Elliott Sadler | Chevy | 16 | 163 | 0 | Running | 32 |
| 10 | 43 | Jeb Burton | Ford | 15 | 163 | 1 | Running | 32 |
| 11 | 33 | Brandon Jones | Chevy | 19 | 163 | 0 | Running | 30 |
| 12 | 88 | Kevin Harvick | Chevy | 10 | 162 | 0 | Running | 0 |
| 13 | 62 | Brendan Gaughan | Chevy | 9 | 162 | 0 | Running | 28 |
| 14 | 48 | Brennan Poole | Chevy | 5 | 162 | 0 | Running | 27 |
| 15 | 16 | Ryan Reed | Ford | 17 | 162 | 0 | Running | 26 |
| 16 | 39 | Ryan Sieg | Chevy | 8 | 162 | 0 | Running | 25 |
| 17 | 51 | Jeremy Clements | Chevy | 14 | 162 | 0 | Running | 24 |
| 18 | 6 | Darrell Wallace Jr | Ford | 18 | 162 | 0 | Running | 23 |
| 19 | 14 | J.J. Yeley | Toyota | 22 | 162 | 0 | Running | 22 |
| 20 | 11 | Blake Koch | Chevy | 13 | 161 | 0 | Running | 21 |
| 21 | 28 | Dakoda Armstrong | Toyota | 20 | 160 | 0 | Running | 20 |
| 22 | 01 | Ryan Preece | Chevy | 21 | 159 | 0 | Running | 19 |
| 23 | 24 | Corey Lajoie | Toyota | 23 | 159 | 0 | Running | 18 |
| 24 | 0 | Garrett Smithley | Chevy | 26 | 159 | 0 | Running | 17 |
| 25 | 90 | Mario Gosselin | Chevy | 32 | 158 | 0 | Running | 16 |
| 26 | 78 | B J McLeod | Ford | 29 | 157 | 0 | Running | 15 |
| 27 | 70 | Derrike Cope | Chevy | 34 | 156 | 0 | Running | 14 |
| 28 | 4 | Ross Chastain | Chevy | 24 | 152 | 0 | Running | 13 |
| 29 | 25 | Chris Cockrum | Chevy | 40 | 152 | 0 | Running | 12 |
| 30 | 74 | Mike Harmon | Dodge | 36 | 151 | 0 | Running | 11 |
| 31 | 15 | Cody Ware | Chevy | 37 | 151 | 0 | Running | 10 |
| 32 | 52 | Joey Gase | Chevy | 33 | 127 | 0 | Suspension | 9 |
| 33 | 07 | Ray Black Jr | Chevy | 27 | 113 | 0 | Running | 8 |
| 34 | 13 | Josh Reaume | Dodge | 38 | 87 | 0 | Suspension | 7 |
| 35 | 97 | Harrison Rhodes | Chevy | 25 | 68 | 0 | Rear Gear | 6 |
| 36 | 40 | Carl Long | Toyota | 30 | 29 | 0 | Handling | 5 |
| 37 | 89 | Morgan Shepherd | Chevy | 39 | 25 | 0 | Overheating | 4 |
| 38 | 99 | Todd Peck | Ford | 35 | 15 | 0 | Engine | 3 |
| 39 | 44 | David Starr | Toyota | 28 | 7 | 0 | Engine | 2 |
| 40 | 10 | Jeff Green | Toyota | 31 | 1 | 0 | Electrical | 1 |
[adinserter name="GOOGLE AD"]