Kurt Busch Wins Pole After Kyle Busch Disqualified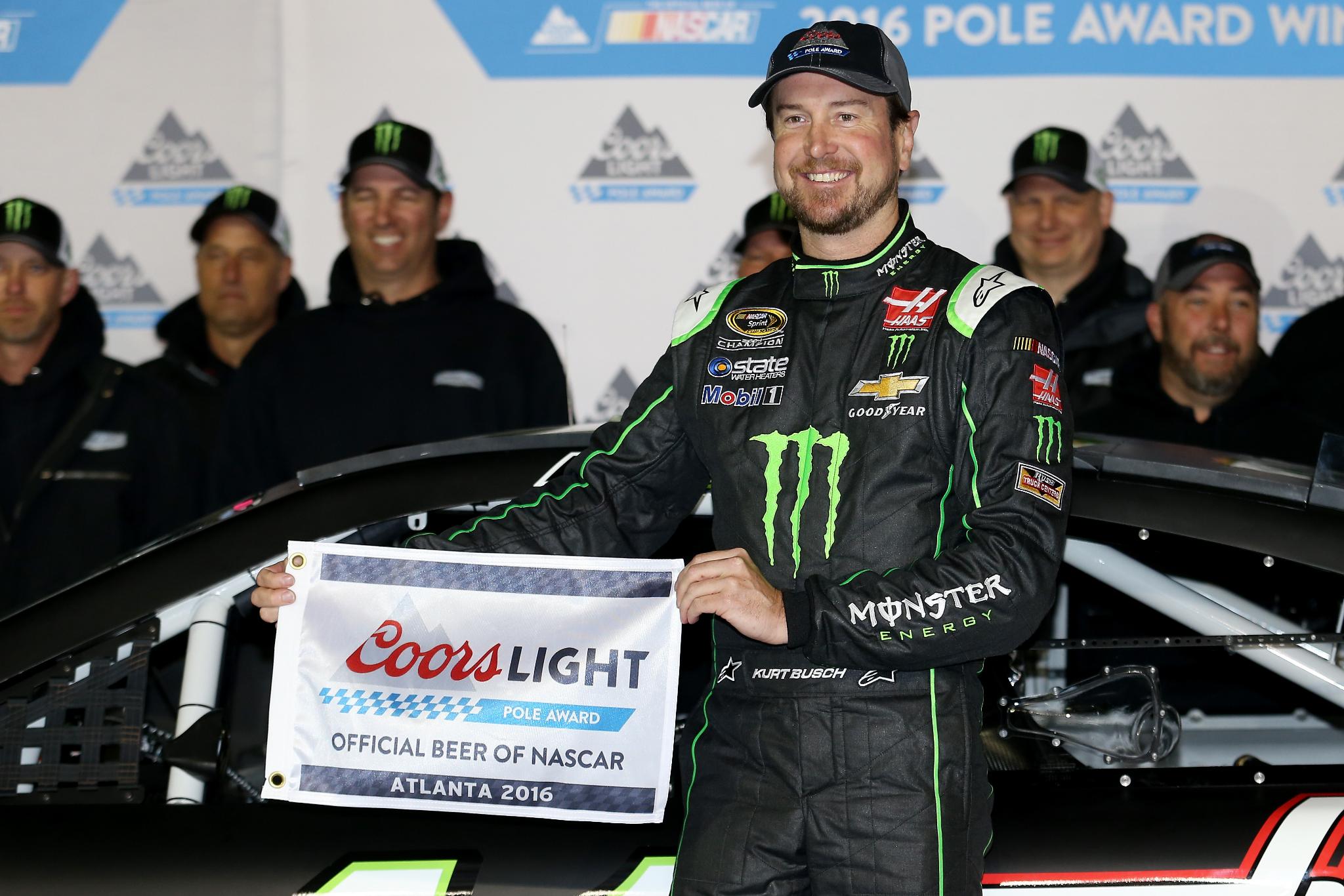 Kurt Busch earned his first-career Atlanta pole after brother Kyle Busch was disqualified
Matt Hazlett/Getty Images
Kurt Busch scored his first-career Atlanta Motor Speedway pole in Friday's qualifying for Sunday's Folds of Honor QuikTrip 500, moving to the top of the leaderboard after brother Kyle Busch has his pole-winning lap disallowed after failing post-qualifying inspection.
Kurt Busch clocked in with a lap of 191.582 mph in the third and final round of qualifying, but fell just short of topping his brother Kyle, who initially had the top spot with a speed of 191.668.
Roughly an hour later, NASCAR announced Kyle Busch had been disqualified, elevating brother Kurt to the pole – his 20th-career Sprint Cup pole and his first in 24 starts at Atlanta Motor Speedway.
Jamie McMurray qualified second, followed by Trevor Bayne, Ryan Newman and Ricky Stenhouse, Jr.
Kurt Busch's pole was his first since Pocono last June and his best Atlanta start since March of 2009.
"It's an awesome run that the car had in it," said Busch after learning he had been awarded the pole. "The team did a good job to dial it in for the three rounds. I was just trying to make sure I didn't slip a tire any extra. It's really easy to overdrive Atlanta Motor Speedway. The track challenges the driver, the car and the tires. It's a fun place to come and try to lay down a lap.
"Overall with the way the developments came up from tech inspection, this shows the amount of enforcement that NASCAR is ready to imply to their technical procedures on what a car has to do to comply to all specs."
Kyle Busch paced the opening round of qualifying ahead of Bayne, Kyle Larson and Kurt Busch, while Jamie McMurray logged the top speed in the second round followed by Kurt Busch and Austin Dillon.
Coming into the third and final round, Kurt Busch powered to the top of the speed charts and held the top spot until his brother Kyle took the track as one of the last qualifiers and rocketed to the pole.
It would have been Kyle Busch's first-career Atlanta pole as well, but his good fortune ended in the "room of doom".
NASCAR announced the reason for Kyle Busch's disqualification was too much rear toe on the no. 18 Toyota Camry. He'll have to start in the rear of the field for Sunday's race.
"We failed post-qualifying inspection – time disallowed," said Kyle Busch's crew chief Adam Stevens. "They did clue us in as to why. We had too much rear skew – not skew – the toe alignment was wrong. Too much rear toe.
"The parts move – everything moves – so you expect it to be a little bit different, but this is the first opportunity we've had to gather post information was right now and it's game time and it was too much. We were perfectly legal beforehand, which obviously or we wouldn't have qualified and just the amount of load on the track moves everything a little bit and that little bit was a little bit too much."
Bayne's third-place showing is his best ever at a non-restrictor-plate track, capping a decent qualifying effort for all three Roush-Fenway entries, with teammates Ricky Stenhouse, Jr., and Greg Biffle qualifying fifth and 14th, respectively.
Qualifying Results
| | | | | | | | |
| --- | --- | --- | --- | --- | --- | --- | --- |
| Pos. | # | Driver | Make | Sponsor | Speed | Lap | Behind |
| 1 | 41 | Kurt Busch | Chevy | Monster Energy | 191.582 | 28.938 | Leader |
| 2 | 1 | Jamie McMurray | Chevy | McDonald's | 190.130 | 29.159 | –0.234 |
| 3 | 6 | Trevor Bayne | Ford | Advocare | 189.987 | 29.181 | –0.256 |
| 4 | 31 | Ryan Newman | Chevy | Caterpillar | 189.961 | 29.185 | –0.260 |
| 5 | 17 | Ricky Stenhouse Jr | Ford | Ford EcoBoost | 189.863 | 29.200 | –0.275 |
| 6 | 4 | Kevin Harvick | Chevy | Jimmy John's | 189.779 | 29.213 | –0.288 |
| 7 | 19 | Carl Edwards | Toyota | Arris | 189.766 | 29.215 | –0.290 |
| 8 | 3 | Austin Dillon | Chevy | Dow | 189.681 | 29.228 | –0.303 |
| 9 | 78 | Martin Truex Jr | Toyota | Furniture Row | 189.364 | 29.277 | –0.352 |
| 10 | 44 | Brian Scott | Ford | Twisted Tea | 188.591 | 29.397 | –0.472 |
| 11 | 5 | Kasey Kahne | Chevy | Panasonic | 187.196 | 29.616 | –0.691 |
| 12 | 11 | Denny Hamlin | Toyota | FedEx Ground | 190.385 | 29.120 | –0.195 |
| 13 | 20 | Matt Kenseth | Toyota | Dollar General | 190.260 | 29.139 | –0.214 |
| 14 | 16 | Greg Biffle | Ford | Roush Performance | 190.182 | 29.151 | –0.226 |
| 15 | 13 | Casey Mears | Chevy | GEICO | 190.150 | 29.156 | –0.231 |
| 16 | 88 | Dale Earnhardt Jr | Chevy | Nationwide | 189.818 | 29.207 | –0.282 |
| 17 | 2 | Brad Keselowski | Ford | AutoTrader | 189.144 | 29.311 | –0.386 |
| 18 | 14 | Ty Dillon | Chevy | Bass Pro Shops | 189.138 | 29.312 | –0.387 |
| 19 | 48 | Jimmie Johnson | Chevy | Lowe's | 188.790 | 29.366 | –0.441 |
| 20 | 42 | Kyle Larson | Chevy | Target | 188.719 | 29.377 | –0.452 |
| 21 | 27 | Paul Menard | Chevy | Valvoline / Menards | 188.713 | 29.378 | –0.453 |
| 22 | 47 | AJ Allmendinger | Chevy | Kroger/Scott Products | 188.636 | 29.390 | –0.465 |
| 23 | 21 | Ryan Blaney | Ford | Motorcraft | 187.449 | 29.576 | –0.651 |
| 24 | 24 | Chase Elliott | Chevy | NAPA Auto Parts | 189.390 | 29.273 | –0.348 |
| 25 | 10 | Danica Patrick | Chevy | Aspen Dental | 189.079 | 29.321 | –0.396 |
| 26 | 22 | Joey Logano | Ford | Shell Pennzoil | 189.041 | 29.327 | –0.402 |
| 27 | 43 | Aric Almirola | Ford | Smithfield | 188.565 | 29.401 | –0.476 |
| 28 | 15 | Clint Bowyer | Chevy | Aaron's | 188.028 | 29.485 | –0.560 |
| 29 | 38 | Landon Cassill | Ford | FR8 Auctions | 187.837 | 29.515 | –0.590 |
| 30 | 7 | Regan Smith | Chevy | Nikko | 187.392 | 29.585 | –0.660 |
| 31 | 34 | Chris Buescher | Ford | CSX – Play it Safe | 187.120 | 29.628 | –0.703 |
| 32 | 95 | Michael McDowell | Chevy | Thrivent Financial | 185.903 | 29.822 | –0.897 |
| 33 | 23 | David Ragan | Toyota | Dr. Pepper | 185.778 | 29.842 | –0.917 |
| 34 | 46 | Michael Annett | Chevy | Pilot Flying J | 185.617 | 29.868 | –0.943 |
| 35 | 83 | Matt DiBenedetto | Toyota | Sewanee | 185.499 | 29.887 | –0.962 |
| 36 | 98 | Cole Whitt | Toyota | Tweaker Energy Shot | 184.039 | 30.124 | –1.199 |
| 37 | 30 | Josh Wise | Chevy | Curtis Key Plumbing | 183.820 | 30.160 | –1.235 |
| 38 | 32 | Jeffrey Earnhardt | Ford | Can – Am | 180.769 | 30.669 | –1.744 |
| 39 | 18 | Kyle Busch | Toyota | M&M's 75 | — | — | —- |