Chase Elliott Scores First Career Daytona Victory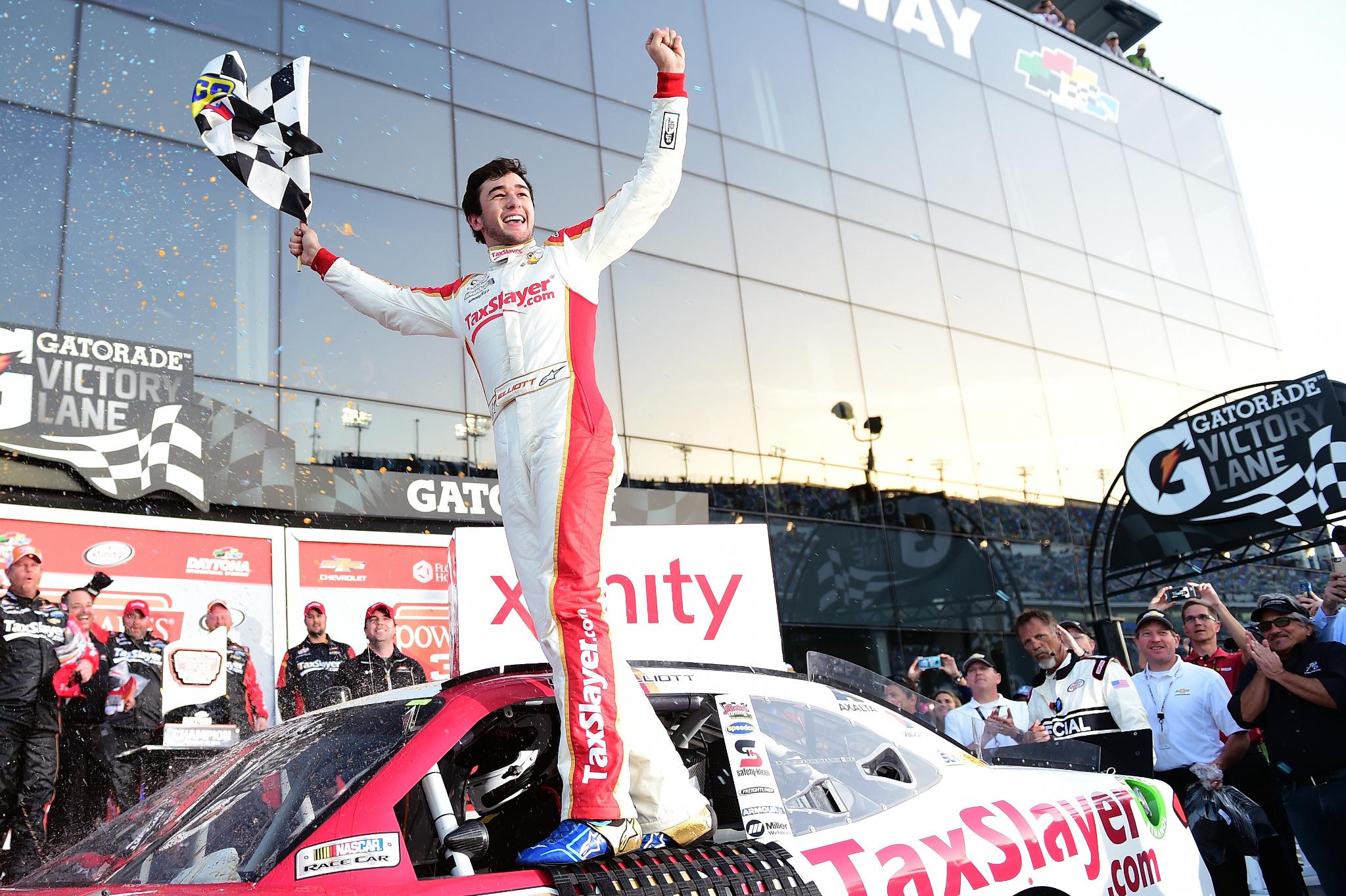 Chase Elliott celebrates in Victory Lane
Jared C. Tilton/Getty Images
Daytona 500 pole winner Chase Elliott added another milestone to his career after scoring his first career Daytona victory in Saturday's NASCAR Xfinity Series season-opening Powershares QQQ 300 at Daytona International Speedway.
Elliott passed race lead Joey Logano with 14 laps to go and held the lead to the finish, fending off a last chance challenge from Logano in the final 500 feet to take the checkered flag,
Kasey Kahne finished third, followed by Elliott Sadler and Austin Dillon.
Elliott's victory was his fifth-career in the Xfinity Series made him the youngest series winner at Daytona, where his father – 1988 Sprint Cup Champion Bill Elliott – won four Cup races including the 1985 and '87 Daytona 500's.
"Just a fantastic Saturday to start the weekend of the Daytona 500. What a great day. Fast racecar," said Elliott. "Dad and I talked before the race just about how aggressive this race gets, guys pushing, just trying to be smart and get to the end is what him and I talked about was most important. Fortunately got to the end and had a shot."
Saturday's race was somewhat atypical of a normal restrictor-plate race, with only four caution flags and only one five-car crash early on lap 14 that happened when Elliott got into the back of Bobby Labonte to trigger the wreck. Elliott's car got minor damage and he was able to continue on, while Joe Gibbs Racing lost two of their three cars in the race.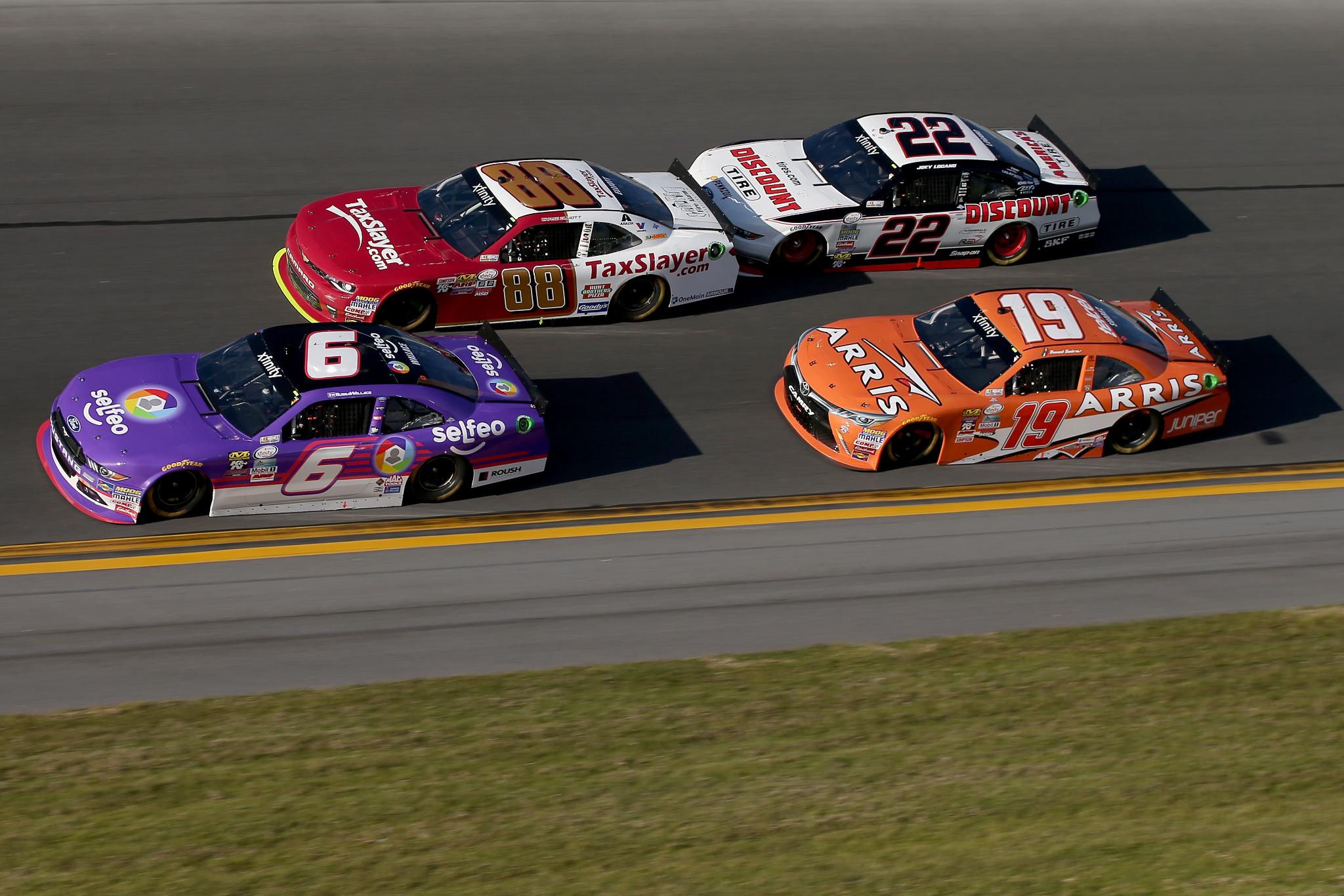 Chase Elliott (88) battles with Joey Logano (22), Darrell Wallace (6) and Daniel Suarez (19)
Sean Gardner/Getty Images
Up front, Logano led a race-high 40 laps and was leading the field when the final caution flag waved on lap 103, bringing the field to pit road for their final stops of the day.
Logano won the race out of the pits, and lined up outside followed by Sadler with Elliott taking the inside line in front of Suarez.
On the restart, Elliott got a pig push from Suarez to get him out in front of Logano, but Logano was not content to finish second again and made a move to the outside that backfired and sent him free-falling back to eighth on the high side.
Now alone out front, Elliott, Sadler and Darrell Wallace, Jr. pulled away from the field lined up nose to tail.
[adinserter name="GOOGLE AD"] Coming to white flag, Logano finally got some momentum on the outside line with help from Kahne and Austin Dillon, but Elliott came up to block on the backstretch. Running in a two-car draft, Elliott and Logano pulled away from the pack coming through the final turn.
Racing into the tri-oval, Logano looked to the high side but Elliott again moved up to block, pushing Logano up toward the outside wall and nearly spinning himself out.
At the stripe, Elliott beat out Logano but half a car-length to preserve his first superspeedway victory.
"I knew (Logano) was going to make some type of move," said Elliott. "(Logano) faked me to the bottom. I wasn't sure, I went down there a little bit. I saw him go back to the top. I tried to follow him back up. I didn't get up soon enough to, you know, get in front of his nose. He already had a nose there. I was kind of committed to already coming up.
"We hit. I thought we were wrecked, which fortunately we didn't. I didn't know if we were going to make it across the line or what was going to happen. Once I realized his momentum stopped, I tried to get away from him to keep the draft from pulling me back anymore. Just fortunate and got lucky with how it worked out. He did a good job setting me up. It was just a tick too far behind to get in front of his nose."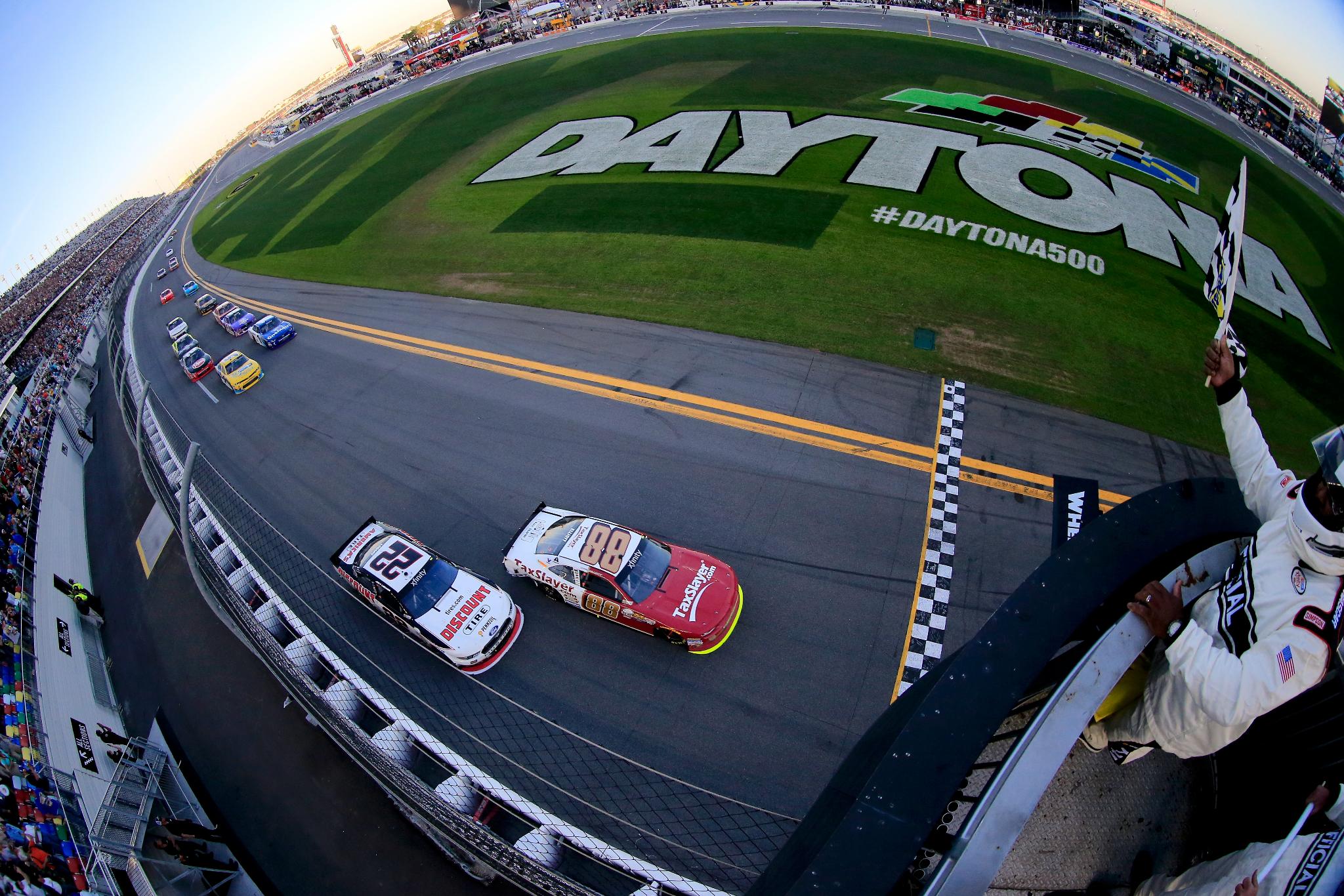 Elliott (88) beats Logano (22) to the finish line
Chris Trotman/NASCAR via Getty Images
For Logano, it was his third-straight second-place finish of Speedweeks after runner-up finishes in the Sprint Unlimited last Saturday night and the Can-Am Duel on Thursday.
"The plan was to make the move off of four and going to the top he blocked the first move and wiggled to the bottom and back to the top," said Logano of his final push for the lead. "At that point it is a little late and then we touched each other and that is the killer. Once we had that touch it killed our momentum and I couldn't pull him back enough to get in front of him.
"I mean, second's not bad, but kind of sucks at the same time. Better way to put it. Man, just so close once again. It's three races, I've been so close to winning one of them. Want to get out there and make it happen."
Elliott Sadler was the highest-finishing Xfinity Series regular and leaves Daytona with the series points lead with a fourth-place finish in his first start with his new JR Motorsports team.
"Joey (Logano) and Kasey (Kahne) did a great job getting up beside us and having momentum," said Sadler of the final restart. "Then when Chase pulled up to block them and kind of stalled outside line, we actually pulled back in the front halfway down the straightaway. But the 6 car (Wallace) was not able to push us as fast as what the 22 (Logano) and the 88 (Kahne) could do. We had to settle for fourth.
"Points lead is good, but it's all about, like Joey said, getting wins. Especially with this chase format."
Wallace, Jr. finished sixth, followed by Brandon Jones, Daniel Suarez, Blake Koch and Brendan Gaughan, putting them second through sixth in the points standings, respectively.
Race Results
| | | | | | | | | | |
| --- | --- | --- | --- | --- | --- | --- | --- | --- | --- |
| Pos. | # | Driver | Make | Start | Laps | Led | Status | Points | Bonus |
| 1 | 88 | Chase Elliott | Chevy | 19 | 120 | 19 | Running | 0 | 0 |
| 2 | 22 | Joey Logano | Ford | 8 | 120 | 40 | Running | 0 | 0 |
| 3 | 5 | Kasey Kahne | Chevy | 15 | 120 | 30 | Running | 0 | 0 |
| 4 | 1 | Elliott Sadler | Chevy | 10 | 120 | 4 | Running | 38 | 1 |
| 5 | 2 | Austin Dillon | Chevy | 4 | 120 | 5 | Running | 0 | 0 |
| 6 | 6 | Darrell Wallace Jr | Ford | 12 | 120 | 0 | Running | 35 | 0 |
| 7 | 33 | Brandon Jones | Chevy | 7 | 120 | 0 | Running | 34 | 0 |
| 8 | 19 | Daniel Suarez | Toyota | 2 | 120 | 0 | Running | 33 | 0 |
| 9 | 11 | Blake Koch | Chevy | 9 | 120 | 0 | Running | 32 | 0 |
| 10 | 62 | Brendan Gaughan | Chevy | 6 | 120 | 9 | Running | 32 | 1 |
| 11 | 98 | Aric Almirola | Ford | 24 | 120 | 9 | Running | 0 | 0 |
| 12 | 7 | Justin Allgaier | Chevy | 16 | 120 | 0 | Running | 29 | 0 |
| 13 | 3 | Ty Dillon | Chevy | 1 | 120 | 2 | Running | 29 | 1 |
| 14 | 28 | Dakoda Armstrong | Toyota | 18 | 120 | 0 | Running | 27 | 0 |
| 15 | 51 | Jeremy Clements | Chevy | 37 | 119 | 0 | Running | 26 | 0 |
| 16 | 16 | Ryan Reed | Ford | 11 | 119 | 0 | Running | 25 | 0 |
| 17 | 05 | John Wes Townley | Chevy | 14 | 119 | 0 | Running | 0 | 0 |
| 18 | 44 | David Starr | Toyota | 23 | 119 | 0 | Running | 23 | 0 |
| 19 | 87 | Joe Nemechek | Toyota | 28 | 119 | 2 | Running | 0 | 0 |
| 20 | 39 | Ryan Sieg | Chevy | 25 | 119 | 0 | Running | 21 | 0 |
| 21 | 24 | Matt Tifft | Toyota | 20 | 119 | 0 | Running | 0 | 0 |
| 22 | 4 | Ross Chastain | Chevy | 36 | 118 | 0 | Running | 19 | 0 |
| 23 | 18 | Bobby Labonte | Toyota | 3 | 118 | 0 | Running | 0 | 0 |
| 24 | 78 | B J McLeod | Ford | 38 | 118 | 0 | Running | 17 | 0 |
| 25 | 43 | Jeb Burton | Ford | 21 | 118 | 0 | Running | 16 | 0 |
| 27 | 48 | Brennan Poole | Chevy | 13 | 117 | 0 | Running | 14 | 0 |
| 28 | 25 | Chris Cockrum | Chevy | 35 | 117 | 0 | Running | 13 | 0 |
| 29 | 93 | Scott Lagasse Jr | Chevy | 30 | 117 | 0 | Running | 12 | 0 |
| 30 | 0 | Eric McClure | Chevy | 33 | 117 | 0 | Running | 11 | 0 |
| 31 | 20 | Erik Jones | Toyota | 5 | 115 | 0 | Running | 10 | 0 |
| 32 | 52 | Joey Gase | Chevy | 39 | 114 | 0 | Running | 9 | 0 |
| 33 | 07 | Ray Black Jr | Chevy | 32 | 114 | 0 | Running | 8 | 0 |
| 34 | 42 | Kyle Larson | Chevy | 17 | 111 | 0 | Running | 0 | 0 |
| 35 | 14 | Benny Gordon | Toyota | 22 | 103 | 0 | Transmission | 6 | 0 |
| 36 | 89 | Morgan Shepherd | Chevy | 26 | 59 | 0 | Rear Gear | 5 | 0 |
| 37 | 17 | Jeff Green | Chevy | 40 | 50 | 0 | Transmission | 4 | 0 |
| 38 | 90 | Martin Roy | Chevy | 34 | 22 | 0 | Accident | 3 | 0 |
| 39 | 85 | Bobby Gerhart | Chevy | 27 | 6 | 0 | Accident | 2 | 0 |
| 40 | 01 | Ryan Preece | Chevy | 31 | 5 | 0 | Accident | 1 | 0 |
[adinserter name="GOOGLE AD"]