Sprint Unlimited Post Race Press Conference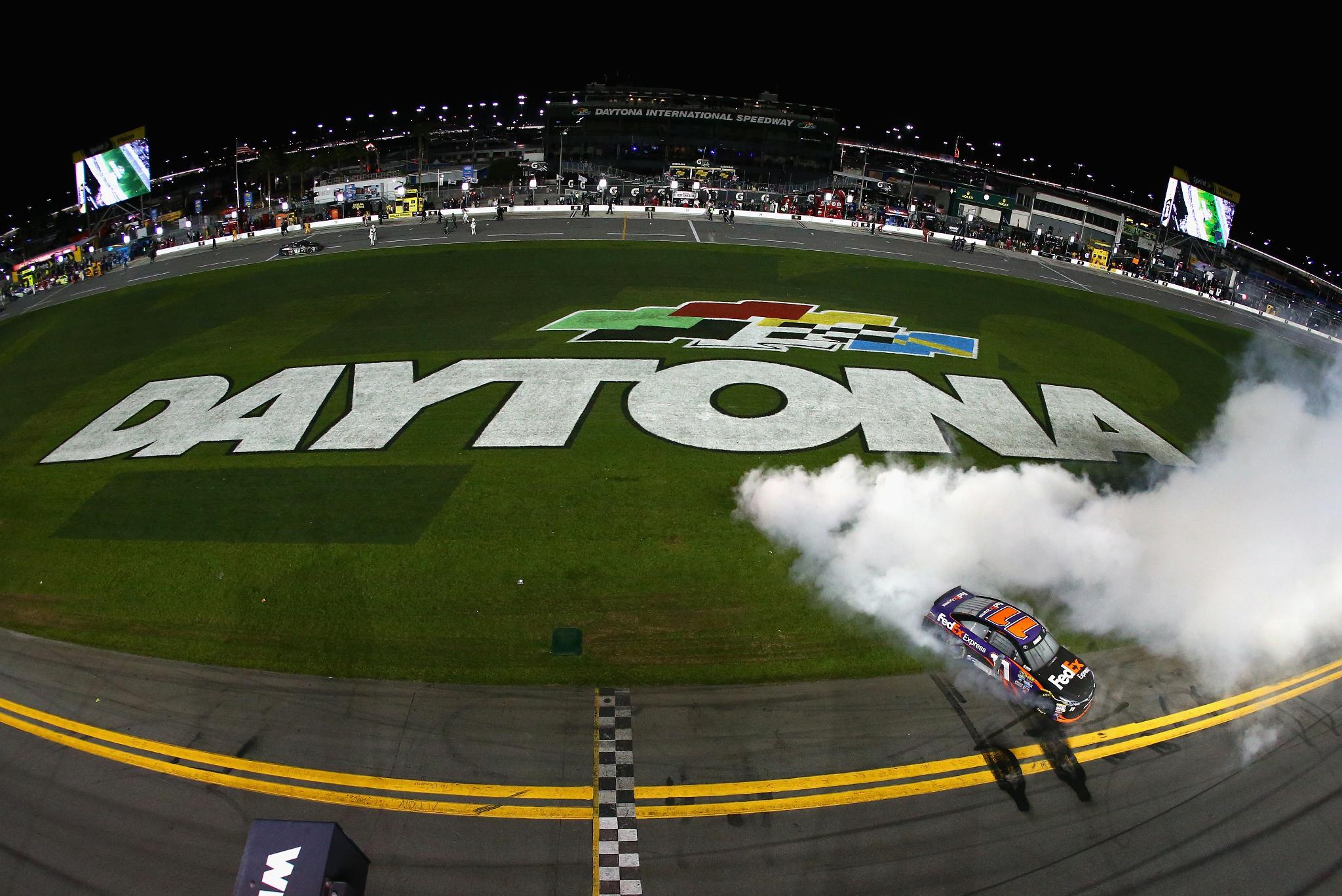 Denny Hamlin does a victory donut in Daytona
Sarah Crabill/NASCAR via Getty Images
An Interview With:
Denny Hamlin – Race Winner
Joe Gibbs – Team Owner
Mike Wheeler – Crew Chief
THE MODERATOR: We are now joined by the race winners of tonight's Sprint Unlimited here at Daytona International Speedway. We're joined by race winning crew chief Michael Wheeler as well as car owner Coach Joe Gibbs. Michael, for you, what can you learn from a night like tonight going into Speedweeks next week?
MICHAEL WHEELER: I learned how far we can go on – with caution laps on fuel. I was nervous for a while. We got so many different opportunities to get cautions and save some fuel that it definitely stretched our mileage way farther than I thought we could do, so that was a good learning experience.
Everything else is just a good night of racing for us. The car was pretty well balanced, had no real complaints. You could definitely make up some track position if you needed to, and I was pretty happy with the outcome.
THE MODERATOR: Coach, for you, you guys have shown speed all weekend, whether it's been practice here for the Sprint Unlimited or qualifying for tomorrow's Daytona 500 qualifying. Talk about the momentum that you've carried from last year into this year and is this a sign of things to come in 2016?
JOE GIBBS: Well, you never know that. I do feel like – I talked to Denny last night, and I felt like the car was good, so he felt real good from that standpoint. I really congratulate Wheels, his first go for us, and to win a race like that, made a great call in there.
First time having Mike and Denny together, and hopefully that's going to wind up being a great combination for us. I was joking with Denny in the winner's circle, I said, it's the 500, okay, not the Shootout. I says, try and get us a 500, will you? It's been 23 years since we were able to win one. But it is a thrill to be here. We love it. It's great seeing the excitement, everybody get started racing again. Love our fan base here, and so really appreciate everybody that lets us do this.
THE MODERATOR: We are now also joined by the race winner of tonight's Sprint Unlimited, Denny Hamlin, driver of the No. 11 FedEx Express Toyota. This is Denny Hamlin's third Sprint Unlimited victory. He becomes the fifth driver in series history to win three or more Sprint Unlimited races, joining Dale Earnhardt, Tony Stewart, Dale Jarrett, and Kevin Harvick. Denny, what is it about this race that suits you?
DENNY HAMLIN: Obviously it's short enough for my attention span. That's all I can think of. Obviously – by the way, has Joe mentioned he wants to win the 500 yet? Okay.
JOE GIBBS: I started off with that.
[adinserter name="GOOGLE AD"]DENNY HAMLIN: Yeah. I don't know what it is. I think I've really – I've gotten better at speedway racing over the last few years and really learned a lot from my teammates. But realistically you can go back and look at this race a million times, and had my teammates not stuck with me at the right times, we wouldn't have been able to stay up front.
Similar to Kyle's championship last year, we all felt like it was a team championship, and we all played our part in it. I think tonight was no different. Without my teammates, I wouldn't be up here, and it's just a great team win from my standpoint. What it is about this race that we've had success at, I don't know, but the last time we did win this, we had a great Speedweeks in 2014 and finished second in the 500.
Looking forward to it. Obviously our cars are very, very fast, and if you put them in the right situations, obviously you saw tonight what they can do.
Q: For Denny and Coach, you both started right off the bat about the Daytona 500. Not only do you want to get back to victory lane in the Daytona 500, but how much pressure is mounting internally for you guys in terms of getting Toyota their first Daytona 500 win because you guys have been so fast down here the last couple years?
JOE GIBBS: Well, certainly that would be a big, big deal for us. Last year to be able to get the championship was big for Toyota, a first in a lot of ways. I appreciate Denny saying that about teamwork last year, and when you see our guys in the competition meetings, how they share, the drivers, I think it really is unselfish. I really appreciate them.
And certainly here, it's just – I've got to tell you, the 500 is just hard to win. That's where we come at it. So many things can happen. You can have really good cars, and we feel like we have had those, but it's a tough race to win. I'd love to get another one.
DENNY HAMLIN: Yeah, it's the same thing for me. We have come so close, and really over the last few years, we got a bunch of top 5s in the 500, and really for the first probably six years of my career, the way I drove speedway races, I probably never gave us a shot to win a 500, but it's just over the last few years we've really been in contention a lot, and it's just you keep knocking on the door, it's going to happen. You can only be so close to the front so many times and not cross the checkered first. Obviously with Toyota's commitment to this speedway, with that Toyota injector right out front, this is a big race for them, and we obviously want to get them one of those trophies, a Daytona 500 trophy as soon as possible.
Q: Denny, you were leading tonight and you were able to kind of dictate what would happen behind you. Is that because you had the better car or superior engine or because you were leading and that's the better position?
DENNY HAMLIN: Well, it's the best position to be in, but there were a lot of times where I just couldn't hold off the cars that were coming. They came with a run that was so significant that I just had to pick, okay, I'm going to end up being side by side, so figure out whether I wanted to be on the top or the bottom, and a lot of that is a split-second decision based off of who's behind them.
So I knew whoever was pushing them was going to stay with them, so I had to look at fourth place when those cars were coming to see whether I wanted to be behind that person or the person that was third, and so I always made sure – I did damage control when guys did get up beside me and made sure that I put myself in the lane that I felt the most comfortable the person behind me was going to give me the shove. A lot of it was Matt most times and then Carl at the end, as well.
Q: Denny, can you give us an update on your knee? Last time we talked to you, you said it was only 50 percent, and then Dale Jr. who won one of the duels last year with a new crew chief said this will really give you and Wheels a lot of confidence and put you in a good mood. How big is it to win with a new crew chief, even though it's an exhibition?
DENNY HAMLIN: Yeah, I mean, it's big. When I won here a couple years ago, it was with a new crew chief, as well, and obviously it always gives you a little bit of momentum. It always seems to help when that happens, or maybe it was a new crew chief – no, so it wasn't. We got a week to sit on it. That makes you feel good, and obviously we knew during practice yesterday, I told Wheels that this car was very, very good. I just wasn't feeling it at the beginning of the race. The cars in front of me were bouncing off of each other, and me and him talked about a strategy that could possibly play out, and luckily it played out, a caution came out and it got us the track position. But we lost the lead a few times, went back to third, maybe fourth at one point, and was able to battle back.
But I think this is big for me and him. It's not like he's – it's an unknown, and I need to get to know Wheels. We've been together for so long, I really just – we lent him to the XFINITY shop for a year. That's about all that happened.
Knee is good. I'm about 75 percent. I'm not anything where near doing anything sports-related for a while, but in the car I'm good, and obviously any time we have any kind of surgeries or anything, usually we win the next race, so it's just continuing that trend.
Q: Wheels, we didn't get to see you at the media tour, and Denny said that day that you're going to be his last crew chief. I'm wondering, I know you guys worked together for years and years and years. I'm wondering why you two were so certain that this relationship is going to be forever and ever and ever.
MICHAEL WHEELER: Yeah, sorry I missed the media tour. I was on vacation out of the country with my wife, to keep that relationship happy.
I was pleasantly surprised when I saw those comments made. Did it surprise me? No, it's very cool. But we've grown up together. We've been through some battles together. We've had long talks and had a lot of good times together, and I think one thing we can say is all the time you just keep working together, and it's something that you just can't make. It either happens or it doesn't happen, and I've known for years that we just clicked and we can talk and I can pass ideas by him, and whether it sticks or not, he'd always listen. He'd always give me the feedback.
He's been through crew chief changes. They're hard. They're hard with teams. They're hard for people. But I think in the long run, I know we can work together for the long haul and be successful.
Q: Denny, Dale Jr. also tweeted that he said that you were a hell of a plate racer. I know that there was probably a time at this track where it might not have always felt like you were regarded that way. Do you feel now as if you can win here, Talladega, wherever, at any time, and do you have that comfort level from other guys in the draft?
DENNY HAMLIN: Yeah, no doubt. I feel as confident – I always used to say the cliché that probably 80 percent of the drivers will say is that Daytona and Talladega is a crapshoot. I mean, but if it's a crap shoot, Dale Jr. is the luckiest guy in Vegas, because he finds a way to stay up front and win these races on a consistent basis, and I feel like I'm working my way to being able to say that, as well.
So I think just – I learned a lot about four or five years ago, and ever since then, I've just had a lot of success on these racetracks. I think I've gotten better at learning and paying attention to smaller details at these racetracks that matter in the long run. So that's probably where it turned for me is around that 2010, '12, whatever year, that you can see our speedway results have been really, really good.
And through all of that, I've had really good teammates that win a lot, as well, on these types of racetracks, and you just watch them, and you put all those pieces together, and hopefully you make yourself better.
Q: Denny, talk if you will about that final restart. Did you hold your breath halfway through the track, or did you feel very confident?
DENNY HAMLIN: Well, you know, it's so interesting with that line that comes out, that first of all, I wanted to get to that line, so I knew it was the only time we were going to try this because we probably weren't going to make it on fuel to do another one, and I remember going on the backstretch, and I'm ahead, and we get to the line, and I'm like, all right, we're good. The 22 goes by me, I'm like, caution, don't come out, and then I get back ahead of him, and I'm like, okay, come out. Then he goes back by me and I say, no, don't come out. So it's just you're going through all those emotions at the same time, and him and Brad do such a good job of getting big runs on these plate tracks.
It was a tough decision to start on the bottom. We had started on the bottom all night long, but I knew my teammate was starting fourth, and I knew he had pushed me really, really well on a few restarts, and I knew if he pushed like that to the 22 we were going to be in trouble because the 22 always seems to get good restarts. But I just believed that the bottom was the place to be. Usually the top gets jumbled up from guys wanting to go three wide, and so I always figure that the bottom is the consistent lane that I know there's an out of bounds this way and I've got protection on the inside, so I always – I felt like that was the right decision, but Matt almost got him by me, but I was able to hang onto him just enough to clear him.
Tough decision, but like I said, Matt – we should saw this trophy in half and give the other half to the 20 car.
Q: Joe, since this is the first time we've seen you, you guys announced today that the you got the charter for the 19. How is that process, and did you have to pawn one of your Super Bowl rings or anything to get it done? Was it painful as far as the wallet is concerned?
JOE GIBBS: Yeah, that's a good point. Yeah, we put that thing and hocked it. Yeah, that was a long process. I appreciate everybody that worked so hard on that. We had Dave Alpern and our shop just worked kind of nonstop, and Rob and Steve and the people that worked so hard on that, and then on the NASCAR side, too. And I would say this: It was really kind of a team effort. It really was. NASCAR was after it, Brent Dewar just did a great job, Brian, so it was I think one of the best things I've seen at NASCAR, doing something big and doing something together.
I think really what happened at the end, you know, the 41 and the 19, we had to sacrifice some to get this done, and we felt like it's something that we needed to do. Didn't particularly like it, but I felt like it's something for the total team effort we needed to do, and thankfully we got it done.
[adinserter name="GOOGLE AD"]Q: Denny, since I brought up the Super Bowl, does the win tonight make up for the loss last week of the Panthers for you?
DENNY HAMLIN: You know, I'm smart. There's a hedge in there somewhere. So I was okay.
Q: Mike, were you counting the nature of this race – when this turned into a fuel mileage, were you banking on there being a lot of cautions to be able to stretch your miles?
MICHAEL WHEELER: Yeah, a little bit. We knew it was an All-Star Race, so you always know there's no holds barred and things will happen. I know we needed a lot of cautions for our strategy to work out. It kind of got behind early, and with the damage it kind of opened up a little bit of a playbook to try something different, and the way from lap 20 on it worked out for us was kind of amazing.
Yes, every caution that came out, we were counting every lap and doing some math on that. At the same point we went from running in the back to running up front so our mileage was always changing. I made sure Denny was aware of that so he could do the best he could to save us the fuel, but we went a lot farther than I thought we could have, but at the same point it was a good learning experience.
MATT KENSETH, No. 20 Dollar General Toyota Camry, Joe Gibbs Racing
Finishing Position: 12th
What happened out there?
"I don't know what happened in the wreck. I was going straight one second and I was turned into the door of the 78 (Martin Truex) the next – I really don't know, but yeah we had some good speed in our Dollar General Camry. The finish is disappointing, but our performance was really good. Denny (Hamlin) was really fast. I was almost able to get behind him off of (turn) two and the 42 (Kyle Larson) was in there, so anyway we were just – that was good racing that last lap and, like I said, I don't really know what happened."
What did you think of the overtime format?
"I think the concept is good. Tonight's hard to say because we still wrecked – typically we don't wreck until the second lap at a superspeedway anyway – but I think the concept is certainly good and we'll avoid things like we had at Talladega last year."
Is there anything you need to do for next week?
"There's a lot of little things I didn't do very good on pit road – got some work to do there to get our pit road speed a little closer and be able to see our stall and obviously we wrecked, but other than that our performance was really good. I was really happy with the speed of our car."
MARTIN TRUEX, JR., No. 78 Bass Pro Shops/TRACKER Boats, Furniture Row Racing
Finishing Position: 13th
What was it like out there?
"It's just tough when you get in the middle of the pack to do anything, you know? The more you try to make moves – desperation moves – when you're back there, the more spots you end up losing, so it's a tough battle. You've got to – you just really have got to stay patient and almost wait for guys to give you the spot. There's a lot of guys trying to take the spots tonight and that's where we see the accidents."
What's the difference between surviving and ending up in the garage in the Sprint Unlimited?
"It's not that hard if you don't run into people – if you don't try to put your car where there's not enough room for it. That's what causes accidents, so we've seen a lot of guys make mistakes tonight. We got our car destroyed on the last lap because somebody made a mistake and the racing like that is frustrating, but it is what it is. It's a product of this racing, so I'm just frustrated we could never get near the front tonight. We had one opportunity at one point in time. We just about got clear of one car we needed to clear to really have a shot at getting to the very front and running up there. It seems like once you get there, you can kind of stay there. We were able to do that last year. It's just hard in the middle of the pack to make any ground. Every time you try to make a move, you go backwards. It's tricky, but it's just frustrating to tear up cars for no reason."
CARL EDWARDS, No. 19 ARRIS Toyota Camry, Joe Gibbs Racing
Finishing Position: 16th
What happened out there?
"I just tried to wedge my car into a spot and I got up there and I could feel Brad (Keselowski) and I just didn't know how overlapped I was. I knew I had to get in front of him to make it and it's 100 percent my fault. I wrecked everybody, but, man, we were having fun and just we were going to be aggressive in this race, had to go for it and I took two high risk maneuvers and one of worked and one of them didn't."
How aggressive was the racing in the Sprint Unlimited?
"I was probably the most aggressive and it beat me. It's Daytona – we want to win this race rather than tearing up the cars. You've just got to go as hard as you can. I just wish it didn't tear up the cars, but had a good time."
Did you learn anything for the Daytona 500?
"I learned a lot. I was telling them I learned Brad (Keselowski) still won't lift for me if I try to cut him off, but he shouldn't. I really was having a good time."
KYLE BUSCH, No. 18 M&M's 75 Toyota Camry, Joe Gibbs Racing
Finishing Position: 17th
What did you see out there?
"I seen the 19 (Carl Edwards) and the 2 (Brad Keselowski) really fighting for a spot and from my vantage point that's all I could see. I could tell we were going to wreck, so I tried to check up a little bit and then it was just on from behind me, but nothing else you could do from there I guess. It's funny when the guys behind you get through the wreck and they're all able to go on the rest of the way, but I hate it for our M&M's Camry. I was still kind of playing out – I was pushing the 13 (Casey Mears), we were working really good together and I was going to push him as hard as I could to see if I couldn't get up a little farther in front to give ourselves a chance to win."
What is your plan for the rest of Speedweeks?
"Well, 500 qualifying – that's easy. To be able to go out into the Duels, get ready for the Duels to try to finish the Duel and not tear up another race cars, that's primary concern. And then from there, you want to have a good 500 and not tear up a race car there in the 500, but there's a lot of things that can happen in those types of races and we hope to win the thing, but you've got have luck on your side."