Ferrari may bail out Sauber to pave way for Alfa-Romeo return (3rd Update)
UPDATE #3
This rumor is downgraded to 'false' today. Ferrari president Marchionne told Autosport if Alfa Romeo does make a comeback, it will do so either as part of the Fiat Chrysler organisation, or with the Scuderia itself.
When asked about the speculation regarding an Alfa Romeo/Sauber tie-up, Marchionne said: "There are perhaps other alternatives for Alfa if they wanted to come back into the race.
"It is a very close cousin of Ferrari, and you should start looking at your family first before you start looking outside."
04/20/16
Monisha Kaltenborn
This rumor is upgraded to 'strong' today. Monisha Kaltenborn has joined Sergio Marchionne in not dismissing speculation Sauber might be snapped up by Alfa Romeo.
Marchionne, the Fiat Chrysler and Ferrari president, has said multiple times recently that Alfa Romeo might rekindle its historic F1 foray in the not-too-distant future.
The financially struggling Sauber team has been linked with those rumors, so when asked if an acquisition is on the cards, Marchionne said in China: "If someone will assume all the debts…"
Sauber's team boss and co-owner Kaltenborn was absent in Bahrain, reportedly amid intense negotiations with potential investors about rescuing the embattled Swiss outfit.
So when asked in China about the latest rumors, she told the Swiss newspaper Blick: "Alfa Romeo would be a good partner for any team."
04/18/16
Sergio Marchionne
(GMM) Sergio Marchionne has not dismissed speculation the struggling Swiss team Sauber could become Alfa Romeo.
Marchionne, the Ferrari and Fiat Chrysler president, has been saying repeatedly in the past weeks and months that Alfa Romeo could revive its historic place on the F1 grid.
"This (F1) is the maximum technological expression of the automotive world," he said on a rare paddock visit in Shanghai, "and so considering the objectives of Alfa Romeo, I think the option should be considered.
"The Alfa myth was born with racing, and somehow we have to get back there," Marchionne added.
"When will it happen? I don't know."
The other pressing question is precisely how it will happen, amid speculation Alfa Romeo could enter F1 as another Haas-like satellite outfit.
But there have also been rumors Alfa Romeo could simply take over the ailing Sauber outfit, whose facilities in Hinwil, Switzerland, are state-of-the-art in the wake of BMW's former F1 project.
Asked about the Sauber buyout rumors, Marchionne is quoted by Italy's Autosprint as answering simply: "If someone will assume all the debts…"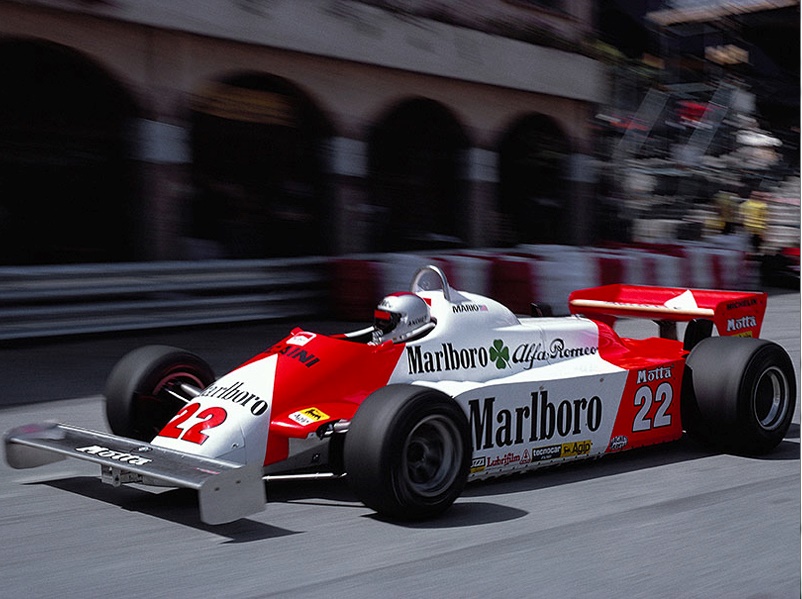 Mario Andretti at Monaco in 1981 in the Alfa Romeo 179c
04/06/16 Sauber's financial woes are now well known and there are signs the team will struggle to make it to the forthcoming Chinese Grand Prix, but now it is emerging that a savior in the form of Ferrari, specifically Alfa Romeo, is in the pipeline.
The Swiss team attracted headlines when February wage payments to its 300 staff were delayed. Furthermore, team co-owner Monisha Kaltenborn was not present in Bahrain, fueling suggestions that she stayed behind in Hinwil to address Sauber's financial crisis.
Now it appears that Ferrari, their long time engine partners, may step in to save the embattled outfit – the fourth oldest team on the grid – from closing down.
Recently Sergio Marchionne, CEO of Fiat Chrysler and Ferrari Chairman, has championed the idea of the group's Alfa-Romeo brand returning to Formula 1 as a pseudo-junior team to Ferrari, in the mold of Toro Rosso and Red Bull.
In January, Marchionne said, "It would be difficult for Alfa Romeo to return without the support of another team. An association with Formula One, that would be ideal."
"It's incredible how the Alfa marque remains in people's hearts. For that very reason we are thinking about bringing it back, as our competitor, to racing, to Formula One. It's important for Alfa to return," insisted Marchionne at the time.
Alfa-Romeo has a fine pedigree in Formula 1 with Nino Farina winning the inaugural F1 World Championship in 1951 and a year later Juan Manuel Fangio was world champion for the marque. The team competed in 110 grands prix, winning ten times.
The team supplied engines to F1 teams between 1961 and 1979 before returning as a fully fledged works team between 1979 and 1985. Their final race at the pinnacle of the sport was at the 1985 Australian Grand Prix.
Apart from legends Farina and Fangio, other drivers who raced for the team included the likes of Bruno Giacomelli, Mario Andretti, Andrea de Cesaris, Patrick Depailler, Eddie Cheever and Riccardo Patrese.
Ironically Enzo Ferrari founded Scuderia Ferrari team in 1929 to become the racing team of Alfa Romeo, building and racing cars for the Italian marque at the time.
Italian media reported that during the Red Bull versus Renault crisis last year, there were discussions regarding Red Bull or Toro Rosso using Alfa Romeo badged Ferrari engines, but Red Bull stuck with Renault power (now branded as TAG-Heuer) while Toro Rosso opted for year old Ferrari power units.
Marchionne's passion for the Alfa Romeo legacy in F1 is obvious, "I was at the Ferrari museum and you can see the story with a great closeness to Alfa Romeo." grandprix247