Taking A Look Back At The 2015 NASCAR Season
With the 2015 NASCAR Sprint Cup season behind us, we take a look back at some of the drivers, stories and memorable moments at took place during the year, including Joey Logano's dominance, Kyle Busch's comeback and Martin's Truex's improbable championship run. We also bid farewell to some old friends.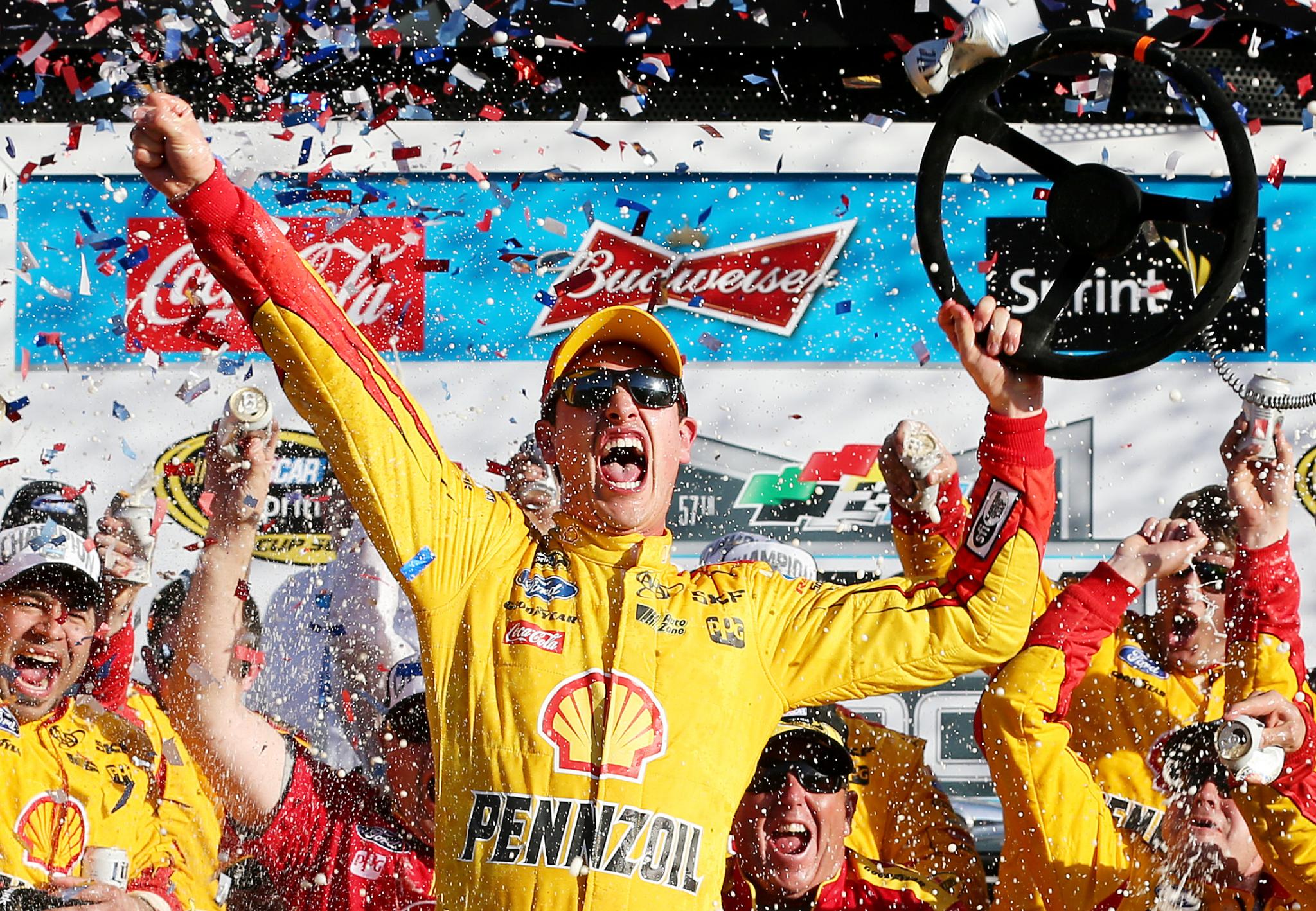 Joey Logano got off to a fast start in 2015, winning the season-opening Daytona 500
Chris Graythen/Getty Images
DRIVER OF THE YEAR: JOEY LOGANO
Few drivers can say they had the kind of season that Joey Logano had in 2015 and not win a title, but despite leading the Sprint Cup Series in wins with six victories – including three straight in the Chase for the Sprint Cup – Logano was left on the sidelines for the final championship race at Homestead after tangling with Matt Kenseth at Martinsville.
But still, Logano's 2015 campaign was something to be proud of. Logano proved that his fourth-place point's finish back in 2014 was no fluke, and that he has matured into a more seasoned driver – no longer the wet-behind-the-years rookie that he was at Joe Gibbs Racing. Moreover, Logano and his teammate Brad Keselowski has brought Penske Racing its best success since the Rusty Wallace era. Between them, Logano and Keselowski racked up 14 wins over NASCAR's three major touring series as well as leading nearly 25% of all the laps run in the entire Sprint Cup Series schedule. In short, they made a lot of people at Penske Racing happy, and ticked off a lot of drivers on the track to boot. Make no mistake, Logano will be a force to be reckoned with in 2016.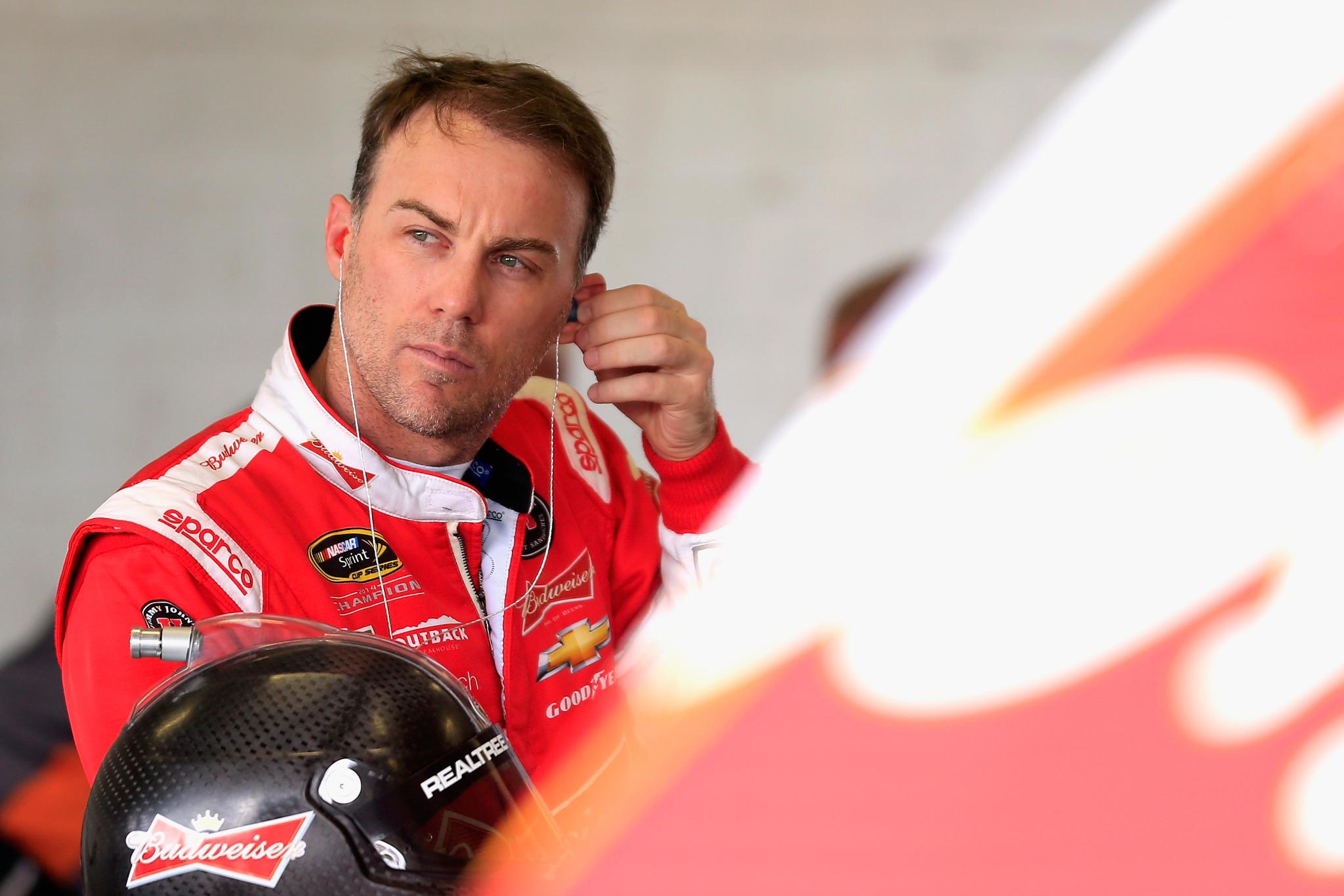 Kevin Harvick came up just one position shy of winning his second-straight championship
Chris Trotman/NASCAR via Getty Images
[adinserter name="GOOGLE AD"]HONORABLE MENTION: KEVIN HARVICK
For much of the Chase, Harvick was like an annoying mosquito – always buzzing around just close enough to bother you but not quite close enough to swat.
Much like his championship-winning run in 2014, Harvick seemed to find ways to stay alive in the Chase. Facing elimination in the opening round, Harvick won the third and final race to advance to the second round, where he parlayed top-three finishes at Charlotte, Texas and Phoenix to help push him through the Championship 4, where he finished second to Kyle Busch.
Harvick's numbers speak for themselves – three wins; 23 top-fives, second only to Logano; and tied with Logano with 28 top-20's. Couple that with three straight top-three finished in the final points standings, and that's a hell of record. Harvick may not have won the title in 2015, but it sure wasn't from lack of trying.
RACE OF THE YEAR: SOUTHERN 500 at Darlington Raceway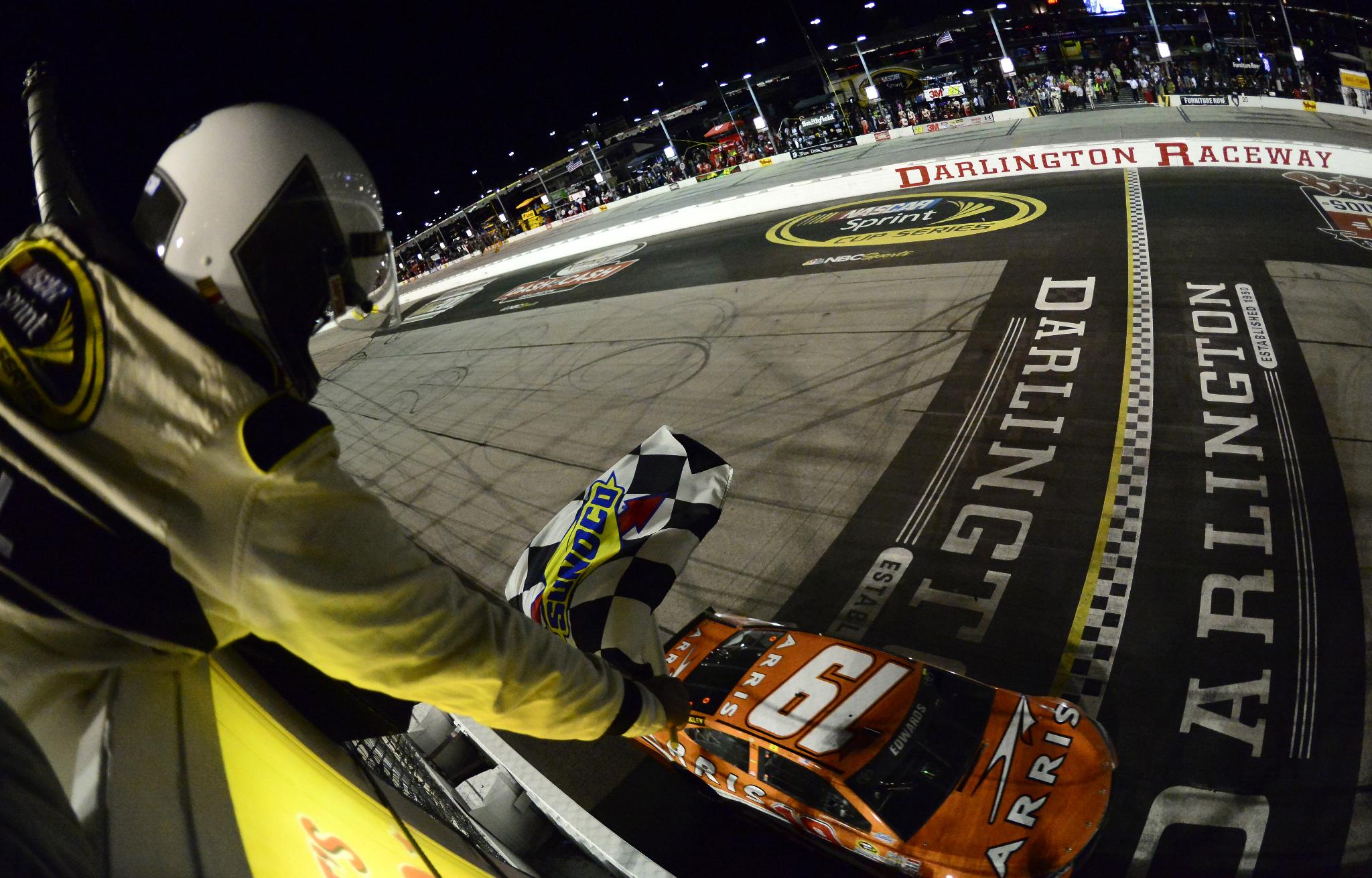 Carl Edwards takes the checkered flag in the Southern 500 at Darlington
Robert Laberge/NASCAR via Getty Images
After 12-year absence, the Labor Day Classic finally returned to Darlington Raceway.
After hosting the Labor Day race since 1950, Darlington lost their coveted date in 2004 after NASCAR shifted the date to California Speedway and later to Atlanta Motor Speedway. Last year, NASCAR finally came to their senses and brought the race back to Darlington for Labor Day.
NASCAR marked the occasion with a throw-back to those classic days of NASCAR lore, with retro-themed paint schemes, retro television commercials and even a "retro" announcing crew of Ken Squire and Ned Jarrett, who called part of the television broadcast.
Besides the pomp and circumstance was the race itself. After months of mediocre racing that could best be described as 180mph pace laps, NASCAR began experimenting with new aerodynamic packages on the cars to help improve competition on the race track.
After their first two attempts at Indianapolis and Kentucky fizzled out, NASCAR brought a new "low downforce" package to Darlington in hopes to perfect their aero changes for 2016.
[adinserter name="GOOGLE AD"]What they got was one of the best performances of the year – 24 lead changes, plenty of passing, lots of action on the track. The fans loved it. The drivers loved it. NASCAR loved it. It was a win-win.
NASCAR plans to add the same aero changes to their rules package for 2016. If it produces racing like we saw at Darlington, it'll be a win for everybody.
MOST IMPROVED DRIVER: MARTIN TRUEX, JR.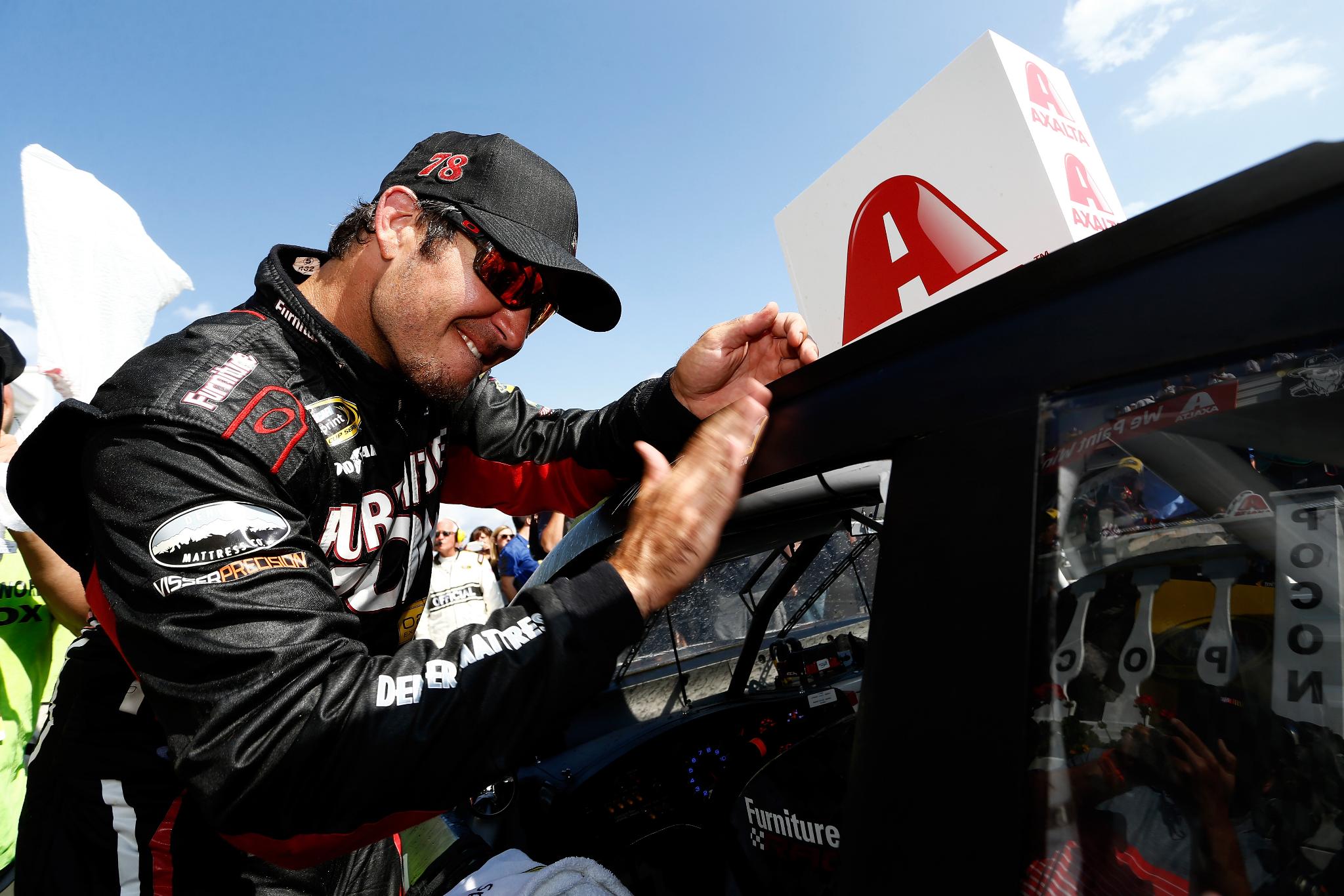 Martin Truex, Jr. slaps a winners decal on his car after winning at Pocono
Photo by Jeff Zelevansky/NASCAR via Getty Images
At the start of the 2015 season, few pegged Martin Truex, Jr. as a legitimate contender for the title. Indeed, the Vegas odds at the beginning of the year put him at as a 200-1 shot – even worse odds than Brian Vickers and Austin Dillon.
It was easy to see why Truex wasn't an odds-on favorite. Coming off a 2014 campaign where he scored a single top-five finish and led just a single lap all season, who could blame them? But Truex's 2014 was plagued with off-the-track distractions, most notably his longtime girlfriend Sherry Pollex's battle with ovarian cancer. Furniture Row Racing being a single-car team based in Denver, Colorado didn't help make the odds look any better
But in 2015, things finally turned in Truex's favor. Pollex completed her chemotherapy; Truex and his new crew chief Cole Pearn started to click; and the team came out fighting right out of the gate with seven straight top 10 finishes putting them third in points. Truex then won at Pocono, scoring FRR their second Sprint Cup victory and punching their ticket to the Chase.
Over the first nine races, Truex and his team looked for consistency – running hard enough to keep them in the hunt but not running too hard as to knock themselves out. Their worst finish over that stretch was 15th at Kansas.
The team escaped the second round sixth in points and made the Championship 4 as the fourth seed. As was par for the course, Vegas had Truex as a long shot to win the title, and indeed he finished 13th – last among the four contenders – but just getting to the final four was an accomplishment in itself.
HONORABLE MENTION: DAVID RAGAN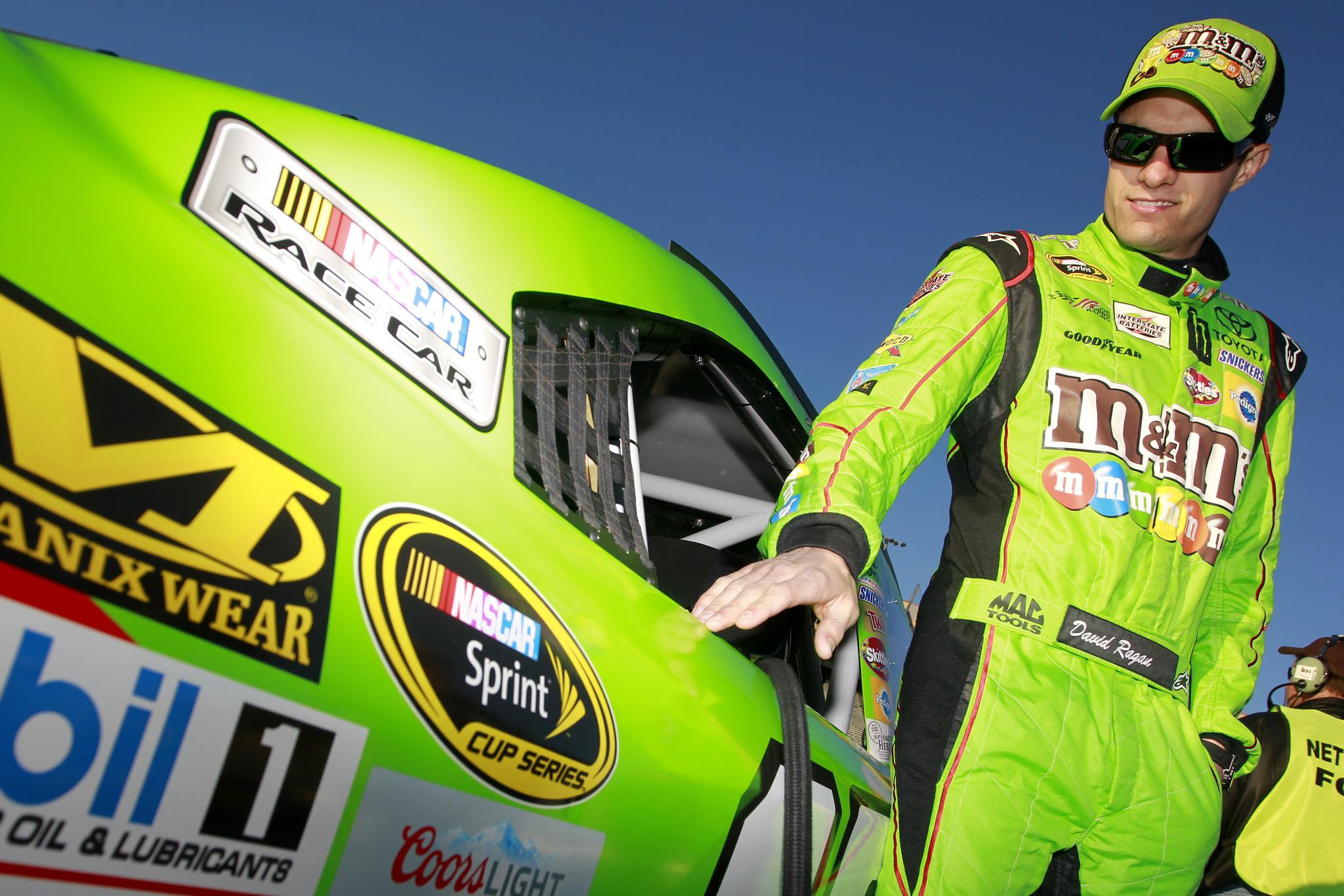 David Ragan filled in for Kyle Busch for nine races.
Brian Lawdermilk/NASCAR via Getty Images
Everyone's favorite substitute driver started all 36 races in 2015 driving for three different teams, and still managed to finish ahead of 2011 Sprint Cup Champion Tony Stewart in the points standings.
After parting ways with Jack Roush in 2012, many thought Ragan's career was all but over. Ragan signed on with the perennial middle-pack Front Row Motorsports but showed everyone he could still race with the best of them – winning at Talladega in 2013 to give FRM their first ever Cup victory.
Ragan's admirable job filling in for the injured Kyle Busch in the no. 18 Toyota turned a lot of heads and landed him a job at Michael Waltrip Racing, but found himself unemployed again at the end of the season when MWR folded. Let's hope someone signs this guy in 2016.
STORY OF THE YEAR: KYLE BUSCH'S COMEBACK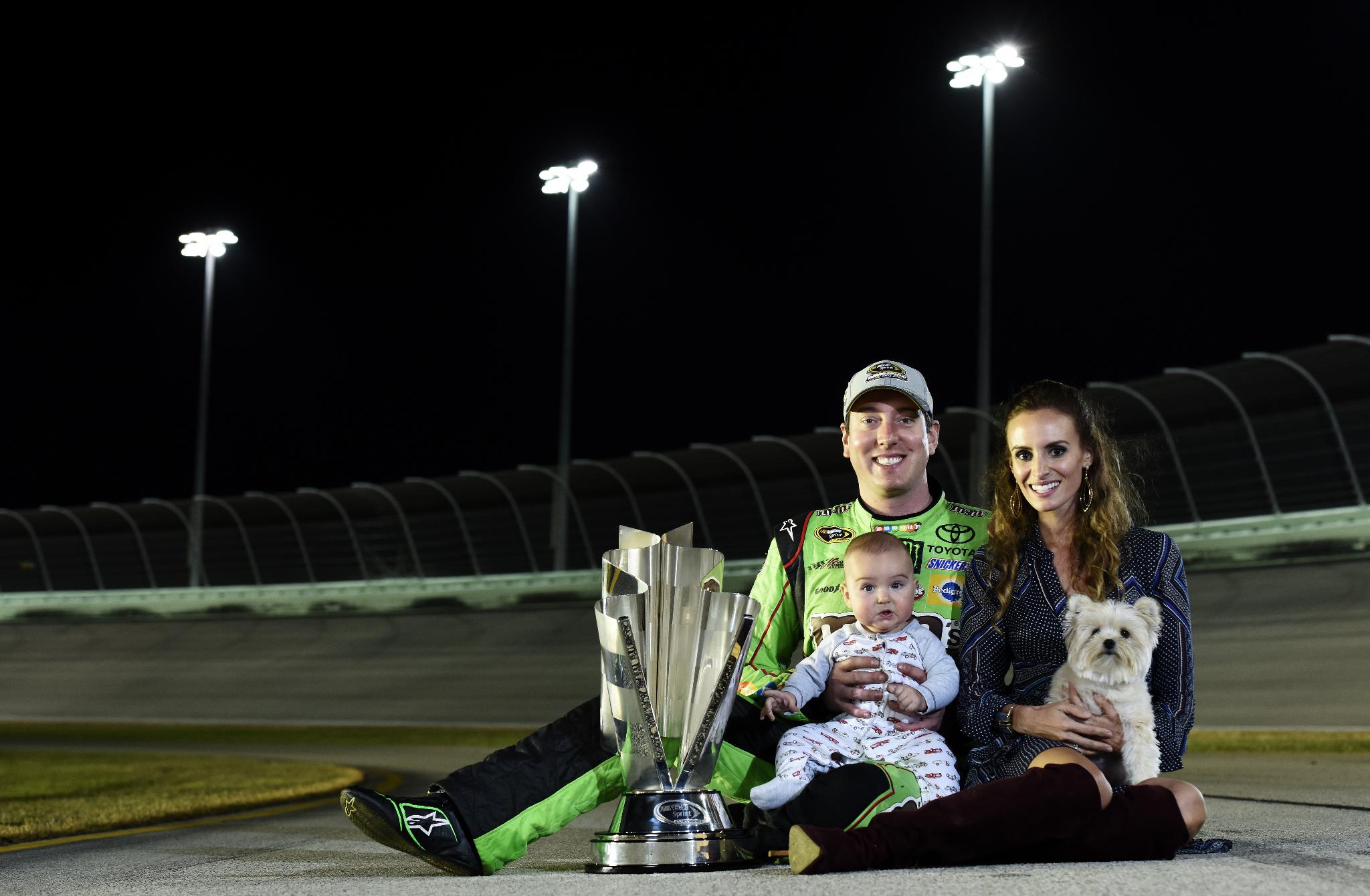 Kyle Busch poses with wife Samantha and son Brexton after winning the title at Homestead
Jared C. Tilton/NASCAR via Getty Images
Let's face it, after Kyle Busch's wreck in the season-opening Xfinity Series race at Daytona, for all intents and purposes he was done. Racers don't recover from a broken leg and a broken foot in three months, right?
Busch not only proved all of his doubters wrong, he proved it to himself as well. He'll be the first one to tell you he figured his championship hopes were over. Done. Just to make it back to the racetrack was an accomplishment in itself. Making a run at the title? Not a chance.
But in Sprint Cup, we have The Chase, and with The Chase, came some hope. He could still content for the title if he could manage to get himself into The Chase.
Now, to all the critics who say NASCAR gave Busch a break – make no mistake, NASCAR didn't hand Busch a spot in the Chase on a silver platter. He had to win a race and fight his way into the top 30 in points. Couple this with the pressure of becoming a new dad ??? Busch and his wife Samantha welcoming their first child, Brexton, in May.
When Busch made his comeback in the Coca-Cola 600 at Charlotte in May, he was 41st in points. 41st to 30th is no cakewalk. By the time the "regular season" ended 15 races later, he had climbed to 27th. 27th in points. That's one position below Tony Stewart, who had run the entire season. It was a remarkable accomplishment.
Busch then had to make it through the first three rounds of the Chase, and he delivered – without winning a single race. He then came to Homestead in the Championship 4 and finished it out.
Busch won the title following the rules NASCAR laid out. Fair and square. And battle back from such adversity was a hell of an achievement. It's probably one of the best deserved championships since the Chase format began.
SAD GOODBYES: MICHAEL WALTRIP RACING
Michael Waltrip Racing in happier times at the NASCAR Media Tour
Pete McCole/AR1
Not really a death, per se, but a sad ending to race team that came in with a bang and folded with a whimper after an eight-year run in the Sprint Cup Series.
After their humble beginnings in 2002 and ushering in Toyota into the Cup Series in 2007, Michael Waltrip Racing was poised to finally reach the pinnacle of the sport in 2013 when they finished the "regular season" with both Clint Bowyer and Martin Truex, Jr. in the Chase – but within 48 hours, it all went away. In the wake of the "Spingate" scandal, MWR was hit with a record fine and Truex was booted from the Chase. Long-time sponsor NAPA Auto Parts parted ways after the season and Truex soon followed.
MWR never seemed to recover, failing to win any more races over the next three seasons. Finally, in August, team co-owner and primary benefactor Rob Kauffman threw in the towel and MWR announced they were closing their doors at the end of the season, bringing to an end the last of the three founding Toyota teams.
It just goes to show that even in auto racing, you're never too big to fail.
HAPPY GOODBYES: JEFF GORDON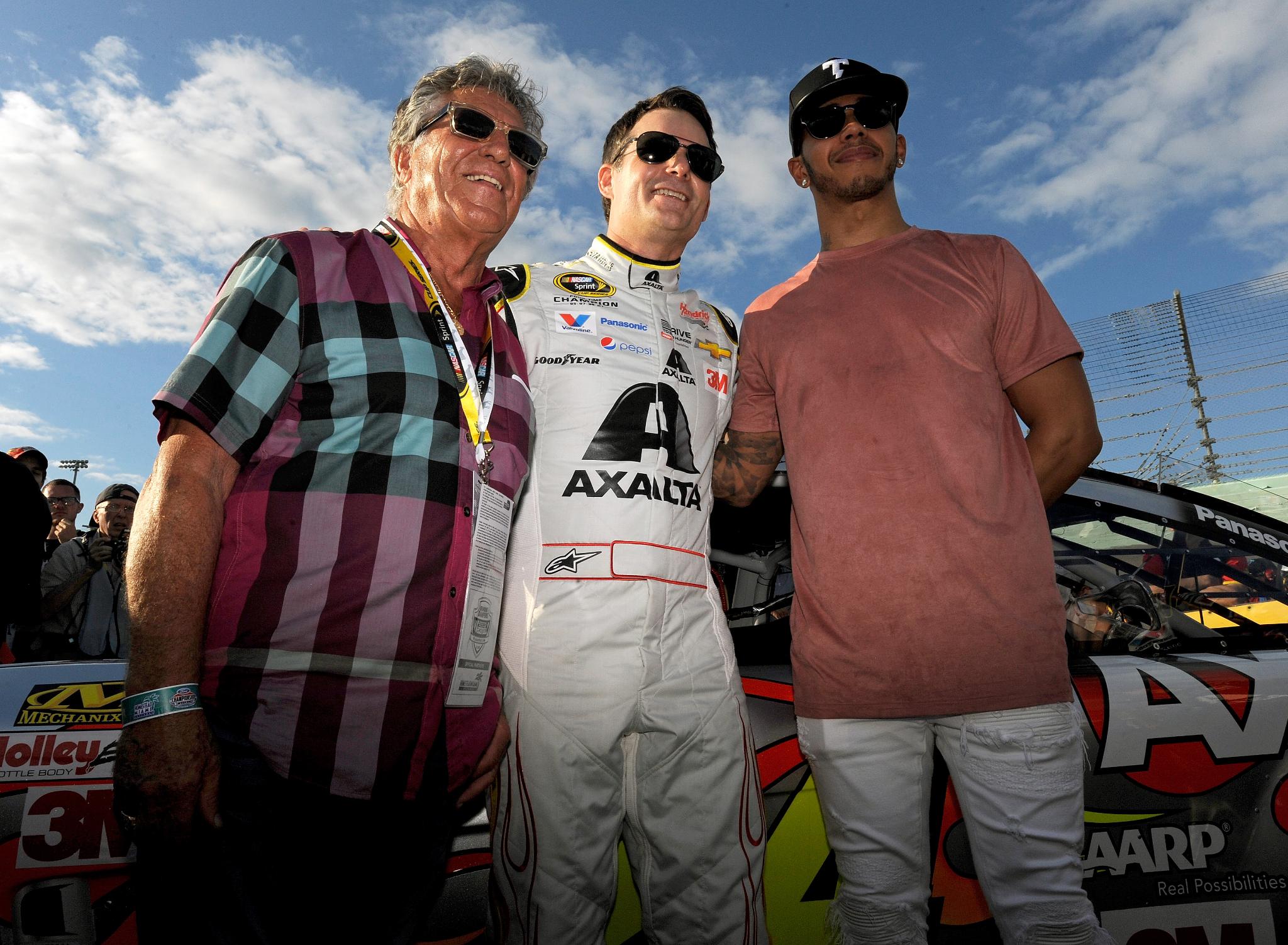 Auto racing's "Mount Rushmore" – Mario Andretti, Jeff Gordon and Lewis Hamilton
Jared C. Tilton/NASCAR via Getty Images
When the checkered flag waved at Homestead-Miami Speedway, it wasn't just the end of a race – it was the end of an era. The "Wonder Boy" era.
Love him of hate him, since his first race in 1992, Gordon has remained a force to be reckoned with on the racetrack.
Gordon's numbers are awe-inspiring: 797 consecutive starts – never missed a race in 23 years. 93 wins. 81 poles. Third all-time in both categories behind Hall of Famers Richard Petty and David Pearson. Four championships.
And Gordon did more than just win, his poster-boy image and fan appeal ushered in an entire new generation of race fans, helping to bring NASCAR out from its moonshiner roots and into the mainstream, inspiring countless young drivers along the way.
When he announced his impending retirement last January, Gordon said he hoped to go out on top, as a champion. After winning at Martinsville in the third round of the Chase, Gordon got his chance as one of the final four.
Gordon came into the final race as the sentimental favorite, and despite leading a few laps, fell short of the title with a sixth-place finish.
In the end, Gordon went out on his own terms and went out at the top of his game. We should all be so lucky.
[adinserter name="GOOGLE AD"]