Jeff Gordon Bids Emotional Goodbye at Awards Banquet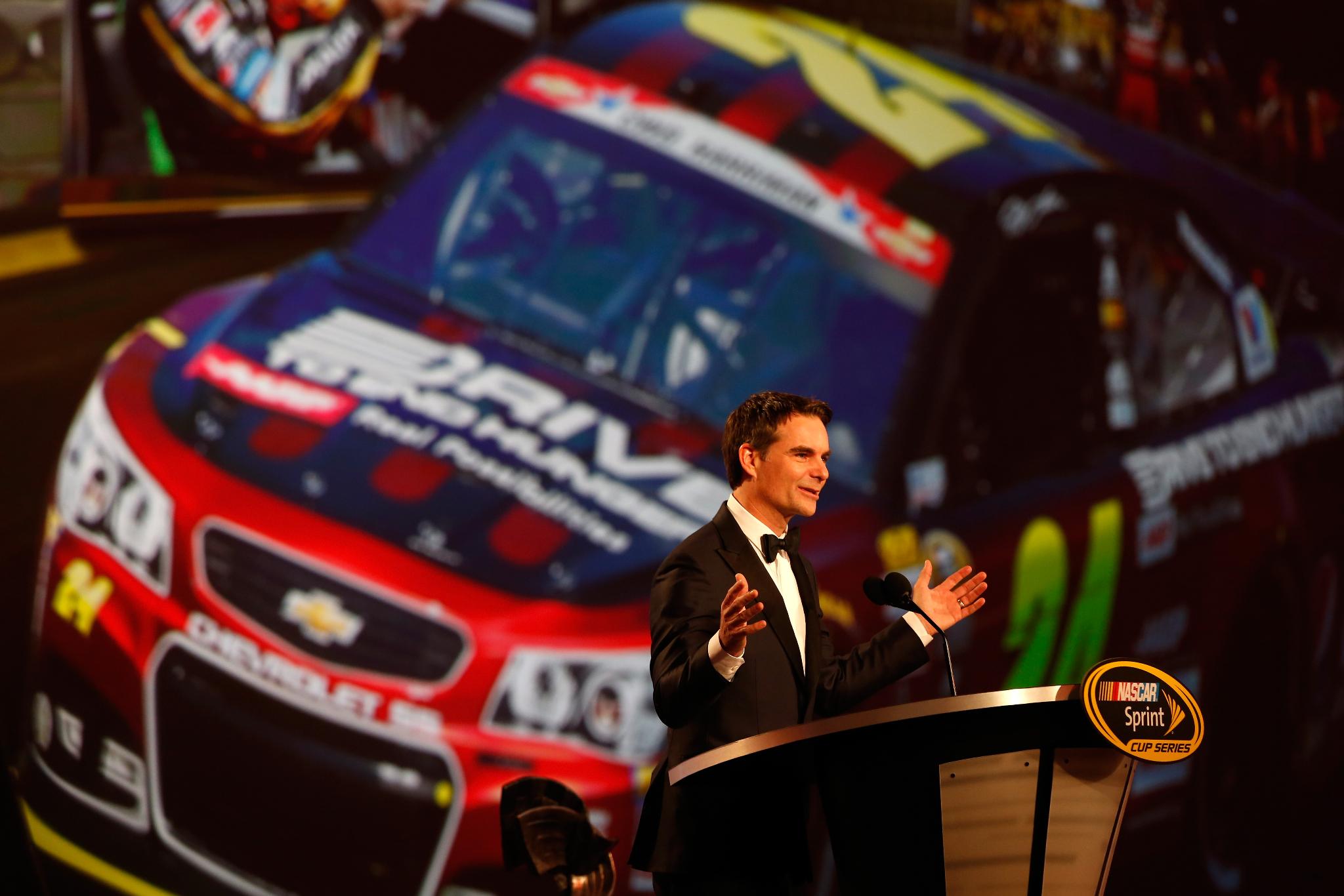 Jeff Gordon takes the podium at the annual Awards Banquet on Friday in Las Vegas
Brian Lawdermilk/NASCAR via Getty Images
Jeff Gordon bid a tearful goodbye during his final speech at NASCAR's annual Awards Banquet in Las Vegas on Friday, bringing to an end a remarkable 23-year Sprint Cup career that helped usher in a new era for the sport.
Gordon, who announced his impending retirement last January, finished third among the four championship finalists in the season-finale race at Homestead, marking the 11th time he's finished in the top five in points during his career.
After an introduction from "Days of Thunder" actor Tom Cruise, Gordon spoke for the final time, bidding farewell to his fellow drivers, the fans, his team and owner Rick Hendrick.
"Motorsports has provided me lifelong memories and stories that I get to reminisce and talk about for years and years to come," said Gordon. "NASCAR in particular has changed my life in ways that I could never really even describe.
[adinserter name="GOOGLE AD"]"It's still really just a blur to me. It seems like it was just, you know, not that long ago that I was traveling from Indiana to North Carolina to see what NASCAR was even all about, and now here I am 25 years later stepping away from one of the most prestigious series in all of motorsports and a fulfilling career."
Gordon became very emotional at times during his speech, and broke down in tears speaking of team owner Rick Hendrick.
"Rick and Linda Hendrick, thank you so much — thank you so much for choosing me as your driver," said Gordon. "I'm so proud to say I drove for one car owner, the best car owner, my entire Sprint Cup career."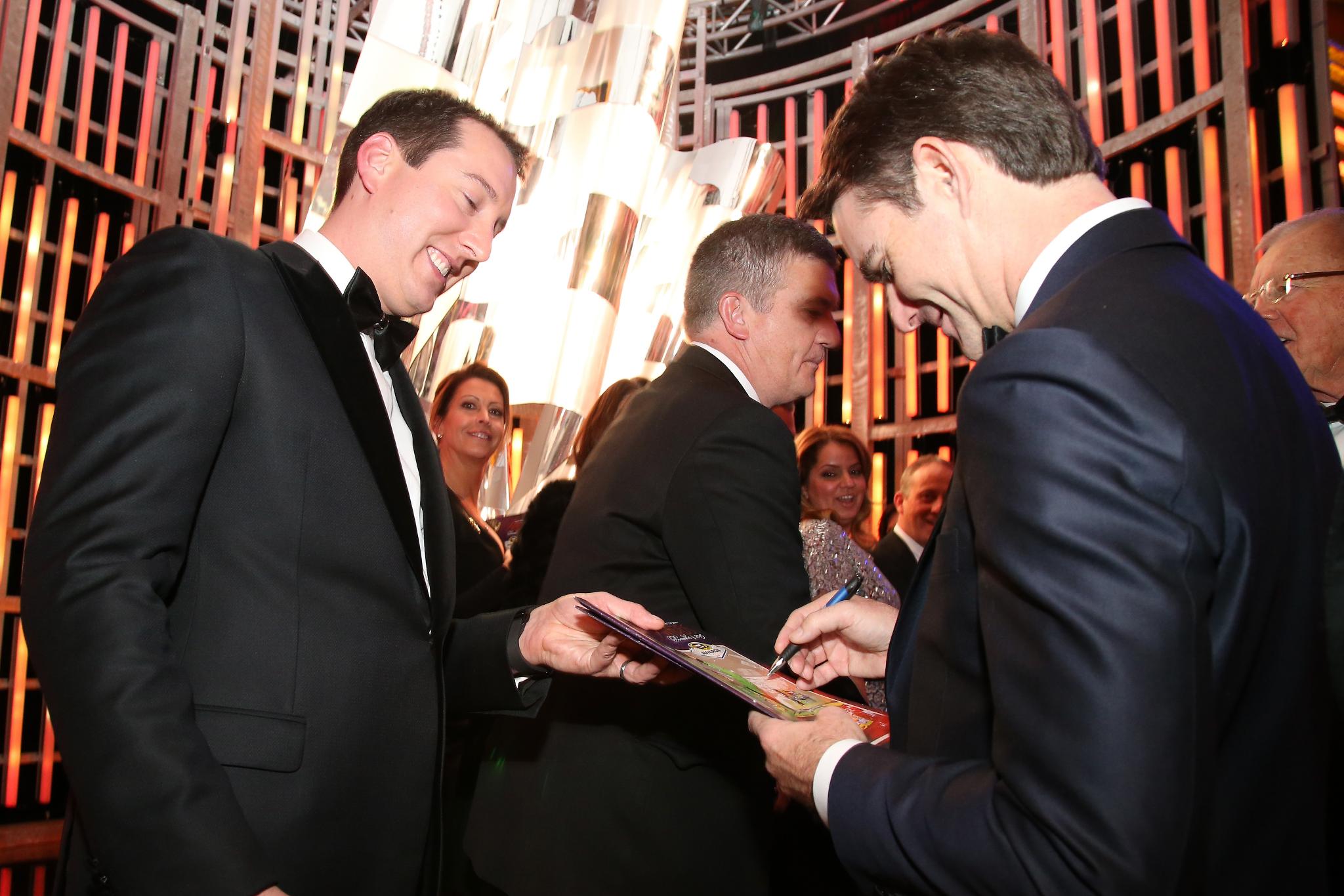 Gordon signs an autograph for newly-crowned champ Kyle Busch
Sean Gardner/NASCAR via Getty Images
Gordon also spoke of newly-crowned champion and former Hendrick teammate Kyle Busch, who as a 12-year old fan once got an autograph from Gordon at Las Vegas Motor Speedway.
"You've come a long ways from being that kid wanting to get my autograph," said Gordon. "And then he was my teammate knocking the right side off the car every practice. But I'm really proud of you, how you've matured, you know, how you've grown as a person, how you've handled adversity. You deserve this, buddy, you really do deserve this championship. Great, great job."
Though Gordon won't be a fixture on the track anymore, he's not walking away from the sport, having been named the new color commentator for FOX Sports NASCAR broadcasting team.
"The question remains, am I going to miss it? Yeah, sure," said Gordon. "I'm going to miss, you know, having that opportunity to win a Daytona 500, maybe another Brickyard 400 or what it was like in that last Martinsville win. I mean, how can you even come close to what that's like?
[adinserter name="GOOGLE AD"]"There are a few things I'm not going to miss so much, like practicing in the middle of the day when it's 90 degrees knowing that it's a night race. Leading the race, just seeing the white flag, flag man's got that thing in his hand, he's getting ready to wave it, and inches before you're there, caution comes out. No, not going to miss that one. And last but not least, debris cautions. Enough said.
"Now irony to all of this is that when I'm in the booth commentating next year for FOX, those are the things I'm going look forward to the most."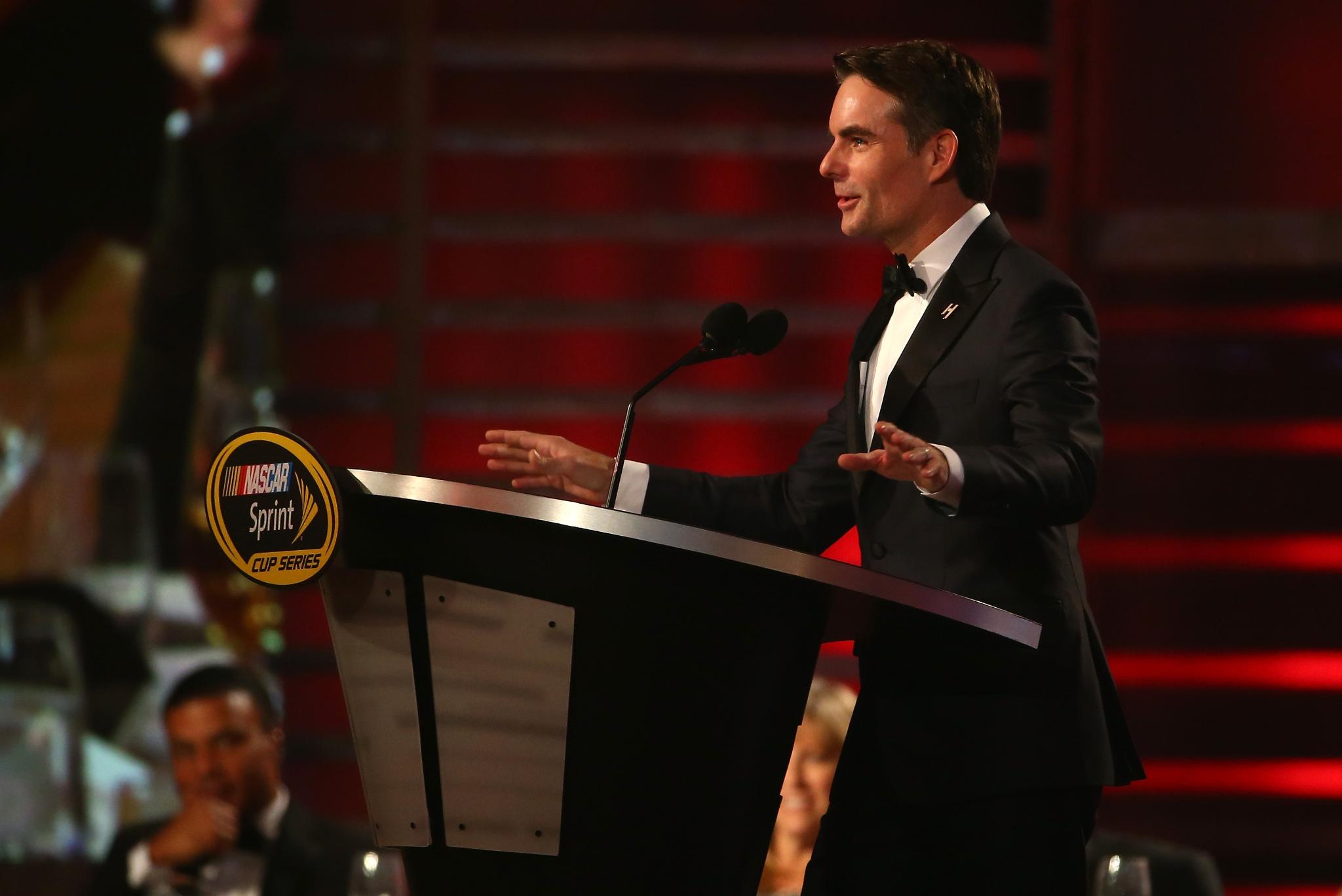 Jeff Gordon will join the broadcast team at FOX Sports in 2016
Sarah Crabill/NASCAR via Getty Images
Gordon walks away from the sport third all-time in wins and poles behind Hall of Famers Richard Petty and David Pearson, and fourth all-time in championships behind Petty, Pearson and his teammate Jimmie Johnson, who Gordon helped bring into the Hendrick stable.
"So will there be another year? No, there won't be," said Gordon. "I am so ready. I am so content because I'm just so proud of all that I've done. I will say it's been absolutely amazing, and I couldn't have ever imagined how my life would turn out.
"I have truly, truly enjoyed racing with you, all of you, and I appreciate the way that all of you compete at such a high level and I really appreciate the way you represent the sport. This sport has a very bright future ahead because of the drivers and the competitors we have in this room and that aren't here in this room in this sport. Thank you guys."