Joey Logano Dominates To Win Bank Of America 500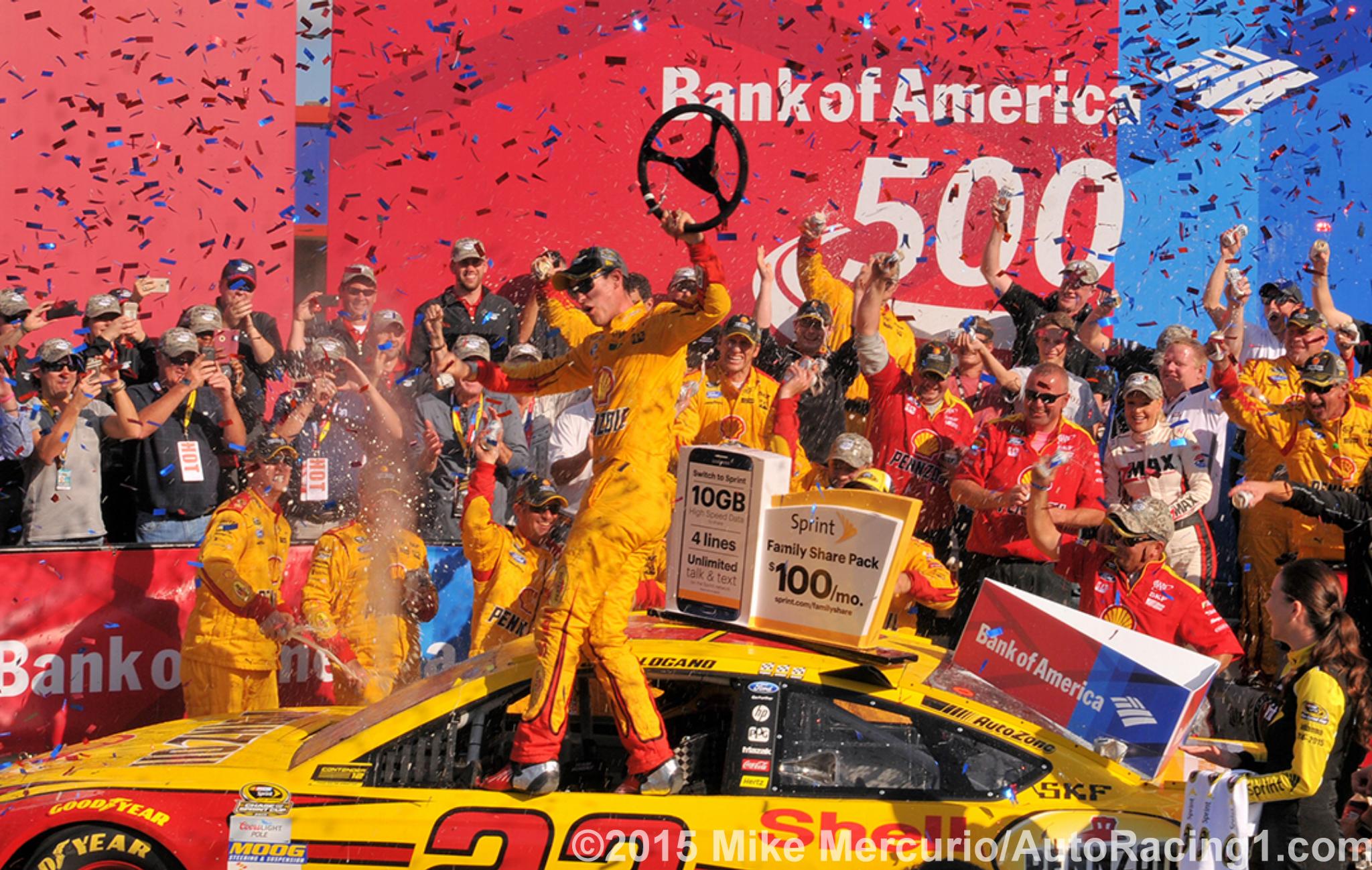 Joey Logano Celebrates at Charlotte
Mike Mercurio/AR1
Joey Logano ran away from the field to notch his fourth victory of the season and punch his ticket to the next round of the Chase for the Sprint Cup with a victory in Sunday's Bank of America 500 at Charlotte Motor Speedway.
Logano led a career-high 227 of the 334 lap distance and beat out Kevin Harvick by more than half a second for his 12th-career victory and his first ever at Charlotte.
Martin Truex, Jr. finished third, followed by Denny Hamlin and Kurt Busch.
Logano's win was his best finish at Charlotte in 14 starts, his previous best being a third place showing in the 2011 Coca Cola 600.
"Getting this win at Charlotte means a lot," said Logano. "I think it's on everyone's bucket list to win here mainly because everyone's race team is here. This is home turf for everyone. You want to win in front of your race team that doesn't typically get to come to the racetrack and get to celebrate with guys that you don't typically get to have in victory lane when we travel far away from here, so that's special.
"We've struggled here the last three or four years and this week we obviously made some good changes to our race car and had a very fast race car. This helps us recharge our batteries and get ready for the next round and come out swinging for that one."
With the victory, Logano automatically advances to the Eliminator round of the Chase and takes over the points lead as many of the top Chase drivers fell out of contention early in the race.
Matt Kenseth crashed out to a 42nd-place finish
Mike Mercurio/AR1
Matt Kenseth came into Sunday's race as the series points leader and started from the pole for event, which had been rescheduled from Saturday night due to rain.
Kenseth led 72 of the opening 76 laps but fell back quickly into the top five before falling even further when he overshot his pit stall during a stop on lap 167.
The miscue put him deep in the field for the restart, and just five laps later he got turned into the outside frontstretch wall off the bumper of Ryan Newman.
Kenseth's day only got worse as he hit the wall twice more before finally killing his No. 20 Toyota with 93 laps to go, ending up with a 42nd-place finish and dropping from to dead last in the Chase standings.
But Kenseth was far from the only Chase driver to run into their share of bad luck.
Kyle Busch finished 20th after colliding with Kyle Larson on pit road
Mike Mercurio/AR1
Kenseth's teammate, Kyle Busch, looked to be another strong contender after starting on the outside pole and running in the top five for much of the first half of the race.
While coming to pit road following a caution flag with 104 laps to go, Busch collided with Kyle Larson at the entrance to pit road, damaging both cars and putting them deep in the field for the restart after repairs and pit road penalties.
Busch never recovered from the setback and came home 20th, falling to 10th in the points ahead of Dale Earnhardt, Jr., who had cut a tire down early and finished four laps down in 28th spot.
Sunday's disappointing finishes for the Chase contenders were compounded by the fact that after next week's race at Kansas Speedway, the Chase moves onto Talladega – a track where drivers run on the ragged edge, and one small mistake could cost any of them a shot at the title.
"This makes Talladega way easier," said Logano. "I know that's on everyone's mind when this round starts and last year we won Kansas when it was the first race of this round and now we were able to get it this time at Charlotte. We'll get lots of sleep here the next couple of weeks."
Harvick's second-place finish propelled him to second in points, while Truex, Jr. moves into third place and hopefully safe from elimination even if disaster strikes at Talladega.
"Third is great and all, but it's no guarantee," said Truex, Jr. "Talladega is still there. Logano is the only one that's going to sleep for the next two weeks. I think going to Kansas, a win is huge. It would be so huge. It's so critical to try to get that win out of the way."
Carl Edwards finished sixth in the race and moves up to sixth in the points. Austin Dillon was seventh, followed by Chase drivers Jeff Gordon and Brad Keselowski, who are now seventh and eighth in points, respectively. Aric Almirola rounded out the top ten.
JOEY LOGANO PRESS CONFERENCE
JOEY LOGANO – No. 22 Shell/Pennzoil Ford Fusion – "Anytime you have a race car that fast you just hope something doesn't go wrong, but everyone did a great job. Todd made great calls. The pit crew was on top of it today. They've really been incredible most of this year, so it's special to have a perfect day in racing. You don't have that very often. Usually, at some point in a 500-mile race you have to overcome something, but today everything went as planned. Obviously, getting this win at Charlotte means a lot. I think it's on everyone's bucket list to win here, mainly because everyone's race teams are here. This is home turf for everyone and you want to win in front of your race team that doesn't typically get to come to the race track and get to celebrate with guys that you typically don't get to have in victory lane when we travel far away from here, so that's special. Obviously, we can all talk about Talladega and how special it is to get through to the next round because the pressure that a lot of these drivers are gonna have on them, that we had on us when this race started, to get to the next round is big. To be able to have that pressure off of us and to be able to relax and enjoy this next round, don't get me wrong, there are still two trophies to win, but to have that pressure off and be able to have our batteries charged up and ready to attack when we get to the next round is gonna pay big dividends."
JOEY LOGANO CONTINUED – YOU BEAT THE 4 CAR. DOES THIS MAKE YOU THE TARGET NOW? "I think there are a lot of fast race cars out there right now. Last week, obviously the 4 was dominant. This week, we had a very fast car. Next week, who knows? You can't rely on anything. As Roger says, one of the quotes that I always remember is -Don't trip on your press clippings.' I usually hear that after every time we win, so that just means don't rely on the speed you've got today because tomorrow it won't be there. You've got to be able to keep moving forward and working on becoming a better race car driver, in my case, a better race team, faster race cars. Everyone does a great job at Team Penske in not settling for just first. We want to win a championship at the end of the year and there's still a long ways to go. We're not where we need to be yet by no means, but there's gonna be a lot of development still. Cars are still gonna be changing and cars are gonna be fast one week and not the next week, so, like I said, you've got to be able to focus in and know what each track is calling for and try to put together the fastest piece we can."
DID YOU LEARN ANY LESSONS FROM WINNING THE FIRST RACE OF THIS ROUND LAST YEAR AS WELL? "More race wins. That's all we need to do. Win more races. Last year, we did an incredible job getting ourselves to Homestead. I felt like we had a great Chase. We executed perfectly. We did everything we had to do to get to Homestead. I feel like the lessons we learned were in Homestead, so we've got to get back to that race, get back in the same position we were last year and I feel like we'll be in a lot better shape because we all lived it once and know what we've got to do now."
JOEY LOGANO CONTINUED – WHAT IS IT ABOUT THIS COMBINATION AT PENSKE THAT HAS MADE IT CLICK FOR YOU? "When you get the right people around you the word team kind of gets a whole new definition sometimes. It becomes a family and I look at how tight all of Team Penske is, but in particular this 22 team, how tight we are as a group. There's not one person that says this is my job and I won't do nothing else. Everyone is always picking up the slack where they need to. There's no one that's too big for themselves and wants to be Hollywood out there. Everyone is a bunch of racers and I'm proud to be a part of that group. It's an honor to be a part of that group and obviously driving for Roger can you find someone better to race for? I don't think so. When you get everything clicking just right and what I think it's all about is people and Roger talks about it all the time, but there are a lot of people that can buy a lot of those tools to go out there and go fast, but you've got to have the right people to run those tools. Roger and all of Team Penske has done a great job of selecting some very special, hard-working people to put together a great race team and I think that's why we see the results."
JOEY LOGANO CONTINUED – IS THERE ANY MENTAL EDGE TO BEATING HARVICK? "There are 42 other cars we've got to beat, too. He has been the one that's finished second, I think it's just a coincidence. Obviously, they're a great race team, but a team like that has a week like they did last week, you've got to be able to pick up your game and be able to hopefully be able to beat them and show that we're here and it's not gonna be an easy ride for someone. I think our team showed that today, that we can go out there and compete with the best. I knew that coming into today and knowing really every week that my team has what it takes to go out there and beat them. Obviously, they have a lot of speed in their cars on a consistent basis. We do as well, and in this Chase winning these races in the Chase is such a big deal. It's nice to have race wins, but when you're able to get Chase wins and rack those up it seems to be a little harder to get them at Chase time because everyone picks it up a little bit, so it shows that our team picked up what we needed to."
JOEY LOGANO CONTINUED – DID YOU STAY AWAY FROM AREAS ON THE TRACK THAT MAY HAVE HAD OIL? "I was pretty much like a catfish today, I was just on the bottom. All you guys are welcome to use that one (laughing). I never moved up much and didn't feel any oil on the race track at any point. I was warned. My spotter did a great job warning me that people were talking about it, so when someone comes over the radio and says, -Hey, they're talking about oil in the middle of the race track,' then you probably shouldn't run in the middle of the race track, especially with the position we were in, so I never got around any of it and never felt much of it."
JOEY LOGANO CONTINUED – DID YOU DO ANYTHING TO DAMAGE YOUR CAR DURING YOUR BURNOUT? "My philosophy with burnouts is it's not cool until something breaks (laughing). I just like burning the rear tires off it. It's a lot of fun. I really think about a lot of times coming back down pit road and see if they could put rears on it like a modified and go back out and burn them down again. It's a lot of fun. No, I think she looks good, doesn't she? She looks the way a winning race car should look."
HOW DO YOU LOOK AT THIS SPORT EVERY WEEK AS FAR AS WHICH TEAMS YOU NEED TO LOOK AT AND WHICH TEAM YOU NEED TO BEAT? "It doesn't really matter looking at other people. You've got to look at yourself. Todd and I talked about going into Dover the 4 situation and we talked about it and said it doesn't really matter. It doesn't change what we have to do. We still have to go out there and win races. Whether he was in the Chase or not, it's not gonna make a difference. We still have to do what we know how to do and what we have to do and control our own destiny and focus on what makes our race cars faster. We just stay focused in doing what we know how to do, don't go and reinvent the wheel and just stay focused in. There are gonna be cars that are dominant each week and we just have to be that car more times than not."
Results
| | | | | | | | | |
| --- | --- | --- | --- | --- | --- | --- | --- | --- |
| Pos | No. | Driver | Make | Start | Laps | Led | Status | Points |
| 1 | 22 | Joey Logano | Ford | 3 | 334 | 227 | Running | 48 |
| 2 | 4 | Kevin Harvick | Chevrolet | 11 | 334 | 0 | Running | 42 |
| 3 | 78 | Martin Truex Jr | Chevrolet | 15 | 334 | 0 | Running | 41 |
| 4 | 11 | Denny Hamlin | Toyota | 5 | 334 | 0 | Running | 40 |
| 5 | 41 | Kurt Busch | Chevrolet | 6 | 334 | 0 | Running | 39 |
| 6 | 19 | Carl Edwards | Toyota | 8 | 334 | 1 | Running | 39 |
| 7 | 3 | Austin Dillon | Chevrolet | 14 | 334 | 1 | Running | 38 |
| 8 | 24 | Jeff Gordon | Chevrolet | 22 | 334 | 1 | Running | 37 |
| 9 | 2 | Brad Keselowski | Ford | 13 | 334 | 0 | Running | 35 |
| 10 | 43 | Aric Almirola | Ford | 9 | 334 | 0 | Running | 34 |
| 11 | 15 | Clint Bowyer | Toyota | 23 | 334 | 1 | Running | 34 |
| 12 | 1 | Jamie McMurray | Chevrolet | 30 | 334 | 0 | Running | 32 |
| 13 | 17 | Ricky Stenhouse Jr | Ford | 25 | 334 | 0 | Running | 31 |
| 14 | 21 | Ryan Blaney | Ford | 16 | 334 | 0 | Running | 0 |
| 15 | 31 | Ryan Newman | Chevrolet | 10 | 334 | 0 | Running | 29 |
| 16 | 47 | AJ Allmendinger | Chevrolet | 17 | 334 | 0 | Running | 28 |
| 17 | 9 | Sam Hornish Jr | Ford | 18 | 333 | 22 | Running | 28 |
| 18 | 13 | Casey Mears | Chevrolet | 21 | 333 | 0 | Running | 26 |
| 19 | 10 | Danica Patrick | Chevrolet | 24 | 333 | 0 | Running | 25 |
| 20 | 18 | Kyle Busch | Toyota | 2 | 333 | 4 | Running | 25 |
| 21 | 42 | Kyle Larson | Chevrolet | 31 | 333 | 3 | Running | 24 |
| 22 | 6 | Trevor Bayne | Ford | 33 | 332 | 0 | Running | 22 |
| 23 | 40 | Landon Cassill | Chevrolet | 34 | 332 | 0 | Running | 0 |
| 24 | 16 | Greg Biffle | Ford | 4 | 331 | 0 | Running | 20 |
| 25 | 46 | Michael Annett | Chevrolet | 38 | 331 | 0 | Running | 19 |
| 26 | 14 | Tony Stewart | Chevrolet | 36 | 331 | 0 | Running | 18 |
| 27 | 38 | David Gilliland | Ford | 29 | 330 | 0 | Running | 17 |
| 28 | 88 | Dale Earnhardt Jr | Chevrolet | 12 | 330 | 0 | Running | 16 |
| 29 | 83 | Matt DiBenedetto | Toyota | 40 | 330 | 0 | Running | 15 |
| 30 | 34 | Brett Moffitt | Ford | 37 | 330 | 0 | Running | 14 |
| 31 | 95 | Michael McDowell | Ford | 32 | 329 | 0 | Running | 13 |
| 32 | 7 | Alex Bowman | Chevrolet | 27 | 329 | 0 | Running | 12 |
| 33 | 26 | J.J. Yeley | Toyota | 35 | 328 | 0 | Running | 0 |
| 34 | 33 | Alex Kennedy | Chevrolet | 43 | 326 | 0 | Running | 10 |
| 35 | 98 | Reed Sorenson | Ford | 42 | 325 | 0 | Running | 9 |
| 36 | 27 | Paul Menard | Chevrolet | 26 | 325 | 0 | Running | 8 |
| 37 | 55 | David Ragan | Toyota | 19 | 289 | 0 | Engine | 7 |
| 38 | 35 | Cole Whitt | Ford | 39 | 262 | 0 | Accident | 6 |
| 39 | 48 | Jimmie Johnson | Chevrolet | 7 | 257 | 2 | Engine | 6 |
| 40 | 51 | Justin Allgaier | Chevrolet | 28 | 251 | 0 | Running | 4 |
| 41 | 23 | Jeb Burton | Toyota | 41 | 244 | 0 | Running | 3 |
| 42 | 20 | Matt Kenseth | Toyota | 1 | 236 | 72 | Accident | 3 |
| 43 | 5 | Kasey Kahne | Chevrolet | 20 | 58 | 0 | Accident | 1 |