IndyCar eyes Oklahoma City race (2nd Update)
UPDATE #2
Organizers of the IndyCar street race scheduled for its first running in Boston this September have gained approval from the Oklahoma City council to attempt to gain an open wheel race there.
Joe Mattioli, a former Pocono Raceway executive working with Boston Grand Prix promoter Mark Perrone, told USA Today Sports on Sunday that they were granted exclusive rights on Tuesday to develop plans for a race there, perhaps as early as 2018. The effort is being made independent of IndyCar and remains in its nascent stages.
Mattioli, who with Perrone broached the subject with Mayor Mick Cornett six months ago, said the exclusive rights expire in about a year. He expects a limited liability company to be formed within the next month. Among the many steps will be identifying a suitable race area and hiring a track designer to devise a course, as the city of roughly 600,000 has never hosted an despite the attempts of numerous promoters the past six years.
"It's really step one of many," Mattioli said. "The moons have kind of aligned and our goal is to, number one, make sure that the city would like to consider it. Now the hard works starts for identifying a site, interacting with the community and seeing if we can get all the pieces together."
Mattioli said two sites have been identified, but a final proposal would not necessarily involve city streets.
"We have to figure out where it would go, but the good thing about Oklahoma is there no lack of real estate," he said. "There is a possibility it could be problematic with street closures. Our goal is to find a site that would be least intrusive to the city, business interruptions, noise, taking all those things into consideration."
Perrone's group has had no contact with IndyCar officials, Mattioli said, and a proposal is not imminent.
"They're kind of like NASCAR: 'Show me what you got and we'll take a look at it'," Mattioli said.
IndyCar chairman Mark Miles said he looked forward to aiding Perrone and Mattioli but noted that Oklahoma City's location – roughly 200 miles from Fort Worth, which has hosted IndyCar events since 1997 – could be problematic.
"It's not very far from Dallas-Ft. Worth," Miles told USA Today Sports. "You want to have an open dialogue and understand all your options, but we're committed to Dallas-Ft. Worth and we would have to be committed to that a race that close would not undermine our existing relationship." Curt Cavin/IndyStar
04/12/16 One of the fastest races in motorsports is looking to make Oklahoma City home in the next couple of years.
The City Council has agreed to allow IndyCar to scout OKC for possible locations for a race in 2017 or 2018.
Mayor Mick Cornett says a representative from the circuit approached him.
"There are several steps that have to happen before I would call this serious but it's nice that people are noticing us," he said. "This is a promoter that's already doing a high-profile race in Boston and when they look at Oklahoma City as a potential market, we should feel good about it."
Cornett says he tried to bring a race to his city five or six years ago, but the Council turned him down, at a time when a number of downtown streets were already under construction.
This time, he's not sure there's a viable public space available, but he says there's no harm in letting IndyCar come check things out.
"I think we should look at this as a validation of Oklahoma City's ascension as a big player for sports," he said. "If they look at the success of the Thunder they wonder what else the market could support and they want to at least inquire about Oklahoma City's interest."
The mayor says he was not given a definitive timeline, but expects IndyCar to get back to him within a few months if the circuit is interested. KFOR.com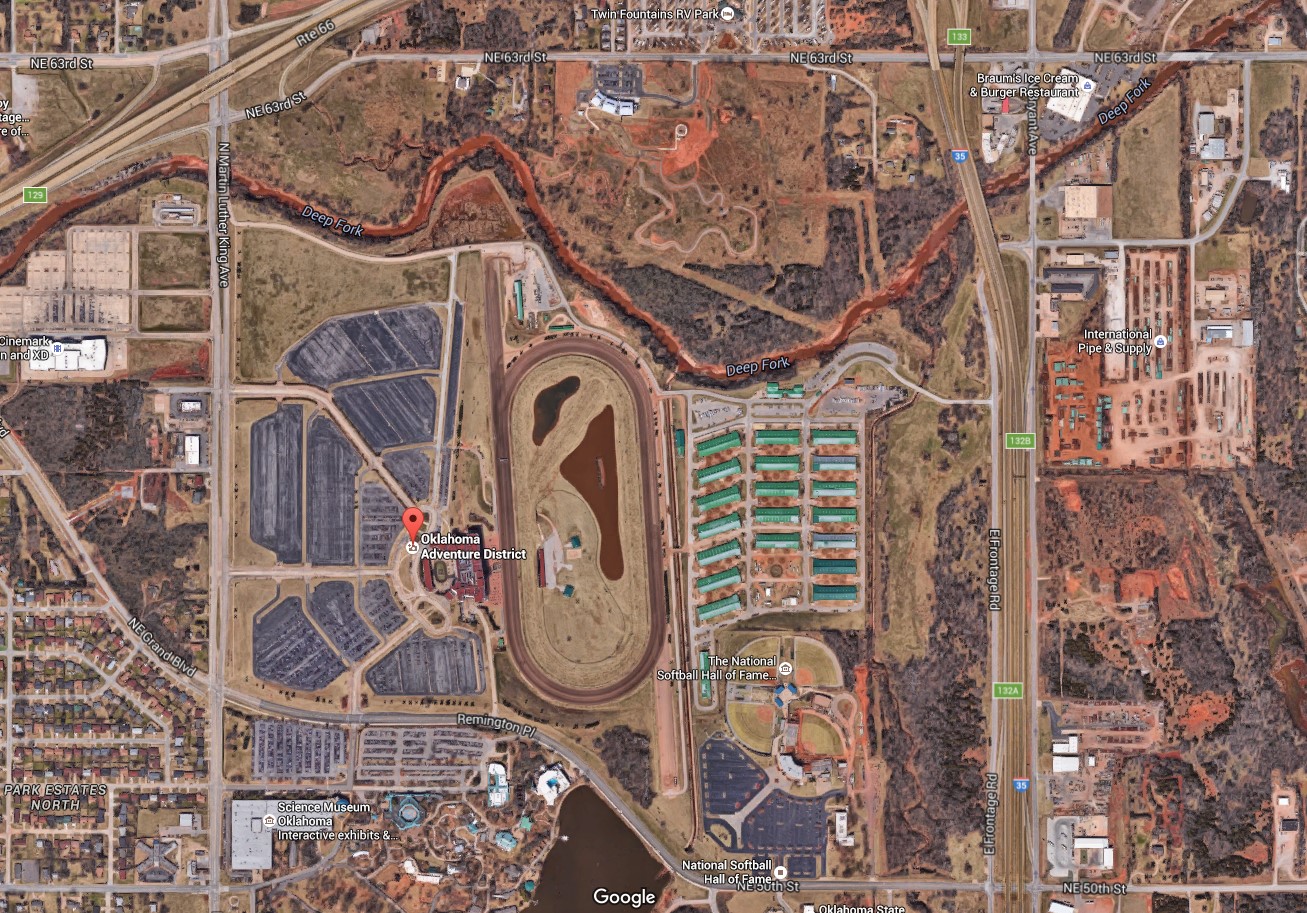 Race could be in the 'Adventure District' NE of downtown. That is where the ALMS race was planned, but never happened
04/11/16
The City of Oklahoma City has been approached by a promoter to enter into exclusive negotiations for the purpose of possibly conducting and hosting a Verizon IndyCar Series motorsports race event sometime in 2017 or 2018.
In 2010, the City Council voted down a measure which would have brought a race to the streets of downtown. The event would have required the city to make $6.9 million in improvements.
Mayor Mick Cornett was the main advocate for the Grand Prix in 2010, telling the council he had worked for 5 years to bring racing downtown. Cornett and Meg Salyer were the only council members to vote in favor of the event, with 6 votes against.
The IndyCar Series (known as the Verizon IndyCar Series for sponsorship reasons) is the premier level of open wheel racing in North America and this season's series features 15 races, four of which will be on the downtown streets of cities: Long Beach, Boston, St. Petersburg and Toronto.
The Long Beach race has been a staple in Southern California since 1975 and routinely draws around 175,000 spectators.
All the races are nationally televised by NBC or one of its affiliated cable channels.
Boston will be hosting a race for the first time later this year, after the city evaluated the pros and cons on the heals of Baltimore choosing not to renew their race agreement After their first foray into IndyCar racing met with mixed reviews from business owners who questioned the final economic benefit to the city.
The Oklahoma City Council will vote tomorrow on the measure that would allow the City Manager to begin negotiations with Mark Perone, who has been the promoter for many of the other IndyCar races in North America.
Any final plans for expenditures or street closures would have to be subsequently approved by city council as well. OKC Talk