Toronto pitlane to be flipped (Update)
UPDATE
This rumor, broke by AR1.com during the St. Petersburg race weekend, is upgraded to 'fact' today.
Organizers of the Honda Indy Toronto revealed today a modified track layout (below) and announced that tickets are now on sale for renewal customers.
The ticket sales season for the 30th year of INDYCAR racing on the streets of Toronto is now open, beginning with an exclusive renewal period for fans who purchased weekend grandstand tickets in 2015. Renewal customers will have access to a new program, the Champions Club, offering many exciting benefits, including Paddock Passes, access to the Verizon IndyCar Series pre-race grid walk and an opportunity to sign the start/finish line for the 2016 Honda Indy Toronto. Ticket sales for the general public will begin April 12.
The ticket launch coincides with the introduction of a modified track design – the first since 1996 and third since the inaugural race in 1986 – that accommodates Hotel X Toronto, newly constructed on the historic grounds of Exhibition Place, just inside the Princes' Gates and opposite the Enercare Centre (previously known as the Direct Energy Centre). The new configuration features the relocation of hospitality suites, grandstands and famous pit lane.
"This year marks the 30th year of racing in Toronto," said Jeff Atkinson, president of the Honda Indy Toronto. "We are thrilled to be able to provide a double feature to help mark the occasion, with the NASCAR Pinty's Series headlining on Saturday and the Verizon IndyCar Series on Sunday. Fans are in for an exciting weekend of racing at the Honda Indy Toronto this summer."
Pit lane will move to the north side of the track, starting at Turn 9 and extending back onto Princes' Boulevard past Turn 11. The popular hospitality suites will also move to the north side. Both were previously located on the south side of Princes' Boulevard. The Turn 11 grandstands will be located on the south side of pit lane and a new pedestrian and wheelchair track crossing has been added at Turn 9.
Renewals and the new track map are available at hondaindy.com/tickets or by calling (416) 588-7223 ext. 215. The exclusive renewal window ends at 7 p.m. on April 11.
Previous Pit Lane Layout (Click map to enlarge)
New Pit Lane Layout (Click map to enlarge)
Previous Toronto configuration
Hotel under construction last year
03/12/16
Because of the new hotel (still under construction) behind the Toronto pit lane the Toronto street circuit has to be slightly reconfigured because the front of the hotel protrudes out into what was the pitlane.
Rumor has it that the pit lane will be moved (flipped) to the outside of the track instead of the inside.
That will probably mean that the grandstands that were on the outside of the track across from the pits, will now be added to the grandstands that were behind the pits before. Mark C. reporting from St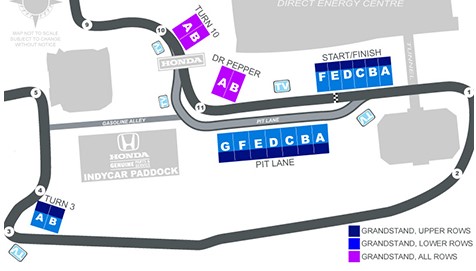 Previous Toronto configuration