Montoya tops Friday IMSA practice at Laguna Seca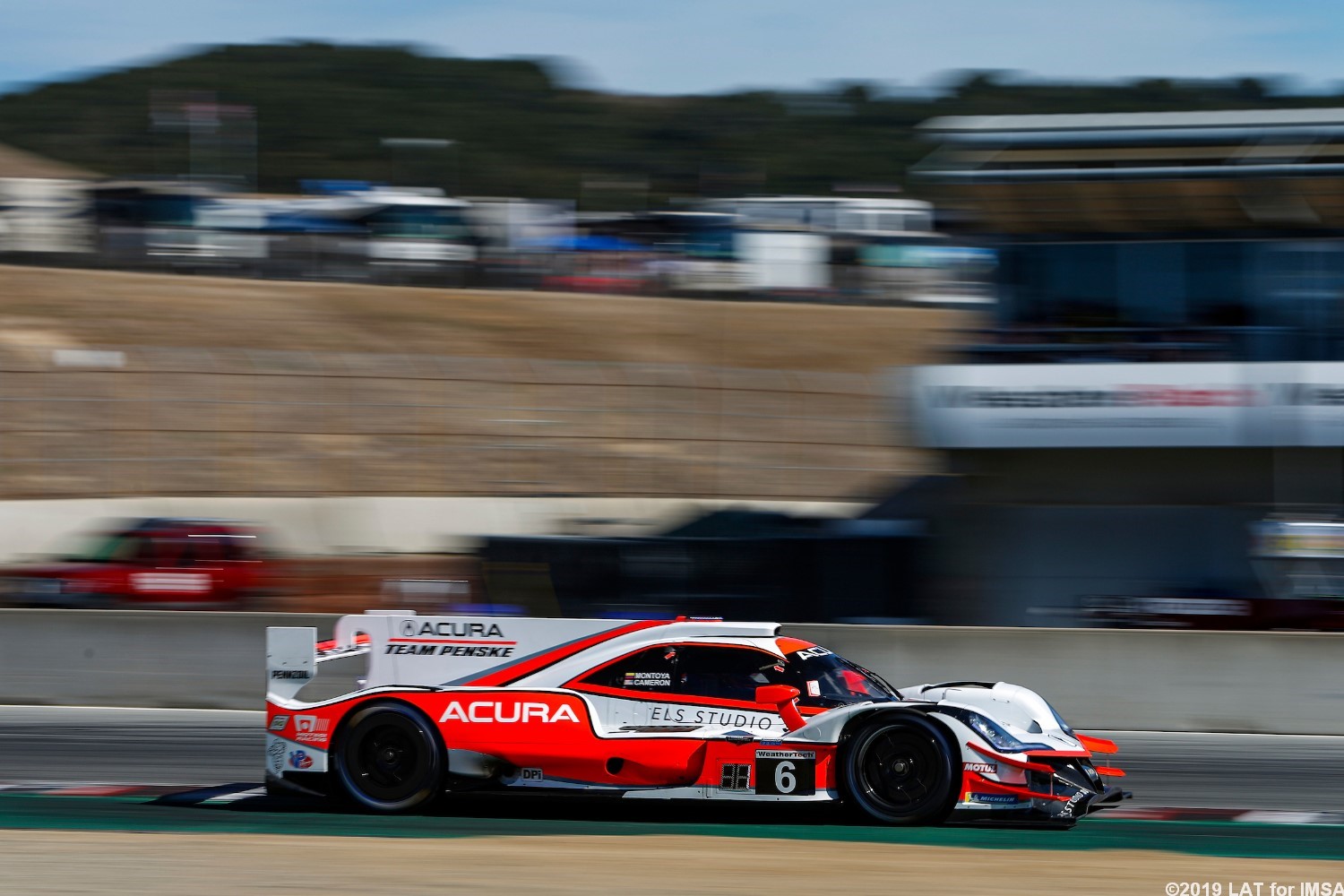 Juan Montoya
IMSA WeatherTech SportsCar Championship Daytona Prototype international (DPi) points leader Juan Pablo Montoya posted the fastest time in Friday's practice sessions, but if the time charts are any indication, the competition this weekend is going to be close.
Montoya lapped the 2.238-mile WeatherTech Raceway Laguna Seca circuit at one minute, 16.003 (106.006 mph) to lead the way in the No. 6 Acura Team Penske ARX-05 that he shares with co-driver Dane Cameron. His lap was just 0.078 seconds quicker than the best time posted by Felipe Nasr in the No. 31 Whelen Engineering Cadillac DPi-V.R of 1:16.081 (105.897 mph).
"It's good," Montoya said. "It's close. The difficult part is Sunday is going to be a lot cooler, so it's a lot different racetrack. I don't know, we'll see. Hopefully it plays into our hands a little bit. It seems like we've got decent pace. It's hard to know what everybody can do, but we're pretty happy with that."
Nasr and his co-driver, Pipo Derani, are the closest championship pursuers of Montoya and Cameron, sitting seven points out of the lead with two races remaining on the schedule. Derani also is the defending champion of the Monterey SportsCar Championship Powered by McLaren, winning here last year with then-co-driver Johannes van Overbeek in the No. 22 Nissan DPi.
Oliver Jarvis was third on the day with a best lap of 1:16.421 (105.426 mph) in the No. 77 Mazda Team Joest RT-24P DPi he shares with Tristan Nunez. Mazda Team Joest has won the last three WeatherTech Championship DPi races this season.
The top seven cars in the DPi field were covered by less than one second.
Sunday's two-hour, 40-minute Monterey SportsCar Championship Powered by McLaren will be televised live on the NBC network, beginning at 3 p.m. ET. IMSA Radio also will have live coverage throughout the weekend on IMSA.com and RadioLeMans.com, with a live race broadcast also airing on SiriusXM Radio.
Masson Off to Strong Start in LMP2 at WeatherTech Raceway Laguna Seca
After sitting out the most recent LMP2 race at Road America last month, it didn't take Kyle Masson long to get back up to speed Friday at WeatherTech Raceway.
Driving the No. 38 Performance Tech Motorsports ORECA LMP2, Masson posted a best time of 1:18.208 (103.017 mph) to lead class practice for Sunday's Monterey SportsCar Championship Powered by McLaren. Masson will co-drive with Cameron Cassels and is looking for his second LMP2 win of the season.
"Laguna Seca is awesome, especially with the way the LMP2 car flows here," Masson said. "The track is so suited for high-downforce cars that can roll speed through the corners, so to be here and actually feel it in a proper high-horsepower, high-downforce car is really awesome. We made a huge improvement from the first practice to the second in terms of how the car drove and the ability of the car to attack the corners and the brake zones, which ultimately helped us pick up time."
No. 67 Ford GT Endures Highs and Lows of GTLM Practice Day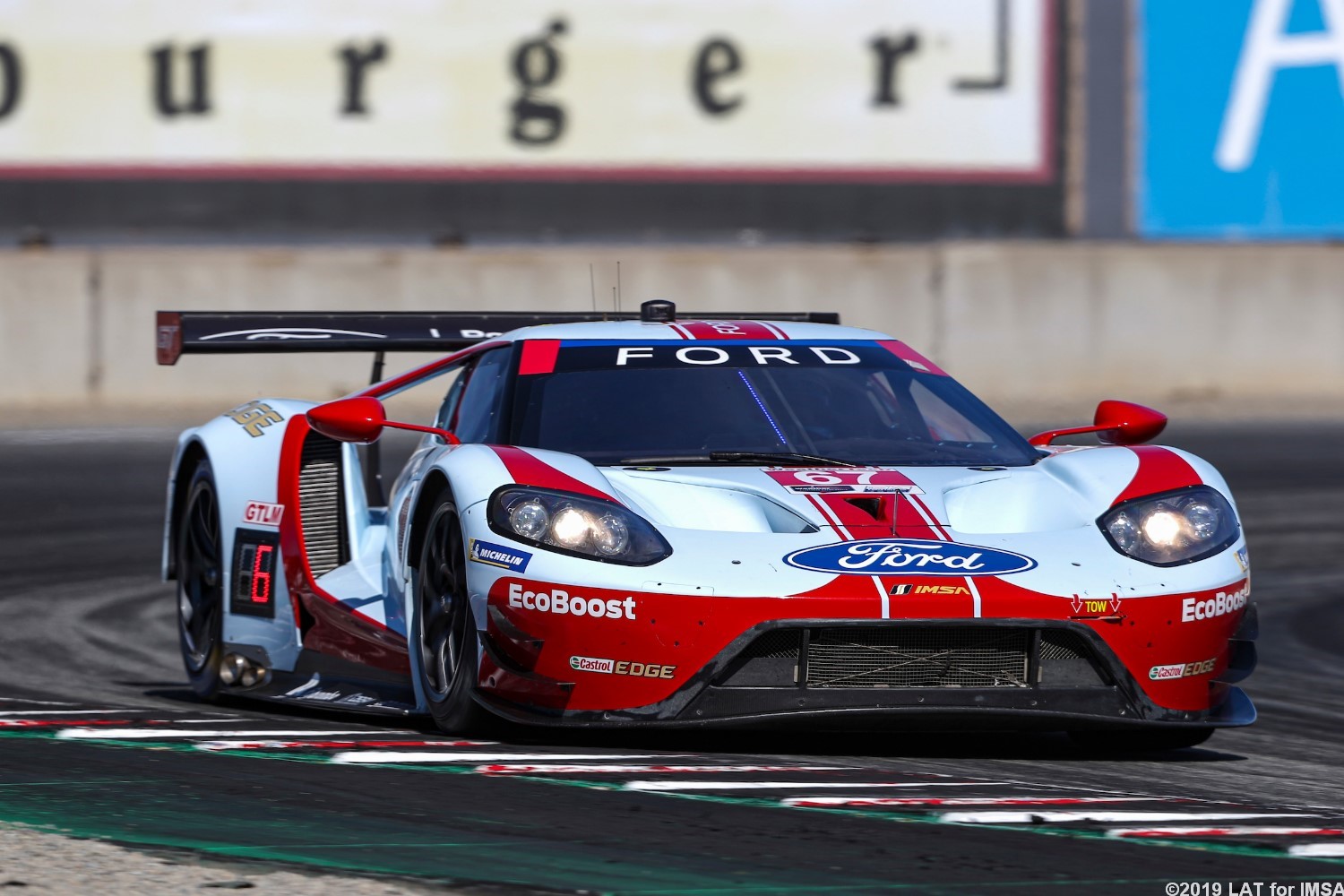 Richard Westbrook
According to the time sheets, Friday was the best and worst of days for the No. 67 Ford Chip Ganassi Racing Ford GT at WeatherTech Raceway. Richard Westbrook posted what held up as the fastest practice lap in GT Le Mans (GTLM) in the morning session, but the No. 67 was last among the eight cars in class in the afternoon's hour practice.
Westbrook wasn't disillusioned by the Practice 2 result, however.
"We learned a lot that session," said Westbrook, who turned a lap of 1:22.548 in the first practice but was nearly 1.7 seconds slower in the second session. "Sometimes when you're not fast, you learn a lot more. It was a good race simulation, let's put it that way."
All the teams are diligently working on tire management over the abrasive and often sand-coated WeatherTech Raceway surface in advance of Saturday qualifying and Sunday's two-hour, 40-minute race.
"It's not your speed over one lap, it's your speed over a stint," added Westbrook, who has teamed with Ryan Briscoe to win GTLM races at Lime Rock and Road America this season. "That's what we're working on and that's what's going to get you the champagne on Sunday."
Antonio Garcia posted the best lap in the afternoon practice – and second overall to Westbrook for the day – at 1:22.833 in the No. 3 Corvette Racing Chevrolet Corvette C7.R. On top of the tire degradation issue, teams were also left scratching their heads Friday due to sizzling warm ambient temperatures that aren't expected to last to Sunday's race.
"The temperature won't be the same on Sunday," said Garcia, who along with co-driver Jan Magnussen has finished on the podium five times this season but are still in search of their first 2019 win. "We need to be proactive to that and try to anticipate what the car will do, but so far I think it's been a productive day.
"You just need to set up the car to try to save the tires as much as possible. When it comes to the race, then it's up to you to make them last as long as possible. So far I think we're doing a good job to follow that and have a good car on tire degradation. I'm sure everybody else is doing the same, so we'll see who has what on Sunday."
Sellers Paces Both Friday GTD Sessions in No. 48 Paul Miller Racing Lamborghini
It was a productive Friday at WeatherTech Raceway Laguna Seca for the No. 48 Paul Miller Racing Lamborghini Huracán GT3 squad and co-drivers Bryan Sellers and Corey Lewis. Sellers posted the fastest lap in both of the day's practice sessions, ending with a best overall lap of 1:25.246 (94.512 mph) in the afternoon session.
"We had a great day, actually, today," Sellers said. "We were able to finish both sessions P1 and that's a great start to the weekend. It's way better than where we've been in a couple of previous races. It's pretty confidence-inspiring moving into the remainder of the weekend, but there's a part of you that has to keep reality in check and understand that it is still early in the weekend and it's just practice."
Toni Vilander was second in GTD on Friday with a best lap of 1:25.271 (94.484 mph) in the No. 63 WeatherTech Ferrari 488 GT3 he shares with his Scuderia Corsa teammate Cooper MacNeil. Third quickest was Matt Plumb in the No. 76 Compass Racing McLaren 720S GT3 at 1:25.323 (94.426 mph).
Montoya Makes Detour on Way to WeatherTech Raceway to See Son in FIA World Karting Championships
Acura Team Penske driver Juan Pablo Montoya is fully focused on resuming the chase for the WeatherTech Championship DPi title this weekend at WeatherTech Raceway, but he took a lengthy detour on his way to Northern California.
Montoya was in Finland last weekend watching 14-year-old son Sebastian compete in the FIA World Karting Championship at the Powerpark Circuit in Alaharma. While the younger Montoya's day ended prematurely in Sunday's final after an early incident, he still impressed his dad with three top-10 finishes in five heat races.
"He did a really good job," Juan Pablo said Friday from the WeatherTech Raceway paddock. "In the final he got involved in a shunt: Welcome to go-karts. But it's good, the pace and everything was good."
The event was the last of several high-profile European karting events where Sebastian competed this year, gaining important track time against intense world-class competition. His father, a seven-time Formula 1 race winner and two-time Indianapolis 500 champion, knows something about racing talent and sees it in his son.
"It's pretty cool honestly to be able to run in the top 10 in Europe when you're not there full time," Juan Pablo said. "It's pretty impressive, it's really nice to see. He's been doing an amazing job, so I'm pretty excited."
The next step, the proud father said, is a move up to racing cars – likely the Italian F4 Championship next year. And if there were any doubts that young Sebastian is ready for the rigors, Juan Pablo pointed to the way his son handled himself in the days after the world championships, when he was scheduled for time in a racing simulator.
"He was in Italy doing a simulator for cars about an hour from Venice," Juan Pablo said. "He went there by himself two days before, they dropped him in a hotel. He went by himself by foot. First time ever cooking, he called his mom (and said), 'I want to cook pasta, I want to learn.' He went, he cooked, did the simulator, went back home, cooked again, loved it.
"The next morning, he took a cab by himself to the airport, checked in, went and flew home from freakin' Venice. At 14, are you kidding me?"
Moorespeed Sets Quick Pace to Start Back-to-Back IMSA Weekends at WeatherTech Raceway
A last-minute decision to enter Saturday's IMSA Michelin Pilot Challenge race at WeatherTech Raceway Laguna Seca could doubly yield positive results for Moorespeed over the next 10 days.
After a strong Pilot Challenge debut three weeks ago at VIRginia International Raceway, Moorespeed made the trek to Monterey a week earlier than planned, as the team also will field two cars in the Porsche GT3 Cup Challenge USA by Yokohama doubleheader next weekend at WeatherTech Raceway.
One of those cars will be driven by Rob Ferriol, who will share the driver's seat with Spencer Pumpelly in Saturday's two-hour Pilot Challenge race. Pumpelly posted the fastest lap time of the day in the No. 18 Audi R8 GT4 at 1:31.036 (88.501 mph).
"Originally, we were not going to come to this event, but Rob is battling for a championship in the Gold Class next week in Cup," said team owner David Moore. "It was a last-minute decision for us to do this, but it serves two purposes. It helps us get ready for next week, but it's helping us get ready for next year. Racing is all about preparation and that's what we're doing here."
This weekend is the first for Ferriol at WeatherTech Raceway, but he is looking forward to gaining experience and transferring it over to his championship battle next weekend.
"Coming here in any car is going to help me next weekend in the Porsche," said Ferriol. "The comparisons between the GS car and the GT3 car, there are differences that I'll have to take into account. But overall, it's a net positive all the way through the weekend."
"The Moorespeed guys unloaded the car really well, so we didn't have to chase it," added Pumpelly. "We could get to work on our agenda. Rob has taken to the track pretty quickly and getting up to speed. Everything is going according to plan so far and it's a big thanks to everyone on the team."
Fastest in the TCR class was Stephen Simpson in the No. 54 JDC-Miller Motorsports Audi RS3 LMS with a time of 1:33.298 (86.355 mph).
Lamborghini Super Trofeo Qualifying Sessions Typify Tight Competition
Qualifying for the fifth round of Lamborghini Super Trofeo North America put in plain sight just how competitive the series is throughout the field. In the back-to-back 15-minute sessions Friday afternoon to determine the starting grids for the weekend's two races, a different car and driver was fastest in three of the four classes.
Richy Antinucci will be on pole for Saturday's race and was quickest in the Pro class with a lap of 1:24.978 in the No. 29 Change Racing, Lamborghini Charlotte in the first qualifying session. Conor Daly will be on pole for Sunday's race – the 10th and final for the North American season – after turning a Pro lap of 1:25.865 in the No. 46 Precision Performance Motorsports, Lamborghini Palm Beach during the second qualifier.
Patrick Liddy was tops in ProAm qualifying for Saturday's race in the No. 24 US RaceTronics, Lamborghini La Jolla, at 1:26.453. Jake Eidson took ProAm qualifying honors for Sunday's race at 1:25.868 in the No. 09 US RaceTronics, Lamborghini Vancouver.
Top qualifiers in LB Cup were: Thomas Lovelady, in the No. 08 GMG Racing, Lamborghini Newport Beach for Saturday's race (1:26.897); and Ashton Harrison, in the No. 43 Prestige Performance/WTR, Lamborghini Paramus for Sunday's race (1:27.730).
The Amateur class was the only one where the same driver, James Sofronas (No. 14 GMG Racing, Lamborghini Newport Beach), was fastest in both sessions. But that only happened after the laps for Steven Aghakhani, who was the fastest Amateur in the first qualifying session, were forfeited because his crew worked on the car during the session.
The first Lamborghini Super Trofeo race of the weekend starts at 2:15 p.m. ET Saturday, with the second race 2 at 12:20 p.m. ET Sunday. Both races will stream on IMSA.tv and squadracorse.lamborghini.com/live-streaming with IMSA Radio commentary. NBCSN will broadcast the WeatherTech Raceway round on Wednesday, Sept. 25 at 3 p.m. ET.