Memories of my first Southern 500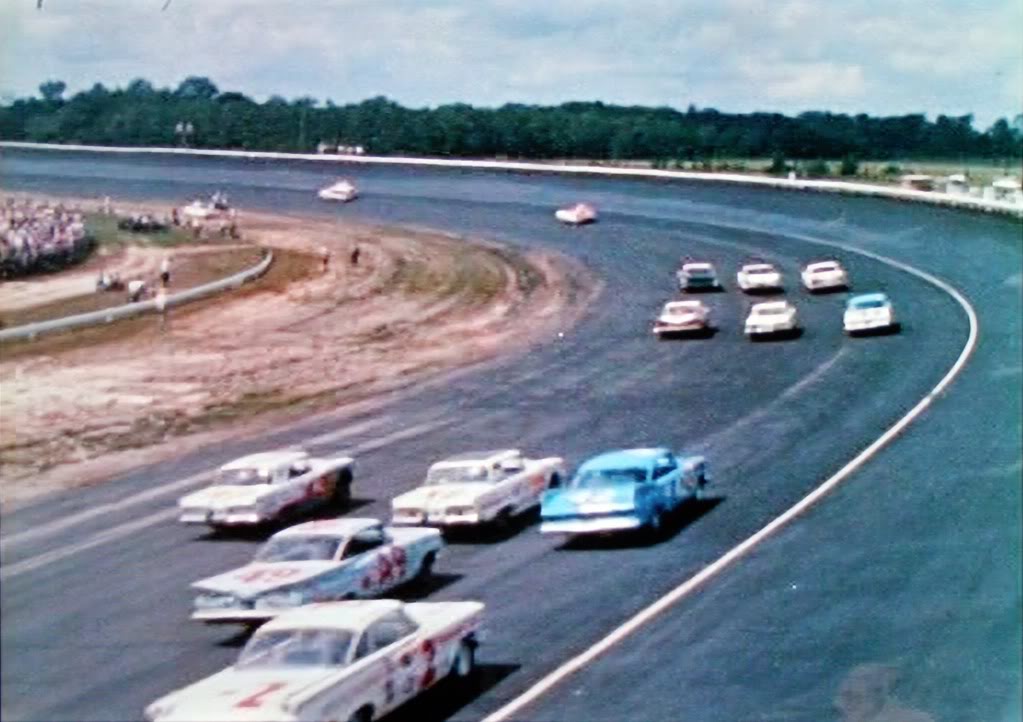 Pace lap of 1959 Southern 500
Like many of you, I spent a Friday and Saturday evening in front of a television set watching NASCAR Live On Fox from Darlington International Raceway in South Carolina. After all, any race track with the names "the track too tough to tame" and "the lady in black" was bound to turn up some excitement.
It was apparent that the racing gremlins that sent a lot of bad luck in the direction of Kevin Harvick in recent weeks didn't get the memo that he was racing at Darlington. Harvick led 238 laps of the Bojangles Southern 500 to win a race that for decades has been known as "the grand daddy of them all." He had to tolerate two green-white-checker attempts to get to victory lane, but Harvick endured and won his second race of the season which, pretty much, locks him into the 2014 Chase line up.
Equally impressive was the performance of young Chase Elliott who passed veteran Elliott Sadler on the final lap to win his second, consecutive, NASCAR Nationwide Series race. It was just one more reason why literally everyone is saying that this young, 18 year old, driver has an incredibly bright future in NASCAR racing.
An interesting side bar story regarding Elliott: it seems he missed his high school prom because he had a date with the lady in black at Darlington. Clearly he made the right choice.
With all extreme respects to both Harvick and Elliott for their very fine performances, it was pretty much the last thing on my mind. While watching the NASCAR action from Darlington, I found myself experiencing several motorsports flash backs, from the early years of this track's history, that sent me on a very long trip down memory lane.
Please allow me to explain that memory lane episode. I was born and raised in South Carolina. Dad was a 26 year veteran of the United States Air Force, Mom was an old school southern Christian lady and we had a seeming endless supply of relatives who resided in both of the Carolinas. Each and every one of us made quick work in becoming NASCAR racing fans back in the 1950's.
After retiring from the military, Dad moved his family to Darlington and became a member of the Darlington Rescue Squad. That meant spending race weekends in the famed Darlington infield while camping out in military style Red Cross tents. This was often a very busy operation that required dispensing a lot of bandages the night before the race and aspirin on race day morning. It didn't take me long to notice that a weekend camp out in the Darlington infield was almost as treacherous as running the 500 mile race. However, that Darlington Rescue Squad tent also meant that I had direct access to the pit gate where meeting drivers and collecting autographs were ripe for the asking.
If you would be so kind as to indulge my memory lane excursion just a little bit longer, I would like to share a memory of my first trip to Darlington Raceway. It was a major part of my adolescence as well as a time when father and son became racing buddies.
THE 1959 SOUTHERN 500.
At the age of seven, Dad decided it was time for his young son to experience major league NASCAR Grand National, (now Sprint Cup), racing. As I proudly took my seat on the front stretch, I was informed that I was one of 78,000 plus in the grandstands to watch this race. I can't even begin to describe the rush I felt while watching a 50 car field take the initial green flag while racing for the winner's share of a combined purse of $51,990. That number may pale in comparison to modern day race purses, but, back in those days, $51K was big money.
On this Labor Day 1959, Jim Reed, driving a self owned and built 1957 Chevrolet, was the class of the field. Reed had a whopping margin of victory of two laps plus over runner up Bob Burdick. He led 152 of the 364 scheduled laps including the final 101 circuits of the race and collected $17,250, again big money for that time, for the win.
However, during the course of the post race victory lane interview, the track announcer casually mentioned that Jim Reed was a native of Peekskill, New York. That's right: a genuine New York Yankee journeyed to South Carolina and then took the Southern 500 trophy to his northern home.
That's when a grandstand loaded with genuine sons of the south, most of whom were genuinely beer soaked by this point, erupted with a chorus of boos and one line sentences my editor wouldn't publish on his website. It was almost like they regarded the presence of this Yankee driver as an act of blasphemy. To quote the "Bible": "yea verily there was weeping and gnashing of teeth."
This is not to necessarily imply that these southern born and bred race fans were at the point of inciting a riot in the grandstand. However, based on appearances alone, one had to consider the possibility. That's when Dad decided that it was time to remove his young son from this somewhat hostile environment.
By the way, and to the best of my recollection, this grandstand protest marked the first time I ever heard a certain four letter word that, in these modern times, is now often referred to as the "F Bomb."
Here's one more significant point from the 1959 Southern 500: a very young, second generation, driver named Richard Petty led his first ever NASCAR career laps during this race. The future King of stock car racing led a total of seven laps and finished a very credible fourth.
While NASCAR at Darlington, version 2014, continued to play out, I continued to ride that long road down memory lane while thinking about literally decades of attending races at this track.
Most of all I thought about my Dad and the quality time we spent together going to race tracks all over the southeast. I also fondly recalled all of those Sunday afternoons we spent listening to NASCAR racing on Motor Racing Network Radio. For years now I've been saying that it was NASCAR racing that got us through the so called generation gap because it was something that we could share and frequently talk about.
The memory land trip ended around the time Kevin Harvick made it to victory lane and began spraying his pit crew with a large can of Budweiser. That's when I told myself: "man, you're getting old."