Scott McLaughlin equals Craig Lowndes' Supercars' record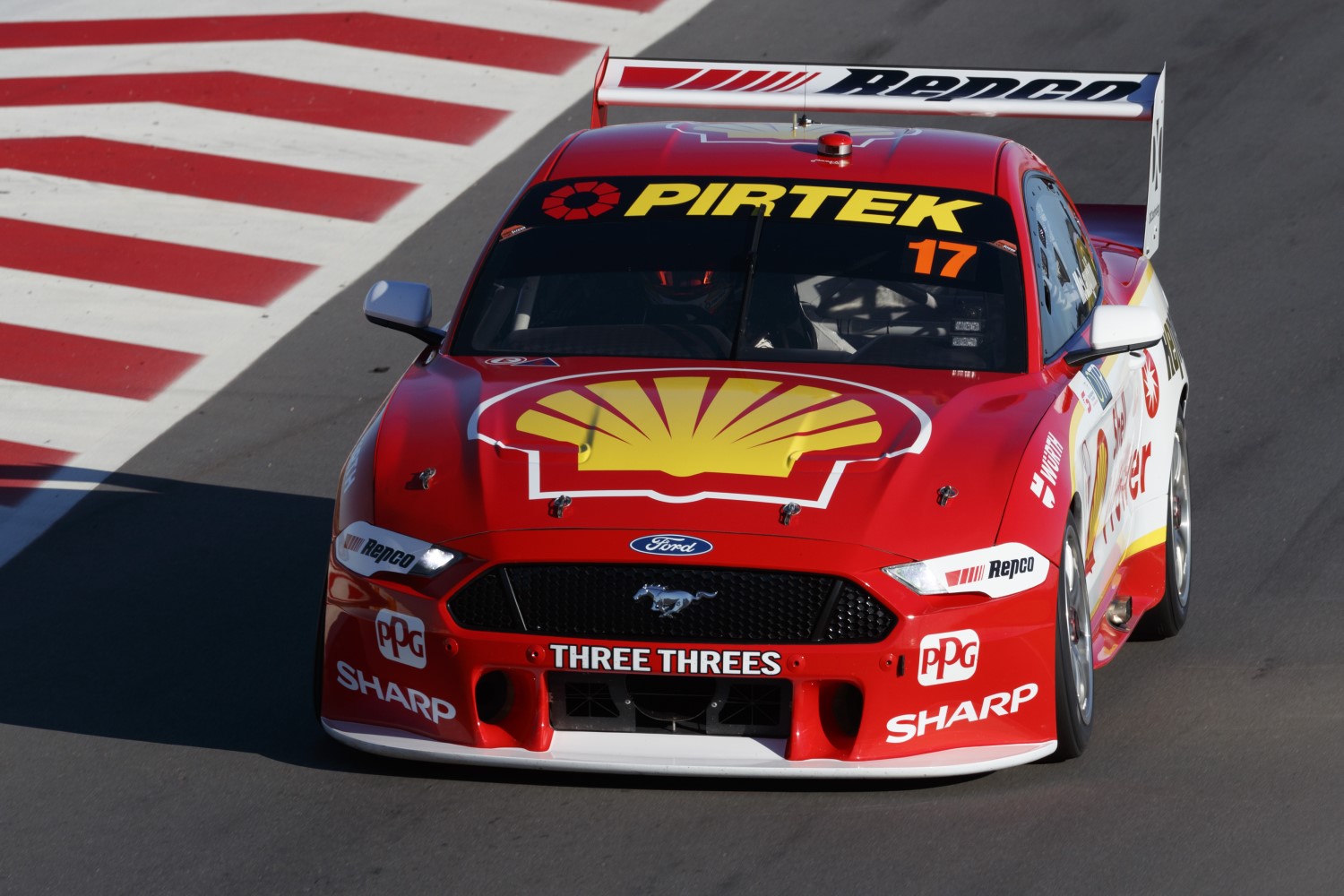 Scott McLaughlin wins again
Runaway Virgin Australia Supercars Championship leader Scott McLaughlin has written another chapter into the history books, equaling the great Craig Lowndes' record of 16 race wins in a season.
It sets the young kiwi up for the opportunity to break Lowndes' mark at his home track in Pukekohe in three weeks' time, in what will be McLaughlin's 100th career round start.
Today, the Shell V-Power Mustang ace had to fight back from third after veteran Will Davison and seven-time Supercars Champion Jamie Whincup outgunned the defending Champion at the start of the race.
Pit stop strategy handed McLaughlin the lead on the 19th lap and from there he never looked back before going on to claim his 41st career victory.
"It's really awesome. I couldn't be more proud of the guys for the turnaround we've had," said McLaughlin, who struggled at The Bend in 2018.
"It was one we circled to really come back for and I'm so stoked. It was super-racing, I didn't get the best start, but good racing towards the end."
"I'm absolutely stoked with this result because it was such an intense race; really, really enjoyable," said Davison.
"We got such a good start and I was surprised I was hanging on, but then in our last stop we had a bit of an airbox issue and it cut back to about 15km/h in pitlane.
"I was actually relieved when it got going because it was not resetting itself. But that's the way it goes."
It lifted McLaughlin past Glenn Seton to outright 6th on the all-time race win list, behind Whincup (114) Lowndes (107) Mark Skaife (90) Garth Tander (54) and Peter Brock (48).
Davison finished second while Chaz Mostert who finished second yesterday, rounded out today's all Mustang podium.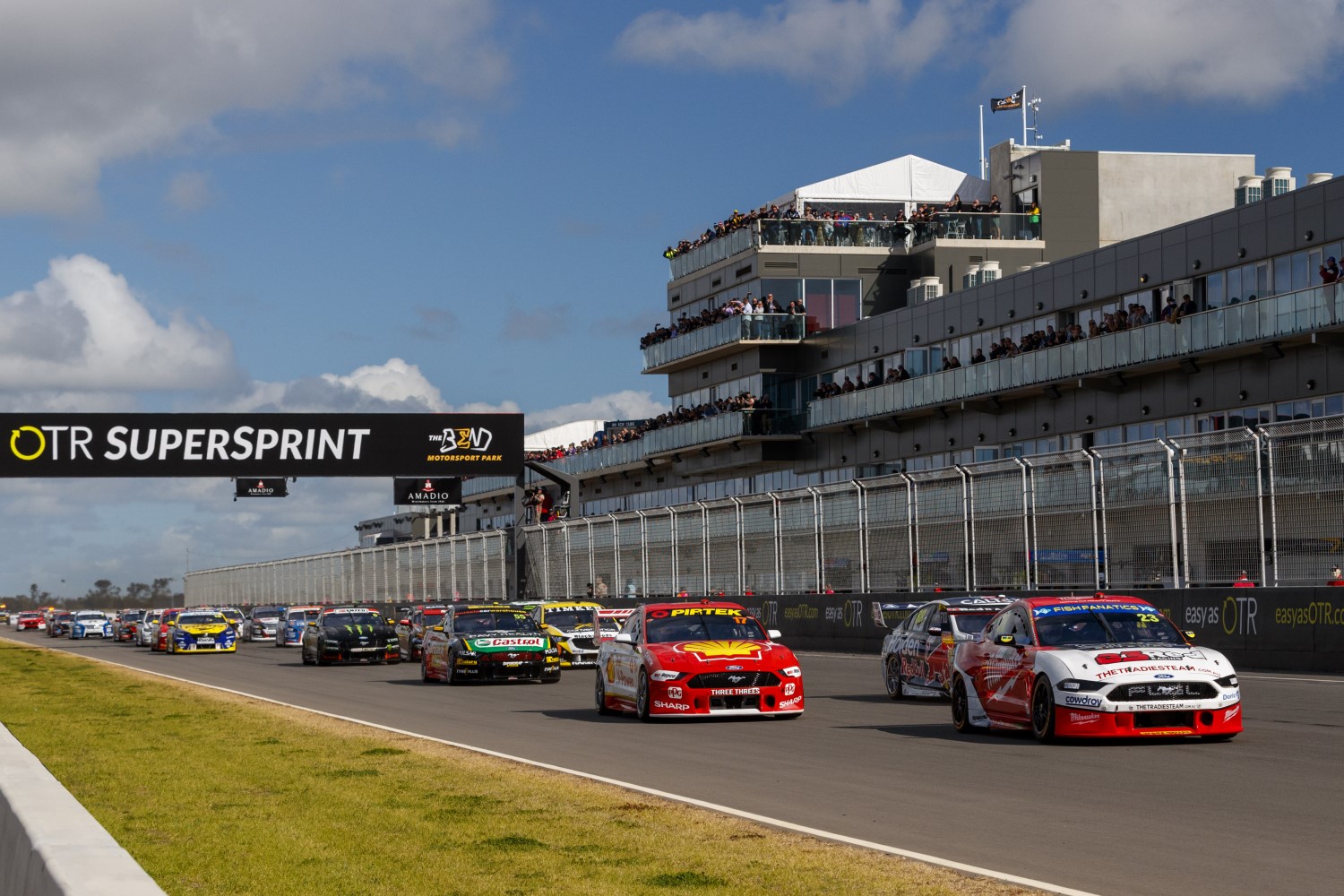 Race 2 start
Behind the leaders, Brad Jones Racing's Nick Percat was the best of the Holden's in fourth ahead of seven-time Supercars Champion Jamie Whincup.
Whincup's Red Bull Holden teammate Shane van Gisbergen had one of the drives of the day, finished 6th after starting from 16th position. Yesterday's third-place getter Anton De Pasquale was seventh this afternoon.
Cam Waters finished 8th in his Monster Energy Mustang and was lucky not to have gone off-track in the opening stages when he collided with former Tickford teammate Mark Winterbottom who started fourth. Winterbottom was pushed onto the grass, effectively ending his ambitions for a first podium result for his Irwin Racing Commodore team.
McLaughlin's win today coupled with teammate Fabian Coulthard's 10th placing, means McLaughlin now leads the Championship by 573 points from Mostert who leapfrogs into second place in the standings.
Coulthard drops back to third ahead of van Gisbergen and Whincup who round out the top five.
The next stop for teams will be New Zealand trip, the ITM Auckland SuperSprint which will run from 13-15 September.
Results
| | | | | |
| --- | --- | --- | --- | --- |
| POS | # | DRIVER | TEAM | TIME |
| 1 | 17 | McLaughlin G. Murphy | Shell V-Power Racing Team | +0.000 |
| 2 | 23 | Davison Caruso, A. Davison | Milwaukee Racing | +2.469 |
| 3 | 55 | Mostert Moffat | Supercheap Auto Racing | +3.628 |
| 4 | 8 | Percat Blanchard, Walsh | X Convenience Mobil Racing | +14.460 |
| 5 | 88 | Whincup Lowndes, Tander | Red Bull Holden Racing Team | +16.326 |
| 6 | 97 | Van Gisbergen Lowndes, Tander | Red Bull Holden Racing Team | +20.476 |
| 7 | 99 | A. de Pasquale W. Brown, L. Youlden | Penrite Racing | +26.912 |
| 8 | 6 | C. Waters Caruso, A. Davison | Monster Energy Racing Team | +28.784 |
| 9 | 5 | Holdsworth Moffat | The Bottle-O Racing Team | +29.196 |
| 10 | 12 | Coulthard G. Murphy | Shell V-Power Racing Team | +31.837 |
| 11 | 15 | R. Kelly B. Fullwood, Wood | Castrol Racing | +33.552 |
| 12 | 14 | Slade Blanchard, Walsh | Freightliner Racing | +38.215 |
| 13 | 9 | Reynolds W. Brown, L. Youlden | Penrite Racing | +44.300 |
| 14 | 35 | T. Hazelwood | Unit Racing | +46.227 |
| 15 | 22 | Courtney J. Perkins, W. Luff | Mobil 1 MEGA Racing | +49.915 |
| 16 | 2 | S. Pye J. Perkins, W. Luff | Mobil 1 MEGA Racing | +52.022 |
| 17 | 66 | T. Randle | Scandia Racing | +52.283 |
| 18 | 34 | J. Golding R. Muscat, C. Pither | Boost Mobile Racing | +54.917 |
| 19 | 3 | G. Jacobson D. Fiore, A. Rullo | RABBLE.club Racing | +59.031 |
| 20 | 7 | Heimgartner B. Fullwood, Wood | Plus Fitness Racing | +1:02.384 |
| 21 | 21 | M. Jones D. Canto | Team CoolDrive | +1:04.169 |
| 22 | 78 | S. De Silvestro D. Fiore, A. Rullo | Team Harvey Norman | +1:12.095 |
| 23 | 18 | Winterbottom S. Richards | Irwin Racing | +1:15.103 |
| 24 | 33 | R. Stanaway R. Muscat, C. Pither | Boost Mobile Racing | +1:18.616 |
| 25 | 19 | J. Le Brocq J. Webb | Truck Assist TEKNO Racing | +1:19.180 |
| 26 | 4 | J. Smith | SCT Logistics Racing | +1:47.027 |