Can Mike Conway win again in Detroit this weekend? We can't say for sure. But we can promise he'll be driving a better looking car.
For this upcoming season, AutoRacing1.com columnist Brian Carroccio will preview all Formula 1 and IndyCar races. Below, is Brian's preview of this weekend's Chevrolet Indy Dual in Detroit Presented by Quicken Loans.
A Brief Overview
This weekend, The Raceway at Belle Isle Park will host Indy Car races for the 16th and 17th times since 1992, with the Chevrolet Indy Dual in Detroit Presented by Quicken Loans. The event, held on the 982-acre island park located in the middle of the Detroit River, has had three distinct incarnations. The first was as a CART event from 1992-2001. The race returned as an IndyCar Series race in 2007 and 2008, before being reborn again in 2012 after a three-year hiatus.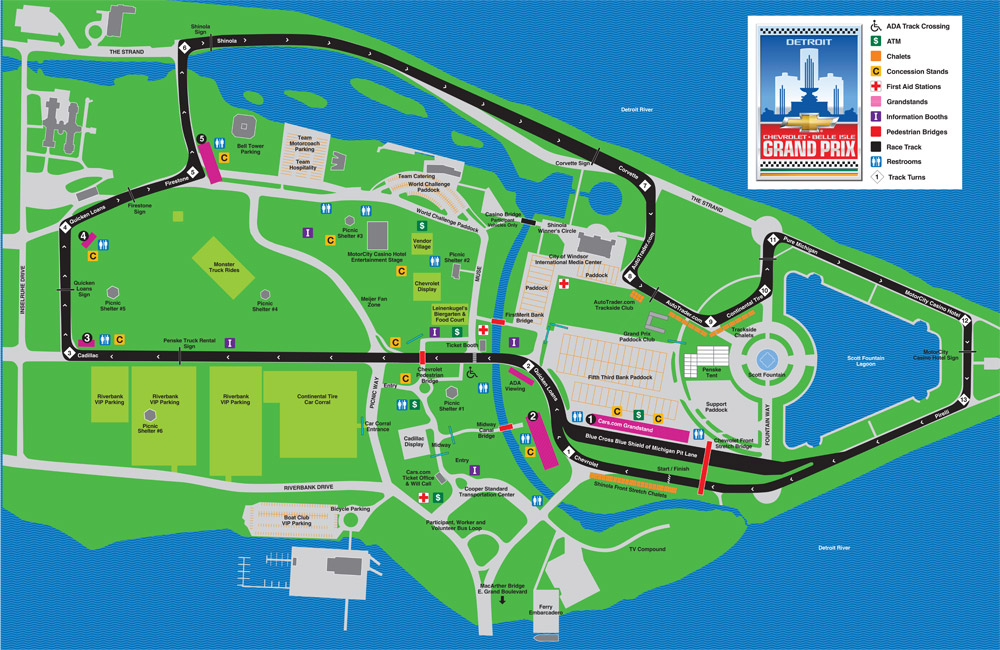 Track Map
While track erosion issues plagued the 2012 race, Belle Isle successfully hosted the first double-header race weekend in IndyCar Series history. The two races in one weekend, significant upgrades to the Belle Isle racing surface and a lengthening of the circuit created for a greatly improved event in 2013.
Who runs well on Belle Isle?
Team Penske's Helio Castroneves, who won the event in 2000 and 2001 is the only multiple Indy Car race winner on Belle Isle. Castroneves is also a two-time pole winner (2001, 2007), and finished second in 2008.
Target Chip Ganassi's Tony Kanaan won the race in 2007, and finished third in 2008. Dale Coyne Racing's Justin Wilson took the win in 2008, and finished third in Dual 1 last year.
The pole winner in 2008 was Target Chip Ganassi Racing's Scott Dixon, who would win the 2012 race from pole.
Last year, Mike Conway won Dual 1 on Saturday, started Dual 2 from pole Sunday and finished third, as Schmidt Peterson Motorsports' Simon Pagenaud scored his first career victory. Pagenaud also finished third in 2012.
Also, of note is Team Penske's Juan Pablo Montoya won pole in 1999 and 2000.
What about teams?
No real surprise here. The Captain has won the race he promotes three times.
Penske has won three times on Belle Isle and Ganassi twice. Dale Coyne Racing and Schmidt Peterson scored wins last season. Andretti Autosport won in 2007 with Kanaan, driving for what was then Andretti-Green Racing. Bobby Rahal scored a win for Rahal Letterman Lanigan Racing in 1992, for what was then known as Rahal-Hogan Racing.
Any other races on Belle Isle have been won by defunct teams such as Newman/Haas and Forsythe.
Is there anyone else with a particularly noteworthy record at Belle Isle?
The only other driver to have scored a podium finish at Belle Isle scheduled to run this weekend is Indianapolis 500 winner Ryan Hunter-Reay, who finished second in Dual 1 last year.
Is there anyone with a particularly unexceptional record in Detroit?
Track repairs caught out James Hinchcliffe in 2012.
A few drivers have struggled on Belle Isle. Marco Andretti has one top-10 finish in five starts (6th in Dual 2 last year). Andretti's teammate James Hinchcliffe was a victim of circumstance in 2012 as he ran over a piece of the track surface which had come apart, and finished 21st. Last year, the likable Canadian posted finishes of 15th and 19th.
But the award for driver with the worst record on Belle Isle goes to A.J. Foyt Racing's Takuma Sato. In three starts, Sato has finished 19th, 20th and 23rd.
How important is qualifying at Belle Isle?
Although the pole sitter has won only three of the previous 15 races, the winner has come from outside the top-4 grid positions only four times. And the deepest starting position anyone has won from was 10th (Danny Sullivan, 1993).
In short, you don't have to start on pole to win on Belle Isle. But odds are the winner will come from the first two rows of the grid. History also shows win from deep in the field a la Conway at Long Beach is very unlikely.
So, who are the favorites coming into this weekend?
Pagenaud's win in Dual 2 last year was somewhat overshadowed by Conway's surprise performance.
Picking winners can be somewhat difficult in this highly competitive era of Indy Car racing. But given their performance thus far in 2014 and form last year, Pagenaud and Conway certainly have to be in the discussion. Pagenaud, of course, won the Grand Prix of Indianapolis, and finished in the top-5 in each of the season's opening four rounds. Conway can be maddeningly inconsistent, but he won the most recent street race in Long Beach last month, and dominated both races last season in Detroit.
Also, you can't discount what I consider to be the elite in IndyCar right now: Dixon, Power, and Hunter-Reay.
Although the Ganassi seems to be somewhat out of sorts right now (anyone notice Ryan Briscoe carried the Ganassi torch last week at Indy with an 18th place finish?), Dixon always runs well at Detroit.
Of course, no one is hotter than Hunter-Reay, who is driving with a more-than-healthy dose of confidence, right now.
And while his record on Belle Isle is not particularly exceptional, Team Penske's Will Power finds himself in a position where he seems to thrive: chasing the championship lead, rather than protecting it.
Are there any potential sleepers?
Justin Wilson on his way to victory in 2008.
Taking into account his record in Detroit and DCR's performance last year at Belle Isle, Wilson is an easy choice. Keep in mind, DCR scored three podiums at Detroit last season. Stated another way DCR scored the same amount of podiums in one weekend last year than they had in the previous three IndyCar seasons combined.
But two guys who I think will have excellent weekends are Sebastien Bourdais and Josef Newgarden. After a rough start to the season, Bourdais and KVSH Racing scored solid finishes of fourth and seventh in the two Indy races.
Newgarden, here at Long Beach, has been strong on street courses.
As for Newgarden, his best work through two-plus IndyCar seasons has come of the street courses. We witnessed one such example last year in Dual 1, when the Tennessee native drive from the 24th starting position to a 7th place finish in a race with little attrition. So, we know young Josef can find his way around Belle Isle. An improved qualifying effort over starting 24th both races last year, and a little help from the racing Gods, which seemingly have an axe to grind with young Josef, would go a long way to making Newgarden a factor this weekend.
So, who will win?
This weekend is a little different, of course, with the doubleheader. And picking a winner specifically for each of the races seems to me something of a nebulous exercise. Nonetheless, if you're asking me the two drivers with the best shot of visiting victory lane this weekend, I'm going with Conway and Dixon.
Brian C. thinks Mike Conway might score his second win of 2014.
Conway was simply head-and-shoulders above everyone last year at Detroit, and I see no reason for that to change. Also, keep in mind Conway had an advantage last year that he will enjoy once again this year: he's rested. Yes, relative to his competitors who have had little time to catch their breath after a grueling May, Conway will arrive in The Motor City relatively fresh.
As for Dixon, he was exceptional in the doubleheaders last year, winning twice at Toronto, once at Houston, and finishing fourth twice at Detroit. For whatever reason, these weekends clearly suit the Kiwi. Fully expecting Team Ganassi to hit their stride sooner rather than later, I'm guessing this may be the weekend the #9 program gets on track.
Brian Carroccio is a columnist for AutoRacing1. He can be contacted at BrianC@AutoRacing1.com.