How Granatelli and Petty did the STP deal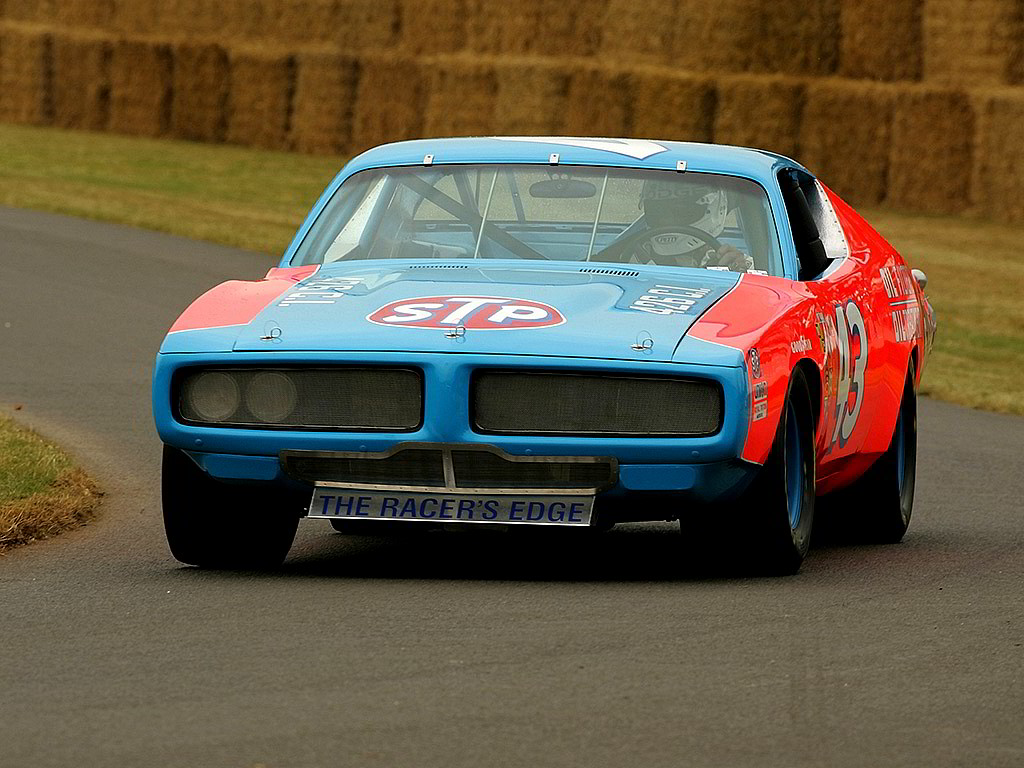 Richard Petty ran the STP colors for many years
On Sunday, December 29th, the world of auto racing bid farewell to one of the true characters to ever grace the presence of the sport. The passing of Andy Granatelli, at age 90, brought back a lot of different memories for many racing fans. He was the astute businessman who brought a teetering STP Oil Treatment to fortune 500 status. When it came to company promotions, Andy Granatelli was on the level of the revered P T Barnum.
He quickly realized that auto racing was the perfect promotional fit for his many business ventures. After achieving a measure of success in the Indy Car Series, Granatelli turned his attention to NASCAR in general and King Richard Petty specifically. The result was a magnificent promotional partnership that remains intact to this day. The now famous STP-Petty Enterprises partnership also created a brand new promotional and revenue producing blue print that is still being used by modern day NASCAR Sprint Cup teams.
At the conclusion of the 1971 racing season, the financial picture had rapidly changed for NASCAR's Grand National, now Sprint Cup, teams. Many of the upper echelon teams, such as Petty Enterprises, were blessed with the financial and technical support of America's big three automakers. That arrangement made the cost of criss crossing the country somewhat easy for the race teams. However the factory support was now on the verge of coming to a halt. This was largely due to disagreement over rule changes along with the general cost of doing business. NASCAR's teams were now faced with the prospect of finding another source of racing revenue.
Back during this stage of NASCAR, sponsorship programs were used but were extremely limited. There were no large sponsor logos on the hoods of the cars such as what we see today. In fact, the only thing painted on the hoods of a NASCAR stocker was the cubic inch size of the engine. Sponsors names were reserved for the rear quarter panels of the cars. These sponsors were usually auto dealerships located in the general area of the race tracks along with local garages and small mom and pop owned retail stores. These sponsorships were largely used by NASCAR's independent teams, or those who were not factory supported. On some occasions factory teams would pick up a sponsor to help with travel costs often referred to as gas and hamburger money. With the retreat of factory support, NASCAR's teams were, for the first time in several years, on a level playing field and everyone involved was desperate to find enough sponsor revenue to race an entire season.
In January of 1972, Petty Enterprises was preparing for the annual trip to California and the Riverside Raceway road course which was, back then, the traditional start of a NASCAR racing season. That's when Richard Petty received a telephone call from Andy Granatelli who asked him to make a brief stop in Chicago, the corporate home of STP. After being informed that the subject of the meeting involved full sponsorship for the 1972 racing season, Petty was reported to have told Granatelli "I'm pretty sure I can fit that into my schedule."
Granatelli started the meeting on a strong note and offered Petty the STP sponsorship for $250,000 per season plus a $50,000 bonus if Petty won the NASCAR points championship. Granted, by today's mega million dollar sponsorship standards, that amount would be petty cash, (no pun intended). However, by 1972 standards, the offer was both huge and unprecedented. It was also more than enough to keep Petty's #43 on the track all year long.
There was one consideration that Granatelli wanted from this deal. In years past, all race cars sponsored by STP were painted the company's traditional day glo red color. That's when Petty surprised his potential new sponsor by saying no and adjourning the meeting. Back in 1972, it was likely that the popular business term "IT'S A DEAL BREAKER" had not been invented yet. It certainly applied to this meeting.
The Petty Enterprises race cars were well known for their blue paint and white numbers. Despite the fact that STP was offering more than enough money to cover the cost of racing, Petty made it clear that his race car was not going to be painted day glo red.
The traditional Petty Enterprises paint job was invented in their Randleman-North Carolina race shop quite by accident. While in the final process of preparing a car for a race they discovered that there was only white and dark blue paint available. However, there wasn't enough of one color to cover the entire car. The Pettys mixed the two colors together and the result was the famous bright blue color that was eventually dubbed Petty blue. That color remains as part of the #43 Richard Petty Motorsports paint scheme to this day. The special color is part of the family's racing history and that's why Petty turned down Granatelli's offer.
Determined to save the deal, Granatelli made a very smart move. He convinced Petty to spend the night in a Chicago hotel so they could have one more meeting before he had to leave for the race in California. The result of this second meeting was a major compromise. Granatelli and Petty agreed that the cars would feature both the traditional Petty blue and STP day glo red colors. The result was the creation of one of the most famous paint schemes in NASCAR history.
Anxiously wanting to announce the new deal, Granatelli and his marketing staff flew to Los Angeles where they hosted a press conference to officially introduce their new driver and to officially place a large STP decal on the hood of the #43. In the days that followed, Granatelli made one more attempt to get the #43 painted red, He sent Petty the official sponsorship contract with a new paragraph that offered him an additional $50,000 to paint the car STP red. A reportedly amused Petty declined the offer.
The result of these negotiations was a match made in business heaven. From 1972 until his 1992 retirement from racing, Petty and STP visited victory lane 64 times, including four wins at Daytona, and won four NASCAR championships. While STP no longer sponsors a NASCAR team on a full time basis, they still place their logo on the #43 Richard Petty Motorsports Ford, driven by Aric Almirola, for two races. Richard Petty is also still listed as an official ambassador for STP. The STP-Richard Petty sponsorship connection is now highly regarded as being one of the longest running sponsor relationships in all of motorsports.
This is all due to Andy Granatelli's vision and business savvy. He negotiated the racing promotional deal that was best for his company. At the same time, he forever changed the landscape of NASCAR team financing and created the blue print for sponsor programs used to this day.
Upon learning of his dear friend's recent passing, Richard Petty issued the following statement:
"Andy was one of the best at public relations and marketing in all of motorsports. He was ahead of his time and set the standard for selling his products. We still enjoy our relationship with STP today and it was our meetings with Andy that started it all. He was really determined about how he wanted to market his product, and he never stopped wanting to get his way, but that's what made him successful too."