We review Zapped: A Grand Prix Thriller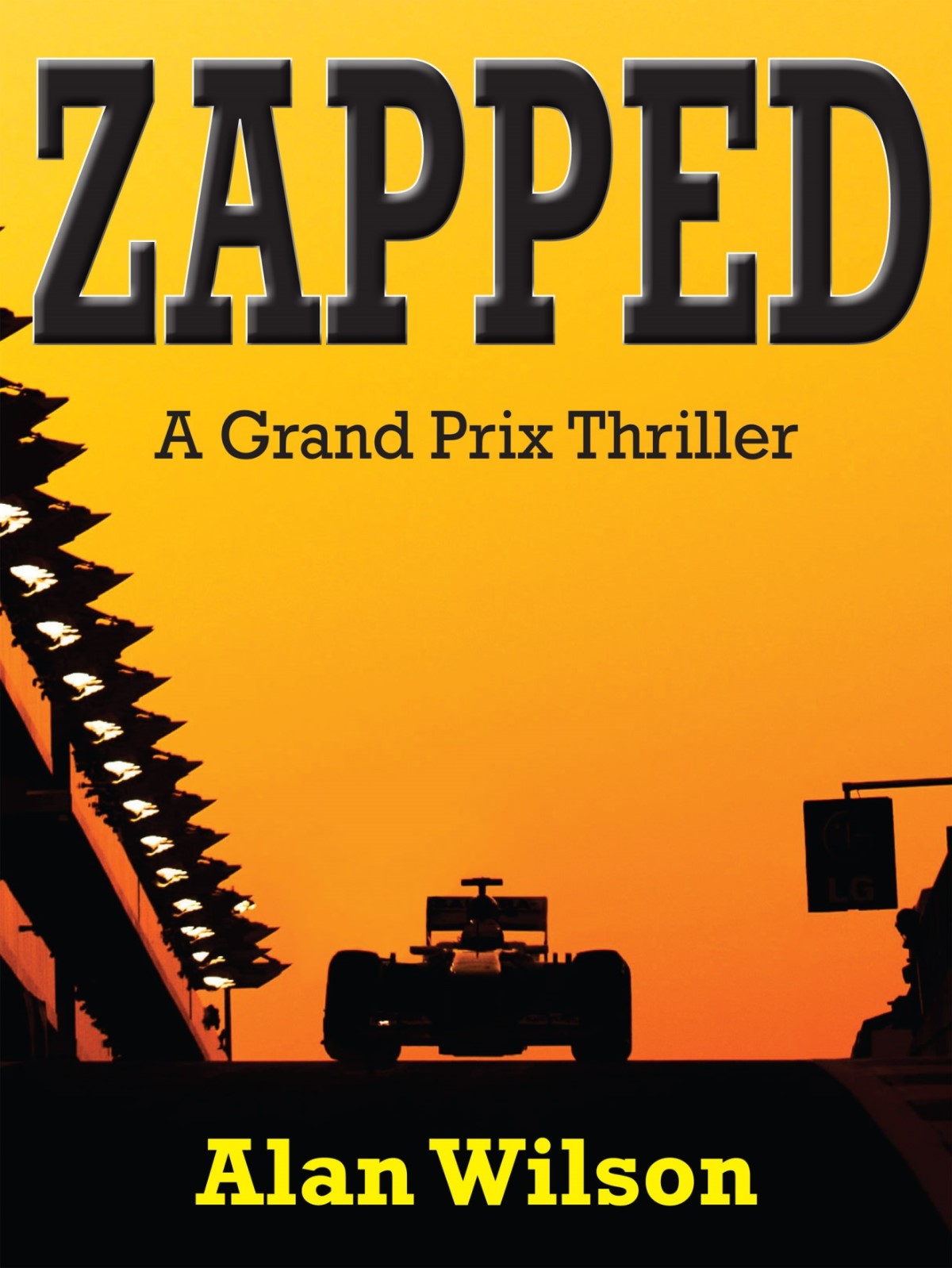 He's got a nice trust fund, and a charming life in The Big Easy.
But a chance visit to Silverstone for the British Grand Prix piques the curiosity of thirty year-old computer wizard Zak Radford. Seeing a potential outlet for his technical capabilities, Radford signs on with the mid-level Bart Racing Team. However, he soon realizes that the glamorous, highly competitive world of Grand Prix racing will challenge him more than he could have ever possibly imagined.
Radford's journey is the story of Zapped: A Grand Prix Thriller by Alan Wilson.
Now, the casual motor sports fan may not know of Wilson. However, his accomplishments within motor racing span more than four decades, as a journalist, racer, race promoter, series official, and more. You can read more about Wilson's many accomplishments here.
He is probably best known for his work designing racetracks. Barber Motorsports Park, New Orleans Motorsports Park and Miller Motorsports Park in Utah are three of the more than 20 tracks designed by the South African.
Wilson is also married to fellow South African Desire Wilson, the only woman to have competed in F1. While Desire failed to qualify for the 1980 British Grand Prix, she led the non-points 1981 South African Grand Prix, and won in various forms of sports car racing. Her 2011 biography Driven by Desire: The Desire Wilson Story, the first book by Wilson Motorsports Publishing, was also written by Alan. Zapped is the second.
In Zapped, upon joining the Bart team, Radford is taken aback by about a number of curious car failures during races, particularly as the rival Russian-backed Cossack team seems to often be the beneficiary of said failures. While the rest of the circuit scratches their heads in vain looking to the cars for the source of the failures, Radford begins to suspect the problem may be something else. And as he looks further and further into the matter, he realizes that not only is cyber-warfare the cause, but the extent of the foul play goes well beyond racing.
Adding complexity and interest to the story is the fact Radford's beautiful Russian girlfriend Juliana is the publicist for the Cossack team. As the two are experiencing a fairy-tale romance gallivanting the globe with the Grand Prix circus, Juliana slowly begins to learn of Zak's secret. Ultimately, she joins him along with others in helping to expose the conspiracy her team is behind. All the while, Zak and his beloved Jules must go about their business as if nothing is amiss, for risk of endangering themselves and others.
And while Wilson does an excellent job of creating a complex, suspense-filled drama, with all the attributes of a smashing box-office motion picture, motor sports fans and AR1 readers will find Zapped succeeds on no uncertain terms in two areas.
For one, Wilson's insider knowledge of racing, and the technical complexities of the sport, creates a story that will appeal to those so inclined. Through the brilliant Zak, Wilson displays an incredible amount of technical knowledge, and leaves the reader asking questions about how such a plot could be carried out in everyday life.
Second, Zapped has the backdrop of the glamorous, high stakes, world of Grand Prix racing. Wilson gives readers amazing detail when it comes to describing the various cathedrals of speed and their surrounding areas. Although fiction, readers will likewise recognize incredibly distinct parallels in the story to teams such as McLaren and Ferrari, and prominent figures such as F1 Supremo Bernie Ecclestone.
Overall, Wilson succeeds in penning a novel that has all of the hallmarks of a major motion picture, while simultaneously giving the die-hard racing enthusiast an inside view at the sport he knows so well.
Zapped is available in numerous forms. See here for details.
Brian Carroccio is an IndyCar Columnist for AutoRacing1.com. He can be contacted at BrianC@AutoRacing1.com.