The unforgettable seventies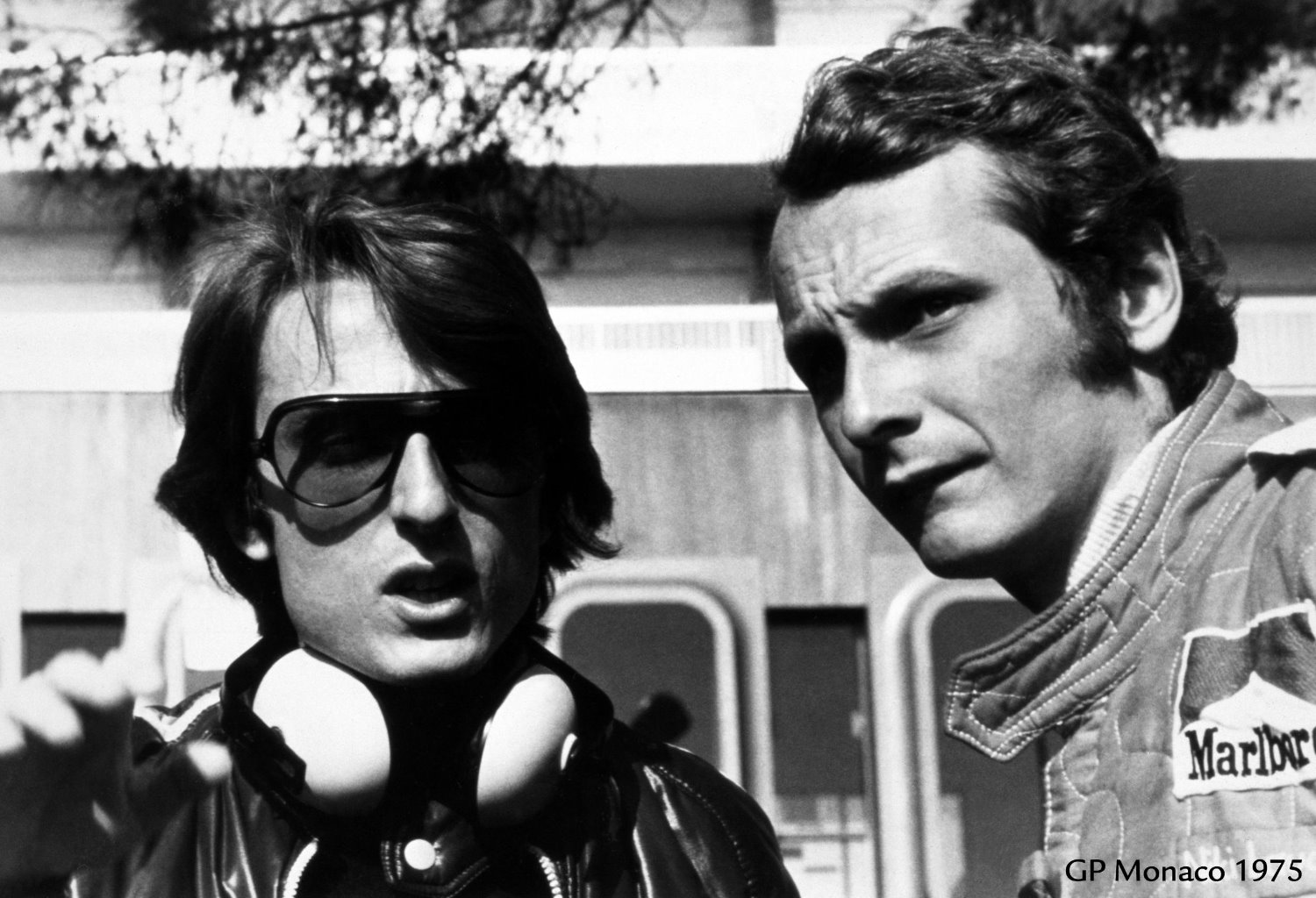 Lauda and Luca di Montezemolo at Monaco in 1975
There is great anticipation about the cinematic release of "Rush", the film directed by Oscar-winner Ron Howard about the sporting rivalry and relationship between James Hunt and Niki Lauda in the dramatic and emotional 1976 season. One of the main players in that era of Formula 1 history was Luca di Montezemolo, who was then the Scuderia's sporting director during his first experience at Maranello. The magazine "Chi" asked Ferrari's president to remember those years in an article published in the edition that hit the news stands today:
"My first four years at Ferrari – from 1973 to 1977, when I was the Scuderia's sporting director – will always be unforgettable. Those five titles in three seasons were my first professional successes but it wasn't just that: it was the chance to work with an extraordinary person like Enzo Ferrari and to get to know people with whom I built a relationship based on respect and affection, such as Niki Lauda.
"Ferrari entrusted me with the job of sporting director with one sole target: to get back to winning ways. It had been many years since our last success, too many years: the last drivers' title had come in 1964 with John Surtees. We needed to put all the parts of the jigsaw into the right places – the team, the working methods, the structure – and to do it in a way that best allowed everyone to carry out their jobs without doubling up: the mechanics had to be mechanics and the engineers had to be engineers. We needed to turn over a new leaf, starting with the drivers, relying above all on youngsters.
"Then there were two names on the way up: Niki Lauda and James Hunt. We tried to take the Englishman and I organized a meeting at Maranello between Ferrari and Lord Hesketh, the owner of the team with which he was racing and who considered him a protégé. But it was like putting the devil and holy water together and nothing came of it. So I pushed Ferrari to sign that young Austrian, supported by an old friend of Ferrari's, Clay Regazzoni, who had driven for the Scuderia some years earlier. They were together at BRM and both joined us, forming a very well-matched partnership: one Swiss-Italian who loved life and knew how to enjoy himself and the enthusiasm of the fans, one Austrian who was very quick, determined and exceptional at developing the car.
"In 1974 the title escaped us at the last race, on a weekend in America that still has me scratching my head about how it turned out. But in 1975 everything went perfectly and the results came, with a double championship secured at Monza itself in front of our home fans, a true celebration. That was the crowning of a dream that had begun two years earlier, built day by day and the fruits of long days of hard work, evenings spent talking to the drivers, engineers and mechanics and some sleepless nights. It was a wonderful emotion to see the joy of the team and the fans and to feel that, behind those successes, there was also the result of my work.
"1976 and 1977 were different seasons because my role had changed a bit but I was still close to the team, especially in the hardest moments such as Niki's accident and everything that happened afterwards. When I arrived at the hospital in Mannheim that Sunday 1 August 1976, I could sense the fear on the faces of the doctors that he wasn't going to make it. But he never gave up and, 40 days later, he was back on the track. In Formula 1 you can never lower your guard so we had already thought of the future and the possibility of a Scuderia without Lauda, by hiring Reutemann.
"It was difficult to explain that choice to Niki but the interests of Ferrari, then and now, always came ahead of those of the drivers, whoever they may have been. I wasn't at Fuji on October 24, when Lauda quit a race that, probably, shouldn't even have been run: that was an understandable decision, which gave the title to Hunt, with whom I'd maintained a good relationship during those years, but for Ferrari it was hard to swallow. Something had broken in the jigsaw and the successes of another great year such as 1977 were not enough to put the pieces back together.
"Niki left Ferrari again before the season was over but my relationship with him has stayed solid, to the extent that I asked him to give me a hand a few months after my return to Maranello as President in 1992. Then too, just as in 1973, we had to start from scratch and I tried to start again with those values – innovation, organization, working methods, determination and will to win – that characterized my first experience. The taste of the successes that came afterwards was different but just as exciting and, I've no doubt, it will be just the same for the successes that will come in the future."