McLaughlin a step closer to 100 pole positions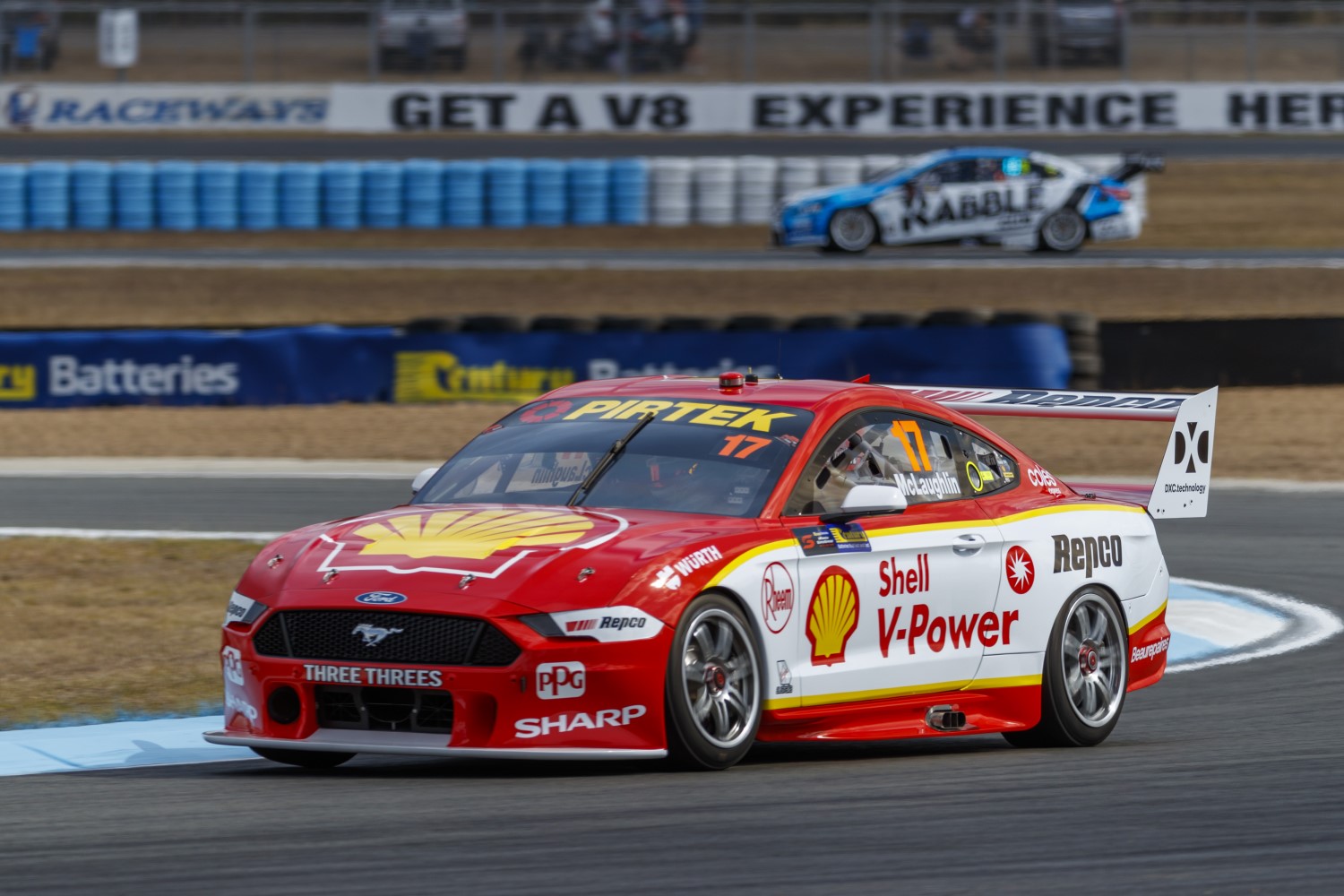 Scott McLaughlin
Scott McLaughlin has set the course for 100 pole positions for Roger Penske-Dick Johnson Racing (DJR) with yet another blistering practice run at the Century Batteries Ipswich SuperSprint.
The unstoppable Kiwi again dominated the field with the fastest time of the day to go straight through to second qualifying tomorrow with the rest of the top ten from today.
He will bid for his 14th ARMOR ALL Pole Position of the year which, if successful would the 100 starts from the first grid spot for DJR, now known as Shell V-Power Racing.
For a moment it looked like Milwaukee Racing's Will Davison might upset the reigning Supercars Champion but he had to settle for second in an all-Mustang top three including Chaz Mostert.
Although it was the 'Friday Grand Prix' with no trophies on the line McLaughlin again appears the man to beat, claiming he wasn't happy with a performance which also reset the practice lap record at Queensland Raceway.
"That's what so good about our team, they just want more and more and more," he said.
"I was probably a little safe on my end and I could push the barrow a bit more. I got one out of three sectors right I think so I will try to get three tomorrow."
Tomorrow's first race is also DJRs 900th race start since Aussie touring car great Dick Johnson founded the team in his Daisy Hill Garage in Brisbane in 1980, making its debut in 1981 at Symmons Plains in Tasmania.
McLaughlin took all four pole positions at Queensland Raceway in 2017 and 2018 and has taken 13 of the 18 on offer so far this season.
But being first on the grid hasn't delivered much success at Queensland Raceway with just three conversions from the last 14 races, Mostert (2015) and McLaughlin (2017 and 2018).
Mostert completed the Mustang top three, while Matt Stone Racing's Todd Hazelwood was the fastest Holden in fourth.
Shane van Gisbergen was fifth ahead of Anton De Pasquale, who traded the top spot with McLaughlin in the early stages of the session.
Fabian Coulthard was disappointed with seventh, reporting his car felt different to during the Shell V-Power team's test day at the circuit eight days ago.
Jamie Whincup, David Reynolds and Lee Holdsworth completed the top 10, each earning a free pass to Q2 for Saturday's knockout ARMOR ALL Qualifying session.
Townsville Sunday pole-sitter Cameron Waters is among those who'll have to fight his way through Q1, after ending Practice 2 11th.
Andre Heimgartner was the fastest of the Nissans in 12th, one place ahead of rookie team-mate Garry Jacobson.
There will be one final practice session tomorrow morning at 10:35am before ARMOR ALL Qualifying gets underway at 1:25pm local time.
Practice 2 Results
| | | | | | |
| --- | --- | --- | --- | --- | --- |
| POS | # | DRIVER | TEAM | BEST LAP | GAP |
| 1 | 17 | McLaughlin | Shell V-Power Racing Team | 1:08.828 | +0.000 |
| 2 | 23 | Davison | Milwaukee Racing | 1:08.942 | +0.115 |
| 3 | 55 | Mostert | Supercheap Auto Racing | 1:09.044 | +0.216 |
| 4 | 35 | T. Hazelwood | Bigmate Racing | 1:09.157 | +0.329 |
| 5 | 97 | Van Gisbergen | Red Bull Holden Racing Team | 1:09.163 | +0.335 |
| 6 | 99 | A. de Pasquale | Penrite Racing | 1:09.195 | +0.367 |
| 7 | 12 | Coulthard | Shell V-Power Racing Team | 1:09.217 | +0.390 |
| 8 | 88 | Whincup | Red Bull Holden Racing Team | 1:09.278 | +0.451 |
| 9 | 9 | Reynolds | Penrite Racing | 1:09.308 | +0.480 |
| 10 | 5 | Holdsworth | The Bottle-O Racing Team | 1:09.313 | +0.485 |
| 11 | 6 | C. Waters | Monster Energy Racing Team | 1:09.320 | +0.493 |
| 12 | 7 | Heimgartner | Plus Fitness Racing | 1:09.350 | +0.522 |
| 13 | 3 | G. Jacobson | RABBLE.club Racing | 1:09.475 | +0.647 |
| 14 | 18 | Winterbottom | Irwin Racing | 1:09.526 | +0.698 |
| 15 | 2 | S. Pye | Mobil 1 MEGA Racing | 1:09.530 | +0.702 |
| 16 | 78 | S. De Silvestro | Team Harvey Norman | 1:09.558 | +0.730 |
| 17 | 8 | Percat | Brad Jones Racing | 1:09.562 | +0.734 |
| 18 | 15 | R. Kelly | Castrol Racing | 1:09.649 | +0.821 |
| 19 | 22 | Courtney | Mobil 1 MEGA Racing | 1:09.691 | +0.863 |
| 20 | 14 | Slade | Freightliner Racing | 1:09.739 | +0.911 |
| 21 | 34 | J. Golding | Boost Mobile Racing | 1:09.753 | +0.925 |
| 22 | 21 | M. Jones | Team CoolDrive | 1:09.852 | +1.024 |
| 23 | 19 | J. Le Brocq | Truck Assist TEKNO Racing | 1:09.895 | +1.067 |
| 24 | 33 | Caruso | Boost Mobile Racing | 1:10.027 | +1.199 |