IndyCar race in Boston gets green flag for Labor Day 2016 (Update)
UPDATE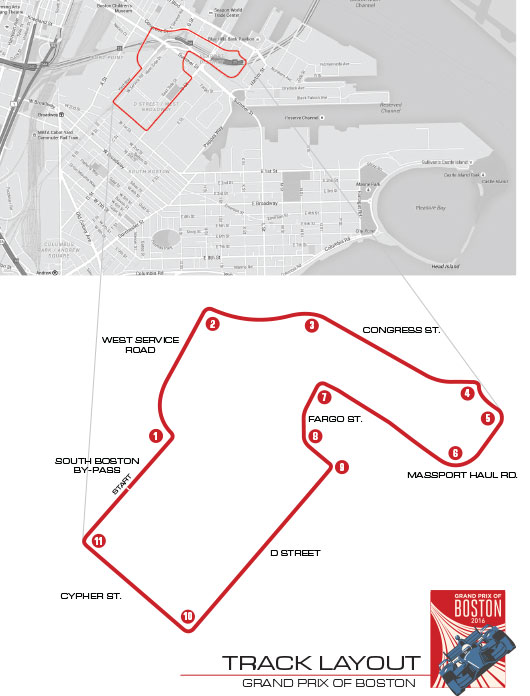 2.25-mile Boston Street Circuit
INDYCAR's footprint will expand to the Northeast in 2016 with the addition of a Verizon IndyCar Series race Sept. 4 in Boston — Labor Day weekend — in an agreement that extends to 2020.
The Grand Prix of Boston will feature an 11-turn, 2.25-mile temporary street course winding around the Boston Convention & Exhibition Center in the Seaport District. The event will mark the first time an Indy car race has been contested in the area. An Indy car race was held at New Hampshire Motor Speedway in Loudon from 1992-98 and in 2011.
Grand Prix of Boston "The level of enthusiasm we have received from the Boston community has been phenomenal and we look forward to showcasing the Verizon IndyCar Series on Labor Day weekend in 2016," said Mark Miles, CEO of Hulman & Company, the parent of INDYCAR and Indianapolis Motor Speedway. "There has been a tremendous amount of work from community leaders and Grand Prix of Boston officials and those efforts led to this key addition to our 2016 calendar. We're thankful to Boston Mayor Martin Walsh, Grand Prix of Boston CEO Mark Perrone and many other supporters who were instrumental.
"Establishing Indy car racing in the Northeast is an integral part of our strategy for growing our national fan base."
This season, the Verizon IndyCar Series competes on street courses in St. Petersburg, Fla., Long Beach, Calif., Detroit and Toronto. Races on permanent road courses in New Orleans, Sonoma, Calif., Indianapolis, Birmingham, Ala., and Central Ohio (Mid-Ohio Sports Car Course in Mansfield) complement oval races at Indianapolis, Fort Worth, Texas, Milwaukee, Fontana, Calif., and Des Moines, Iowa, to make the Verizon IndyCar Series the most diverse in motorsports.
"This is an exciting time in Boston and as we explore new ways to grow and attract visitors here, we're engaging in strong dialogue with organizations like the Grand Prix of Boston," Mayor Walsh said. "This event has great potential to bring an influx of tourism and support our local businesses during what is traditionally a challenging holiday weekend for hospitality. I'm excited to begin this process and hear from our residents and business owners as we move forward."
Mayor Walsh's office contacted INDYCAR last June, expressing interest in hosting a race as part of plans to attract high-profile events to the city.
"From the initial concept, and every step of the way, Mayor Walsh and his leadership have shown an incredible enthusiasm and openness in exploring this new concept, and we're looking forward to continuing this engagement with the community," Perrone said. "Boston is a destination city and we'll be building events around the event. I've received nothing but positive response about this race."
INDYCAR president of competition and operations Derrick Walker said there are "at least six passing spots" on the circuit. A unique feature, Walker said, will be parallel pit lanes.
"I think you'll see a lot of great racing," Walker said.
Added 2014 Verizon IndyCar Series champion Will Power: "I think people are going to love watching these super-fast cars on the circuit. Street courses bring the action to the people. As a driver, I love going to new street courses because I usually win."
05/20/15
South Boston Seaport District
The streets of the Seaport District in South Boston will be the venue for the Grand Prix of Boston – the Verizon IndyCar Series' season-finale race – in 2016 and possibly subsequent years.
Organizers are set to announce the deal for the Labor Day weekend auto race Wednesday.
"The hope is that this will be an annual event in the city of Boston," Grand Prix of Boston spokeswoman Kate Norton said.
The Verizon IndyCar Series is IndyCar's premier open-wheel auto racing series. All races are broadcast on national TV networks.
As the Herald first reported last August, Mayor Martin J. Walsh sent a letter to IndyCar CEO Mark Miles last June, expressing interest in hosting the race as part of broader plans to attract high-profile events to Boston.
Boston organizers led by Mark Perrone, a former IndyCar executive from Ipswich, plan a temporary, modular street course track. Pre-race practice and IndyCar qualifying runs would be held throughout the weekend, with the main race on Sunday.
Other race-related weekend events under consideration include IndyCar driver autograph sessions and meet-and-greets, street festivals, car shows, a black-tie charity gala and a foot race on the car racetrack.
South Boston Seaport District restaurants
The events are expected to attract more than 250,000 spectators and have an annual economic impact of $75 million to $80 million, according to organizers.
It's huge news for Boston's visitor industry and economy, said a Hub tourism observer. "Labor Day is pretty much a quiet time of the year in the Boston-Cambridge area," he said. "The biggest thing we have is kids coming back to … the colleges."