Randy Bernard – The fallout continues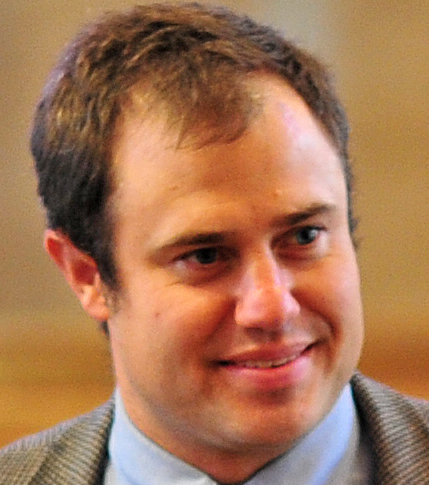 Brian Carroccio
The fallout continues, ten days after the resignation of INDYCAR CEO Randy Bernard. The latest installment took place Wednesday morning, as Robin Miller of SPEED took IndyCar owner Chip Ganassi to task. Ganassi, of course, expressed his dissatisfaction with the continued focus on Bernard's dismissal, was quoted Monday by Gordon Kirby as saying "all anyone wants to talk about is Randy Bernard."
To Miller, and I should note, myself, Ganassi's plea for everyone to get on with life, in the aftermath of the popular Bernard's dismissal, is pretty rich. After all, Miller contends Ganassi, along with Kevin Kalkhoven, John Barnes, Tony George, Al Speyer and new CEO Jeff Belskus were the ones leading the charge to remove Bernard. Miller, while he did not use the word, basically called Ganassi, a hypocrite. Of course, one could note that Ganassi has, well, been called a lot worse.
Nevertheless, I do expect we will hear some sort of denial/clarification from the Chipster soon. He'll likely point out that Miller is/was an unabashed Bernard supporter, that his quote was misunderstood, and that he appreciates all the wonderful things the former CEO did. And at some point, all this will in fact, blow over, and we will, as Ganassi and others have advocated, get on with it.
But not today.
No, the Bernard story remains raw, and in case anyone thought it was going away, Miller's story likely assures the wound will stay fresh for at least, a few days. Further, Miller's story seems to illuminate something Ganassi and others fail to realize: that the outcry over Bernard's ouster is not simply a case of the uninformed masses bemoaning the demise of the Messiah. Rather, Bernard's ouster, and the subsequent outcry, is as much about men like Ganassi, as it is, Bernard. Worse, it seems the only people who fail to realize this, happen to own IndyCar teams.
See, when Bernard came to 16th and Georgetown in early 2010, he represented a breath of fresh air; a break from the template of prior executives in Indy car racing; a chance to put the past well, in the past. The former bull-riding executive was likable, engaging, energetic with no hint of nepotism. Sure, he was a racing novice, but that was, if anything, a positive. Bernard was no one's nephew, cousin, step-son, or former understudy. He wasn't in bed with this race promoter or that engine manufacturer.
And after decades of civil war, childish infighting, and political backstabbing, Bernard provided hope– a chance to start anew. He presumably, at least, had the backing of Indianapolis Motor Speedway, and had no prior history with any of the notoriously prickly and demanding car owners, who seemed to have learned their lessons. All indications were, even they willing to unite, unequivocally, behind one common leader, putting the infighting that had hamstrung the sport for decades, in the past. It seemed they would work in unison with Bernard on behalf of the sport, for the betterment of everyone, including themselves.
Apparently, not!
No, seemingly men like Barnes, George, Ganassi, and Kalkhoven, had it out for Bernard, throughout the 2012 season, and simply would not drop whatever grievance they had. And sure, I can sympathize with Ganassi over not seeing the Delta Wing in IndyCar. George probably is correct, when he contends there are not enough ovals on the schedule. Kalkhoven is probably sick of getting his butt kicked by Penske and Andretti, and Barnes' small team was probably stretched thin with the cost of Dallara parts. I'll concede each of these men would be correct if they pointed out that I wouldn't know what it was like to own an Indy car team.
However, it appears I know more about the history of the sport than any of them. I know that working behind the scenes to undermine a leader, and trying to break any consensus at every turn, has happened over and over and over throughout the history of Indy car racing. And any study of the sport's history will reveal numerous instances of pissing and moaning over turbo waste gates, engine leases, and the ratio of road and street courses to ovals, issues that are, in the grand scheme of things, relatively small. Unfortunately, the ability to see the big picture and unite for the overall good of the sport is far too uncommon.
So, congratulations to those who carried out the crusade against Bernard. You won. The racing ignorant cowboy has departed the offices at 16th and Georgetown. Maybe, all that ailed you has left with him.
But keep this in mind: The next CEO, Chairman, whatever, will have to work with you. While many leaders have passed through the world of Indy car, self-serving, conniving car owners, have been a mainstay. What will happen when this individual runs afoul of you?
You'd think the answer would be pretty obvious to anyone. That is apparently, unless, you own, an IndyCar team.
Given these shark infested waters, perhaps the only viable solution for IndyCar is as we first suggested back on October 5th, for it to be bought by a dictatorship, NASCAR, where if a team owner gets out of line they get called into the red NASCAR trailer for an expensive attitude adjustment.
–Brian
Brian Carroccio is a regular contributor to AutoRacing1.com. He developed an appreciation for motorsport at a very young age attending SCCA races with his father, a longtime SCCA crewman. Over time, Indy car racing became his first love, and he considers Al Unser, Sr., and Paul Tracy his favorite all-time drivers.
Personally, Brian is a former college baseball player, who does not feel comfortable sharing his career win-loss record on the mound publicly. He is a diehard fan of the Washington Redskins, and considers Robert Griffin III something akin to a divine gift. He also roots for the Washington Nationals, Manchester United (kind of, a long story) and Cal football (a really long story).
Brian lives in Rockville, MD, with his wife Allison, daughter Stella and son Walter.