Remembering Chris Economaki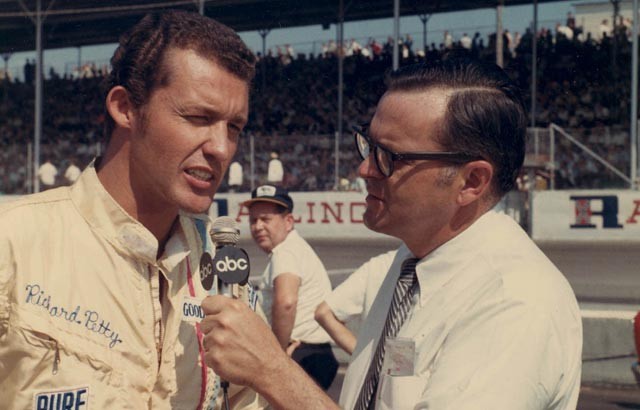 Chris Economaki (R) interviewing Richard Petty at Darlington in the 1960s
Friday marked the passing a true legend in the motorsports community and a great ambassador to the sport of auto racing with the death of longtime journalist Chris Economaki, known around the racing community as the "Dean of Motorsports".
Economaki, whose voice was familiar to motorsports fans around the world through his insightful and diligent commentary during television coverage of the Indianapolis 500 and Daytona 500, passed away at the age of 91.
Economaki had been a writer, editor and publisher of National Speed Sport News for over 75 years, including a weekly column called "The Editors Notebook" that was considered by many to be the authority on all things relating to motorsports.
Born in Brooklyn, N.Y. in 1920, Economaki saw his first race in Atlantic City at age nine and a few years later began selling copies of National Speed Sport News, eventually becoming a writer for the publication. In 1950, he became the editor of the paper and first began publishing his weekly column.
Although he got his start in print, most fans remember him for his voice, first as a track announcer at Daytona International Speedway, then as a commentator on ABC's "Wide World of Sports" broadcasts of NASCAR races and later IndyCar races, sometimes acting as both commentator and pit reporter.
Economaki would later go on to cover more than a dozen Indianapolis 500's, and many other motorsports events including Formula One and the 24 Hours of Le Mans. He appeared in movies about racing, such as "Stroker Ace" and "Six Pack"
Even in his later years, Economaki continued to cover motorsports events up until just a few years ago, and continued publishing his column in NSSN until 2009, shortly before the weekly paper ceased publication in March of 2011.
I had the privilege of working for Chris Economaki at NSSN for many years, meeting him first during my first NASCAR Media Tour in 2002. Even then, I was in awe just to sit in the same room, but on more than one occasion I ended up in the chair right next to him. During one stop on the tour, he handed me a copy of that weeks issue of NSSN, complete with a few notes he had scribbled on the back. Soon after, I was hired at NSSN as a copy editor.
Through most of my time at NSSN, Chris wasn't around much, spending most of his time in New Jersey, but on the rare occasion he did come around, he always had everyone's attention.
Wherever he went, he always had people around him, and he loved to hold court telling stories from races past. Although in his 80's at that time, his memory was still as sharp as his wit, his stories as colorful as the myriad of framed press passes that adorned the walls of the NSSN offices, his insight and knowledge as voluminous as the thousands of past issues carefully stored away in the NSSN archives.
There are many people who knew Chris who have a story to tell about him, most of the stories revolve around having dinner with him. Chris was somewhat famous for his dinner conversation, not only what he had to say to those seated with him, but what he had to say to the waitress, the manager, the cook, even other diners. Sometime's you'd cringe at what he would say, but I consider myself very fortunate to have had my own "dinner with Chris Economaki" story.
Whenever Chris did have something to say, everyone listened. Sometimes he would get right to the point, other times he'd ramble, get sidetracked, or break into another quick aside to make his main story more colorful, but eventually, he'd get to where he wanted to be. It was usually worth the wait.
Working with Chris was a little different. At times he could be argumentative, cantankerous, critical. Sometimes he was just frustrated. Technology was not his friend.
Even with the advent of new technology that reporters take for granted today – laptop computers, cell phones, digital recorders – Chris preferred the tried and true methods: taking notes with a pencil and paper, and preferring to using a typewriter instead of a laptop.
When it came time to send in his weekly column, Chris didn't e-mail it in like so many others did; he dictated it over the phone, every word. It took a fast typist to keep up, but it was like listening to one of his stories – sometimes it rambled, sometimes the point was elusive, but in the end it all came to together. After the conversation ended, you'd go back a re-read it. What didn't make sense when you were typing suddenly came into focus. It would flow. You could see how his mind worked.
But it was more than just what the article was saying, it was how he said it and how he somehow managed, after all the years, to still impart that knowledge and insight and put it in print. Even the way he sent his column to the paper – it was all a style that was uniquely…Economaki.
Chris will be remembered best as a pioneer who brought the world of auto racing a little closer to everyone, from the short tracks of Pennsylvania to high banks of Daytona to the European street circuits of Formula One. He saw it all, and through his voice and his writing he brought generations of race fans along for the ride.
He will be greatly missed.