AJ: Did Penske know or did he force NASCAR's hand?
Roger Penske
Here I was, racking my brain; reading quotes forwards, backwards, and probably sideways; consulting racing people I knew and respected; ignoring tasks around the house; not making time to return phone calls and tend to other business at hand, all trying to make sense of it. Still, my efforts were seemingly in vain, the answers I sought, elusive, unclear.
That was of course, until about a half hour ago. As I was battling the notoriously awful Washington, D.C. afternoon rush hour traffic, trying to get home on a miserable rainy day, a report came across the local sports talk radio airwaves. "Breaking news: NASCAR has reinstated driver A.J. Allmendinger." And before the statement was even finished, heck as soon as I heard the word NASCAR, it all hit me like a ton of bricks.
Every email, every phone conversation, every discussion, every quote I read and reread, and the fact that NASCAR, or any form of automobile racing was even being discussed in the non-racing concerned metropolis of Washington, suddenly crystallized. Finally, it all made perfect sense: Dog Gone Penske knew all along!
Yes, Dog Gone Penske. Roger Penske. "The Captain." Self-made billionaire, racing mogul, automotive industry mogul, truck rental mogul, and probably Jedi master, knew this weekend, and for possibly longer that A.J Allmendinger's reinstatement was imminent.
Allmendinger, of course had driven for Penske's Sprint Cup team this season, before being released August 1st, after a failed drug test. Until yesterday, Allmendinger had been indefinitely suspended by NASCAR and enrolled in the series' Road To Recovery Program. This past weekend, Allmendinger attended the Izod IndyCar Series finale at Auto Club Speedway as a guest of Penske, something I personally found, rather strange.
To start, it must be noted that substance abuse, knowingly or otherwise, is vastly different in racing than other sports. For example, we see football players fail drug tests, serve their suspension, be reinstated, and play. No questions asked. In baseball, players that are found to have used performance-enhancing drugs may be vilified for "cheating," or compromising the integrity of the game's records. However, the consequences in racing are potentially much more serious, as substance abuse potentially endangers the lives of fellow competitors.
Allmendinger catches up with former Champ Car rival Oriol Servia in Fontana
Eric Gilbert/Motorsport.com
Allmendinger admitted to unknowingly taking Adderall, a prescription drug used to treat attention hyperactivity disorder. And if one were take Allmendinger at his word, his ingestion, and subsequent failed test, seemed to be accidental. However, that fact does not absolve him.
After all, Allmendinger, by his own admission, carelessly allowed a banned substance to enter his system. In racing such carelessness can result in disaster.
Further, prior to yesterday, Allmendinger was still technically, at least, indefinitely suspended, and enrolled in a rehabilitation program. The suspension, of course, meant that not only was Allmendinger suspended from NASCAR, but all FIA sanctioned events. Allmendinger had not been given a clean bill of health, and there was no indication that a reinstatement was imminent. Therefore, his presence at Fontana at minimum, seemed awkward.
Now, I knew Allmendinger was a native of Los Gatos, California, and suspected he may have been visiting ACS, as it was something of a home race for him. However, after consulting my lovely wife, a California native, I learned that Los Gatos was near San Jose, quite far from ACS in Fontana.
Further, the Mrs., not much of a racing fan, even asked, "didn't we watch a race in Sonoma recently?" Sonoma, of course being in the northern part of the state, is much closer to Los Gatos. Yes, we did, I told her. Confusion persisted! Said confusion would only grow.
Throughout the weekend, Penske was quite supportive of his former driver. While I certainly expected Penske to goo and gush about how great it was great to see Allmendinger, The Captain's support exceeded the cursory platitudes. In fact, Penske, in no uncertain terms, said Allmendinger would be a candidate to drive for him in the future, again, something I found odd.
See, the Penske brand is virtually synonymous with clean-cut, first class, professionalism. The majority of Penske drivers fit the Gil de Ferran, Helio Castroneves, Ryan Briscoe, Danny Sullivan, Rick Mears type mold: good looking, clean–cut, articulate, savvy with sponsors and the media. While some such as Brad Keselowski or Sam Hornish can be rough around the edges, Penske by and large draws them into line. And drivers like Paul Tracy, Al Unser, Jr., Kurt Busch, or Jeremy Mayfield, who step out of line, find themselves looking for work elsewhere. And clearly, Allmendinger stepped out of line.
Second, Penske, is known for being incredibly measured, coy. However, speaking about the driving career of someone enrolled in a rehabilitation program, seemed a breach of protocol, the opposite of measured, arguably reckless. After all, wouldn't a patient's rehabilitation need to be completed before one even considered his future behind the wheel? And wouldn't Penske of all people understand this?
Well, given the information at our disposal this past weekend, it seemed, apparently not. In fact, Penske went so far as to specifically name Allmendinger as a candidate for the currently vacant #2 IndyCar seat, occupied by Ryan Briscoe in 2012. Further, The Captain indicated that he was hoping NASCAR would adjudicate Allmendinger's situation soon, because after all "The Chase was starting soon."
Really?
Penske thought NASCAR should hurry up already, and reinstate a driver who failed a drug test, because The Chase was about to start? To me, given what we knew at the time, such a notion was preposterous.
Nevertheless, the very moment news of Allmendinger's reinstatement came across the airwaves, it all made sense. The numerous 1000 word drafts I composed in recent days, instantly morphed into excess hard drive space. Simply put, the story was not where Allmendinger would wind up, or whatever machination Penske had concocted.
Roger Penske in 2002. He looks the same today some 10 years later
And in fairness, this shouldn't be a surprise to anyone who knows racing. Over the last half century, Roger Penske has done nothing less than build the most successful race team in the history of North American motor sports. Fifteen Indianapolis 500 wins, 165 Indy car wins, 210 Indy car pole positions. He's won in NASCAR, won in Can-AM, won in ALMS. And I could go on. However, it is not simply the ludicrous statistics that illustrate Penske's success.
Rather, Penske has been a step ahead of the competition for decades. The late Mark Donohue once referred to it as "the unfair advantage." Whether it's building the dominant Porsche 917 in Can-Am, the car many believe killed Can-Am, owning shares in Ilmor before the advent of engine leases in CART, or secretly developing the purpose built Mercedes pushrod engine.
Nevertheless, here I was questioning The Captain; questioning whether his comments about a suspended driver resuming his career were appropriate; questioning whether he was serious about putting Allmendinger in an IndyCar; questioning why his comments seemed out of character.
But at the end of the day, Penske acted very much within character. He acted the exact same as he has for the past half century, as once again, we were reminded, The Captain has always been and will always be one step ahead of the rest.
Another theory making the rounds is that Penske knew if he paraded Allmendinger around the IndyCar paddock NASCAR would reinstate him months ahead of schedule for fear of losing him to the enemy. It worked, they did.
So either Penske played us all like a fiddle, or he played NASCAR like a fiddle, but in the end the song was exactly as Penske orchestrated it.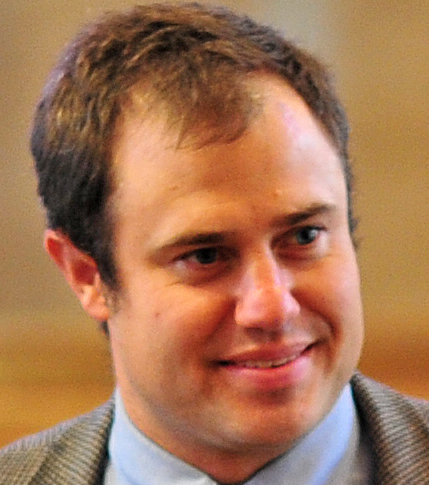 Brian Carroccio
Brian Carroccio is a freelance writer from Rockville, MD, where he lives with his wife Allison, daughter Stella and son Walter. He fell in love with Indy car racing at some point in the 1980s, and considers Al Unser, Sr., and Paul Tracy to be his favorite all-time drivers.
During the summer of 2012, Brian joined AutoRacing1.com. In addition to racing, he has also written on a variety of topics in the world of sports for other publications, including college football, the NFL Lockout, Tiger Woods, and Tim Tebow.
Brian is also a lifelong fan of the Washington Redskins, and considers Robert Griffin III something akin to a divine gift. In addition to his beloved Burgundy and Gold, Brian's other rooting interests include the Washington Nationals, Manchester United (kind of, a long story) and Cal football (a really long story).