IndyCar commits to New Orleans race in 2015 (2nd Update)
UPDATE #2
Michael Andretti is optimistic the New Orleans race will happen in 2015. "We're working on New Orleans. We're announcing it hopefully somewhere soon," Andretti said Sunday in Milwaukee. "We're very excited about this event. It's going to be way bigger than people think. It will be for 2015." Asked on a date, Andretti replied, "I think they have a spot, I'm not gonna say where, but we'll be happy with what's being discussed."
05/05/14 See related announcement that was made today. We are upgrading this rumor to 'fact' because it appears the race is going to happen.
05/04/14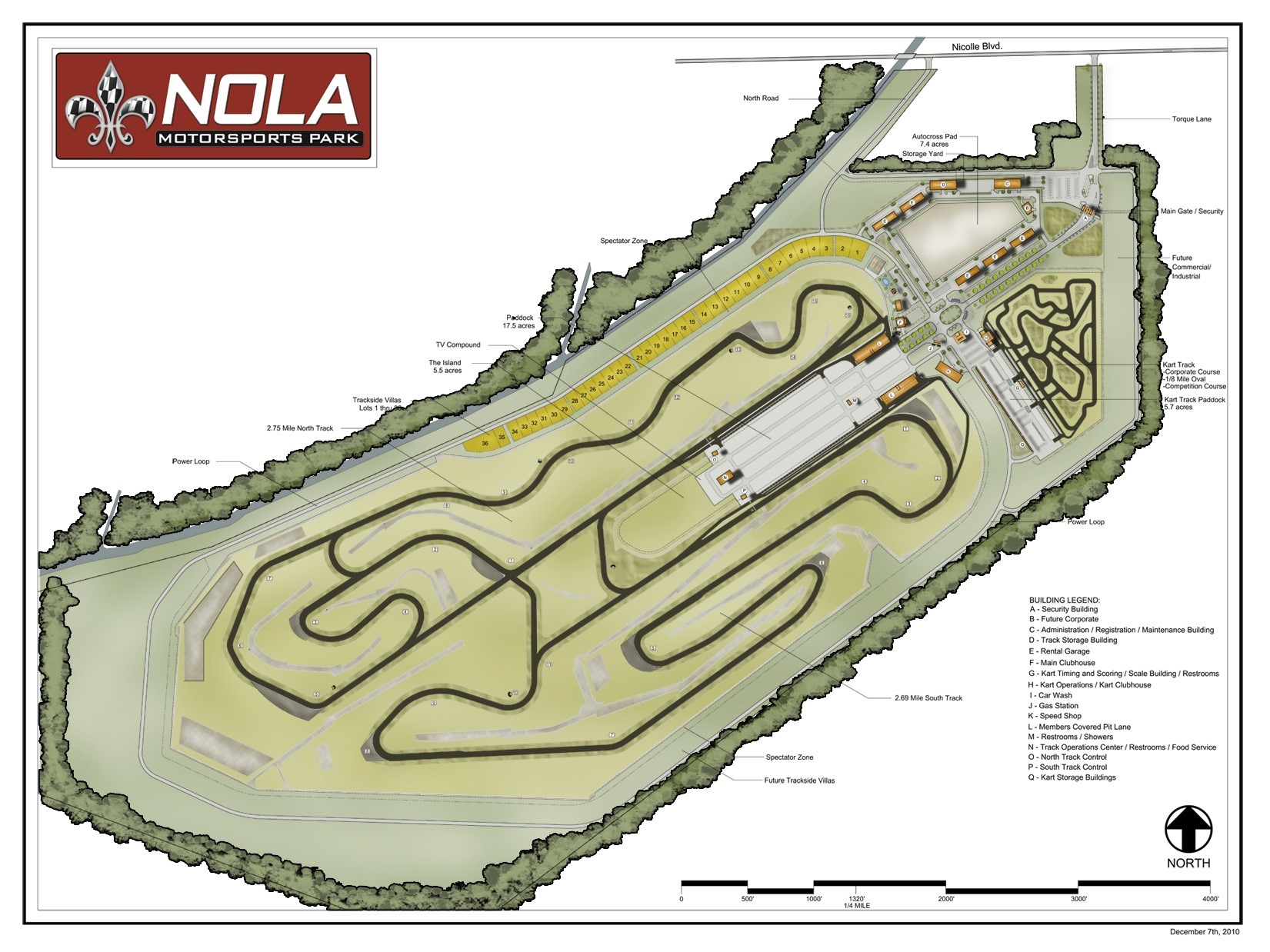 IndyCar will race on the 2.75-mile layout shown below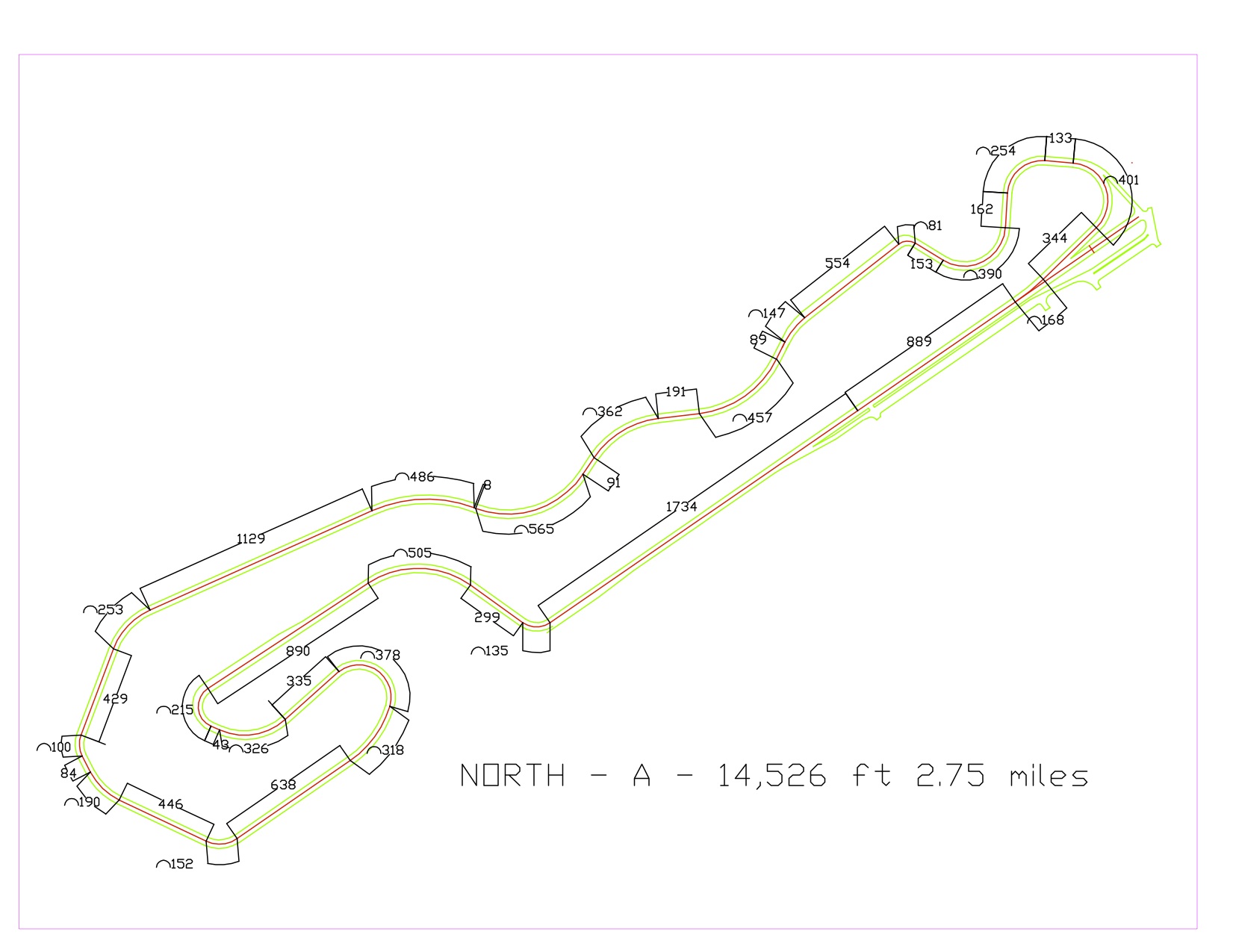 IndyCar will stage one of its open-wheel races in the New Orleans area in 2015, people familiar with the decision said Sunday.
The race will come to the 2.75-mile road course at the private NOLA Motorsports Park in Avondale, about 14 miles southwest of downtown New Orleans, the people said.
The people spoke to The Associated Press on condition of anonymity because officials with IndyCar and the track have not yet authorized the release of any information about the event, which they plan to announce on Monday at the track.
The $60 million facility was designed by Alan Wilson, who also designed Barber Motorsports Park in Birmingham, Alabama and Miller Motorsports Park near Salt Lake City, Utah.
NOLA Motorsports Park opened in 2011 and hosted AMA motorcycle racing in 2012. Developmental levels of open-wheel racing have run at the road course as recently as February, when it host the Cooper Tires WinterFest, featuring the Indy Lights, Pro Mazda and USF2000 series.
While work on the facilities is expected in advance of the event, the track itself is basically ready to handle an IndyCar race, said Jeff Lail, the race series coordinator for Skip Barber Racing School, which has hosted events at NOLA Motorsports Park.
"It's really good track for being a country-club type track," Lail said. "There's a lot of runoff there, so it's pretty safe. We love going there because there's not a lot of crash damage. There's plenty of runoff room. … They thought it out and made sure they had a track you could go pro racing with."
The track is owned by Dr. Laney Chouest, whose family founded and still operates Edison Chouest Offshore, reputedly one of the world's leading builders and operators of sea vessels specially designed to service the offshore oil industry.
IndyCar, which includes the Indianapolis 500 as its marquee event, is the premier American-based open-wheel racing series.
Currently, the series' drivers include Helio Castroneves, Tony Kanaan and Scott Dixon, who are former Indy 500 winners, as well as Marco Andretti, the grandson of former racing great Mario Andretti, and Graham Rahal, son of 1986 Indy winner Bobby Rahal.
The series has never raced in New Orleans. The city last hosted a significant auto racing event in 1995, when the now-defunct IMSA GT Championship series held a GTS-2 race on a street circuit running through downtown and around the Superdome.
The race will add another road course to a schedule that is already packed with road and street courses. The 18-race schedule this year consists of 12 street and road courses and just six ovals.
The New Orleans race marks four consecutive years that IndyCar has added a new event to its schedule. Pocono and Houston both returned to the schedule last season, and the series will run the inaugural Grand Prix of Indianapolis at Indianapolis Motor Speedway next Sunday.
IndyCar this year signed Verizon as entitlement sponsor, and the wireless provider has promised increased activation and promotion of the series. Mark Miles, CEO of Hulman & Co., the parent company of IndyCar, is also actively looking for new venues in the Middle East and South America to create a "winter season" for the series. Shreveport Times/AP