Vettel F1's best current driver
1980 F1 Champion Alan Jones
1980 world champion Alan Jones thinks Sebastian Vettel is the best driver on this year's F1 grid.
Ferrari's Fernando Alonso triggered international headlines this week when his recent comments about Vettel, the back-to-back and reigning world champion at Red Bull.
Vettel, 24, became the sport's youngest ever double champion last season when he dominated his rivals, thrashing runner-up Jenson Button's points tally and collecting handfuls of wins and poles.
But Alonso thinks the German "has not quite reached" Lewis Hamilton's level.
We asked Australian Jones, a winner of 12 grands prix and the title 32 years ago, if he thinks Alonso, Hamilton or Vettel is the best.
"It's always a difficult question to answer because if they were all in identical cars obviously that would be a lot easier to answer," he told us.
"But I think you'd probably have to go (with) Vettel," said Jones.
And although Alonso clearly rates Hamilton very highly, Jones admitted it would be "tough" for a team boss to have to choose between either the 2008 world champion or his current McLaren teammate Jenson Button.
"God, um — that's a tough one," he said. "Tough one.
"I think if you wanted consistency, you'd go for Button. If you wanted to take a take a bit of a punt on let's say raw speed but the odd accident, then you'd go for Hamilton," added Jones.
He also indicated it would be no surprise if Michael Schumacher, the record-holding winner of 91 grands prix and seven titles, is no longer as good at the age of 43.
Asked if he was as good as his earlier race-winning years when he returned in his 40s in the mid-80s, Jones admitted plainly: "No. No."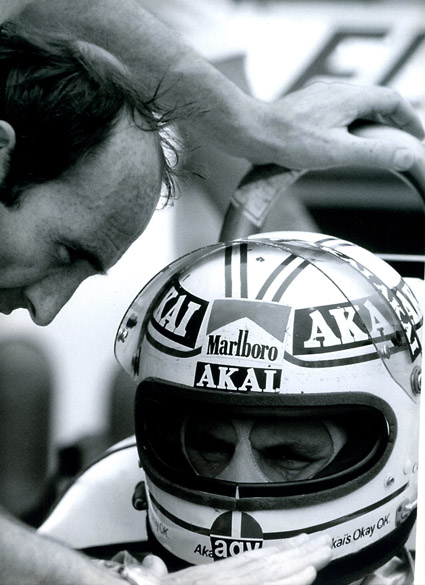 1980 F1 Champion Alan Jones calls Sebastian Vettel the best driver in F1 today
Pay-driver issue not new for F1
So-called 'pay-drivers' are nothing new in formula one, according to 1980 world champion Alan Jones.
His former team, the once-great and ultra successful Williams, will reportedly collect millions from Pastor Maldonado and Bruno Senna's sponsors this season.
And the very last vacancies on the 2012 grid, at HRT and perhaps also Caterham, could be snapped up by well-heeled drivers while the likes of the experienced Rubens Barrichello and Adrian Sutil miss out.
Told that the pay-driver issue is surely not good for a premier sport like F1, Jones told us: "Well, it never has been — it has always been going on.
"You must never forget the fact that Niki Lauda bought a seat initially," said the Australian winner of 12 grands prix, referring to the F1 legend and triple world champion.
"He went into a local bank in Austria and borrowed the money to buy a seat I think at BRM," added Jones.
"It has always been going on and I don't quite know how you address it because quite obviously you'd like to see exciting new talent come through without the burden of having to raise a lot of money to do so," he said.
One feature of modern F1 definitely not damaging the sport, according to Jones, is DRS — the moveable wing innovation that some purists dislike because it boosts overtaking arguably artificially.
Asked if he likes it, Jones enthused: "Yeah, absolutely — I like anything that creates more overtaking situations, and I think DRS is doing that."
He also welcomed the FIA's plans to develop the usage of DRS this year.
"We are going to see probably more (DRS) areas on a circuit," said the Australian, "where last year it might have been used only once (per lap) on a particular circuit."