IndyCar to Austin? (6th Update)
UPDATE #6
The TMS IndyCar attendance has dwindled so much that there are now sections of grandstands you can shoot a cannon into and not hit anyone
With reports surfacing this week that the Izod IndyCar Series is interested in a race at Circuit of the Americas in 2014, Texas Motor Speedway boss Eddie Gossage says such a scenario is unlikely because the Texas market can't support that level of saturation.
"No, it's not possible," he told Autoweek on Friday.
Shoot-from-the-hip Gossage was already unhappy after IndyCar's previous management team cut a deal to race this year on the streets of Houston, and "It remains to be seen if two [IndyCar races] can survive [in Texas]. You know, Houston has already failed twice with CART/Champ Cars, essentially the same thing [as IndyCar now], in this century."
Gossage's irritation comes as no surprise, considering that TMS has long supported IndyCar, including this year contributing $200,000 to buy a primetime TV slot on ABC for the venue's June race. That race drew a somewhat disappointing average of 1.4 million viewers, less than the series and Gossage had hoped for.
"I think we've run 25 IndyCar races in our 17 years here, so we've run more [IndyCar races in that time] than anybody, including Indianapolis Motor Speedway.
"Any time you put something that competes in a market you wind up with 'less than.' Whether [another race] only takes one percent of your crowd, it's still 'less than,' or it takes 50 percent of your crowd … either way it's 'less than.'
"We feel like all along that we've been IndyCar's best friend — and we've earned and paid dearly for their loyalty, and we were disappointed and probably should have taken a stronger position when Houston came onboard."
What options do Gossage and TMS realistically have, should IndyCar reach an agreement with COTA?
"We have the ultimate choice, and that is to not run them if we see it that way," he said. "I wouldn't want that to ever happen but that's certainly an option. As I said, we probably should've taken a stronger position when they were discussing Houston and made it clear, but we didn't; we're [also] trying to think of what's good for the sport. But it was disappointing — but it also wasn't this [IndyCar] management team that made the call [to go there]."
With IndyCar still struggling to attract large on-site crowds at some venues, as well as looking for ways to bump its TV ratings, Gossage cautioned that tracks like TMS can't afford any more watering-down when it comes to fan interest.
"Unfortunately we had a frustratingly small crowd this year, comparatively speaking, to what we've enjoyed in the past," he said. "Some of the estimates here in the past have been as much as 128,000 people. I don't remember the exact number in June but it was 50,000 or so, somewhere in that vicinity. And because of the way we do things — and we're never going to change that — we're going to put a lot of money into promotion, we're going to put on a big show as best we can and, you know, if we can't put on things in the proper manner that our fans deserve, then we're just not going to do it.
"[The margins have] gotten close, so that's why it would be frustrating if there was another race in our market. And Austin is just three hours away so that's clearly in our market, you don't even have to have a hotel room to go to our IndyCar race [if you live in Austin]. Houston is [only about] four and a half hours away.
"We know because of the way we do things how many fans we have in the Houston area, how many fans we have in the Austin area, and it certainly had an impact on us here in June."
Thus as far as Gossage is concerned, it's either TMS or COTA, or perhaps Houston. But "I fully expect [IndyCar] will be running [at TMS] in 2014," he said confidently.
If that proves true, at least one of those other venues won't be included next season on IndyCar's schedule. AutoWeek
07/31/13 The Pocono part of this rumor from last Summer is already 'fact.' The IndyCar Series and Circuit of The Americas almost reached an agreement for the Austin, Texas-based road course to host a championship round in 2013, and RACER has learned talks have recently resumed between both sides with an eye toward securing a date for 2014.
"We've talked to them for several years – since the Circuit of The Americas concept was announced – and we're looking at race dates and talking with them about options to host a race," said COTA executive VP Bruce Knox. "But we're just talking at this point. IndyCar is doing well and there's interest on both sides. We've been getting to know the new management team there, but we don't have anything to announce right now."
The IZOD IndyCar Series currently holds two events in the state, with the 1.5-mile Texas Motor Speedway oval in Fort Worth and the Houston street race around the 1.7-mile Reliant Park complex on the 2013 schedule.
It's unknown if IndyCar would hold three events in Texas, just as it does in California with Long Beach, Sonoma and Fontana. Racer.com [Editor's Note: With the drop-off in attendance at Texas Motor Speedway (NASCAR loyal promoter) it won't be long before that race is dead, so yes, a race in Austin makes sense. The more IndyCar can move away from anything related to NASCAR the better.]
07/13/12 The new Circuit of the Americas track near Austin, Texas, could host an IndyCar race in 2013, IndyCar CEO Randy Bernard said Thursday. "Their contract (with Formula One) will allow it," he said. IndyCar and Circuit of the America officials were to meet this week. F-1's U.S. Grand Prix will be this Nov. 16-18. IndyCar also met with Phoenix International Raceway President Bryan Sperber about an event next season, Bernard said. Indy Star
05/27/12 For the first time in two decades, there is a palpable buzz concerning IndyCar racing and its possible return next season to Pocono Raceway.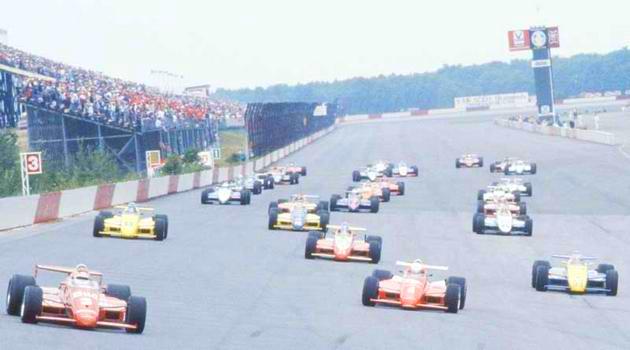 CART Pocono 500 3 x 11 start in 1985
And while open-wheel racing fans will be focused today on Indianapolis Motor Speedway and the 96th running of the Indianapolis 500, Pocono president and CEO Brandon Igdalsky
is doing nothing to curb the tide of excitement of IndyCar's possible return to "the tricky triangle."
"People are talking about it a lot more and I couldn't tell you why," Igdalsky said. "Hopefully that translates into people wanting to actually buy tickets and a whole lot of them. But right now it's way too early to tell."
Perhaps the biggest reason for the conjecture is the recent improvements at the 2.5-mile triangular track in Long Pond. This offseason, the racing surface was completely repaved. Plus, the old boilerplate walls have been replaced with SAFER barriers.
Complaints about the track's bumpiness and safety concerns about the walls were among the reasons why IndyCar stopped coming to Pocono.
IndyCar officials are also looking to add more oval tracks to its schedule and expand its season from 16 races to 19 or 20 races. Road and street courses dominate the current schedule. Only five events in 2012 will be run on oval tracks – Indy, Texas, Milwaukee, Iowa and Fontana, Calif.
Igdalsky met with IndyCar CEO Randy Bernard at the season-opening race in St. Petersburg, Fla., in March. That touched off a lot of speculation that Pocono would be back on the IndyCar schedule.
"The other side of that story is I was already in Florida for another event," Igdalsky said. "I'd never met Randy Bernard and his team. I'm a polite gentleman, so I was in town and wanted to meet the guys and see what they are, who they are and what their plans are."
If IndyCar does return to Pocono, the biggest question is when the race would take place. The track still has its two NASCAR Sprint Cup Series dates in June and August, and Igdalsky said Pocono's June NASCAR race "would always be our first event."
Holding an IndyCar race at Pocono in April could be risky because the weather is still so unpredictable. Holding it in the fall would mean the race going up against high school, college and pro football.
"We have a lot of events that we do between April and November. We have almost 350 track dates because we have three road courses," Igdalsky said. "A lot of it would be what we have available, what they have available and how it would all shape out and work out."
As a race fan, Igdalsky said he would love to bring IndyCar back to Pocono.
As a businessman, he is still exploring all the options.
"Who knows what the future holds," he said. "There's a lot of good series' in this country. We have a lot of good race fans here in Pennsylvania. If enough of them ask and it makes sense, there's no reason why we can't sit down and talk, look and see if it actually could work out."
Once known as the "Indianapolis of the East," Pocono Raceway was part of the IndyCar Triple Crown, which consisted of the three 500-mile races on the schedule. From 1971-80, the three tracks involved were Indy, Pocono and Ontario, Calif. When Ontario closed in 1980, it was replaced by Michigan and the Triple Crown lasted until 1989 – the last year Pocono hosted an IndyCar race. citizensvoice.com
03/28/12 Now that the Houston rumor is official, and Texas has two IndyCar races, could it support three (Austin being the third). Absolutely. Texas is the second-largest state in the United States in terms of total area and second-most-populous according to the latest census. The three cities of Austin, Fort Worth, and Houston are part of a megaregion called the Texas Triangle, within which over 70% of all Texans live. The cities are three of the largest in America – Houston boasts over two million people, while Austin and Fort Worth both average three-quarters of a million residents. Fort Worth can also draw from metropolitan Dallas (1.2 million), while Austin is within proximity of the 1.3 million residents of the San Antonio metro area.
Moreover, Texas has proven to be a stronghold for racing of all types, even in recessionary times. Texas Motor Speedway routinely boasts the best non-Indy 500 crowds for INDYCAR, and its two NASCAR Sprint Cup races are high-water marks for that sanction's attendance figures as well.
The promotional opportunities both for the State of Texas as well as INDYCAR are significant should all three events make it to the 2013 schedule. While California also can boast having a "cross training" slate of events between Long Beach (street), Auto Club Speedway in Fontana (oval), and Sears Point Raceway in Sonoma (road), the three events are separated both by physical distance as well as by timing on the INDYCAR schedule.
Conversely, should IndyCar find a way to split the difference between Texas Motor Speedway in June and Reliant Park in October with a race in Austin, it could conceivably stage a true "Texas Triple Crown" in the space of four months [Editor's Note: this is not going to work – too hot in Austin in late summer, Austin race would need to be in February or March]. The graphic design for such a promotional concept creates itself, considering that each leg of the Triple Crown would fall at a different point of the Texas Triangle. The storyline nearly writes itself (especially if they can find a way to work A.J. "Super Tex" Foyt in there somehow). Pop-Off Valve
03/26/12 Pocono Raceway President and CEO Brandon Igdalsky attended Sunday's race and met with IndyCar CEO Randy Bernard to discuss the possibility of having a race at the eastern Pennsylvania oval track in 2013. Igdalsky's grandfather, Joseph Mattioli, founded the track. Indy Star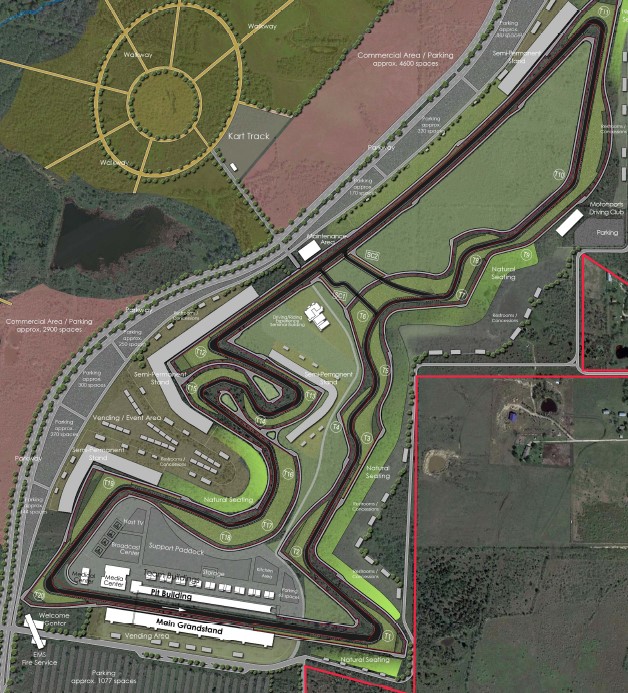 Circuit of Americas
03/26/12 Robin Miller rumored on Wind Tunnel Sunday night that the Circuit of Americas in Austin, Texas wants to host an IndyCar race in 2013. Three Texas races (Ft. Worth, Houston and Austin)? Never say never, but given the high cost of hosting an F1, and now that Bernie Ecclestone has his coveted New Jersey race overlooking Manhattan, does anyone really think F1 will have a long run in Austin? Really?
Eddie Gossage is probably fuming about the rumored 2nd IndyCar race in Houston. When he hears about a possible 3rd race in Austin he's likely to have a conniption.