Penske Racing AAA Media Teleconference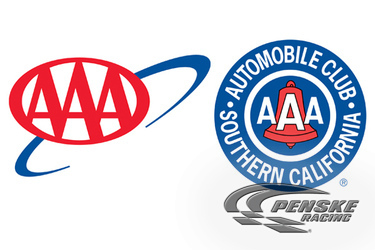 Below is the transcript of Tuesday's Penske Racing Media Teleconference featuring Penske drivers Kurt Busch and Helio Castroneves, along with John McQueen of the Auto Club, discussing today's announcement that the Auto Club of Southern California (AAA) will sponsor the No. 22 car in the NASCAR Cup Series and the No. 3 car in the IZOD IndyCar Series.
KURT BUSCH
HELIO CASTRONEVES
JOHN McQUEEN
MERRILL CAIN: Good morning, everyone. I'm Merrill Cain with Penske Racing, and I want to thank you for joining us on a special Penske Racing media teleconference today. We're excited to make another in a series of significant sponsor announcements for Penske Racing this morning.
As many of you saw in the press release that went out earlier today, Penske Racing and the Automobile Club of Southern California have reached a multiyear extension of their sponsorship, and this agreement will take the partnership between the Auto Club and Penske Racing to a whole new level beginning in 2011. It includes sponsorship in not only the NASCAR Sprint Cup Series but also the IZOD IndyCar Series.
Under the new relationship, the Auto Club will serve as the primary sponsor of the No. 22 Dodge driven by 2004 Cup Series champion Kurt Busch in the March race at Auto Club Speedway as well as the June race at Kansas and the AAA Texas 500 as part of the Chase at Texas Motor Speedway.
The Auto Club will also be a co primary sponsor at two other events next season and will be a full season associate sponsor on Kurt's No. 22 car.
In the IZOD IndyCar Series the Auto Club will be the primary sponsors of the No. 3 Team Penske car driven by Helio Castroneves at the Grand Prix of Long Beach and the unique double header event at the Texas Motor Speedway in June.
We're privileged to be joined by three guests on today's call to discuss this announcement. First we have Kurt Busch, driver the No. 22 Dodge for Penske Racing. He's with us today. We also have three time Indy 500 champion Helio Castroneves, who drives the No. 3 Team Penske IndyCar. And finally we welcome John McQueen of the Auto Club to discuss today's news.
Kurt, we'll start off first with you. If you could just talk about welcoming the Auto Club on board in 2011 as a sponsor, the No. 22 car team with Penske Racing.
KURT BUSCH: It's great to be on the call with everybody and to have Auto Club become a great partner with us. On the 22 car it's a new look and a new scheme for next year with Shell Pennzoil being the primary but also having Auto Club and AAA taking over the reins for three races as the primary sponsor. So it's exciting to have that brand associated with our car and our company, with all of what Penske Racing does but just a car group in general, with Shell Pennzoil and with AAA. It's a new look for the 22 car next year with all these guys having teamed together to hopefully have our car celebrate in victory lane and make a run at the championship.
MERRILL CAIN: Helio, we'll go to you next. Obviously there's been a lot of great sponsor news at Team Penske here in the past week, but what does it mean to you to bring a new sponsor like the Auto Club to the team and also welcoming them to the IZOD IndyCar Series?
HELIO CASTRONEVES: Well, you're absolutely right. I'm pleased to have the Auto Club join the team as a sponsor. Certainly the synergy between me and Kurt and also the transition – remember that Auto Club has been sponsoring in the NASCAR world and all of a sudden now it's bringing a great opportunity to be in IndyCar, IZOD IndyCar Series, so we're extremely excited to have them on board.
As Kurt said, we just hope we're celebrating in victory lane with those blue, red and white colors, which would be just great.
MERRILL CAIN: John McQueen from the Auto Club. This is not only an extension of the Auto Club's agreement with Penske Racing but it also represents the growth of both organizations, as well. Can you talk about getting the chance to work with Kurt and sponsoring the No. 22 car in markets that are very important to your company and also expanding the Auto Club's reach now to the IZOD IndyCar Series?
JOHN McQUEEN: Well, we're very excited to have Kurt and Helio representing Auto Club and AAA in 2011 and beyond. We've been active in NASCAR for some time; 2011 will mark our sixth year in the series. And we've been getting very strong results from our activation efforts in the series.
Our brand research had showed that Motorsports fans and NASCAR fans in particular tend to have a higher perception of our brand and more knowledge of our products and services, and this has been a very good environment for us to activate, and particularly outside of California.
Our club, as Kurt mentioned, we're part of a larger group that has territories throughout the United States, although not all the United States, and this platform gives us an opportunity to do that across our territories. It's unlike a race sponsorship or something like that. This is an asset that we can take to multiple territories.
With Helio, this is a new area for us to get into the IZOD IndyCar Series, and we're very excited about that, as well. The IndyCar fan base is distinct from the NASCAR one, and we're hoping to get some of the same success there that we've realized in the NASCAR space. So again, we're very excited to be teaming with Team Penske and Helio and Kurt.
MERRILL CAIN: Thanks, John. On behalf of Penske Racing we'll all excited to work with you guys to continue the relationship and also have the opportunity to build on it as we move forward. It's an exciting time for all of us and we are looking forward to 2011 for sure. Let's take some questions from the media on today's call.
Q. To Kurt. How much more does this require of Kurt, or does the selling of tickets have Kurt out more at the track in addition to what the victory circle programs would be? How does this play out to sell tickets for the racetrack, and does this involve more of Kurt helping the track in commercials and whatnot?
KURT BUSCH: Well, we're primarily focused with the AAA brand and what it does in the different markets, southern California obviously being one of the biggest, the state of California for that matter, and big opportunities in Texas, and we'll also run the car at Kansas Speedway. So it's not just one big focus at California. We're going to hit all different markets across the country.
Q. Kurt, I'm going to ask you to be a surrogate Roger Penske for a minute. Penske has announced a number of new sponsorships; it seems to me that it's tougher and tougher to find somebody to write a big check, and I was wondering if you could talk a little bit about the difficulty today in looking; do you have to be forward looking in the future to combine sponsorships to get a full program going?
KURT BUSCH: Well, I mean, it's the program right now that we all are faced with, and we're all happy that we have Roger Penske as our boss to work for that has these solid connections and business to business opportunities. For me, for Helio, for everybody at Penske as a driver, we feel like Roger is always out there looking out for the drivers and their best interests.
But we also have hundreds and thousands of employees that are under the Penske Racing umbrella, and when you're able to combine business opportunities into the racing world, it seems like a perfect fit. We're out there pushing hard obviously with our new sponsor Shell Pennzoil to get the recognition out on the racetrack and to have our fans all over the country hopefully put their products in their vehicles. That's what we're out there pushing to do.
And now we've got Auto Club and AAA. With those people teaming up in more of a racing environment, we hope that the racing world is able to advertise to those fans that use this product that, hey, if these world class race car drivers in this world class organization at Penske is using these products and endorsing them, then they should be important and we must follow that, and it all ties in with what Roger does with the business side and the racing side.
Q. Kurt, obviously you were in the Chase this year, but you weren't really able to challenge at the top level. What needs to happen next year for you to get in the championship hunt?
KURT BUSCH: Well, we had a strong start to our season with wins at Atlanta and the sweep the Charlotte race weekends. And the second half of the year, the way we looked at our first half after the evaluation, we thought we needed everything the same, and that wasn't the case. So we've got quite a few things happening here in the off season with structural design changes to the chassis, personnel changes, and just trying to be as competitive and as sharp as we can be through this off season to make sure that we start off next year right where we were last year.
Thinking sometimes when things are going well that you've got to sit there when you should be continuing to make changes and not get stagnant, so maybe that's one thing that hurt us in the second half of last year. But with new brands coming aboard and such a new outlook for next year, driving the No 22 car, we've got to hit the track running strong and get that exposure for all of our new great sponsors.
Q. This is for John. Are you guys increasing your motorsports commitment, or did you have some money available I assume you don't have to pay as much to the Auto Club for the Auto Club Speedway now that there's only one Cup race there?
JOHN McQUEEN: Well, we're continuing our relationship at Auto Club Speedway. The loss of the race doesn't diminish that we're still an entitlement holder there for the Auto Club 500 in March. We leveraged our relationship pretty heavily in southern California with the racetrack and will continue to do that
In terms of increasing our involvement or anything, I think our involvement with Penske Racing is more of an evolution is the way I'd look at it; not only are we continuing along with the NASCAR program with the addition of the IZOD IndyCar series races is, again, a new element for us. If you want to look at that as an increase, okay, but I think evolution is a more accurate word.
Does that answer your question?
Q. Well, I guess a little bit, but maybe more basically, did you get a refund or a discount on your Auto Club sponsorship and were able to apply that money to what you're doing with Penske, or is Penske a totally new kind of program for you where you've now dedicated more money to motorsports?
JOHN McQUEEN: I'm not really at liberty to discuss our terms of our relationship with Auto Club Speedway. We've come to an accommodation or an agreement as to continuing our relationship there. We very much value our relationship with Auto Club Speedway. It has been a very valuable partner for us, particularly here in southern California, and we look forward to moving forward with them.
And again, our entitlement race, nothing changes there other than the date a little bit, and we'll continue to leverage our relationship with the team. It's really separate from the relationship with Penske Racing, and while they're in the same sport, it's kind of two separate pieces.
Can I just add one thing to the first question asked. I think there's a little misunderstanding or wanted to just clarify something about the relationship with AAA. We're the Automobile Club of Southern California and are based here in southern California. However, we're part of a group of affiliated clubs that are in sort of a non contiguous pattern across the U.S., throughout the Southwest, the Midwest and the Northeast.
Now, AAA is a federation of independent clubs, and I'm not sure exactly how many clubs are in it right now, about 40 or so, but we're the largest affiliated group with the AAA federation, within the AAA federation. And it's for that reason why the races that we're going to be a primary sponsor on both the 22 and 3 cars in the IndyCar Series, why we selected the races that we did.
The Auto Club 500 in California, the June Kansas race and the AAA Texas 500 in November are all within territory for us. So there's some misunderstanding that AAA is one big unified national company, and it's unified in the sense that it's a federation and follows national standards, but we are a separate organization within it, the Automobile Club of Southern California and our affiliates in other states. I know it's a little confusing for people, but maybe that helps.
Q. Helio, this obviously represents a bit of a change for you with multiple sponsors on board for you in the IndyCar Series next year. Can you just talk about that a little bit? You've been with Phillip Morris for a long time, and Team Penske was the car of last year, but just looking and having the opportunity to represent some different brands next year with Shell Pennzoil at the Indy 500 and now obviously with the Auto Club at the two races they're going to sponsor for you, just talk about that a little bit.
HELIO CASTRONEVES: Yeah, that's absolutely right. In fact, that's one of the things I wanted to add to what Kurt said. Yes, we are facing a very difficult time to find partners, and we've got to remember, in our case in the IndyCar Series, we had Phillip Morris for Team Penske actually had Phillip Morris over 20 years, and certainly for us, for the team, you know, we have been able to create opportunities for great companies. And no question about it, it was a big ending relationship with Phillip Morris and Team Penske, but now it opened the door for an incredible opportunity for new partners, and that's why Shell Pennzoil, also now AAA and Auto Club and IZOD, Verizon, so we all have these companies that are willing to be part of a first class operation.
So I'm extremely excited and very happy that we're able to find ways to have these incredible companies become partners of Team Penske, and we're just going to join forces and hopefully continue having great success, not only on the NASCAR side but also on the IndyCar side.
Q. For Kurt and for Helio, could you describe this thing is all about sponsorship today. Can you compare your approach to sponsorships when you first broke into the professional ranks in NASCAR and IndyCar to really the smooth ability that both you guys possess now to promote your sponsors?
KURT BUSCH: It's definitely an evolution. You come into the sport just worrying about the race car and what it takes to just make it go fast. You take it somewhat for granted on how the car owner has put everything into place. But as time evolves, the relationships develop and the more personal relationships, sponsors feel like family, and yet you're out there trying to get everybody into victory lane and shots at championships. You begin to understand the process and how it works, and you have to go there each and every day and try to do better for those sponsors to make them more committed to the program and to make it all come full circle.
And in NASCAR and in IndyCar and all of motorsports, we have the most loyal fans in all of sports, and it's up to us to continue to go out there and get that product pushed out there. And you don't know much of it in the beginning, but as you go, each time you win, it becomes more important.
HELIO CASTRONEVES: You're absolutely right, Kurt. Coming from Brazil, certainly motor racing people don't understand how they started and how difficult it is, but it's a very expensive sport. Partners and sponsors today are actually what drive the teams in motorsports.
Basically over the years you're becoming not only a driver, but you're becoming, as Kurt said, becoming part of their family, a business person, because there is a lot of opportunity, especially with Team Penske, to open up quite an interesting scenario of helping everyone, of making everyone grow in the business side, and that's where the relationship keeps going for many years.
Q. This is a question for Kurt and Helio. Are you guys planning on any TV commercials for the Auto Club, and are they going to be together?
KURT BUSCH: I know on my schedule that there's an activity planned in Southern California in January, and we've done the photo shoot on the NASCAR side for AAA and Auto Club Speedway and the involvement that they're going to have with Penske Racing. So I'm excited and anticipating what could be next, because it's a fun time to get out there and reach out to our fans, show the personality of the sponsor, personality of the driver. And when you're switching over to a new car number like we are in NASCAR, there's always that question of what's going on, how's things going to shake out. So I'm really excited for what AAA and Auto Club are going to bring to us.
HELIO CASTRONEVES: I'm dying to be in a commercial. Hopefully, I've got to pitch it to John. I'm not a good actor, but I know I can dance. Hopefully we'll be able to do something, and it will be a lot of fun.
Q. Is acting something you guys enjoy at all at this point, or is it something you never thought of that you'd be doing with racing?
HELIO CASTRONEVES: I need some pointers to be honest. When people put a script in front of me, I have no idea I can't read English very well, so it is hard for me to say some things; it has got to come from the heart. But I would imagine that me and Kurt, we probably can make something happen that would be pretty funny, don't you think, Kurt?
KURT BUSCH: Absolutely. The more than I'm in the sport, the more that you get the opportunity to be in front of the camera and have to do things behind the scenes, and whether it's with production, whether it's with acting, whether it's radio. You name it, race car drivers have to do it all these days.
Q. Helio, we've kind of touched on this a couple different ways, but you're kind of free of the restrictions, I think, of the Phillip Morris kind of control, and there really should be an elevation of your personality and your popularity, because most people, while you've done a lot of things, you really haven't done some of these commercials. Do you feel kind of a relief to be able to be promoted now?
HELIO CASTRONEVES: You know, in fact, we're here in Indianapolis, and I just did a holiday event yesterday with Meijer, which is going to be one of our partners, as well, with some kids here in Indy. With kids, for us over the 10 to 11 years that I've been with Penske, we were not able to be doing these kind of events, obviously because of our association with Phillip Morris.
So now it's also a great opportunity to go out there, explore the image, as well, and that's one of the reasons Team Penske is having a lot of partners coming together, because we want to create opportunities to everyone, including the drivers but also for the teams. So I believe this will be great for all drivers.
Q. I joked yesterday, with the IZOD sponsorship; does this mean you've got to clean out your entire wardrobe of Hugo Boss?
HELIO CASTRONEVES: Yes. However, remember, fashion changes quite a lot, so you've got to change it anyway. I have some clothes from ten years ago, but when (girlfriend) Adriana sees that, she's like, okay, get this out of the closet, please. But it'll be great, it will be fun. Certainly we're looking forward to having that kind of relationship.
Q. Based on this sponsorship announcement, Helio, you've shown your versatility in dancing; now you have a sponsor that's both in NASCAR and in the IndyCar Series. Randy Bernard has been talking to Bruton Smith about doing a double header in May, and the other piece of the puzzle; both your cars are prepared out of the same place. What do you think of that? And then we'll let Kurt answer that. Would you consider doing a double on Memorial Day?
HELIO CASTRONEVES: Well, it's up to Roger. Certainly Kurt is capable, he won last year the 600, and we would have definitely welcomed him to the IZOD IndyCar Series. He had actually passed an IndyCar in the past. I never was able to drive a NASCAR car before, so the closest I got was the IROC. I guess, Kurt, the ball is in your court, my man, you've got to answer that one.
KURT BUSCH: Well, I wasn't eligible to do the "double" until at least I had my portion of the bargain taken care of, and that was to win the Coca Cola 600. So with a win in the prestigious 600 on Memorial Day and to have a shot at the Indy 500 in the same day, I've got the right car owner, I'll tell you that, but you can't just show up and be competitive to win in the Indy 500. Helio knows how hard it is, he's won it three times, and it would be tough for Helio to come in and try to win one of the prestigious stock car races.
So we both do have the best opportunity with our owner in the situation we're in, and if the opportunity came up, it's really up to Roger if we were going to move forward with that, because we've really got to stay focused on what our primary objective is and that's to be competitive in our own series.
Q. What does the off season look like for both of you, Helio and Kurt?
KURT BUSCH: Well, it's been a busy off season for me already, just with the new sponsor announcement, with Shell Pennzoil, of course with AAA and Auto Club and just the new look on the 22 car. We've got production days, commercial shoots, some different radio calls and voice overs. It's really an exciting time to be in this industry, in auto racing, and to be going through some of the downfalls of sponsorship availability, it's great to have these strong partners come aboard at Penske Racing to keep us busy and to let us know that we're wanted, and we want to be part of this great team.
HELIO CASTRONEVES: Yeah, pretty much the same here. However, our series does finish very early, around October, and for us IndyCar drivers, we've got to kind of find ways to keep our mind sharp. We're able to go to Australia, and I was getting my adventure in the touring cars or stock cars, let's put it this way, and I still have a couple of commitments.
I'll be racing next week in the Felipe Massa go-kart race in Brazil, but the same way as with Kurt. We are basically focused on events announcing together Shell Pennzoil, now AAA and the Auto Club, also Meijer and IZOD in our IZOD IndyCar Series. So we'll be pretty busy. Instead of off season it's been kind of like continuing of the season, not on the racetrack but outside the racetrack.
Q. And Kurt, no chance for any fun during the off season?
KURT BUSCH: I've had a little bit of fun with the Polar Bear 150, running that old school street stock race. We've got Kyle's wedding coming up. Of course just finished a great week out in Las Vegas, anybody that spends seven days in Vegas knows that that's a good time. And then we've got the month of January. So there are plans here, plans there. I'm here at the race shop today at Penske Racing just looking at the cars, looking at the personnel. I'm just taking care of business, working hard.
Q. Kurt, I guess part of your off season will be at Daytona next week. There are only 18 cars that I think signed up, and I want to say only about 13 or 14 top 30 cars from last year going to the test. Are you surprised that I want to say you're one of four Chase guys who will end up being there. Are you surprised not everybody is going, or do you guys have something more that you need to go to that test to have both you and Brad going?
KURT BUSCH: Yeah, it's difficult for me to speak on where the other teams are as far as their preparation, but I know for us at Penske Racing with the 2 and the 22, we need to be there on track, gathering data, understanding as much as we can about the new surface at Daytona. We know that it's the most prestigious race for us all year long, and if we can come out of the gates strong, we need to have as many test sessions at tracks as we can get, and that means tracks that we race on. Of course we're going to have to head to some other short tracks to get some more information. We have to continue to push hard, and I don't think it costs all that much out of our budgets to head down to Daytona and shake some cars down getting ready for the Daytona 500.
Q. Did you have to juggle your schedule? Were you planning on the test being a week earlier?
KURT BUSCH: Yeah, I was planning on going this week, but they moved to the next week. But yeah, this has been a busy off season for me with sponsor changes and sponsor additions. It's been great, so we're staying busy.
MERRILL CAIN: Thanks to everyone for joining us on the call today. It's a great announcement for the Auto Club and Penske Racing. Thanks to Kurt, Helio and John and have a great day.