McLaren F1 switching to Honda engines (8th Update)
UPDATE #8
This rumor is upgraded to 'fact' with today's
news
.
05/15/13 (GMM) Honda is shaping up to announce its return to formula one, a source at the Japanese manufacturer said on Wednesday.
We reported at the weekend that McLaren has let a deadline pass whereby it could have extended its customer deal with Mercedes beyond next season.
"That can only mean Honda in 2015," said Auto Motor und Sport correspondent Michael Schmidt.
It is reported Honda, having pulled out its works formula one team at the end of 2008, will return as an engine supplier.
It will supply a ERS-powered turbo V6 to McLaren free of charge, and consider customer deals with teams like prospective partners Sauber and Lotus.
The Honda source on Wednesday told French news agency AFP that president Takanobu Ito is close to making the news official.
"Honda has not officially denied these reports," said the unnamed source.
"Please prepare yourself for the announcement."
When asked specifically about the Honda rumors in Barcelona last weekend, McLaren team boss Martin Whitmarsh did not deny a deal is in the works.
"The discussions about '15 are between myself and Mercedes and not for newspapers," he told British broadcaster Sky.
05/11/13 (GMM) McLaren will surely be Honda-powered in 2015, according to Auto Motor und Sport correspondent Michael Schmidt.
Reporting from Barcelona, he said McLaren has let a deadline pass whereby it could have extended its customer deal with Mercedes beyond next season.
"That can only mean Honda in 2015," said Schmidt.
Reportedly, the Japanese carmaker – having withdrawn from F1 amid the global financial crisis at the end of 2008 – will not charge McLaren for its turbo V6 engines.
Honda, however, will surely subsidize its development costs with one or two customer deals, and Sauber and Lotus are thought to have already expressed interest.
"We are studying (the idea of returning to F1) as seriously as possible," Honda president Takanobu Ito said recently.
Lotus could be on the move due to the apparently high price of staying with Renault in 2014 and beyond.
Auto Motor und Sport said Renault wants to charge its customers between EUR 20 and 23 million per season, while the Mercedes engine will cost 17-19 million.
Ferrari is reportedly offering the cheapest package, with the price tag between 15 and 17 million.
03/16/13
Q: What about the talk of switching to Honda engines in the future? They are not ready for 2014, but what lies beyond that?
Martin Whitmarsh: We have a clear contract with Mercedes for 2014 and 2015 and we are not commenting on other engine suppliers. We have a great long-term partnership with Mercedes and we are contracted to be with them for now.
Q: How long is 'for now'?
MW: As I just said, we have a contract over the next three years and we are focusing on doing the best job we can with them.
Q: So we won't be seeing a Telmex McLaren Honda team in 2015?
MW: I doubt it. You want to draw me into something! (laughs) As I said, I doubt it as it is not in our plan at the moment.
03/12/13 McLaren team principal Martin Whitmarsh is not promising anything in regards to whether the team will stick to Mercedes engines in the future or switch to a different supplier. However, though Whitmarsh is refusing to confirm claims that McLaren will continue using Mercedes engines beyond 2014, he is not confirming their replacement, though everyone strongly believes that the team will use Honda engines.
Talks have been made and Honda has indeed confirmed that they have made plans to return to the sport as engine supplier for McLaren, but for 2015. McLaren has a contract in place for 2014, but for 2015 the situation is different. McLaren only has an option to use Mercedes engines and asked if Mercedes would still be engine supplier beyond 2014, Whitmarsh said:
"I can definitely say that we are with them for some time, we have a contract and we have been talking about it for some time. There is nothing to announce at the moment. I can't elaborate any further. We have a contract that covers the next three seasons at the moment and we will certainly go into next year with Mercedes-Benz. We have a long and successful partnership with them."
So did Whitmarsh say that McLaren will use Honda engines? Not specifically, but Honda has been doing this for some time. They don't let the cat out of the bag, unless they are serious. So Whitmarsh might not technically say that Honda will supply engines for McLaren from 2015, but then again, he just did, didn't he?
The last time McLaren partnered with Honda, the results were staggering. Four drivers titles in as many years, one for Alain Prost, three for Ayrton Senna.
03/11/13 McLaren has confirmed it will stick with Mercedes engines in 2014 amid talk that it might swap to Honda power in coming years. Team principal Martin Whitmarsh said there was no change to his team's plans at the moment and that it will certainly remain with Mercedes next year.
"I can categorically say we've been with them for some time, we have a contract , we're talking about that and we've been talking about it for some time," he told the Vodafone McLaren Mercedes phone-in. "There's nothing to announce at the moment and I can't elaborate any further than I did [before]. We have a contract that covers the next three seasons and we will certainly go in to next year with Mercedes-Benz. We will see, we had a long and successful partnership with them and we've heard and read the stories about Porsche, Honda, Hyundai and various stories."
It looks likely that just Renault, Ferrari and Mercedes will be supplying engines to the grid next year when the new regulations come in to force. However, Whitmarsh thinks it is important for the future of the sport that more engine manufacturers join over the coming years.
"F1 at the moment needs new automotive manufacturers to come into the sport," he added. "If we can help that in any way we will do so, but at the moment we are focused on our partnership with Mercedes-Benz, which has been a good partnership, and we will try to win championships with them in the future." ESPN.co.uk
03/05/13 Martin Whitmarsh has reaffirmed to Sky Sports F1 that McLaren remain committed to current engine partners Mercedes until 2015 despite ongoing speculation about a possible return to Honda power.
Suggestions that Honda are gearing up for a return to Formula 1 as an engine supplier to re-establish their once all-conquering partnership with McLaren has swirled for some time, despite Whitmarsh stating last November that it is "going to be McLaren-Mercedes for quite a few years to come".
Although McLaren have not been Mercedes' 'works' operation since the German manufacturer bought the then Brawn GP team in late 2009 and started a phased withdrawal from their shareholding in the Woking-based team, McLaren have continued to use their long-time partners' engines – an agreement which runs to at least the end of 2015.
And Whitmarsh, McLaren's Team Principal, has reiterated that the deal has another three seasons to run and they are focused on achieving more success with Mercedes engines.
"What I can tell you is we have a contract with a long-standing partner, Mercedes-Benz, for 2013, 2014 and 2015," Whitmarsh said in an interview with Sky Sports F1's Natalie Pinkham.
"So we have a contract, they're our partners and we're going to try and win World Championships and races with them."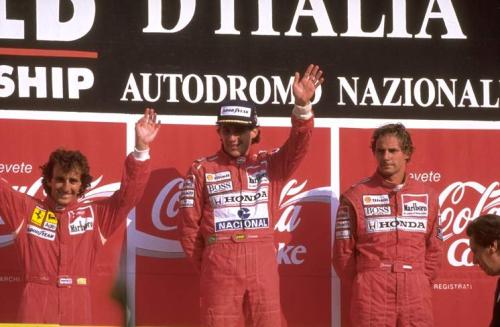 The McLaren and Honda combination was unbeatable in the Prost, Berger and Senna days
03/04/13 McLaren is reportedly getting ready for a new engine supplier, when the team will switch from Mercedes to Honda powered engines in 2015, according to the BBC.
The deal, which has yet to be finalized pending a vote from McLaren's board, will reunite the Japanese manufacturer with the Woking based team and rekindle one of the most powerful alliances in the history of Formula One.
Honda first supplied engines to McLaren's 1988. Together with Ayrton Senna and Alain Prost as drivers, the Honda McLaren MP4/4 won 15 out of the 16 races that year, a dominant performance that has never been repeated since.
The new deal would also signal Honda's return to the sport after a seven year absence, when financial difficulties forced the company to withdraw from F1 towards the end of 2008. Team principal Ross Brawn subsequently took over operations and the reborn Brawn GP won the driver's and constructor's title for the 2009 season.
03/03/13 (GMM) McLaren is yet to sign an engine deal for the new turbo V6 era beginning in 2014, according to Germany's Auto Motor und Sport.
"Mercedes is pushing for a decision in the next days," said correspondent Michael Schmidt.
The successful, title-winning McLaren-Mercedes partnership dates back almost two decades, but with Mercedes now with its own team, McLaren is no longer the 'works' partner.
According to Schmidt, the solution could be Honda.
"The question is whether the Japanese are coming in 2014 or not until 2015," he said.
"It is a poorly kept secret that McLaren is talking with Honda."
In fact, Schmidt relayed paddock rumors that Honda already has engineers working at McLaren's Woking headquarters, with a final board decision about whether the manufacturer will return to F1 after a half-decade absence "pending".