Analyzing the 12 NASCAR Chase drivers for 2009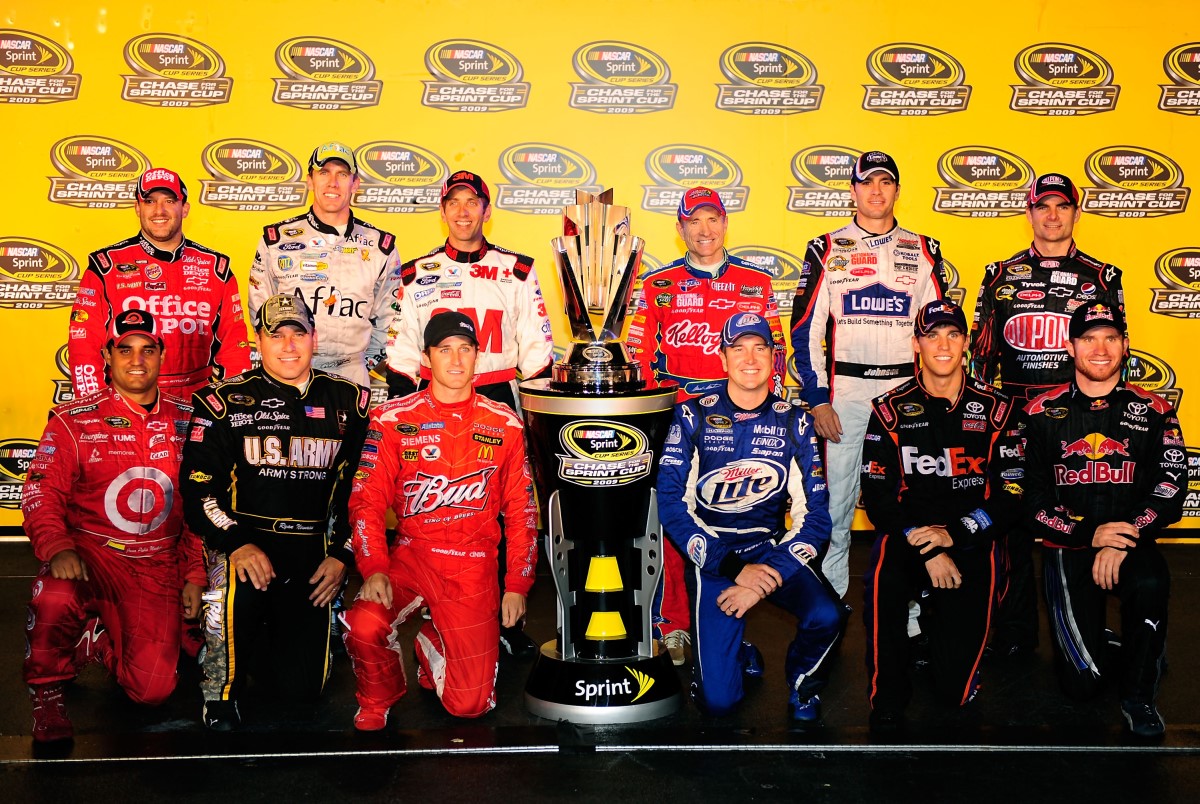 The 2009 Chase for the NASCAR Sprint Cup field From left, top row: Tony Stewart, Carl Edwards, Greg Biffle, Mark Martin, Jimmie Johnson, Jeff Gordon. From left, bottom row: Juan Pablo Montoya, Ryan Newman, Kasey Kahne, Kurt Busch, Denny Hamlin, Brian Vickers
Rusty Jarrett/Getty Images for NASCAR
The 12 driver line up for the NASCAR Sprint Cup Chase For The Championship is now officially set. NASCAR has now reset the standings for the top 12 and has given each driver 5,000 points plus 10 bonus points for each race won.
Now it's time for the process of dissecting the data associated with each of the drivers from NASCAR's class of 2009. Over the next several weeks there will be massive commentary from the national media all the way to Monday morning water cooler debates in America's work places. In short, this is going to be a lot of fun.
This week we're presenting a run down on the 12 Chase drivers, their finish stats for the first 26 races of the season and a synopsis of their Chase potential. Just to add to the fun, for you financial thrill seekers, we're also presenting the numbers from two different Las Vegas odds makers: the World Sports Exchange-WSE and Las Vegas Insider-LVI.
1. MARK MARTIN. #5 HENDRICK MOTORSPORTS CHEVROLET.
5,040 points. 100 bonus points per race win and for either leading a lap or leading the most laps. 4 wins. 9 top five finishes. 14 top ten finishes. 3 DNFs, (did not finish). Season earnings: $3,938,103. WSE rating: 4 to 1 odds. LVI rating: 10 to 1.
On an emotional level it would be very hard to find a NASCAR fan in the entire country who wouldn't be thrilled to see Mark Martin get the NASCAR championship he so richly deserves. His pre Chase stats are very strong and that alone makes him a major player in the championship picture.
But there's another strong emotional element here that could give this team an edge in the Chase. Martin is a class act who is truly grateful for the opportunity before him. He always makes it a point to sincerely say thank you to the organization that he drives for, his team members and his sponsors. Human nature dictates that if someone lets you know how much your appreciated then you have a tendency to want make an extra effort on that person's behalf. What we have with this #5 team is a mutual admiration society and that could provide an extra incentive both on the track and on pit road.
2. TONY STEWART. #14 STEWART HAAS RACING CHEVORLET.
5,030 points. 80 bonus points. 3 wins. 13 top five finishes. 18 top ten finishes. 0 DNF's. Season earnings:$5,496,541. WSE rating: 4 to 1. LVI rating: 7 to 1.
Last winter when Tony Stewart announced that he was leaving Joe Gibbs Racing to form his own two car Sprint Cup operation everyone said he was crazy. By the time the 2009 Cup season was half over it was clearly evident that Stewart had proven us wrong. Now he's considered a heavy favorite to win the Sprint Cup. We've always known that this former Cup champion is a great driver. Now we've discovered that he's also a great leader as a team owner and that's going to be a major plus in this year's Chase.
The other major factor here is Stewart Haas Racing's affiliation with Hendrick Motorsports who provides the team with engines and chassis. Because of this strong tie the media has been calling Stewart Haas a Hendrick satellite operation. The four regular drivers from the Hendrick stable has even been referring to them as their team mates.
On the down side there has been a noticeable slip in quality control over the past three races. This was very evident during last Saturday's Richmond race. But you can bet that Stewart will have this under control long before the green flag falls on the Chase this weekend in New Hampshire.
3. JIMMIE JOHNSON. #48 HENDRICK MOTORSPORTS CHEVROLET.
5,030 points. 130 bonus points. 3 wins. 9 top five finishes. 15 top ten finishes. 1 DNF. Season earnings: $5,172,424. WSE rating: 5 to 2. LVI rating: 6 to 1.
Now here's a Chase favorite who is lined up to make NASCAR history by becoming the only driver to win the Sprint Cup Chase For The Championship four consecutive times. This team has all the elements in place to achieve that historical accomplishment. First there's the talent of the driver Jimmie Johnson. Then there's the intellectual shrewdness of crew chief Chad Knaus. When you add those two elements with the treasure chest of resources that comes with Hendrick Motorsports, then you've got the making of a four time championship.
There are many media observers who are saying that the 2009 championship is going to come down between Johnson and Stewart and the difference maker will be based on which one of them suffers a mulligan, or poor finish, during the ten race series.
4. DENNY HAMLIN. #11 JOE GIBBS RACING TOYOTA.
5,020 points. 80 bonus points. 2 wins. 9 top five finishes. 14 top ten finishes. 1 DNF. Season earnings: $3,708,739. WSE rating: 8 to 1. LVI rating: 11 to 1.
With the surprise of Kyle Busch getting bumped from the Chase line up last weekend, Denny Hamlin now becomes the sole focus for Joe Gibbs Racing's championship hopes. The good news here is the fact that this driver and his team have been red hot as of late. They certainly proved that with that dominant win at Richmond last Saturday. Now he's been touted as a strong dark horse candidate to win the championship.
There also seems to be a sense of a new level of maturity with this young driver. The racing elements that often made him angry, as recently as several months ago, now barely gets on his personal radar. That's likely an off shoot of the benevolent leadership of his team owner Coach Joe Gibbs. From NASCAR championships to NFL Super Bowl championships, the Coach knows how to motivate his people and that's going to be a major plus during this title run.
5. KASEY KAHNE. #9 RICHARD PETTY MOTORSPORTS DODGE.
5,020 points. 35 bonus points. 2 wins. 5 top five finishes. 10 top ten finishes. 0 DNF's. Season earnings: $4,338,831. WSE rating: 15 to 1. LVI rating: 18 to 1.
This is one of the big surprises of the 2009 season. When Gillette Evernham Motorsports merged with Petty Enterprises last winter it was regarded as an economic protection measure. No one really expected them to create some highlight reel moments. They certainly weren't expected to win two races and making the Chase seemed out of the question. Kasey Kahne's consistency this season stunned everyone and he's the reason why this organization is in the Chase.
But there's a major distraction here that needs to be resolved quickly to insure the Chase gets the focus that it requires. The merger of the two teams is fixing to merge again. This week's very surprising merger announcement with Yates Racing, that also said Richard Petty Motorsports was switching manufacturer's from Dodge to Ford, caught everyone off guard even the team's drivers. Again, this piece of business administration needs to be put to bed in quick order so Kahne and company can keep their attention on the grand prize.
6. JEFF GORDON. #24 HENDRICK MOTORSPORTS CHEVROLET.
5,010 points. 75 bonus points. 1 win. 12 top five finishes. 18 top ten finishes. 1 DNF. Season earnings: $4,912,175. WSE rating: 5 to 1. LVI rating: 8 to 1.
Is this four time champion's drive for five still alive? You bet it is. He's got the on track stats, along with some healthy Las Vegas numbers, to back the effort up.
Most of all Gordon has the resources of Hendrick Motorsports backing his effort. He also will be working off of the strong momentum of a good showing at last weekend's Richmond Race. This is a rock solid championship effort.
7. KURT BUSCH. PENSKE RACING DODGE.
5,010 points. 70 bonus points. 1 win. 7 top five finishes. 14 top ten finishes. 2 DNF's. Season earnings: $3,158,284. WSE rating: 15 to 1. LVI rating: 15 to 1.
The second of the Dodge Chase hopes, this is a rejuvenated Penske Racing team. Kurt Busch has been very consistent especially since that convincing win at Atlanta last March.
But there's a major distraction here that the team needs to get behind them rather quickly. Last weekend it was revealed that veteran crew chief Pat Tryson will be leaving the team at the end of this season. It's been reported that Tryson will be moving over to Michael Waltrip Racing to become the new crew chief for driver Martin Truex Jr.
No one planned on making a formal announcement anytime soon. This was an unexpected cat got out of the bag situation that surfaced last weekend when the team still needed a good run at Richmond to secure a Chase berth. We are already hearing comments such as "lame duck crew chief." That, of course, is nonsense. But it's important that it no longer remains a team distraction with the Chase starting next weekend.
8. BRIAN VICKERS. #83 RED BULL RACING TOYOTA.
5,010 points. 50 bonus points. 1 win. 4 top five finishes. 13 top ten finishes. 3 DNF's. Season earnings: $3,638,315. WSE rating: 40 to 1. LVI rating: 25 to 1.
Here's another true Cinderella story from the 2009 season. Two years ago this team was a mess. They failed to qualify for 13 of the 36 events that year. The fact that Vickers and company are even in the Chase comes from an impressive win last month at Michigan that put them in contention for the championship competition. But even then they had to race their way into the Chase last Saturday at Richmond. The effort went down to the final laps of the race and they moved into the 12 driver Chase roster by a mere eight points.
This team is really not expected to be a major factor in this year's Chase but, still , you have to give them the credit for the effort they put in just to be a part of it.
9. CARL EDWARDS. #99 ROUSH FENWAY RACING FORD.
5,000 points. 50 bonus points. 0 wins. 7 top five finishes. 11 top ten finishes. 1 DNF. Season earnings: $4,252,294. WSE rating: 12 to 1. LVI rating: 16 to 1.
Roush Fenway Racing is truly one of the big mysteries of the 2009 NASCAR season. They are still healing the wounds from former Sprint Cup champion Matt Kenseth getting bumped from the Chase last weekend in Richmond. The organization has five racing teams but has only garnered two wins this year. Ironically, both of them came from Kenseth last February.
Roush Fenway in general, and Edwards in particular, has endured inconsistent performance levels this season and had to rely on their top ten finishes to make the Chase. There has been an abundance of mysterious horsepower and handling issues. But if there's one thing that Jack Roush is passionate about it's the presence of automotive engineers on his teams. Be rest assured that Roush will have these engineers going over their Chase cars from front to rear bumper looking for solutions.
There is also the matter of Edwards having to endure the discomfort of a broken right foot. However, so far, the special orthopedic boot he's wearing doesn't seem to impact his ability to drive the car.
10. RYAN NEWMAN. #39 STEWART HAAS RACING CHEVROLET.
5,000 points. 55 bonus points. 0 wins. five top five finishes. 12 top ten finishes. 0 DNF's. Season earnings: $3,821,742. WSE rating: 30 to 1. LVI rating: 20 to 1.
This is the second half of the newly formed Stewart Haas Racing Cinderella season. Newman's top ten finish consistency is the catalyst that helped to place both team cars into this year's Chase. This could loom very large during the team's process of securing additional needed sponsorship for next year.
11. JUAN PABLO MONTOYA. #42 EARNHARDT GANASSI RACING CHEVROLET.
5,000 points. 0 wins. 8 top five finishes. 12 top ten finishes. 0 DNF's. Season earnings: $3,825,440. WSE rating: unlisted. LVI rating: 22 to 1.
This is another one of those great Cinderella stories connected to the 2009 Chase. When the season started last February no one would have dreamed that Montoya would make the Chase line up. He accomplished this by some very consistent top five and top ten finishes and will be the first to tell you that he was points racing to make sure his team made the top 12 in the standings. Now he gets the opportunity to concentrate on securing race wins and the bonus points that comes with that.
His team history is the result of last winter's merger between the two organization's formerly known as Dale Earnhardt Inc and Target Chip Ganassi Racing presented by Felix Sabates. The fact that they are in the Chase at all is huge for EGR and could provide badly needed assistance towards acquiring sponsorship for their 2010 program.
12. GREG BIFFLE. #16 ROUSH FENWAY RACING FORD.
5,000 points. 0 wins. 8 top five finishes. 12 top ten finishes. 2 DNF's. Season earnings: $3,627,734. WSE rating: 20 to 1. LVI rating: 18 to 1.
Everything that you just read about Biffle's team mate Carl Edwards applies here. Just scratch out the name Edwards and insert the name Biffle. It all fits.
The lone exception is, of course, the fact that both of Biffle's feet are healthy.
THE BOTTOM LINE.
If you carefully examine the numbers associated with all 12 of the Chase contenders the big differential here appears to be the bonus points the drivers have accumulated during the first 26 races of the season.
During the Chase NASCAR will award a driver ten bonus points for winning a race. There's also the traditional five bonus points for leading a lap in a race plus an additional five bonus points to the driver who leads the most laps during a race.
If you look at the bonus points numbers among the top six in the rankings, where the pre Chase favorites are listed, and compare that to the bonus points among the drivers ranked seventh through 12th you will find quite a difference. For example Jimmie Johnson, ranked third, tops this category with 130 bonus points. In comparison, Greg Biffle, ranked 12th, has 60 points. Don't be too surprised if these bonus points are a huge factor in determining the 2009 Sprint Cup champion.
Mulligans will also likely be another big factor. Mulligans are hard luck races where a team suffers a very low finish if not even a DNF. It's widely believed that a team can have one mulligan during the Chase without sacrificing their chances of winning the championship. It's also widely believed that two or more mulligans and it's all over.
Finally, a lot of you have been asking for my opinion on the Chase outcome. On a my guess is as good as yours basis, I think the 2009 Sprint Cup Chase For The Championship is Tony Stewart's to take home or Tony Stewart's to give away to Jimmie Johnson. I truly believe they will be the players in the final outcome.