Baltimore Grand Prix looking more doubtful by the day
UPDATE #7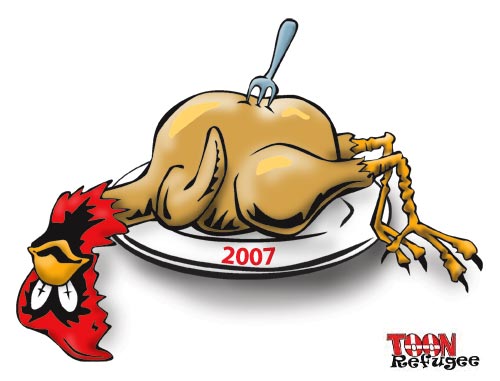 It's not time to stick a fork in the Baltimore GP just yet. "I think there's a 50 percent chance they can pull it off. But that window closes every day," said Baltimore City Councilman William Cole.
Organizers are running out of time to try and save the Baltimore Grand Prix.
More than 100,000 people packed the streets of Downtown Baltimore for the inaugural event last year; but financially — it turned out to be a bust.
A new group called "Downforce Racing" formed back in February, replacing "Baltimore Racing Development," which organized last year's race. The new group includes Baltimore businessmen Dan Reck and Felix Dawson, along with Dale Dillon, a contractor from Indianapolis with a long history in IndyCar racing.
"To be a part of this and have this available to us, we're truly excited," Dillon said during a news conference on Feb. 15. "Dan, Felix and I couldn't think of a better opportunity and a better place to put on an IndyCar race, and truly look forward to what we can provide both IndyCar and the city and the fans."
That was then, but as of right now a web site put together by the group is completely inactive — not selling tickets for this year's Baltimore Grand Prix. It's scheduled for Labor Day weekend, just over four months away.
Now the Downforce Racing partnership itself might be in trouble; with Dale Dillon potentially leaving the group. The head of IndyCar, Randy Bernard, responded to that in an interview Monday with Autoweek magazine.
"Our deal is with Downforce," he said. "And I think they have told us that they would welcome Dale. But if Dale doesn't want to be part of it, that's fine as well."
City Councilman William Cole said the support of IndyCar, and the American Le Mans series is more important than the make-up of the local group.
"As long as the two race organizations maintain that they want to be here I think it's at least worth considering," he said. "I think there's a 50 percent chance they can pull it off. But that window closes every day."
Cole says talk of canceling this year's race is premature, but getting closer.
"It's safe to say that we're getting to a point in time where it's going to be very difficult for the event to be successful, but we're not there yet," he said.
In the Autoweek interview the Bernard said he's confident the race will happen:
"We're bringing a major event to that city, he said. "And bringing a lot of revenue to that city. It will be a great event, showcasing IndyCar and Baltimore. It's our priority to help them make sure it happens again."
Unlike last year, the roads that make up the course are ready for another race; the set-up isn't as complicated and won't take as long.
But Councilman Cole said the group that organized last year's race was already selling tickets at this time; so the new group is behind schedule — Cole is estimating that Downforce Racing only has a couple weeks left put its affairs in order and begin selling tickets and sponsorships. ABC News Baltimore
04/23/12 Izod IndyCar Series CEO Randy Bernard told AutoWeek on Monday that he is "not concerned" about a management change at Downforce Racing, the group promoting the second Baltimore Grand Prix.
Downforce is a three-person entity that includes Indianapolis-based contractor Dale Dillon, who apparently wants to remove himself from the company. Dillon, who has helped with IndyCar street events in St. Petersburg, Fla., and Toronto, couldn't be reached for comment, but Bernard said that the event will go on without him, if necessary.
Baltimore-based businessmen Dan Reck and Felix Dawson are the other co-owners.
"Our deal is with Downforce, and I think they have told us that they would welcome Dale, but if Dale doesn't want to be part of it, that's fine as well," Bernard said.
"We're bringing a major event to that city and bringing a lot of revenue to that city. It will be a great event, showcasing IndyCar and Baltimore. It's our priority to help them make sure it happens again."
IndyCar officials were scheduled to meet again with Downforce on Monday. AutoWeek
04/17/12 The agreement with new managers for the Baltimore Grand Prix looked risky for city taxpayers when Mayor Stephanie Rawlings-Blake's administration signed it in February. With little visible progress since then on putting this year's race together, and with signs of dissent among the new race promoters, it now looks much worse. It's time for city officials to give up on the notion of holding another IndyCar race in Baltimore this year.
Ticket sales for the 2011 Grand Prix began the previous December. Tickets are not yet on sale for the 2012 race, and no marketing for it has taken place. The lack of a title sponsor was a sign of the troubles that the 2011 race would eventually face — its organizers racked up millions in unpaid debts to the city, state and vendors, few of which are likely to be repaid. The 2012 race organizers, despite the popularity of last year's event with drivers and fans alike, have yet to line up a title sponsor either. In its get-tough act with the new race promoters after last year's debacle, the city insisted on a series of deadlines and benchmarks, but they have not been met.
And now comes word that Dale Dillon, the head of the group that was supposed to make the 2012 version not only well run but also financially solvent, may be on his way out. When the city signed its deal with the new promoters, Downforce Racing, Mr. Dillon's involvement was cited as a key reason we should have confidence that last year's troubles were behind us. He came with the strong recommendation of IndyCar officials, and his last-minute involvement in the 2011 race was seen as crucial to that event happening at all. But he is now evidently at odds with his two partners — neither of whom has experience in putting on car races — and appears to have been effectively out of the picture for some weeks now. This may be as good an indication as any that the 2012 race isn't going to work out.
In a sense, it's tempting to give Downforce Racing more time to get its act together. IndyCar officials still seem bullish about Baltimore as a race venue; the race circuit's top executives came to Baltimore this week, and they have suggested they may step in to help put on this year's event. Moreover, the city is not going to incur any significant new costs until the immediate lead up to the race, which is scheduled for Labor Day weekend. Most of the expense for the Grand Prix was incurred before last year's event, when the city spent millions to prepare the streets around the Inner Harbor. If the Grand Prix doesn't become an annual fixture, that investment (and the city's expenses for police, fire protection and other services during the 2011 race) will be a total loss.
But the terms of Baltimore's contract with Downforce Racing make the city more dependent than before on the success of the race. Baltimore's agreement with the last group of promoters provided it with a flat fee for hosting the event, plus reimbursement for the city's costs. This time, the flat fee is gone. Instead, the city gets to collect a $3 fee on every ticket sold. If attendance this year were to match attendance last year, that would amount to less than half what it actually cost the city to put on the inaugural race. The worst-case scenario for the city is for this group to hold the event but for it to be a flop. The longer Downforce Racing goes without selling tickets or marketing the race, the more likely that becomes.
The Baltimore Grand Prix was an exciting idea. More than 100,000 people attended last year's races, which took place over three days, and many reported coming away with positive feelings about the city. That was worth something, but not enough to justify taking what looks like an increasingly risky bet on the prospect that Downforce Racing, even with IndyCar's help, can pull together an event that succeeds financially.
Given Baltimore's up-front investment in the Grand Prix last year, it was reasonable for the Rawlings-Blake administration to see whether a new management group could salvage the event. Now it looks like we have our answer. It may be worth discussing the possibility of a race in 2013, but with Labor Day just 41/2 months away, it's time to cut our losses and give up on this year. Baltimore Sun
04/05/12 We are downgrading this rumor from 'fact' to 'strong' as it appears the Dillon group, which has already missed some key deliverables, has not even signed the contract yet. The Baltimore race can still be in jeopardy.
From the Baltimore Sun, who received this email by mistake:
From: Hahn, Cynthia [mailto:chahn@oag.state.md.us]
Sent: Tuesday, April 03, 2012 7:01 PM
To: Hardesty, Jan; Scharper, Julie
Cc: Frenz, Michael J.
Subject: RE: Agreement with Downforce Racing
HI, Jan,
Downforce Racing has never returned a fully executed counterpart of the contract to MSA, unless Mike has received it over the last 48 hours. Last I heard, Mike had advised Reck that we needed a properly executed counterpart, and Reck said he would provide it. That was last week, before I left on vacation. I have received nothing since.
MSA's receipt of the signed copy is critical for a few reasons. First and most obviously, until we receive their signed counterpart, there is not contract. That leads to the second part that is relevant for PIA disclosure purposes: If there is no final contract, there is nothing to produce. Draft and partially executed versions of contracts are exempt from disclosure. Mike's signed copy is not subject to disclosure, until DFR signs off on the agreement–and signs off properly in a manner that is legally binding.
Bottom line: MSA has nothing to disclose to the Sun yet. Because this could present some PR problems for DFR, I will contact their attorney. You should refrain from discussing this with the Sun until Reck has a chance to get Mike his properly signed counterpart.
If Mike has it, then MSA's counterparty signed by Mike can be released. I do have the pdf of it that Pam sent over to me. However, the original of the pdf is likely retained by Mike and Pam.
I will copy you, Mike and Pam on my communication to Reck's attorney. At this point, I would give the Sun no information until we find out if Reck has the necessary signatures.
Thanks,
Cynthia
While it may not be time to panic about the status of this year's race just yet, it's not an encouraging sign for the Labor Day Weekend event that issues have affected the event's organization — by two different organizing groups — in its first two years.
02/13/12 This rumor is upgraded to 'fact' today. The Baltimore Grand Prix will be returning with a new organizer in 2012, IndyCar CEO Randy Bernard said Monday at IndyCar's "State of the Sport" address.
Bernard said the event, which will be called "Streets of Baltimore," will run Sept. 2 in Baltimore. The Baltimore Grand Prix will be the televised on NBC Sports Network.
"I think it's very important we bring this back up," Bernard said. "There is a new promoter in Baltimore and they are very excited to work with Izod IndyCar and make this a success."
City officials are expected to announce the new organizer. So far, all indications point to Dale Dillon, owner of an Indianapolis construction company.
02/01/12 The race to bring the Grand Prix back to Baltimore could be entering its final laps.
IndyCar officials said they would like to have a new race organizer in place by mid-February. That means the city would have choose a new organizer "within the next few weeks" in order to bring back the race, said Baltimore City Councilman William H. Cole IV.
Cole, who lobbied hard to bring the Grand Prix to town last year, has been in talks with IndyCar officials since the city canceled its contract with Baltimore Racing Development on Dec. 30. He said that if the city waits much longer to choose a new organizer, it will reach a "point of no return."
Cole said the Labor Day weekend race could still go on, but not without significantly harming sales of sponsorships and tickets. Further delays also would make it more difficult to negotiate new contracts and vendors. If that happens, the city could be scrambling again this time next year, looking for a new organizer or scuttling the race altogether.
"You probably still need at least a good four months of ticket sales, if not more, to be successful," Cole said. "The actual putting on the race part is actually the less complicated part of the whole thing."
Mayor Stephanie Rawlings-Blake has been mum about which new group it might consider for a 2012 race. Attempts to reach the mayor's office and her spokesman weren't successful.
The groups vying for the city's new contract include one led by Dale Dillon, the owner of an Indianapolis construction company. Dillon has helped produce races in St. Petersburg, Fla., and Toronto. He also came in during the final weeks of the Baltimore Grand Prix to help organize the race. He is backed by Felix Dawson and Dan Reck of Wilkes Lane Capital. Dawson is expected to manage and fund the race.
Dillon already has IndyCar's support. The racing organization is the sanctioning body for American open-wheeled auto racing.
Sarah Davis, IndyCar's senior director of business affairs for IndyCar, said the company is interested in having Dillon take over the race.
"We find a lot of value in promoters who have experience running IndyCar events, and Dale has that experience," Davis said.
IndyCar CEO Randy Bernard will give a "State of the Sport" address in Indianapolis on Feb. 13. He is expected to discuss the future of the Baltimore Grand Prix at that time.
Both Cole and Davis said having a group in place would help land a title sponsor. One of the main criticisms of Baltimore Racing Development was that it did not land the elusive $1 million title sponsorship last year. Doing so might have made the race profitable.
"If you go back and look at the event last year, they certainly landed enough sponsorships," Cole said. "It would be helpful if they had a title."
The Grand Prix is already behind in terms of finding a title sponsor, said William Chipps, senior editor at IEG IEG Latest from The Business Journals AARP sponsors NASCAR's Jeff Gordon to fuel interest in anti-hunger campaign Few prospective buyers show interest in Big Island property American Brand Stand Follow this company , a Chicago sponsorship consulting company. Businesses usually set their marketing budgets in the fourth quarter of the previous year. Looking for a sponsorship after Jan. 1 is not impossible, Chipps said, but it is more difficult.
Companies want that full six-to-nine months to get the most bang for their sponsorship buck, said John Matthews, president of Eident Sports Marketing in Providence, R.I. Businesses like promoting the sponsored event throughout the year, which is why deals usually don't come together at the last minute, Matthews said.
"It doesn't mean you couldn't find one," Matthews said. "You just don't see those seven-figure deals come together with two to three months to spare."
IndyCar might be willing to help Baltimore land a title sponsor if Dillon were involved, Davis said.
"I certainly think given the market and given the success of the event, it is something we will be looking to send our partners to, to take a look at," Davis said.
Putting a new organizer in place soon would also help in negotiating new contracts with vendors. Baltimore Racing had hundreds on contracts with vendors for the race last year, all of which will have to be renegotiated. Many of the vendors from last year's race have not been paid by Baltimore Racing and would want to see the money up front, if they came back at all.
Tim Conder, owner of Conder Inc. in Baltimore, was contracted with Baltimore Racing to build the race wall for last year's Grand Prix. Conder said he would like the right of first refusal when the new group chooses a vendor to build next year's race wall because he has not been paid in-full for last year's work.
"Unless the city is going to pick up the tab" on BRD's debts, Conder said he would want a multi-year deal with the new organizers. Otherwise, he wouldn't want to come back at all.
Janet Groncki, president of Sunrise Safety Services in Glen Burnie, has even stricter terms. Sunrise Services filed a lawsuit in January claiming BRD owed Sunrise $220,000 for setting up the barriers and performing roadwork for last year's race.
Groncki said Sunrise would not even think about signing on with the new organizers unless Sunrise was paid for last year. She would also want a substantial down payment for 2012. Baltimore Business Journal
Mayor Stephanie Rawlings-Blake has backed down from her hard-nosed stance that the race would be cancelled if all bills were not paid
12/08/11 IndyCar racing officials and Baltimore's mayor said Thursday they are still committed to holding another Grand Prix, even though the company that runs the event is millions of dollars past due on its bills and is weighing a takeover proposal from a local financier.
Terry Angstadt, president of IndyCar's commercial division, expressed confidence in the management team that has proposed buying a controlling stake in Baltimore Racing Development Inc., the event organizer. But he added that he's not endorsing any particular bidder.
He said his organization remains supportive of the event, even amid revelations that Baltimore Racing Development faces more than $12 million in debts and has less than $100,000 cash on hand.
Likewise, Baltimore Mayor Stephanie Rawlings-Blake said the race provided many benefits, including an estimated $47 million economic impact for the city and surrounding counties. She said the race can be successful under leadership with better business acumen.
"They need a new management team," the mayor said.
Internal company documents show that $5 million of Baltimore Racing Development's debt, including $3.1 million owed to vendors, is past due.
An investment firm headed by former Goldman Sachs and Constellation Energy executive Felix J. Dawson is proposing to assume leadership of Baltimore Racing Development, and Angstadt said IndyCar would be "happy" to transfer licensing rights for the event to a new firm. IndyCar currently charges Baltimore Racing Development $2.2 million to license the race annually, according to company documents.
If the deal is approved, Dawson would become Baltimore Racing Development's new chief financial officer. His investment firm, Wilkes Lane Capital, would inject up to $3.3 million in Baltimore Racing Development, and would eventually own 58 percent of the company's shares.
Neither Dawson nor Baltimore Racing Development officials returned calls seeking comment.
Dillon Racing, headed by construction executive Dale Dillon, who has been involved with races in Toronto and St. Petersburg, Fla., would be in charge of race operations, promotion and logistics, according to the proposed deal.
"We absolutely want the event to go forward," said Angstadt, who plans to leave the IndyCar organization by the end of the year. Angstadt said that Dawson has a reputation for being "very competent" and that racing officials "clearly have a high confidence level in" Dillon, an experienced race organizer.
Rawlings-Blake and City Councilman William H. Cole IV, key backers of the Grand Prix, said they want to see race organizers right their ship and stage another event in Baltimore next year. They said they had not been briefed on Dawson's proposal, but were hopeful that additional investment could save the race. Baltimore Sun
Whereas cities pay F1 promoters around $10 million per year to get a race in their city, in Baltimore they have to pay the City. That model won't work so Mayor Stephanie Rawlings-Blake can kiss her IndyCar race goodbye
12/08/11 The beleaguered organizers of the Baltimore Grand Prix are facing more than $12 million in debt and have less than $100,000 in cash on hand, according to internal documents obtained by The Baltimore Sun.
More than $5 million of the debt — including taxes owed to Baltimore and payments to vendors — is past due, the documents show.
The full extent of the company's dire financial status is laid bare in confidential documents in which former Goldman Sachs and Constellation Energy executive Felix J. Dawson proposes assuming leadership of Baltimore Racing Development Inc., the company that ran the Grand Prix. His firm had reviewed the racing company's books, according to the proposal.
Dawson's investment firm, Wilkes Lane Capital, would give Baltimore Racing Development $3.3 million and control 58 percent of the company under his proposal.
"I'm afraid it's the only option," said investor Sean Conley of Martha's Vineyard, who has sued the race company over an unpaid debt. "Felix Dawson was generous. It was so mismanaged they'll be lucky to have him."
The documents were provided to The Baltimore Sun by a source familiar with the negotiations, and details were confirmed by an investor briefed on their contents. The documents show the company's total debt is more than three times higher than amounts that had been gleaned from court records and other claims.
Baltimore Racing Development officials declined to comment for this article; Dawson could not be reached.
Ryan O'Doherty, the spokesman for Baltimore Mayor Stephanie Rawlings-Blake, said the group has until the end of the month to turn over an audit of its books to the city. If the company does not pay its taxes to the city by Dec. 31, Rawlings-Blake has threatened to sever the company's five-year contract.
"They need to pay the taxpayers back," O'Doherty said.
The Baltimore Grand Prix, which featured IndyCar drivers racing on streets around the Inner Harbor, drew 160,000 spectators downtown on Labor Day weekend, generated national television coverage and thrilled racing fans who embraced the event. Rawlings-Blake and other city officials initially hailed it as a success, but revelations about the racing company's troubling finances have caused the mayor to chastise its officials and call for its restructuring.
Maryland Comptroller Peter Franchot has placed a lien against company officials, including the personal belongings of former Chief Executive Officer Jay Davidson and his wife, Elizabeth, over $570,000 in unpaid taxes.
"He was CEO when these activities were taking place," Joseph Shapiro, a spokesman for Franchot, said of Davidson. "We're collecting monies that are rightfully owed the city and state."
Dawson's proposal says his team spent 10 days assessing the racing company's finances and found the Grand Prix to be "fiscally insolvent."
According to the documents, Baltimore Racing Development owes $3.1 million to vendors, $2.5 million to the Maryland Stadium Authority, $1.9 million to Baltimore and $1.7 million in contractual payments to different firms. The race's assets are valued at $600,000, which includes concrete barriers and hundreds of tires needed for race day.
"Restructuring now is better than later," Dawson's proposal states. "BRD's ability to restructure and continue operating is deteriorating with time."
According to Dawson's analysis, Baltimore Racing Development brought in about $8 million from the race — from ticket sales, food and hospitality sales and advertising and sponsorships. Dawson believes the amount of sponsorships can be increased, according to the proposal.
In several years leading up to the event, the company spent $18 million on expenses directly related to running the inaugural race, the proposal says. Among those were $380,000 in advertising, $350,000 in salaries and $280,000 in security expenses in the past year. Baltimore Sun
Mayor: Idea that Grand Prix needed more from city is 'nonsense'
With the company that put on Baltimore's inaugural Grand Prix struggling to pay its debts, a disagreement is revving up over whether the city did enough to ensure the race's financial viability.
Jay Davidson, an investor in the race's operator, Baltimore Racing Development, suggested in an op-ed article in The Baltimore Sun that the city should have offered more subsidies to race promoters for the Labor Day weekend event. The company "faced financial obstacles from the start" that promoters of similar events in other cities don't confront, he said.
Mayor Stephanie Rawlings-Blake on Monday dismissed as "nonsense" the idea that the city should have done more to support the Grand Prix. He knows better," Rawlings-Blake said of Davidson. "If I could have subsidized anything, it would be his business acumen."
The Baltimore Grand Prix attracted about 160,000 spectators to watch cars roaring through streets around the Inner Harbor but left a trail of public and private debt, including about $1.5 million owed to the city in taxes and service fees. Critics have said Baltimore Racing Development was disorganized and lacked clear leadership — a point that Davidson addresses, saying in retrospect that the organizational structure "wasn't efficient."
Davidson contends that the city — which has threatened to break its five-year contract with Baltimore Racing Development, or BRD, if the debts are not paid by Dec. 31 — compounded the promoter's financial problems.
"Instead of being offered a subsidy, BRD was charged millions of dollars in fees and rent," he wrote in The Sun. "When these costs are added to another $2 million in sanction fees, as well as the significant expenditures necessary to erect 4.2 miles of concrete barriers, purchase an equivalent amount of safety fence and construct 30,000 grandstand seats, etc., the burden of debt for the inaugural event became overwhelming."
In an interview, Davidson said he was "disappointed that the mayor would choose to attack me personally."
Rawlings-Blake insisted the city did its part to support the event. The city invested nearly $7 million in roadwork and other construction for the race, and spent more than $750,000 on police, firefighters and other labor costs.
The mayor said she planned to wait until the year-end deadline set by her administration before taking any legal action against Baltimore Racing Development.
Along with the sum owed to the city, Baltimore Racing Development owes $470,000 to the company's escrow account to cover an amount drawn from the account by the Maryland Stadium Authority to cover a payment on a $2 million loan.
The promoters also face a number of debts claimed by private parties. Among them are a $350,000 bill from the company that put up the grandstands, $200,000 owed to the company that provided concrete barriers and signs, and a $50,000 loan from Davidson's father-in-law.
A study commissioned by the city found that the Grand Prix generated about $47 million in economic impact, which fell short of promoters' original forecasts. Race organizers first claimed the event would generate $70 million in spending for a total economic impact of $120 million.
Davidson stepped down as CEO after the race but remains a Baltimore Racing Development employee.
Davidson and Chief Operating Officer Peter Collier said Monday that the company continues to be in discussions with financier Felix J. Dawson, whom they hope to hire as chief executive officer. Dawson, a former Constellation Energy Group executive, is an investor in Baltimore Racing Development.
Liabilities
Claims against Baltimore Racing Development, according to what's been made public in filings by city and state officials and vendors:
•$1.6 million by plaintiffs who have filed lawsuits alleging unpaid bills
•$1.5 million by the city for taxes and service fees
•$470,000 for the company's escrow account to cover an amount drawn by the Maryland Stadium Authority to cover a payment
•$200,000 by the company that provided concrete barriers and signs
•$20,000 by a company that performed an environmental impact study Baltimore Sun