Chaz Mostert, James Moffat win Saturday race at Surfers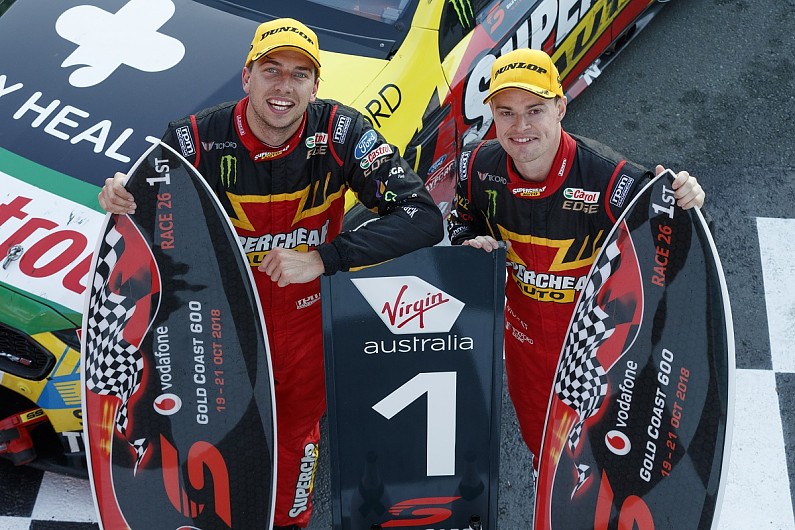 Winners Chaz Mostert and James Moffat
Chaz Mostert and James Moffat claimed Tickford Racing's first Supercars win in 12 months in the Vodafone Gold Coast 600 opener, as Scott McLaughlin took the points lead.
The Supercheap Auto Falcon won the 102-lap race by 9.5 seconds, having gained the lead through Moffat on lap 36, while McLaughlin and Alex Premat finished fifth.
That was enough for McLaughlin to displace Shane van Gisbergen at the top of the championship, on a turbulent day for the Red Bull Holden Racing Team.
A pitlane stall for Paul Dumbrell triggered a chain of events that left van Gisbergen and Earl Bamber 10th and Jamie Whincup and Dumbrell 14th.
Both entries served drive-through penalties for unsafe pitlane releases, with van Gisbergen going from 19 points ahead of McLaughlin to 14 behind with five races remaining.
The last wins for both Mostert and Tickford came in the corresponding race at the Gold Coast last October, while Moffat's only other Supercars victory came with Nissan at Winton in 2013.
"James drove the wheels off it and gave it back in a good position. I just tried to manage the gap and look after the car," Mostert said.
"It's been a tough year, it really has, and this guy is unbelievable. We're lucky to have him."
Holden pairings Craig Lowndes/Steven Richards, from 21st on the grid, and James Courtney/Jack Perkins rounded out the podium, just ahead of David Reynolds/Luke Youlden.
Lowndes was the only full-time driver to start, after picking up a penalty for impeding rookie Richie Stanaway in qualifying.
While he sought to make progress, Premat led the first lap and until Turn 12 on the second, when Dumbrell moved up the inside.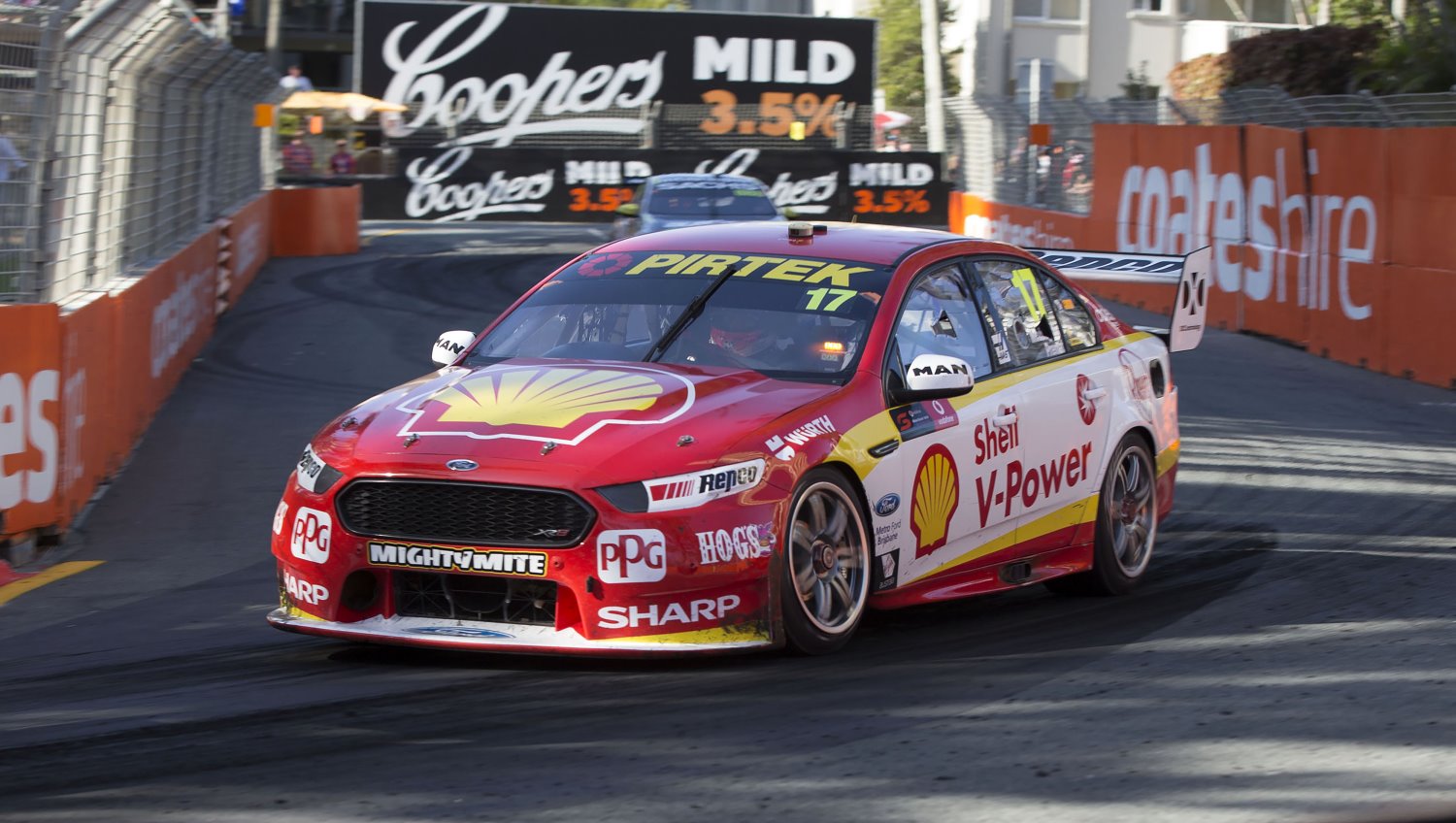 McLaughlin now holds slim points lead
The Shell V-Power Racing Ford slid wide due to the ensuing contact, tagging the tire barrier with the right-rear corner and dropping to fifth.
Stewards opted against taking any further action on the incident, Premat reporting the car did not feel damaged.
That left Dumbrell leading Tony D'Alberto in the #12 Shell Ford by roughly a second, with a much bigger gap back to Moffat in third.
The lead margin was nearly two seconds by the time the Safety Car was called on lap 23, after the Erebus Commodore of Will Brown crashed between the first chicane and hairpin.
Subsequent pitstops by the bulk of the field were chaotic, and costly for Red Bull HRT.
Dumbrell stalled, further delaying the #97 Commodore of Bamber that was already double-stacked, the pair falling from first and seventh to third and 11th.
They were both also under investigation for unsafe releases, Dumbrell having made contact with Moffat and Bamber impeding Garry Jacobson's Nissan.
A short-fill for new leader D'Alberto had, meanwhile, helped avoid a double-stack for the DJR Team Penske Fords, with Premat staying fifth.
Lowndes had moved from 21st to 10th by lap 12th and then eighth before the pitstops, which became sixth for Richards.
Drive-through penalties for Dumbrell and Bamber followed the lap 30 restart, which left the pair 21st and 22nd, well behind the pack.
D'Alberto led until lap 36, when he let Moffat past down the front straight, while trying to save fuel.
Moffat pulled away to lead by nearly four seconds by lap 50, while Premat spent the stint behind Youlden in the third-placed, #9 Erebus Holden.
D'Alberto pitted on lap 56, with Premat moving into second – 8s behind Moffat – when Youlden locked the rear brakes into Turn 4 two laps later.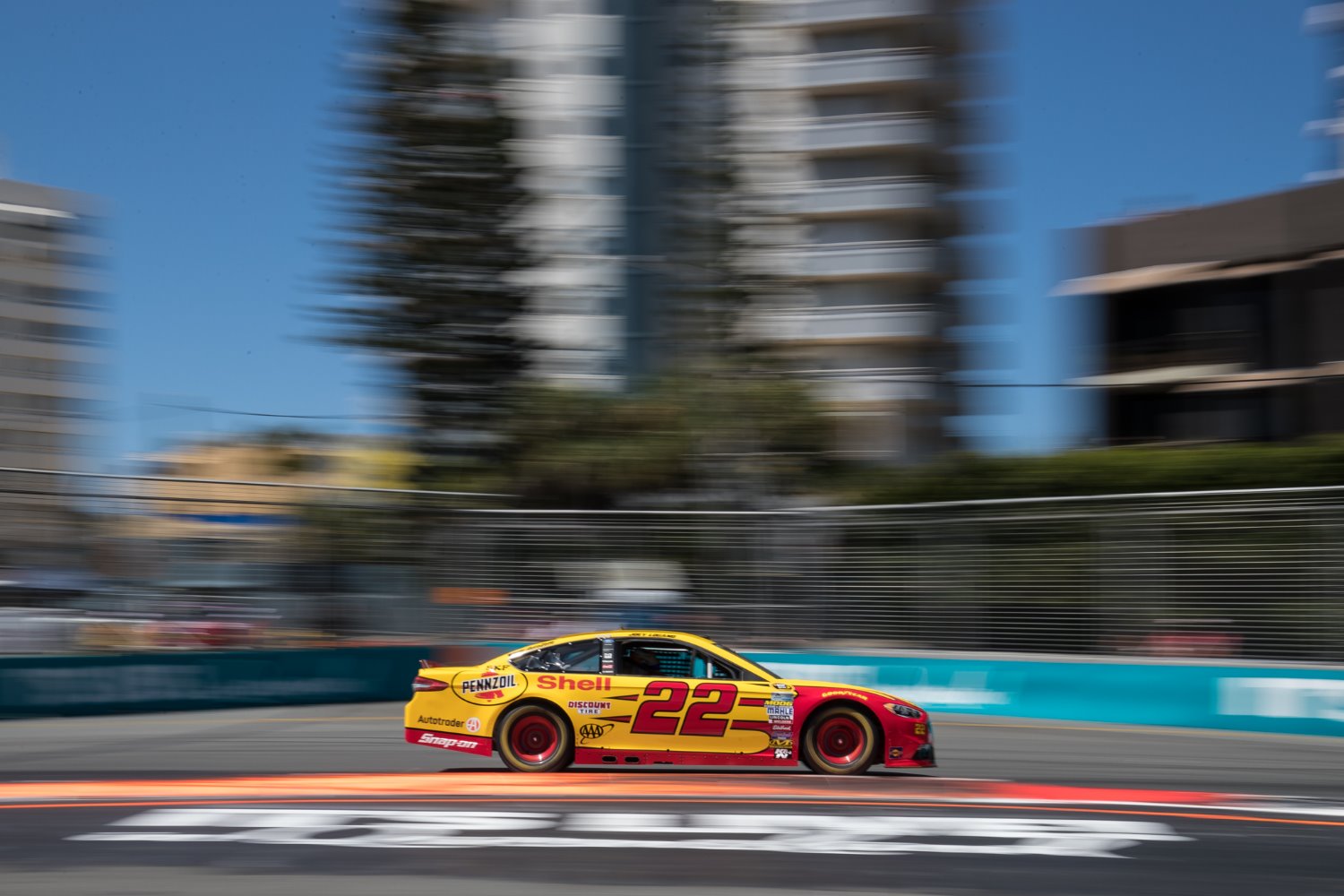 Penske's NASCAR Ford
When the strategies had shaken out with 40 laps to go, and full-timers finally in for the run home, Mostert maintained the lead.
The Tickford Falcon's new closest challenger was Courtney, whose Mobil 1 Boost Mobile Racing crew deployed an undercut at the end of Perkins' stints.
The gap at the top was 2.5s, while the Autobarn Commodore went from fifth to third by also pushing the limits on fuel, Lowndes by now ahead of Reynolds, McLaughlin and Nick Percat.
His final victory margin was 9.5 seconds, amid a tough season for Tickford in which Mostert started the day with just a single podium.
"I'm just luck to drive this car with Chaz, he's a massive talent, an absolute animal, so I think him for having me along for the ride," Moffat said.
"I've been trying so damn hard to get one of those surfboards and we got one."
Lowndes, implored over the radio to make a pass or back off to save fuel, routinely tried to get past Courtney at Turn 4 but could not make a move stick.
At the same time, Reynolds was closing in on the pair, with Lowndes finally getting past into the beach chicane with five laps remaining, going on to finish second.
"We changed our strategy because of where we were starting and the Safety Car came out perfectly when we needed it," Lowndes said.
While Lowndes skipped away ahead, Courtney then had to keep Reynolds at bay on the run home.
"The fuel alarm came on just as I went into the pitlane. Our thing is amazing on economy, the boys in the engine shop have done an amazing job," Courtney, making his 400th Supercars start, said.
"So we could pit a bit earlier, get track position and try and hang on. That thing of Lowndes had so much pace in the end and I just had no tires left."
McLaughlin crossed the line a relatively quiet fifth, 13s behind Moffat, but well clear of the lead Brad Jones Racing entry of Percat and Macauley Jones that took sixth.
"I think possibly something is bent after the hit with the wall, it's pretty hard on the right-rear there," McLaughlin said.
"It just didn't feel right, we'll have to look at it tonight and see what went on.
"We struggled to get the power down, traction-wise, and on the right-handers, there's not many of them, but it was really bad, turn-wise.
"It's a good result, we're solid, but we have to look at it and see if it's bent."
Tickford pair Mark Winterbottom and Cameron Waters took seventh and eighth, from Garth Tander and Chris Pither, who started 19th.
Whincup and van Gisbergen were 16th and 19th by the time they finally got into their Commodores for the final stint.
A case of damage limitation for van Gisbergen included the pair trading 14th place with 17 laps remaining.
Van Gisbergen's progress from there included benefiting from Rick Kelly's steering failure while running 11th, then passing Coulthard to take 10th, with Whincup 14th.
Brown was running just outside the top 10 when he crashed, the stricken Penrite Holden also tagged by Steve Owen in Tickford's RABBLE.club Falcon, which too sustained race-ending damage.
"I don't know what happened," Brown said. "I thought the approach was pretty good, I just tagged the wall on the left and it spat me into the right.
"The scariest part was facing the cars, they were all facing me and couldn't really see me, so it was pretty frightening."
During the flurry of pitstops that followed, the #14 Freightliner Commodore of Ash Walsh shed its right-rear wheel.
Impact with the ground ripped out the brake assembly, Walsh and Tim Slade losing two laps and eventually finishing 21st.
The Nissan of Michael Caruso and Dean Fiore suffered engine problems and were classified 23rd, just behind Kelly and Jacobson.
Race Results
| | | | | | |
| --- | --- | --- | --- | --- | --- |
| POS | DRIVER | TEAM | CAR | LAPS | GAP |
| 1 | C.Mostert, J.Moffat | Tickford | Ford | 102 | 0.000s |
| 2 | C.Lowndes, S.Richards | Triple Eight | Holden | 102 | 9.5025s |
| 3 | J.Courtney, J.Perkins | Walkinshaw Andretti | Holden | 102 | 10.9653s |
| 4 | D.Reynolds, L.Youlden | Erebus | Holden | 102 | 11.1868s |
| 5 | S.McLaughlin, A.Premat | DJR Penske | Ford | 102 | 13.6943s |
| 6 | N.Percat, M.Jones | Brad Jones | Holden | 102 | 30.8142s |
| 7 | M.Winterbottom, D.Canto | Tickford | Ford | 102 | 34.1506s |
| 8 | C.Waters, D.Russell | Tickford | Ford | 102 | 34.4672s |
| 9 | G.Tander, C.Pither | GRM | Holden | 102 | 35.4936s |
| 10 | S.Gisbergen, E.Bamber | Triple Eight | Holden | 102 | 36.4898s |
| 11 | F.Coulthard, T.D'Alberto | DJR Penske | Ford | 102 | 40.5827s |
| 12 | W.Davison, A.Davison | 23Red Racing | Ford | 102 | 42.2495s |
| 13 | S.Pye, W.Luff | Walkinshaw Andretti | Holden | 102 | 43.3311s |
| 14 | J.Whincup, P.Dumbrell | Triple Eight | Holden | 102 | 43.9867s |
| 15 | L.Holdsworth, J.Bright | Team 18 | Holden | 102 | 50.7852s |
| 16 | J.Le Brocq, J.Webb | Tekno | Holden | 102 | 53.1672s |
| 17 | T.Blanchard, D.Wood | Blanchard/BJR | Holden | 102 | 1m11.9251s |
| 18 | S.de Silvestro, A.Rullo | Nissan Motorsport | Nissan | 102 | 1m12.3543s |
| 19 | A.Heimgartner, A.Russell | Nissan Motorsport | Nissan | 101 | 1 Lap |
| 20 | T.Hazelwood, B.Fullwood | Matt Stone | Holden/Ford | 101 | 1 Lap |
| 21 | T.Slade, A.Walsh | Brad Jones | Holden | 99 | 3 Laps |
| 22 | R.Kelly, G.Jacobson | Nissan Motorsport | Nissan | 98 | 4 Laps |
| 23 | M.Caruso, D.Fiore | Nissan Motorsport | Nissan | 95 | 7 Laps |
| 24 | J.Golding, R.Muscat | GRM | Holden | 91 | 11 Laps |
| – | A.De Pasquale, W.Brown | Erebus | Holden | 22 | DNF |
| – | R.Stanaway, S.Owen | Tickford | Ford | 22 | DNF |
DRIVERS' CHAMPIONSHIP POINTS
1.
Scott McLaughlin
3368
-0
2.
Shane Van Gisbergen
3354
-14
3.
Jamie Whincup
2935
-433
4.
Craig Lowndes
2925
-443
5.
David Reynolds
2687
-681
6.
Chaz Mostert
2438
-930
7.
Fabian Coulthard
2354
-1014
8.
Rick Kelly
2281
-1087
9.
Scott Pye
2248
-1120
10.
Nick Percat
2053
-1315
TEAMS' CHAMPIONSHIP POINTS
1.
Triple Eight Race Engineering (Whincup/SVG)
6259
-0
2.
Shell V-Power Racing Team
5722
-537
3.
Tickford Racing (Mostert/Winterbottom)
4312
-1947
4.
Brad Jones Racing
4065
-2194
5.
Erebus Motorsport
4006
-2253
6.
Walkinshaw Andretti United
3973
-2286
7.
Nissan Motorsport (Kelly/Heimgartner)
3723
-2536
8.
Garry Rogers Motorsport
3152
-3107
9.
Triple Eight Race Engineering (Lowndes)
2925
-3334
10.
Nissan NISMO (Caruso/De Silvestro)
2669
-3590