Saturday Morning Update from IndyCar Grand Prix of Sonoma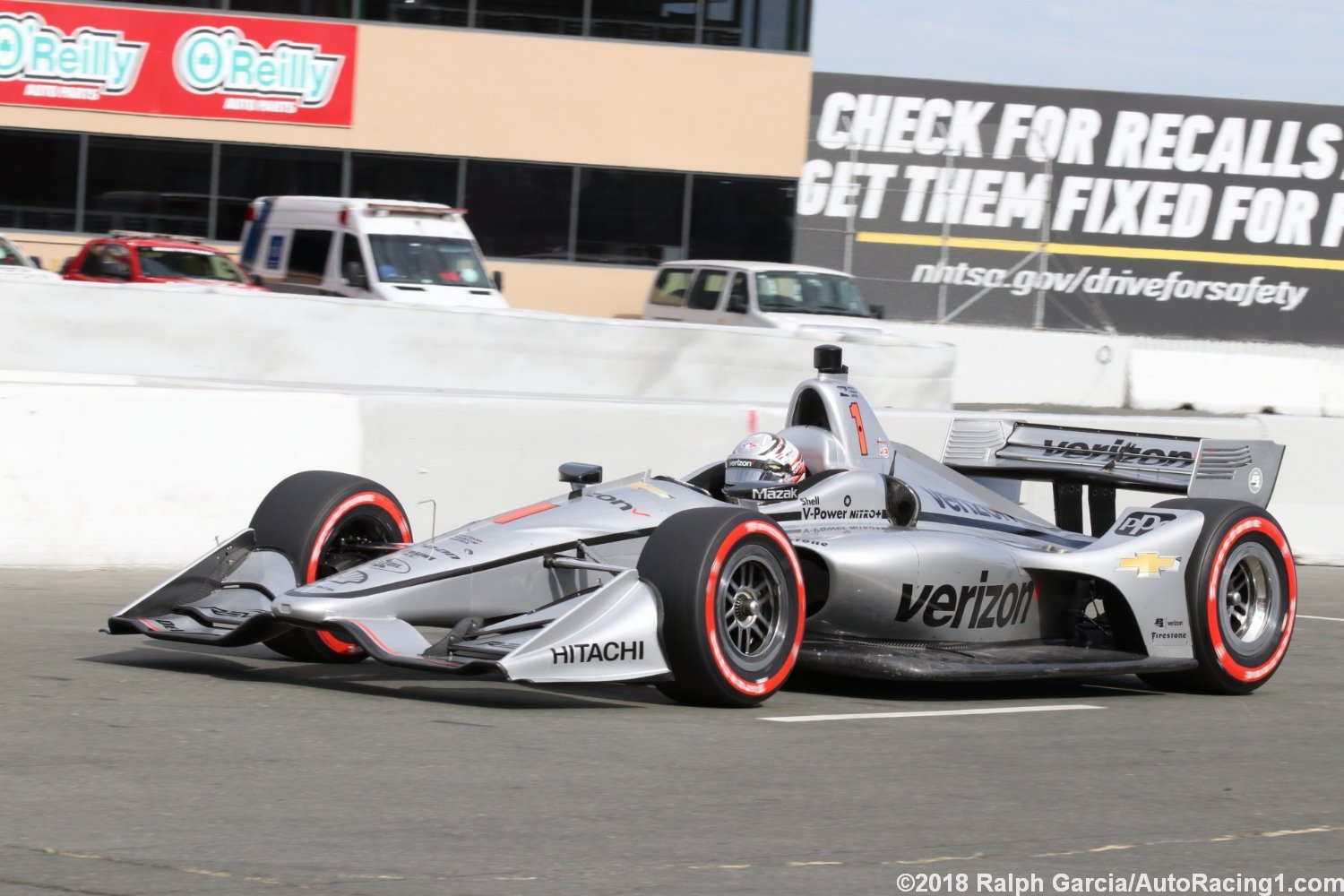 Can Newgarden win the pole today?
Hello from Sonoma, California. It is windy this morning and about 60 degrees. Fog can be seen in the distance on the hilltops. This will all burn off by 9 am and the temperatures should warm up to 73 degrees later this afternoon for qualifying.
Yesterday's story was Patricio O'Ward, the newly crowned Indy Lights presented by Cooper Tires champion making his Verizon IndyCar Series debut this weekend. The 19-year-old Mexican turned a best lap of 1:18.0073 (110.067 mph) in the No. 8 Harding Group Chevrolet and ended up a surprising third in the afternoon practice.
"It was a pretty good day and I'm very satisfied with how we ended. The first practice felt like a shot out of a cannon because there were so many (more) cars out there than what I was used to, and I didn't get any clean running.
"I'm happy I got some clean running in Practice 2. We were working hard on getting the car right for qualifying, so we were on the (Firestone alternate) red tires for most of practice. It feels really good, so now we're going to work on the (primary) black tires to get ready for the race setup. As of now, I'm very satisfied with today."
The story line with the top running drivers was the fact that this track has no grip, making setup of the cars difficult with the wind changes and wide temperature change.
Josef Newgarden, the 2017 IndyCar Champion, missed the first 45 practice session yesterday and ended up the fastest in the afternoon session. Newgarden commented on his setup. "It was difficult this afternoon, to be honest. When I first went out, I wasn't very happy the first run and then we made really good progress the second run. It's a big variable here with just the wind direction. It really changes the balance of the car here dramatically compared to other racetracks. You're always watching it. It normally flips on you halfway through the race, and then sometimes in qualifying it does that, too, so you need to pay attention because it can catch you out if you don't catch it when it does change,"
Will Power, Team Penske driver of the number 12 Verizon sponsored car, added his thoughts on the practice day. "Yeah, it's going to be very difficult. The track is very low grip. Obviously we have less downforce this year, and it's just so hard to put a mistake-free lap together. . So yeah, it'll be a very interesting qualifying session. As you can see it's very tight at the front, then the middle pack is very tight. It's just tight all the way through, and that's just IndyCar now."
Alexander Rossi, the Andretti Autosport driver of the number 27 NAPA Auto Parts sponsored car, added his thoughts. " The wind makes a big difference to the car balance. Obviously with there being dust on the edge of all the track surfaces, I mean, that contributes. The temperature obviously at every track we go to makes a difference. Yeah, testing at Sonoma is very important because you definitely cross things off your list. But in terms of your setup options, I think here it's a pretty wide range. But we have four cars to kind of learn off of and pick apart the good things, so that's a positive of being on a big team, and we'll get it done tonight and tomorrow."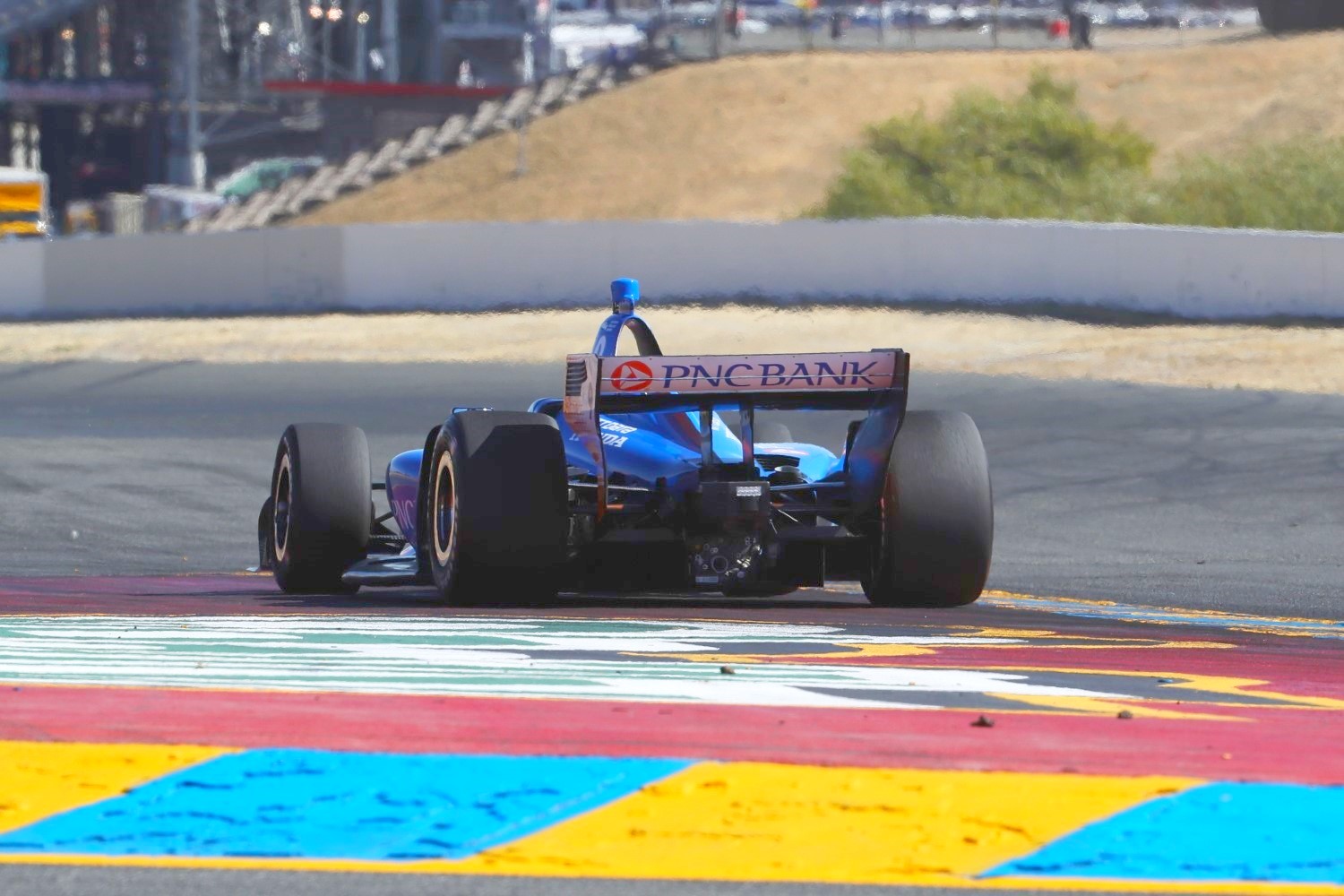 Will Dixon lead qualifying today?
Scott Dixon, the series points leader, had this to say. "It's definitely difficult. I think everybody has mentioned that the conditions are tough. I don't think the track has changed too much. It's weathered a little bit over the years. The surface I think is getting pretty slippery, but then to have maybe 30 percent less downforce here, it definitely exposes the car a lot. So mechanical situation is something that we really tried to focus on. And it is really hard to get braking correct, and even the difference from your first, second to third, fourth lap is pretty intense. Tomorrow could be different. It all depends, we'll see how the competition does."
Another practice session is scheduled for 11 am Pacific time today. The final qualifying session will happen at 3 pm.
Lucille Dust reporting live from Sonoma Raceway