Hamlin over 200 MPH in opening practice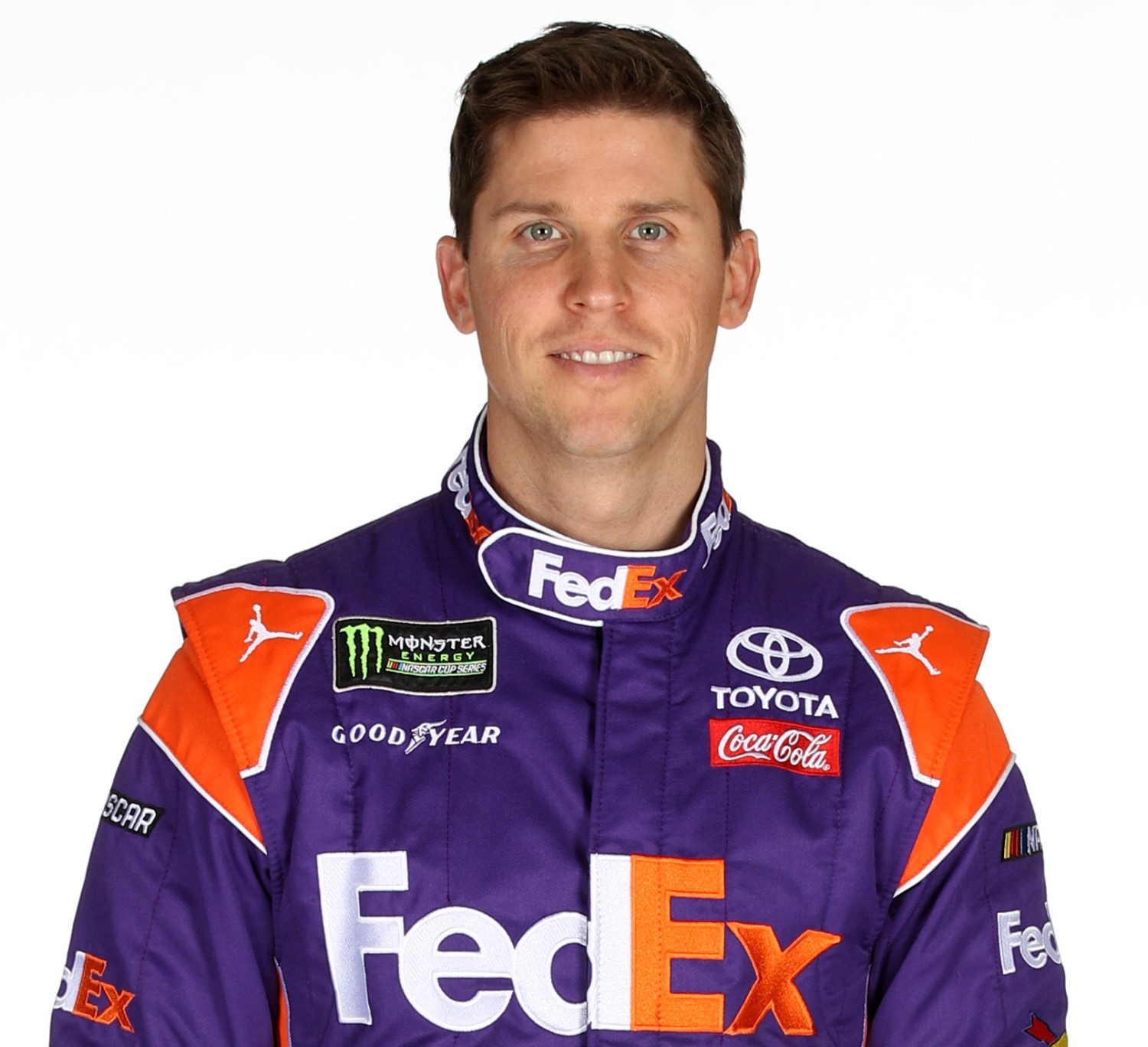 Denny Hamlin
Joe Gibbs Racing driver Toyota ace Denny Hamlin was fastest in the only Friday practice session at Michigan International Speedway with a lap of 202.230 mph.
Hamlin's Joe Gibbs Racing No. 11 Toyota registered a 202.230-mph lap around the 2-mile track. Of the 40 cars to post speeds in the 50-minute session, 15 cracked the 200-mph barrier.
Kurt Busch was second fastest at 201.901mph. Daniel Suarez was third fastest at 201.850mph with Ryan Blaney fourth fastest at 201.794mph, and Kyle Busch completed the top five at 201.782mph.
The rest of the top 10 were Joey Logano (201.596mph), Clint Bowyer (201.596mph), Kyle Larson (201.455mph), Alex Bowman (201.387mph) and Paul Menard (201.337mph).
The majority of the Chevy drivers were out to lunch due to the fact the Camaro body is a slug.
Results
| | | | | | | | |
| --- | --- | --- | --- | --- | --- | --- | --- |
| Pos | Car | Driver | Team | Time | Speed | -Behind | -Gap |
| 1 | 11 | Denny Hamlin | FedEx Office Toyota | 35.603 | 202.230 | —.— | —.— |
| 2 | 41 | Kurt Busch | Haas Automation Ford | 35.661 | 201.901 | -0.058 | -0.058 |
| 3 | 19 | Daniel Suarez | Stanley Toyota | 35.670 | 201.850 | -0.067 | -0.009 |
| 4 | 12 | Ryan Blaney | Menards/Knauf Insulation Ford | 35.680 | 201.794 | -0.077 | -0.010 |
| 5 | 18 | Kyle Busch | Interstate Batteries Toyota | 35.682 | 201.782 | -0.079 | -0.002 |
| 6 | 22 | Joey Logano | Shell Pennzoil Ford | 35.715 | 201.596 | -0.112 | -0.033 |
| 7 | 14 | Clint Bowyer | Haas 30 Years of the VF1 Ford | 35.715 | 201.596 | -0.112 | -0.000 |
| 8 | 42 | Kyle Larson | DC Solar Chevrolet | 35.740 | 201.455 | -0.137 | -0.025 |
| 9 | 88 | Alex Bowman | Axalta Chevrolet | 35.752 | 201.387 | -0.149 | -0.012 |
| 10 | 21 | Paul Menard | Earn While You Learn/NewFordTech. | 35.761 | 201.337 | -0.158 | -0.009 |
| 11 | 78 | Martin Truex Jr. | 5-hour ENERGY/Bass Pro Shops Toyota | 35.786 | 201.196 | -0.183 | -0.025 |
| 12 | 4 | Kevin Harvick | Busch Light/Mobil 1 Ford | 35.790 | 201.174 | -0.187 | -0.004 |
| 13 | 3 | Austin Dillon | Dow WE Are Innovators Chevrolet | 35.844 | 200.870 | -0.241 | -0.054 |
| 14 | 9 | Chase Elliott | NAPA Auto Parts Chevrolet | 35.892 | 200.602 | -0.289 | -0.048 |
| 15 | 2 | Brad Keselowski | Discount Tire Ford | 35.905 | 200.529 | -0.302 | -0.013 |
| 16 | 20 | Erik Jones | Doosan Toyota | 36.009 | 199.950 | -0.406 | -0.104 |
| 17 | 17 | Ricky Stenhouse Jr. | Fifth Third Bank Ford | 36.019 | 199.895 | -0.416 | -0.010 |
| 18 | 10 | Aric Almirola | Smithfield Ford | 36.028 | 199.845 | -0.425 | -0.009 |
| 19 | 37 | Chris Buescher | Slim Jim Chevrolet | 36.058 | 199.678 | -0.455 | -0.030 |
| 20 | 31 | Ryan Newman | Grainger Chevrolet | 36.130 | 199.280 | -0.527 | -0.072 |
| 21 | 1 | Jamie McMurray | McDonald's/Cessna Chevrolet | 36.164 | 199.093 | -0.561 | -0.034 |
| 22 | 24 | William Byron # | Liberty University Chevrolet | 36.170 | 199.060 | -0.567 | -0.006 |
| 23 | 47 | AJ Allmendinger | Kroger ClickList Chevrolet | 36.365 | 197.993 | -0.762 | -0.195 |
| 24 | 38 | David Ragan | Louis Kemp Crab Delights Ford | 36.542 | 197.034 | -0.939 | -0.177 |
| 25 | 34 | Michael McDowell | Dockside Logistics Ford | 36.587 | 196.791 | -0.984 | -0.045 |
| 26 | 95 | Kasey Kahne | WRL General Contractors Chevrolet | 36.741 | 195.966 | -1.138 | -0.154 |
| 27 | 48 | Jimmie Johnson | Lowe's for Pros Chevrolet | 36.814 | 195.578 | -1.211 | -0.073 |
| 28 | 13 | Ty Dillon | GEICO Chevrolet | 36.820 | 195.546 | -1.217 | -0.006 |
| 29 | 00 | Landon Cassill | Mane n Tail Chevrolet | 36.873 | 195.265 | -1.270 | -0.053 |
| 30 | 6 | Trevor Bayne | AdvoCare Rehydrate Ford | 36.908 | 195.080 | -1.305 | -0.035 |
| 31 | 32 | Matt DiBenedetto | Harvest Investments & Properties Ford | 36.990 | 194.647 | -1.387 | -0.082 |
| 32 | 43 | Bubba Wallace # | Medallion Bank/Petty's Garage Chevrolet | 37.034 | 194.416 | -1.431 | -0.044 |
| 33 | 72 | Corey LaJoie | Schluter Systems Chevrolet | 37.892 | 190.014 | -2.289 | -0.858 |
| 34 | 15 | Reed Sorenson | Solomon Plumbing Chevrolet | 38.092 | 189.016 | -2.489 | -0.200 |
| 35 | 51 | BJ McLeod(i) | Jacob Companies Chevrolet | 38.206 | 188.452 | -2.603 | -0.114 |
| 36 | *99 | Gray Gaulding | StarCom Fiber Chevrolet | 38.317 | 187.906 | -2.714 | -0.111 |
| 37 | *7 | Garrett Smithley(i) | Victory Lane Quick Oil Change Chevrolet | 38.370 | 187.647 | -2.767 | -0.053 |
| 38 | *96 | Jeffrey Earnhardt | Xtreme Concepts/Project K9 Hero Toyota | 38.507 | 186.979 | -2.904 | -0.137 |
| 39 | 23 | Blake Jones | Tennessee XXX Moonshine Toyota | 39.424 | 182.630 | -3.821 | -0.917 |
| 40 | *66 | Timmy Hill(i) | Rewards.com Chevrolet | 39.524 | 182.168 | -3.921 | -0.100 |