Sato tops IndyCar Toronto GP Practice 3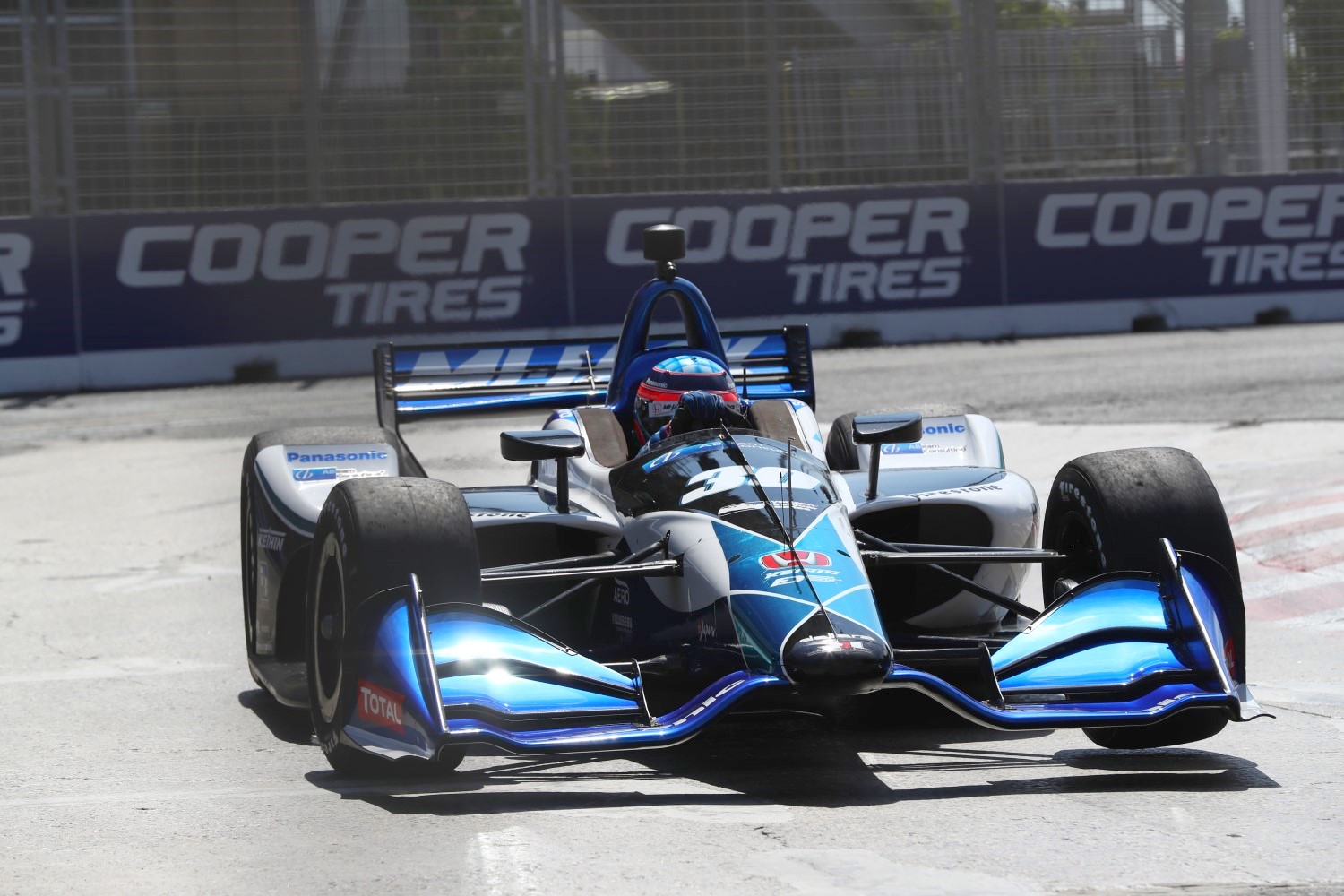 Takuma Sato
In an extremely tight practice session, Takuma Sato came out on top of the 3rd practice session for the IndyCars on the streets of Toronto Saturday morning. Sato's lap of 58.678s in his Rahal Honda was just 0.0973s faster than the Penske Chevy of Josef Newgarden who crashed in Turn 8 at the very end of the session trying to avoid Robert Wickens who stuffed his SPM Honda head-on into the tire barrier with 15s to go in the session.
Will Power was third quick in his Penske Chevy with Alexander Rossi and Spencer Pigot rounding out the top-5.
Sato said the primary black tires Firestone brought to Toronto are very grippy, so grippy in fact that no one bother to do any qualifying simulations on the softer red tire.
Practice 3 Results
| | | | | | | | | |
| --- | --- | --- | --- | --- | --- | --- | --- | --- |
| Pos | No | Name | Time | Diff | Gap | Laps | Engine | Team |
| 1 | 30 | Takuma Sato | 58.678 | 0.0000s | 0.0000s | 22 | Honda | Rahal Letterman Lanigan Racing |
| 2 | 1 | Josef Newgarden | 58.775 | 0.0973 | 0.0973 | 20 | Chevy | Team Penske |
| 3 | 12 | Will Power | 58.876 | 0.1981 | 0.1008 | 20 | Chevy | Team Penske |
| 4 | 27 | Alexander Rossi | 58.900 | 0.2220 | 0.0239 | 21 | Honda | Andretti Autosport |
| 5 | 21 | Spencer Pigot | 58.953 | 0.2752 | 0.0532 | 20 | Chevy | Ed Carpenter Racing |
| 6 | 9 | Scott Dixon | 58.957 | 0.2792 | 0.0040 | 22 | Honda | Chip Ganassi Racing Teams |
| 7 | 6 | Robert Wickens | 59.013 | 0.3351 | 0.0559 | 21 | Honda | Schmidt Peterson Motorsports |
| 8 | 15 | Graham Rahal | 59.016 | 0.3380 | 0.0029 | 20 | Honda | Rahal Letterman Lanigan Racing |
| 9 | 28 | Ryan Hunter-Reay | 59.037 | 0.3589 | 0.0209 | 21 | Honda | Andretti Autosport |
| 10 | 10 | Ed Jones | 59.120 | 0.4425 | 0.0836 | 24 | Honda | Chip Ganassi Racing Teams |
| 11 | 98 | Marco Andretti | 59.209 | 0.5310 | 0.0221 | 21 | Honda | Andretti Herta Autosport with CA |
| 12 | 18 | Sebastien Bourdais | 59.229 | 0.5515 | 0.0205 | 21 | Honda | Dale Coyne Racing with VS |
| 13 | 22 | Simon Pagenaud | 59.300 | 0.6227 | 0.0712 | 23 | Chevy | Team Penske |
| 14 | 5 | James Hinchcliffe | 59.357 | 0.6792 | 0.0565 | 22 | Honda | Schmidt Peterson Motorsports |
| 15 | 26 | Zach Veach | 59.525 | 0.8473 | 0.1681 | 22 | Honda | Andretti Autosport |
| 16 | 14 | Tony Kanaan | 59.539 | 0.8610 | 0.0137 | 22 | Chevy | AJ Foyt Enterprises |
| 17 | 59 | Max Chilton | 59.674 | 0.9966 | 0.1356 | 23 | Chevy | Carlin |
| 18 | 20 | Jordan King | 59.681 | 1.0028 | 0.0062 | 21 | Chevy | Ed Carpenter Racing |
| 19 | 4 | Matheus Leist | 59.740 | 1.0628 | 0.0600 | 24 | Chevy | AJ Foyt Enterprises |
| 20 | 88 | Conor Daly | 59.783 | 1.1058 | 0.0430 | 18 | Chevy | Harding Racing |
| 21 | 19 | Zachary Claman De Melo | 59.918 | 1.2404 | 0.1346 | 22 | Honda | Dale Coyne Racing |
| 22 | 32 | Rene Binder | 59.994 | 1.3161 | 0.0757 | 27 | Chevy | Juncos Racing |
| 23 | 23 | Charlie Kimball | 1:00.015 | 1.3371 | 0.0210 | 18 | Chevy | Carlin |