Latest F1 news in brief – Saturday
Ferrari started a new mirror concept that has the FIA concerned

FIA to discuss mirror safety with teams in Hungary

Whiting confirms three DRS zones for German GP
Renault F1 team plans new wings for German Grand Prix
Unveiling the new McLaren Garage
FIA to discuss mirror safety with teams in Hungary
The FIA will meet with F1 teams at the Hungaroring in two weeks to discuss recent rear view mirror designs and their impact on safety, with many drivers recently complaining of limited visibility.
The governing body has been attentive to teams' integration of the mirrors on the Halo cockpit safety device.
But in light of an incident that took place in qualifying at the recent Austrian Grand Prix between Carlos Sainz and Sebastian Vettel, the FIA's focus is now on visibility and the safety it entails.
According to Motorsport.com, the FIA wrote to the teams earlier this week informing everyone that new rules would be implemented from Singapore.
According to FIA delegate Nikolas Tombazis, F1's head of technical matters for single-seaters, this year's designs of sidepods and rear wings are, in some cases, obstructing drivers' vision at the rear, an encumbrance that also isn't helped by the high degree of rake of F1's 2018 cars.
Any new mandatory positioning of F1's mirrors would likely force the FIA to review how it considers mirror supports as structures bringing aerodynamic effects.
Earlier this season, at the Spanish Grand Prix, Ferrari was asked to modify its Halo mounted mirrors supports following the FIA's belief that the mirrors provided too much aerodynamic gain.
The Scuderia duly complied, changing its mirror structure for the following race in Monaco.
Whiting confirms three DRS zones for German GP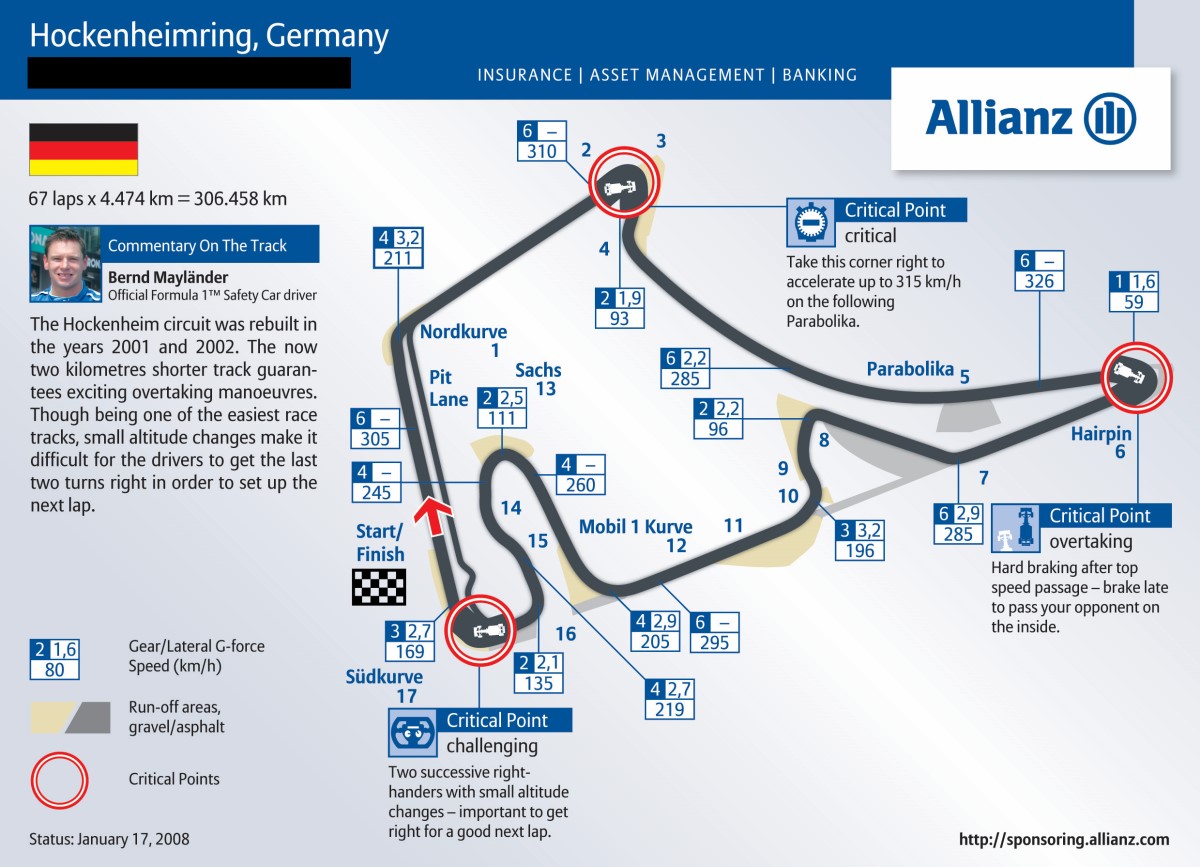 Hockenheim
Formula 1 race director Charlie Whiting has confirmed there will be three DRS zones for the German Grand Prix at Hockenheim next weekend, placing an additional zone on the main straight.
F1 returns to Hockenheim next Sunday after two years away, and will continue the trend seen at select races through 2018 by adding a third DRS zone to the circuit, up from two in 2016.
Whiting confirmed the change in his post-race debrief at Silverstone last Sunday, with the new zone coming on the main straight to accompany the previously-used zones between Turns 1 and 2, and Turns 5 and 6.
"There will be one extra on the pit straight, with one detection for the pit straight and the run from Turn 1 to Turn 2," Whiting said.
"Then the main one going down into Turn 6 will be a bit longer."
Three DRS zones have also been used for races in Australia, Canada, Austria and Great Britain in a bid to improve overtaking and allow for more on-track action.
Renault F1 team plans new wings for German Grand Prix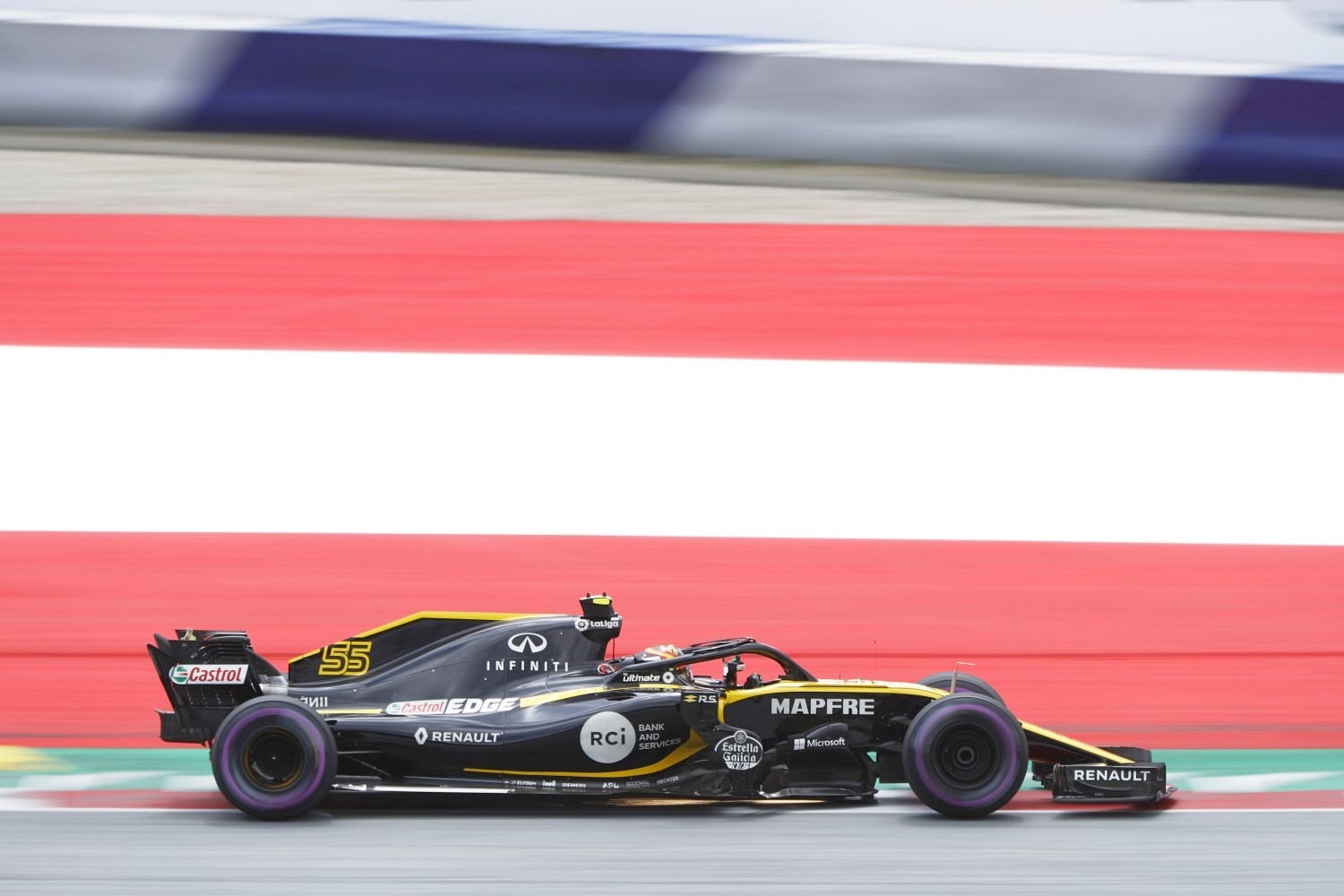 Carlos Sainz Jr.
Renault will introduce a new front wing to its Formula 1 car for the German Grand Prix.
Renault technical director Nick Chester says it is focused on medium and high-speed corners in particular.
"It will look a bit different in the cone area and flap area," Chester said.
"It's just got a slightly different characteristic, so it will change the bias a little bit between corner entry and in the medium-speed versus high-speed corners.
"It's an interesting test for us. Hopefully it will bring a bit of performance to the car, but often when you're changing front wing characteristics, you can't be exactly sure until you test it."
"Just because of the lead time," he added. "Say we wanted to do another front wing in the tunnel, by the time we've developed it and spent time designing it, building it, it would be very late in the year.
"There may be some more tweaks to it, but probably tweaks rather than another brand new front wing."
"We have a few things coming that should make us be closer to Haas, but ultimately to the top three which is still actually our target in a way," driver Carlos Sainz Jr. said.
"Haas has been a surprise, but the target of Renault is looking probably that tiny bit more ahead – to that Red Bull and Ferrari, to try and get closer to them."
Unveiling the new McLaren Garage
At the 2018 British Grand Prix, we unveiled our brand new pit garage, complete with 14 screens that bring our fans and partners even closer to the team.