Saturday Morning Update from the Dual in Detroit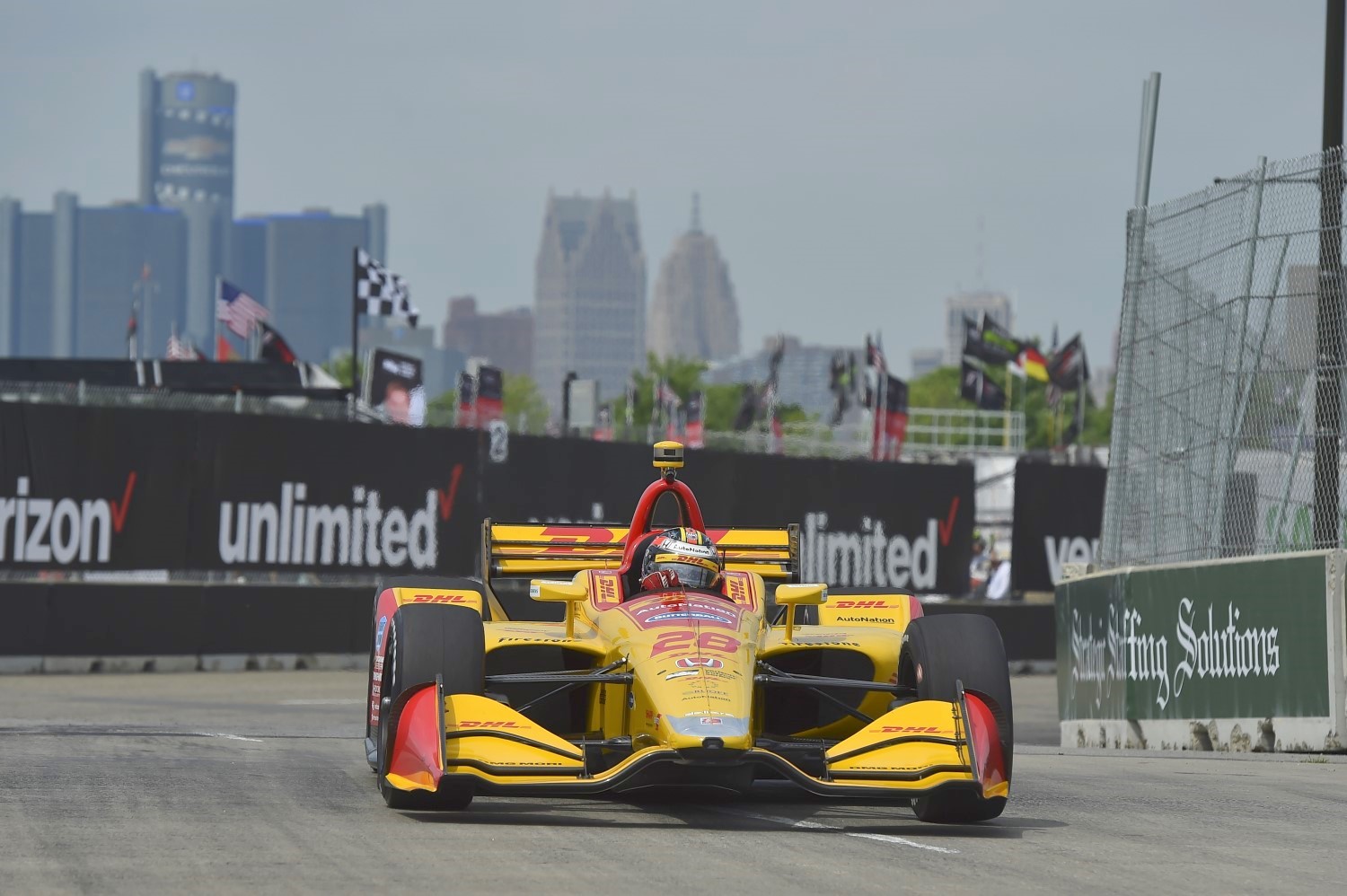 Who will win the pole today?
Today is going to be different weather from yesterday here in Detroit. There are dark clouds outside my window this morning. Although no rain is predicted for today, the temperatures will be cooler than yesterday's. The high temperature today should be 70 degrees. A welcome change from the brutal, hot temperatures we experienced at the Indy 500 this past Sunday.
Late in the afternoon yesterday, after the IndyCars completed their second practice
session, lightening was reported in the area. The pit stop practice that was scheduled
for 4 pm was eventually cancelled. The storm passed by without touching the Island. 

IndyCar has changed the qualifying procedure for this weekend's double races. The drivers will be split into two 
groups and each group will have 12 minutes to post their fastest time. AR1 has already posted the groups this 
morning. Today's qualifying is at 10:55 am. 

Interesting to note in practice yesterday, quite a few drivers brushed the concrete walls or tire barriers here.
Jordan King, driving the number 20 entry for Ed Carpenter Racing, had damage after hitting the walls on both 
sides of the track yesterday which prevented the street and road course driver from finishing the second 
practice session.

The IMSA WeatherTech Sports Car Series is also racing the circuit here on Belle Island. Helio Castroneves and 
Juan Pablo Montoya, driving the Acuras for Team Penske, were the fastest in the practice session but failed 
to put their cars on the pole. Pipo Derani, a 24 year old Brazilian driving the Tequila Patron ESM Nissan, took
the pole in his first time at this track. He enjoys racing against Castroneves, who was a driver he looked up
to when he was starting his racing career.

AR1 will keep you updated today with the action from Detroit.

Lucille Dust reporting live from Belle Isle