USAC Champion eyes Indy 500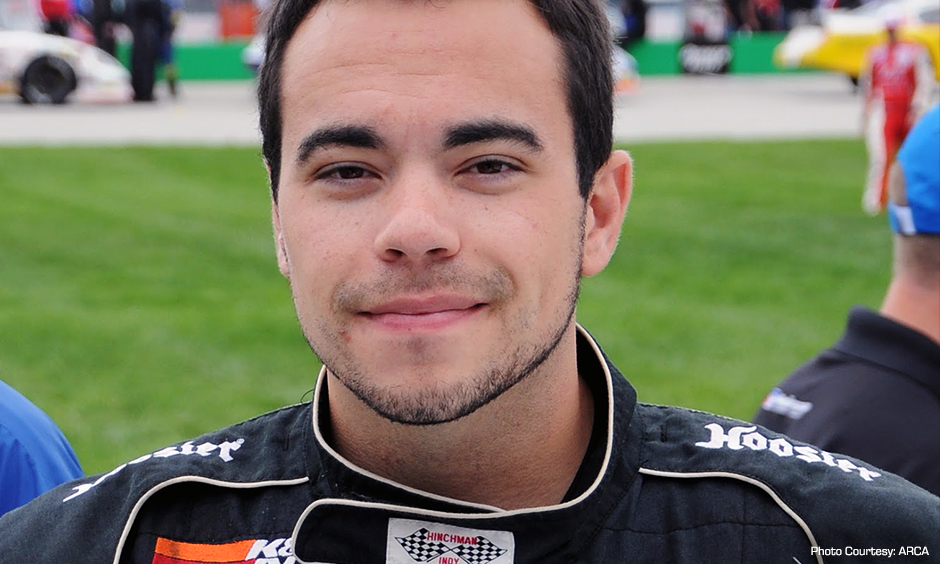 Two-time USAC champion Chris Windom will make his Indy Lights presented by Cooper Tires debut in May when he joins Belardi Auto Racing for the Freedom 100
Kristian Branch of Blue HQ media had the opportunity to sit down with 2017 USAC Sprint Car Champion & 2016 Silver Crown Champion Chris Windom to talk about his ride in the upcoming Freedom 100 Indy Lights race that's held at the Indianapolis Motor Speedway at Carb Day on the Friday before the 102nd Indianapolis 500.
The 27-year-old Windom, who is from Illinois but currently resides in St. Louis, wanted to be like his dad and race flat track motorcycles. That idea didn't go over very well with his parents so at seven Chris began racing go-karts. When he was 11 he moved up to 1600 micro sprints, and by the age of 14, he was running sprints cars. He finished second in his very first race. He was running a full-time Sprint Car season by the time he was 16. With no local tracks near him in Illinois, Chris and his family would pack up during the week to make the four-hour one-way trip to tracks all over Indiana, from Paragon to SR-24 Speedway, Anderson Speedway, and the Indianapolis Speedrome.
Like most of those in racing, Chris watched a lot of racing on television and idolizing Jeff Gordon and Tony Stewart. He even made the trip to the Indianapolis 500 when he was about eight or nine years old. He makes his career of being a race car driver, and this year will enter about 90 races. He will split his time running Sprints with Baldwin Racing, Silver Crowns with Nolan Racing, and wherever he can pick up a ride in the Midgets. He sprinkles in a few NASCAR truck races into the mix as well. Chris raced the Chili Bowl Midget races in January, raced sprints in Florida in February, and took off the month of March. Bad weather curtailed his plans of racing a lot in April, and by May it's back in full swing till November when he races out in California. Chris will make a two-week trip to New Zealand for some dirt track races in December before coming home, and back to the Chili Bowl in January of next year.
Since he was a kid Chris has always dreamed of racing in the Indianapolis 500. He is getting closer to realizing that dream. After winning the 2017 USAC Sprint Car Championship Chris received a direct message on his Twitter account from David Byrd asking him if he interested in working his way to the Speedway. David, who is part owner in the Jonathan Byrd Racing Team with his mother and brother, had been out of motorsports for quite some time before returning into the fold with dirt track legend, and three-time Indy 500 starter Bryan Clauson in 2015.
During this year's Chili Bowl week, a deal was made with Chris, David Byrd, and Belardi Racing for a ride in this year's Freedom 100 Indy Lights race. The race is held on Carb Day at the Indianapolis Motor Speedway the Friday before the Indianapolis 500. This is the Indy Lights pinnacle event with the crowd swelling to well over 100,000 people, and this racing series doesn't disappoint.
The Indy Lights is part of the Mazda Road to Indy and is the last step for many drivers before getting a shot in the Verizon Indycar Series. Former graduates currently running in this year's Indianapolis 500 includes Marco Andretti, James Hinchcliffe, JR Hildebrand, Charlie Kimball, Ed Jones, Carlos Munoz, Sage Karem, Zach Veach, Jack Harvey, Kyle Kaiser, Spencer Pigot, Zachary Clemon De Melo, and Gabby Chaves. Gabby is the 2014 Indy Lights Champion and Freedom 100 winner when he ran for Belardi Racing.
Chris has a steep learning curve and has not been in a simulator, but he shined currently in a test at Kentucky Speedway. This was his first time in an Indy Lights car. It is said the current Indy Lights car handles much like an Indycar. Some say he will struggle while others say he will be just fine. If Chris sees success in his Indy Lights debut, this could make the transition to an Indycar and the Indianapolis 500 that much easier. Chris will also have the help of his two Indy Lights teammates as well as Indy 500 starter James Davison, who is running this year's Indy 500 with A.J Foyt Racing in a partnership with David Byrd and Brian Belardi.
Brimming with confidence when asked what type of finish he expects at the Freedom 100 Chris's answer was simple. "I'm going there to win, yeah I want to gain some experience but yeah, I want to win". Chris hopes this start will open some doors for a chance in the Indianapolis 500 hopefully in 2019.
Belardi is a solid racing team and should be a perfect match for Chris in his first start in a rear engine race car. Belardi's current roster includes 2016 Pro Mazda Champion Aaron Telitz and Santiago Urrutia who has already seen victory lane this year when he took the win in the second race at the Grand Prix of St. Petersburg. Belardi Racing is forever linked to the Indianapolis Motor Speedway. It was Peter Dempsey and Belardi Racing who won the 2013 Freedom 100 in what was then the closest finish in the history of the Indianapolis Motor Speedway. Dempsey, who was in fourth place coming out of turn four on the final lap, took the victory in a historic four-wide finish beating current Indy 500 starters Gabby Chaves, Sage Karem, and Carlos Munoz. The margin of victory was a mere 0.0026 seconds.
Chris has his calendar full for the week of the Freedom 100 in four different types of race cars. He states he will have some time in the Lights car on Monday, off on Tuesday, Wednesday he has practice for the Little 500 midget race in Anderson, along with a sprint car race in Terre Haute that evening. Thursday is wall to wall in three different cars. He will be qualifying for the Indy Lights race in Indianapolis, only to have arrangements to get him over to Anderson to qualify for the Little 500 before heading back to Indianapolis to the state fairgrounds for the Hoosier 100 Silver Crown event. Chris will be back to IMS for the Freedom 100 Friday then over to Lucas Oil Raceway for more Silver Crown racing. The Little 500 in Anderson, where Chris is a two-time champion, is Saturday night. Chris will wind up his weekend in a sprint car at Kokomo Speedway on Sunday evening.
Chris's only real job has been racing. When he wasn't racing he was in the shop. He says that this was the key to being successful. Knowing how the car is put together, how to set up a car, and just being in that atmosphere daily is what has molded him into a championship winning driver. It's this training and experience that was most beneficial and it helps him translate what he wants in the car after jumping into either a sprint, midget, or silver crown car.
If Chris could go back in time to any race he says he'd go back to the 2011 Little 500. It was his first win in the event, and one of the last victories he was able to share with his dad, on a family owned team before he began racing for other people. It was this victory that opened the doors for opportunities and put him in position to win Championships.
When he's not at the track, you find Chris cheering on the St. Louis Blues, or out on the water fishing. If Chris won the power ball he'd own a sprint car team, and go Indycar racing. He just wants to race as long as he's successful with the Indianapolis 500 in his sight.
Making the transition from dirt track racing to the Indycars is a lost art. Bryan Clauson was slowly making the transition with his one-off Indy 500 rides. Chris Windom is looking to do the same, and join the likes of Stan Fox, and Rich Vogler, Billy Boat, and Tony Stewart. Chris doesn't want to just run, he wants to win. I for one will be rooting for Chris Windom and Belardi Racing in this year's Freedom 100. We need more dirt track stars mixing it up with the stars of the Indy 500. Chris Windom is leading the charge, and that is something we can all get excited about. Kristian Branch of Blue HQ media